A Step-By-Step Guide on How to Do Double Cleansing Right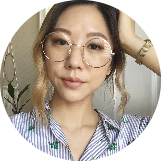 Ruth Kim
May 29, 2017
---
You may have heard of double cleansing, but exactly what is it? We answer the why's and how's here — including Go Hyun-Jung's pore-degunking secret.
---
Spring cleaning may come only once a year, but skincare is an everyday challenge. Let's jumpstart the season and revisit the best way to declutter those pores through double cleansing.
So what is double cleansing?
With origins in Asian skincare, the double cleanse is a two-step facial cleansing process that deeply cleans skin without stripping it of its natural oils.
Picture this: your favorite moisturizer, sunscreen, and foundation, half melted and lathered into a thin veil over your skin. Now visualize all your excess sebum and toxic nanoparticles from air pollution mixed into that brew. This figurative layer represents pores clogged with a residue of makeup and dirt, even after an initial cleanse. The double cleanse eradicates this film of dirt and toxins so your skin can reap all the benefits of your nutrient-rich treatments.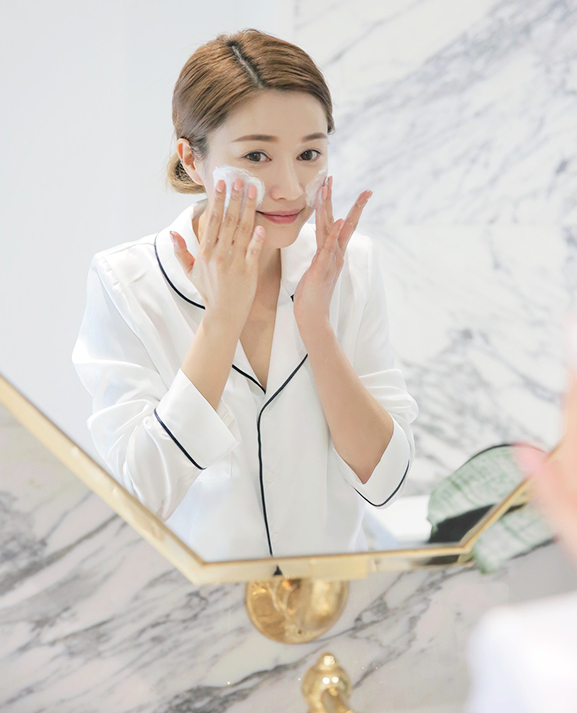 The first step in a double cleanse involves removing oil-based and waterproof products like sunscreen and foundation with an oil cleanser. The second step is a water-based cleanser to clean water-based debris like sweat and dirt.
Demystifying the oil-based cleanser
One of the most common misconceptions about using an oil-based cleanser is the belief that it will cause breakouts — a notion that's debunked by basic chemistry: oil dissolves oil. Contrary to popular belief, oil cleansers dig out impurities, prevent bacterial infections, and nourish your skin, as opposed to harsh cleansers that strip your skin dry of its natural oils and actually result in more oil and more breakouts. Along the same vein, oil and water don't mix, which is why using only a water-based cleanser won't do the trick in banishing oil-based debris from your face.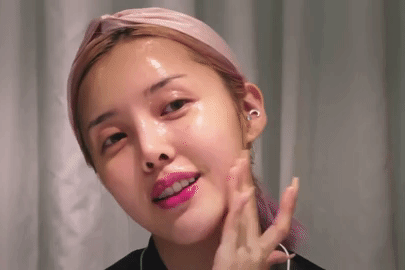 The 1, 2 step 
Step 1:
Begin with an oil-based liquid cleanser, gel, or balm to dissolve waterproof makeup and extract oil-based impurities, such as sebum, sunscreen, and pollutants.
* Gently massage the oil onto dry skin in upward, circular motions, focusing on pore-concentrated areas like the T-zone and nose.
* Add a splash of water to begin emulsifying the oil, which will turn milky white in color as you continue to massage.
* Rinse thoroughly with lukewarm water.
Step 2:
Follow with a water-based foam or cream cleanser to sweep away any remaining residue, as well as water-based gunk like sweat and dirt. For best results, use a low pH foam cleanser (find out why here).
* On a wet face, apply the foam or cream cleanser and gently massage into a lather in upward, circular motions.
* Rinse with lukewarm water.

The peach fuzz cleansing method
Of course, double cleansing has been trending for some time now in the beauty-sphere. And like with any popular trend, the method has had its fair share of tweaks made by avid skincare aficionados and experts alike. Suzy of the K-pop group Miss A says she swears by the 4-2-4 cleansing method — oil cleansing for four minutes, then foam for two, then rinsing for four. (Some have tried it to less than stellar results.) And singer Park Bo-ram finishes her double cleanse by rinsing with rice water to brighten her skin.
But our favorite double cleansing method is the one espoused by Korean actress Go Hyun-Jung. Among her many accomplishments, Go is known for her ever-youthful, glowing skin— you'd never guess that she's in her 40s. One of her skincare secrets is cleansing her face "against the grain," a technique some call the Peach Fuzz Cleansing Method. The thinking is that by going against the grain of your hair's growth, you gently lift the fuzz and make it easier to dislodge grit and plugs from your pores. Here's how you do it.
* With clean hands, splash warm water on your face to loosen debris.
* Gently massage on a cleanser in the direction of fine facial hair growth, in an inside-out circular motion starting from the nose.
* Then begin massaging in the opposite direction of hair growth to more effectively dislodge plugs from clogged and congested pores, concentrating on and around the nose. Instead of moving from the center of your face outward, make circular motions from the outside of your face inward.
* Rinse off with lukewarm water.
Ready to give double cleansing a go?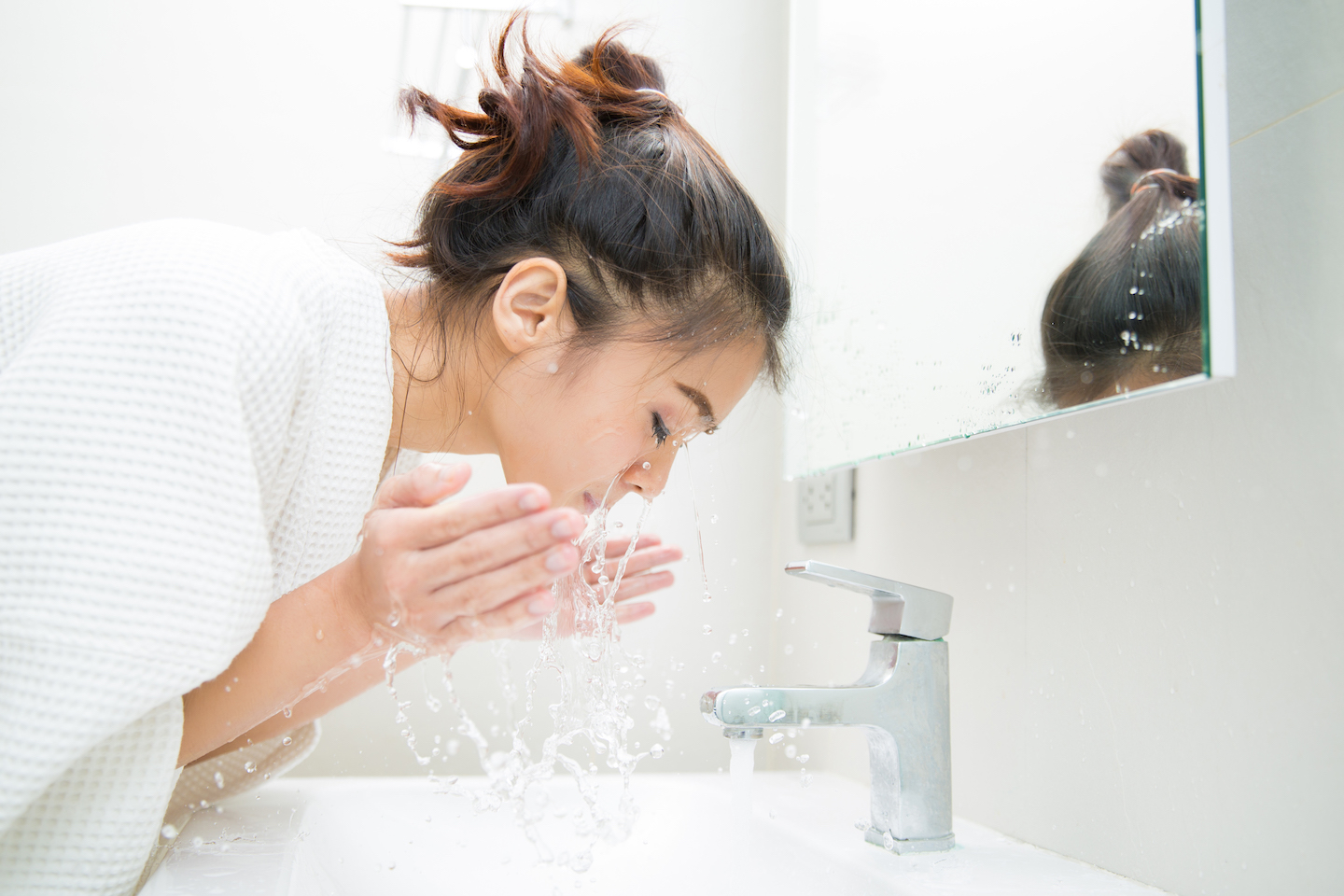 To enhance the results of your double cleansing session, try these additional tips:
* Remove eye makeup. For stubborn or hard-to-reach eye makeup, apply a small amount of oil cleanser to a cotton swab and carefully dab off the excess makeup from your lash line.
* Pat dry. Avoid drying your skin with rough — and potentially bacteria-laden — towel fibers. Instead, gently use your fingers to pat-pat-pat your face, allowing the water to absorb naturally into your skin.
* Follow with toner. Immediately following a double cleanse, apply a nutrient-rich, hydrating toner (without alcohol) to immediately kick-start your skin's hydration.
* Know your skin type. The double cleanse is recommended for all skin types, but you may need to go through some trial-and-error to find the best match in products for your skin. Some of our favorites include: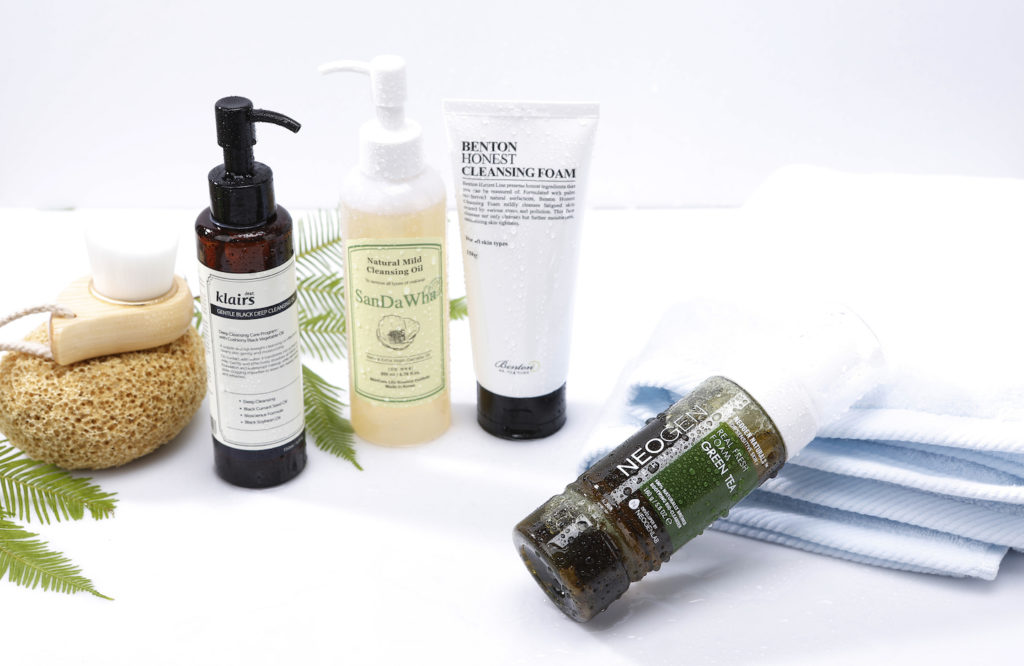 SanDaWha Natural Mild Cleansing Oil: New to oil cleansing? This gentle cleansing oil is rich in soothing camellia oil and great for even sensitive skin. Read our full review here.
Klairs Gentle Black Deep Cleansing Oil: This award winner and perennial fave is "mild and gentle; it never irritated my dry, sensitive skin and once emulsified, washed away without leaving a greasy feeling," says contributing writer Ruth Kim.
 Innisfree Blueberry Rebalancing 5.5 Cleanser: A low pH foam cleanser that contributing editor Coco Park prefers for its thick and cushy texture.
 Purito Defence Barrier pH Cleanser: Contributing editor Sheryll Donerson puts this cleanser alongside cult fave COSRX Low pH Good Morning Gel Cleanser.
Do you have any double cleansing tips or questions? Share it with us in the comments below!
---
Author: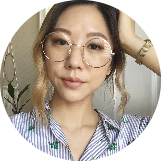 Ruth Kim
Ruth is a 20-something creative with a fixation on black coffee, black boots, and the beautiful black hole that is all things K-beauty. A Southern California native, she loves to share her current skincare favorites and lifestyle inspirations on her Instagram @ruthhlesslyy.
---
Comments