How I Do K-Beauty: The Fifty Shades of Snail Skincare Routine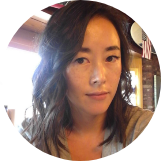 Jude Chao
May 28, 2017
---
Just like everyone's skin is unique, the way everyone cares for their skin is also unique. After all, there's no right or wrong way to do K-beauty; it's what works for you. In this series, we take a deep dive into the individualized skincare regimens of some K-beauty insiders. Here, W2Beauty contributing editor Jude Chao of Fifty Shades of Snail gives us a peek into her 9-step routine.
____________________________________________________________________
If you've read any articles about K-beauty in the past few years, you've no doubt come across at least one eye-catching "method" for curating a skincare routine. From the "7- (or 10- or 12-) Step Korean Skincare Routine!!!" to today's "7-Skin" toner layering trend, these techniques can be a useful framework, but they're not unbreakable rules. (And those numbers are preeeeetty arbitrary). The best skincare routine for your skin is one that you've tailored to your needs. To help get you thinking about what would work best for you, here's my personal skincare system, along with some of my personal favorites in each category.
For reference, my skin is normal with some dry tendencies. My key concerns are aging and hyperpigmentation.
My Evening Routine
Since I have more time in the evening and don't (usually) have to go out in public, I save most of my skincare for after dark. (After my son goes to bed, if we're being honest.) The work I do on my skin at night lets me get away with a super-basic morning routine. And so that my evening routine doesn't prevent me from doing other things (like bingeing on dramas or working on my blog or, uh, online shopping), I keep my products in a little basket that I put next to me wherever in the house I happen to be parked.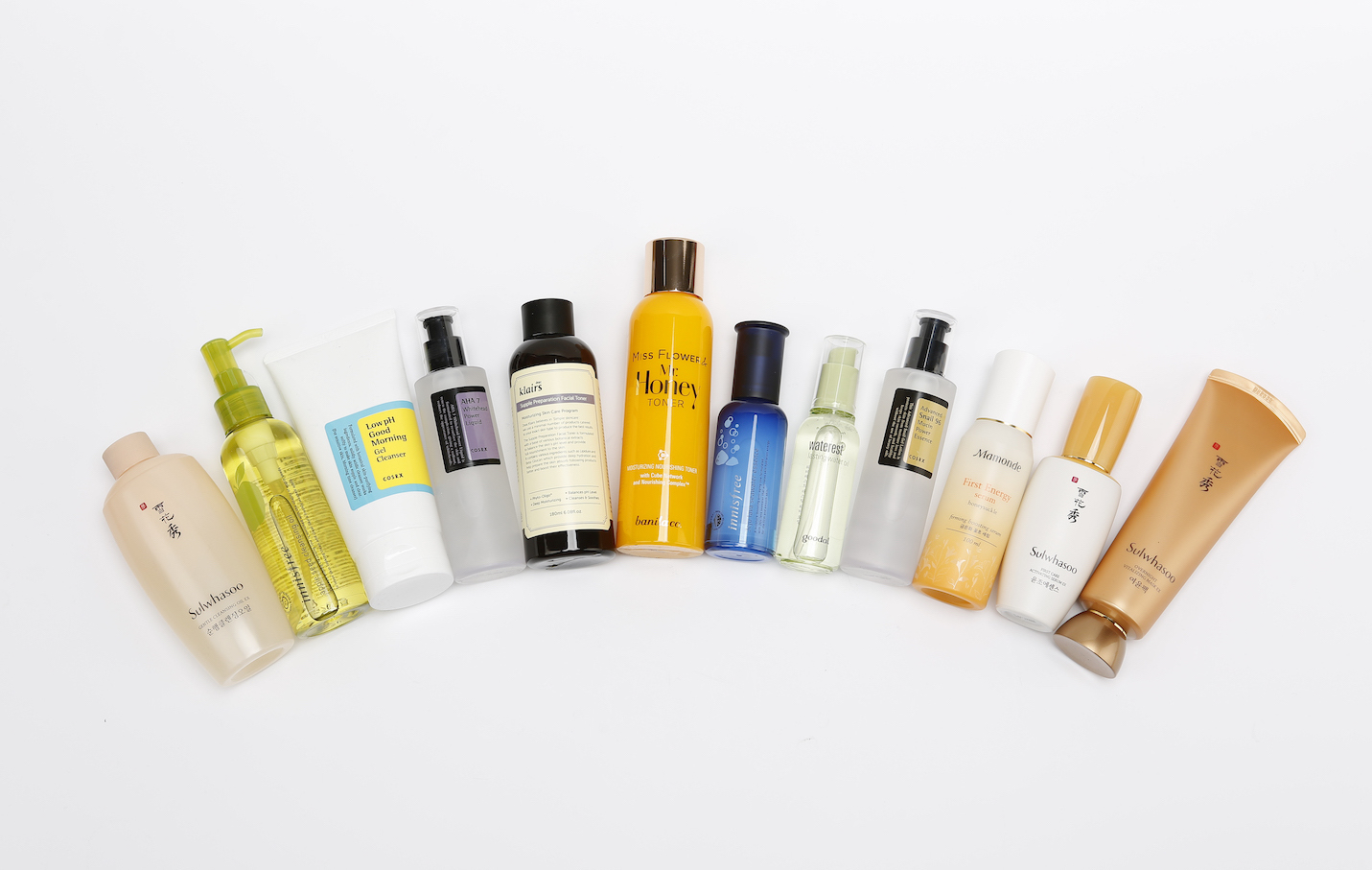 1. First cleanser
For healthy, unclogged skin, thorough sunscreen and makeup removal is a must at the end of every day. I love emulsifying cleansing oils that quickly break up everything on my face so that I can rinse gunk off in a flash.
Innisfree Apple Juicy Cleansing Oil
Sulwhasoo Gentle Cleansing Oil
2. Second cleanser
After removing all my sunscreen and makeup, I like to use a gentle, low-to-neutral pH foaming cleanser to remove any cleansing oil residue and get my skin sparkling clean without drying it out. These cleansers leave my skin purified and ready to receive maximum benefits from my treatment products.
COSRX Low pH Good Morning Gel Cleanser
Sulwhasoo Snowise EX Cleansing Foam
3. Actives
Actives are the heavy lifters of skincare. If chosen and used carefully, chemical exfoliants, retinoids, and vitamin C serums can deliver deep, substantial improvements to skin texture, tone, and even collagen levels. I apply my actives immediately after cleansing to take advantage of bare and optimally absorbent skin.
COSRX AHA 7 Whitehead Power Liquid
4. First essence/booster
After my actives have had time to absorb (20 minutes or so), it's time to move on to the hydrating steps of my routine. But wait! It's been a while since my skin was damp, so it won't absorb as much product as it could right after cleansing. A first essence-type product will rehydrate skin and boost its ability to take in subsequent treatments, as well as add some extra glow.
Secret Key Starting Treatment Essence
Sulwhasoo First Care Activating Serum EX
5. Hydrating toner
For me, this is where the real fun begins. You know that juicy, dewy, plump, and bouncy K-drama skin we covet? Skin like that owes its texture and glow to lots of hydration. Humectants like hyaluronic acid bind water in the upper layers of skin, smoothing the surface and bringing light to your face. Hydrating toners are key to this look, so I always use one to keep my skin packed with moisture. The best hydrating toners also provide anti-inflammatory ingredients to calm redness and even out skin tone.
Klairs Supple Preparation Facial Toner
Banila Co. Miss Flower & Mr Honey Toner (for dry and very dry skin that needs an early hit of rich moisture as well as hydration)
6. Essence
A multi-step K-beauty routine involves a series of progressively thicker products layered for efficient absorption. In terms of consistency and potency, essences are right in between toners and serums. They generally offer more targeted benefits than toners while remaining lightweight. The extra hydration of an essence also intensifies the effects of my hydrating toner.
COSRX Advanced Snail 96 Mucin Power Essence
Goodal Waterest Lasting Water Oil
Innisfree Jeju Lava Seawater Essence
7. Serums and ampoules
Typically, serum and ampoule products are the most concentrated and targeted steps you'll find in K-beauty skincare lines. I use this stage of my routine to pack my skin full of anti-aging antioxidants and to improve elasticity, resilience, and skin tone.
Mamonde First Energy Serum
Sulwhasoo Capsulized Ginseng Fortifying Serum
8. Sheet masks
I do a sheet mask almost every night. In addition to topping up my skin's hydration levels far better than wipe-on products ever can, sheet masks used after toner, essence, and serum help to push those products deeper into skin and can also provide instant brightness and improved texture. Plus, it's nice to have an excuse to lie around with a mask on. A chilled sheet mask is wonderful for both redness and headaches!
COSRX Holy Moly Snail Mask
9. Cream/sleeping pack
After all those layers of hydration and nutrition, the only thing that's left is to seal it all in with a moisturizing cream or emollient sleeping pack. Without a final moisturizer, skincare will start to evaporate and water will escape from skin overnight. Using a last-step moisturizer traps all the goodness in skin so that it can work at full power while I sleep.
It's Skin Prestige Crème Ginseng D'Escargot
Sulwhasoo Overnight Vitalizing Mask
My Day Routine
Whew! Are you still with me? Now it's time to cover my morning skincare routine, which is much simpler than my night routine. Nights are for treatment. Days are for quickly achieving smooth, bouncy, radiant skin, then getting out the door. My kid's school doesn't allow "Mom's skincare routine" as an excuse for tardiness.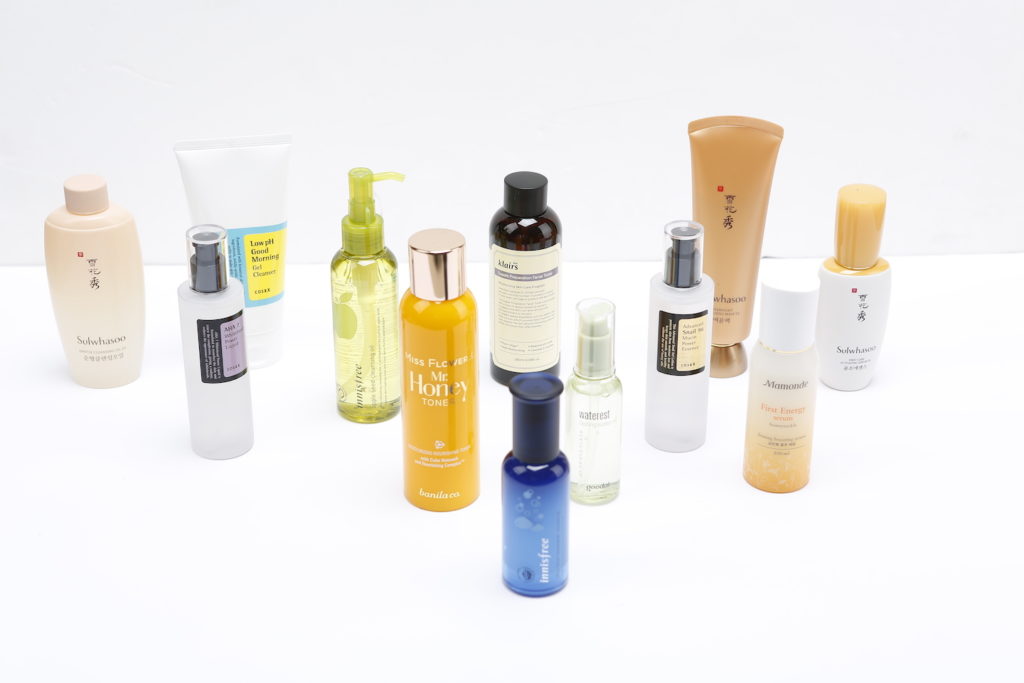 1. Cleanser
In the morning, I cleanse off any residue from the night before with one of my gentle foaming cleansers.
2. First essence
The first essences I like help to stimulate my skin's circulation and boost its glow while speeding up product absorption.
3. Hydrating toner
This step is even more essential during the day than it is at night, since during the day, people might actually get to see my dewy, hydrated glow.
4. Lightweight moisturizer
A final sealing step is still important in the morning, though I keep it light for day to reduce shine and shorten the time I have to wait before applying sunscreen and makeup.
COSRX Advanced Snail 92 All In One Cream
5. Sunscreen
I always, always wear sunscreen during the day. UVA radiation can penetrate cloud cover, and UVA radiation is the one primarily responsible for accelerating visible signs of skin aging. After my moisturizer sinks in completely, I apply sunscreen generously with a clean cushion puff and let it dry before moving on to makeup.
And that's it! I hope this was helpful to you as you put together your own K-beauty skincare routine. You can find reviews for most of the products I've listed above on my blog, Fifty Shades of Snail. If you have any questions or feedback about your own skincare routine, please let me know in the comments below!
---
Author: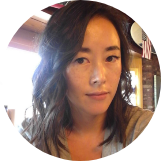 Jude Chao
Jude writes as Fiddy Snails at the K-beauty and skincare blog Fifty Shades of Snail and can be found on Instagram @fiddysnails. Named the ELLE Malaysia Beauty Blogger of the Month for June/July 2017 and one of ELLE Magazine's 10 Cool Beauty Bloggers to Watch in 2018, Jude loves ginseng, snail, honey, propolis, and tuna fish kimbap, though she generally doesn't put the kimbap on her face.
---
Comments