This Is How I Became a K-Beauty Convert
Can a girl from the South African countryside, who grew up using rooibos and baobab on her skin, find (skincare) love in the urban sprawl that is Seoul? Her journey to becoming a K-beauty convert.
____________________________________________________________________
There are few things more terrifying to a skincare devotee than running out of your tried and tested beauty products, 10,000 kilometers from home. Especially if the place you ran out of said products was South Korea, where intimidating ingredients such as been venom, snail serum and goat's milk are part and parcel of everyday skincare — and mother dear wasn't planning on sending you any refills.
This happened to me two years ago, and I am so glad it did. Since switching to Korean-only skincare products, I've maintained softer and smoother skin (although nothing quite like Kim Tae-hee, the nation's goddess, or Jun Ji Hyun).
I've always maintained a very low-key approach to my beauty regime and sought out natural ingredients where possible. Growing up on a farm in South Africa, surrounded by rolling hills, meant that I spent many hours under the blazing African sun and was more concerned about building treehouses than protecting my skin from damaging UV rays.
My skin type tends to swing between oily and dry and is very sensitive to seasonal changes. Since South Africa's seasons are quite mild, I relied on a moisturizer from a local skincare company called African Extracts. Their range uses an advanced bioactive rooibos plant extract from fresh green rooibos plants harvested just outside of Cape Town. Rooibos, which means "red bush," is packed with antioxidants and rich in the enzyme superoxide dismutase. Terminology aside, it is an excellent anti-aging substance and fights wrinkles by neutralizing the free radicals that cause them. I love the fresh, earthy smell of this moisturizer, and the baobab extracts help ease any dryness or tightness. The salicylic acid helps with problem skin, keeping me pimple-free. It's not oily at all and has the added benefits of an SPF 15. It's super hydrating, and the texture is light and applies smoothly, making it even possible to use as a primer before foundation.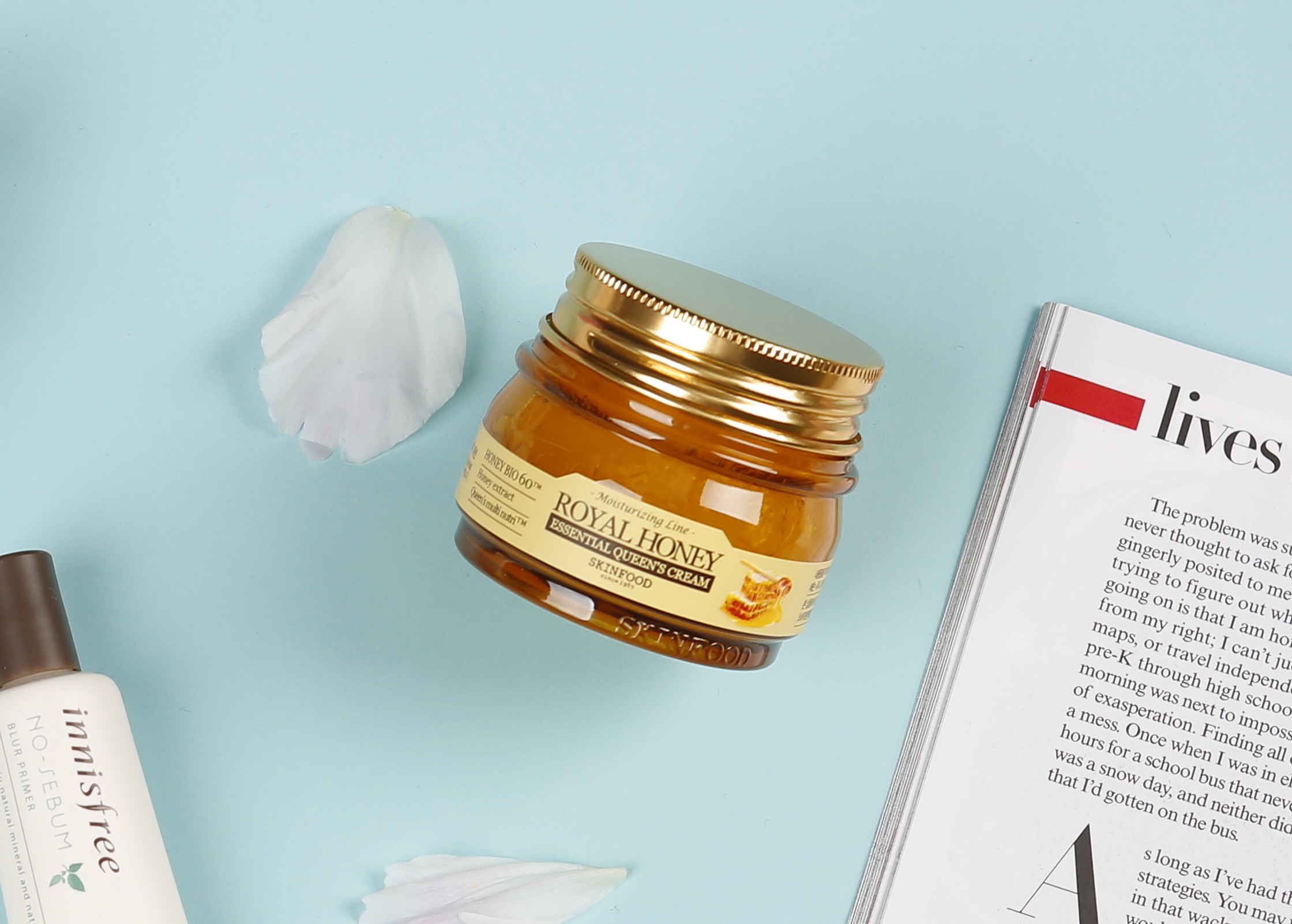 When there was no more rooibos left to squeeze, I gave Skinfood's Royal Honey Essential Queen's Cream a go, because what better way to fight the extreme Korean temperatures than with soothing, moisturizing honey. I liked that my previous moisturizer has a promise of "skincare inspired by nature," and my new choice ticked that box, too. Skinfood's motto of "food for the skin to eat" made it even more appealing.
The cream comes in a nifty 62 ml tub, and its golden lid makes it seem pretty luxurious for its affordable price of under $30. The consistency is very gel-like, but the smell is wonderful and sweet, and it's quickly absorbed. This moisturizer is perfect for winter, and provides double the hydration due to honey being a natural humectant. Humectants help bind moisture to the skin, locking in moisture all day.
Skinfood Royal Honey isn't just a fancy marketing name for that golden nectar — it goes through a 60-day fermentation process in the beehive, resulting in less water as a filler and richer, more concentrated honey. I use this product as both a day and night cream and at night supplement it with Scinic's Honey All In One Ampoule for even more moisture.
Side-by-side, my new moisturizer is perfect for my new location and has left me with supple, glowing skin.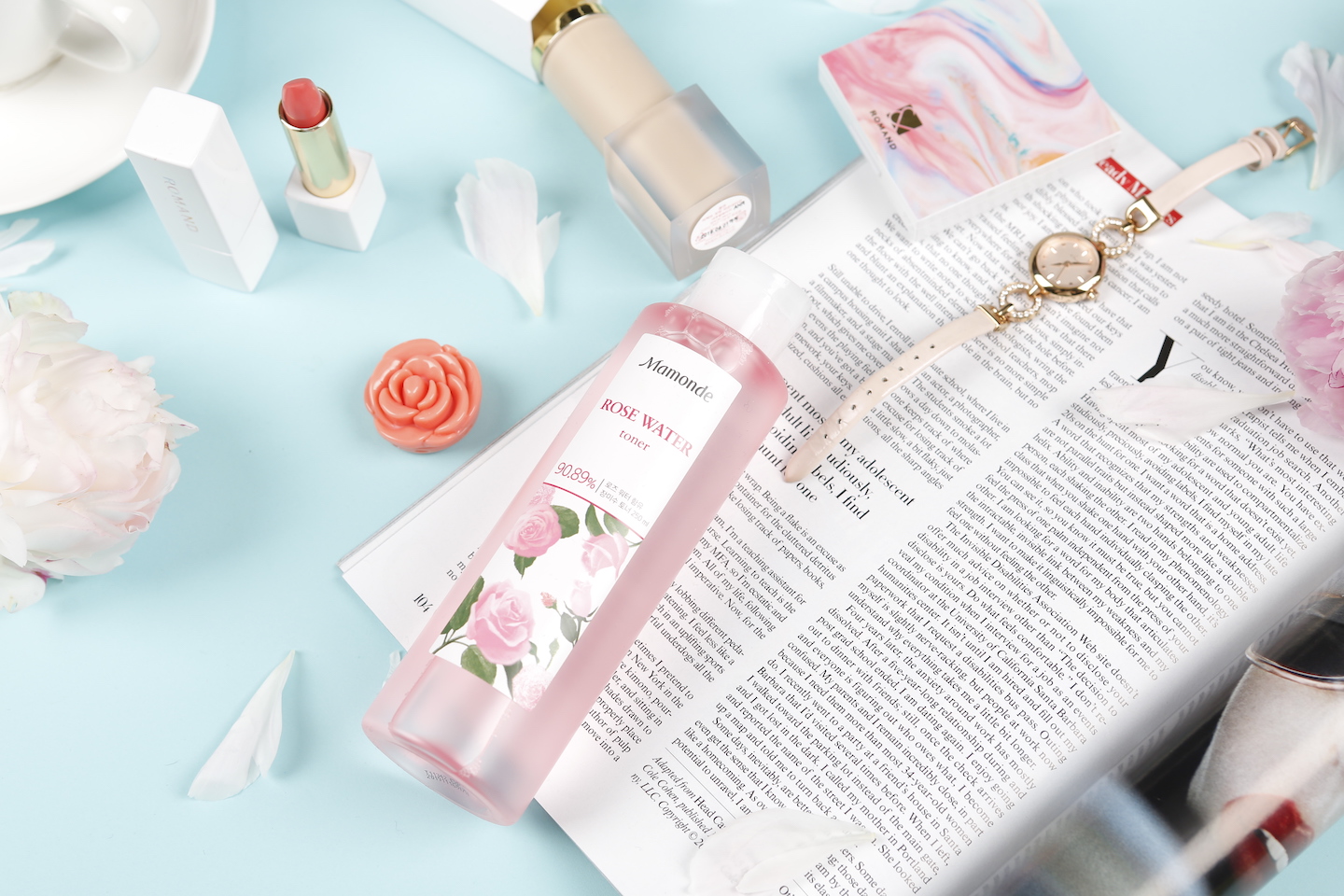 Another beauty basic I've come to rely on is Mamonde Rose Water Toner. I hate to admit it, but I used to skip the essential middle step of toning in my skincare regime because I didn't realize just how important it was. I now restore my skin's surface and balance my pH levels with a hydrating toner, ensuring that my face is ready for the next layer.
The Mamonde Rose Water Toner comes in a gorgeous, transparent light pink 250 ml bottle and contains 90.89% rose water instead of regular water. The Damask roses used for this toner are grown in the world-famous rose-growing area of Bulgaria and are extracted at low temperatures, meaning more effective ingredients. It's light and absorbs quickly and doesn't leave my skin feeling dry at all. It claims to have a soothing effect, and this is why I love it. I've used this toner after cleansing with cotton pads, straight onto my face for a refresher, and as a mist to hydrate midday. I highly recommend it for anyone with skin that needs a bit of a boost.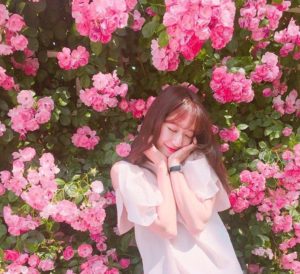 Another reason why I love this toner is because the gorgeous actress Park Shin Hye is the brand ambassador for Mamonde. If her glowing skin is anything to go by, then I'm sticking with this rose water toner for life!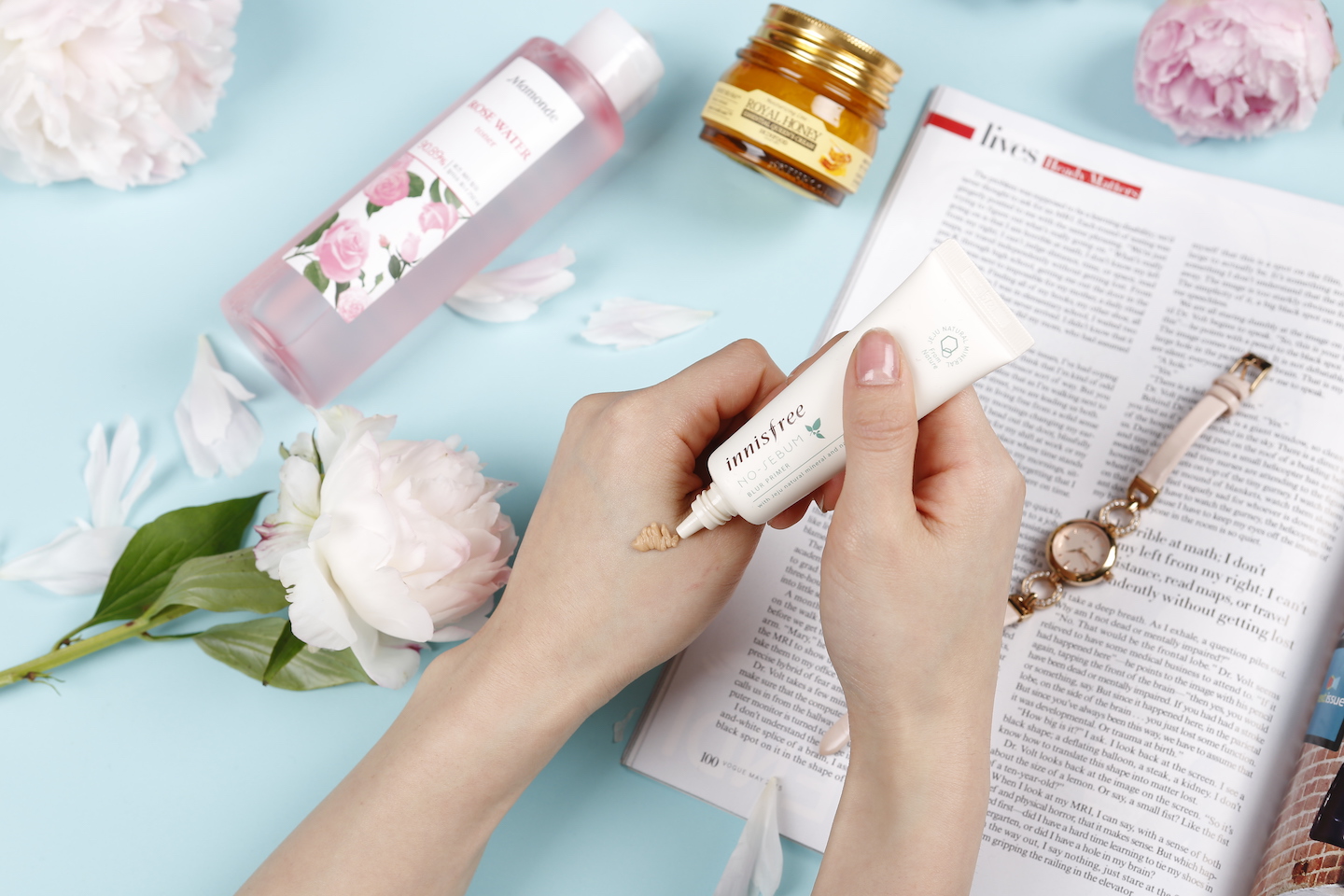 As I've become more comfortable with Korean products, I've incorporated more of them into my regimen. One is Innisfree's No-Sebum Blur Primer, which I've been using solidly for nearly two years. In a nutshell, it removes shine, smooths out skin, and blurs pores. (I found this blurring to be quite minimal as my pores remained the same size, but this primer provides a smooth canvas for applying foundation, helping it stay on longer.) It has a slight minty scent and comes out feeling silky; I love how smooth and velvety this feels against my skin. Its natural minerals and botanical extracts from Jeju Island check all my natural ingredient boxes. And though its light beige color may not suit all skin tones, overall, it's a solid primer that absorbs quickly. Compared to the Woolworths Face Smoothing Primer I used in South Africa, Innisfree's primer wins hands down, leaving my skin a lot less oily.
I'm not exaggerating when I say that Korean beauty products have changed the game for me. They're affordable, made with the highest quality ingredients, and have left my skin feeling more supple and cared for than ever before. You can consider me a K-beauty convert.
What was the first K-beauty product that turned you into a convert? Tell us!
---
Author:
Megan Bursey
I'm Megan, and I'm obsessed with travel, beauty and LGBTQ rights. I hail from South Africa, where I cut my teeth as a journalist, writing for the biggest-selling English magazine in the country. I spent three years in South Korea and discovered a passion for K-beauty and the jjimjilbang. I'm always on the go, but I make time for my skin. Follow me on Instagram at @meg______b and at linkedin.com/in/megan-bursey-530b4177
---
Comments