I Don't Want No Scrubs — Unless They're the Moksha Fruit Scrubs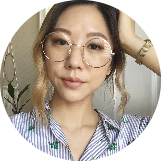 Ruth Kim
May 30, 2017
---
A first-impressions review of the Moksha fruit scrubs Dear.Jam series. The verdict? Let's just say: three facial scrubs, one skin-happy me.
____________________________________________________________________
Out of all the steps in a Korean skincare regimen, one of the most satisfying skin pampering routines is exfoliation. The idea of unearthing and sloughing away any remaining dead skin cell debris or pore gunk after a thorough double cleanse is the optional (but really, necessary) whipped-cream-with-cherry-on-top of my skincare sundae. For the past few months, I've been alternating between Skinfood's signature exfoliators — namely, of course, the famous black sugar mask and its rice-based counterpart — but when I had the chance to try my hand at some new scrubs, I was berry excited, to say the least. (Corny puns end here.)
If you haven't guessed already, I'm talking about the fruit-infused exfoliators from the Moksha fruit scrubs Dear.Jam series. From orange and grapefruit, to honey and green apple, to strawberries and bearberries (don't worry, I had to look it up, too), they're bona fide skincare smoothies if there ever was one. And as the saying goes, what's healthy for your body is also super nutritious for your skin.
A review on these delectable scrubs (disclaimer: not edible) wouldn't be complete without a quick word on the brand. Moksha is the beauty brainchild of the global Korean cosmetics company Rankiss, which was established in 2007, and the sister brand to a wide range of skincare and hair cosmetic lines, including Hercell, La Bellona, Plen Tree, Dr. Melavax, Dr. Melaheal, and Merry M. Committed to avoiding harsh, chemical ingredients in their products, Moksha gives prominence to natural extracts and oils in their adorably-packaged lines of scrubs and face masks. I had the opportunity to try the three signature scrubs in the 20ml size (perfect for a trial test and for travel), which cost under three dollars a pop. Once you're ready to commit, you can purchase the exfoliators in a 150ml alternative (just under 12 bucks), and don't forget to throw in a few of Moksha's gel essence sheet masks, for good measure. Now, on to the review. 
Dear.Berry Jam Scrub
What it is: The Dear.Berry Jam Scrub is a 2-in-1 face and body cleanser and exfoliator rich with brightening and skin-purifying ingredients. The most "jam" textured of the three, the scrub is made with two kinds of strawberry extracts that control oils and fight inflammation with vitamin C and natural BHAs (organic acids that powerfully degunk pores). Fine rice flour, orange peel powder, and wild berry seeds work the exfoliation magic, sloughing off layers of dead skin cell buildup and other impurities. There are also extracts of blueberry, raspberry, and bearberry leaf, essentially antioxidant warriors that ward off free radical damage and lighten up dark spots.
How to use: One to two times a week, apply a generous amount on wet face, massaging in circular motions on areas with excessive sebum, like the nose and T-zone. You can also use it as a body wash with a sponge for more rich lather. Rinse off with warm water.
My take: This mild-but-powerful scrub is the jam to my butter. Right off the bat, I loved the refreshing and cooling feel of the scrub, and its sweet scent had me jonesing for a berry popsicle like a kid on a hot summer day. The texture is gel-like and moist, with some tackiness, and the wild berry seeds provided a gentle but effective exfoliation. After rinsing, I was pleasantly surprised to feel noticeably smoother skin that seemed to glow brighter (and I can't wait to put the scrub to a more long-term test to see true results). I've yet to try the scrub as a body wash, but I'd imagine that I would experience a similar effect on my body, plus the bonus factor of turning my shower into sweet berry heaven.
Dear.Orange Jam Scrub
What it is: If I had to choose a favorite, the Dear.Orange Jam Scrub might just take the cake. Made with 40% fine grain xylose sugar, a naturally produced sugar and moisture-sealing humectant, the orange jam scrub gently rubs away buildup of dead skin cells, leaving skin polished and soothed with the help of jojoba and macadamia oils. The jam's astringent properties are great for oily-prone skin, and the orange and grapefruit extracts infuse the skin with vitamins and antioxidants to heal and purify the skin. Best of all, you can have that said cake and eat it, too, because again, the scrub works both as a facial exfoliator and as a body scrub. Win-win.
How to use: One to two times a week, apply liberally onto wet face, massaging with circular motions. Spend extra time on oily zones, and rinse thoroughly with warm water. If using on the body, massage for up to five minutes; then rinse.
My take: You know when you peel an orange and lightly spritz out its natural oils over a freshly poured cocktail? Or when you just casually stumble upon a grove of orange trees? (As one does.) The fragrance of the orange jam scrub is reminiscent of just that: simply, a fresh whiff of real orange goodness. And more than just the delicious smell, the scrub really does deliver on its claims to smooth, purify, and moisturize skin. Where the berry jam felt more like a hydrating mask than a traditional exfoliator, the sugary texture of the orange scrub really got into the crevices around my nose, as well as along my T-zone, effectively unlodging any stubborn gunk in my pores (good riddance). While I've only used the scrub two times as of writing, I'm confident that continued use of the jam will work wonders on my skin. 
Dear.Apple Jam Scrub 
What it is: Of the three scrubs, I was most intrigued to use the Dear.Apple Jam Scrub, a gommage-type exfoliator that I'd never tried before. The word gommage comes from the French verb gommer, which means to erase — and well, erase it does. The translucent, pale yellow scrub (which has more of a gel consistency) is full of five fruit extracts (fig, pineapple, grapefruit, melon, and tomato), honey extract, and cellulose, all of which combine to effectively erase sebum and dirt as well as smooth out the skin's texture. Of course, I can't forget about its star ingredient, the extract of green apples, which boasts antioxidant properties, brightening vitamin C, and natural AHAs (skin-boosting acids).
How to use: Apply a liberal amount on dry face (one to two times per week) and massage with circular motions for 30-60 seconds. Rinse off thoroughly with warm water.
My take: When I squeezed out a dime-sized amount of the jam, I was skeptical of its claim to "roll off" dead skin cells. The jelly was fairly liquid-like and "soft" — unlike the other scrubs studded with exfoliating beads. But as soon as I began to gently work the jam onto my dry face, focusing on the nose and on my cheeks, the gel-like texture almost instantly vanished. What appeared in its place were tiny balls of dead skin cells, like the kind that lifts off the skin when you're getting a body scrub at the Korean sauna. I was equal parts amazed and grossed out.
Aside from the somewhat odd but pleasant fragrance of the product, the only drawback of this scrub was its powerful astringent properties, which is great for oily skin, but a tad problematic for my combination skin. I've got an oily T-zone, but my cheeks are quite sensitive and often dry. The apple jam scrub left my cheeks feeling a little too raw for comfort. (The redness did subside by the next morning.) I'd recommend using this scrub on oily parts of your face, or if you've got ultra-sensitive skin, then proceed with caution.
Although the recommended usage of these scrubs is limited to one to two times a week, I tested the products out one at a time for three consecutive nights. I have to say: after my three-day trial, my skin looked smoother, brighter, and healthier. I'll be keeping these facial jams on heavy rotation.
Have you tried a gommage-type peel before? What exfoliation method works best (and worst) for you?
Photos by Ruth Kim 
---
Author: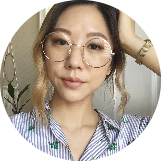 Ruth Kim
Ruth is a 20-something creative with a fixation on black coffee, black boots, and the beautiful black hole that is all things K-beauty. A Southern California native, she loves to share her current skincare favorites and lifestyle inspirations on her Instagram @ruthhlesslyy.
---
Comments