3 Korean Vloggers Show You How to Pull Off Pink Eye Makeup Like a Pro
Think pink eye is something to avoid like the plague? Not this season. Korean celebrities and beauty vloggers show that adding a pop of pink is right on-trend.
---
If you follow Korean beauty on social media and the vlogosphere — or even Korean pop culture in general — one thing soon becomes apparent: Pink is the new black. Actress Kim Tae Hee's wedding makeup look featured pink eyeshadow. Lee Sung Kyung's title character dons a monochromatic makeup look, including a pinky-peach eye color, in the popular drama Weightlifting Fairy Kim Bok-Joo. Indeed, championed by popular beauty vloggers like Pony and Saerom Min, and with practically every K-beauty makeup brand featuring pinks and peaches in their eye color collection, pink eye makeup is a trendy must-have for Korean women this season.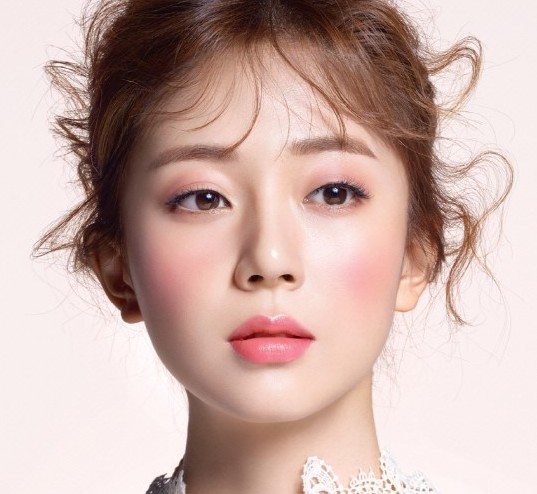 Surprisingly, pink and peach are versatile shades for the eye. Baek Jin Hee's recent editorial for Marie Claire Korea offers a soft windswept option with a monochromatic peachy-pink makeup look. Choi Yujin, in her promos for CLC's comeback song "Hobgoblin," is proof that a slash of bright pink can be as bold and fierce as black liner. And beauty vlogger Saerom Min deftly uses a wine-tinged pink as an accent color in her Romand GRWM tutorial (watch at 31:20).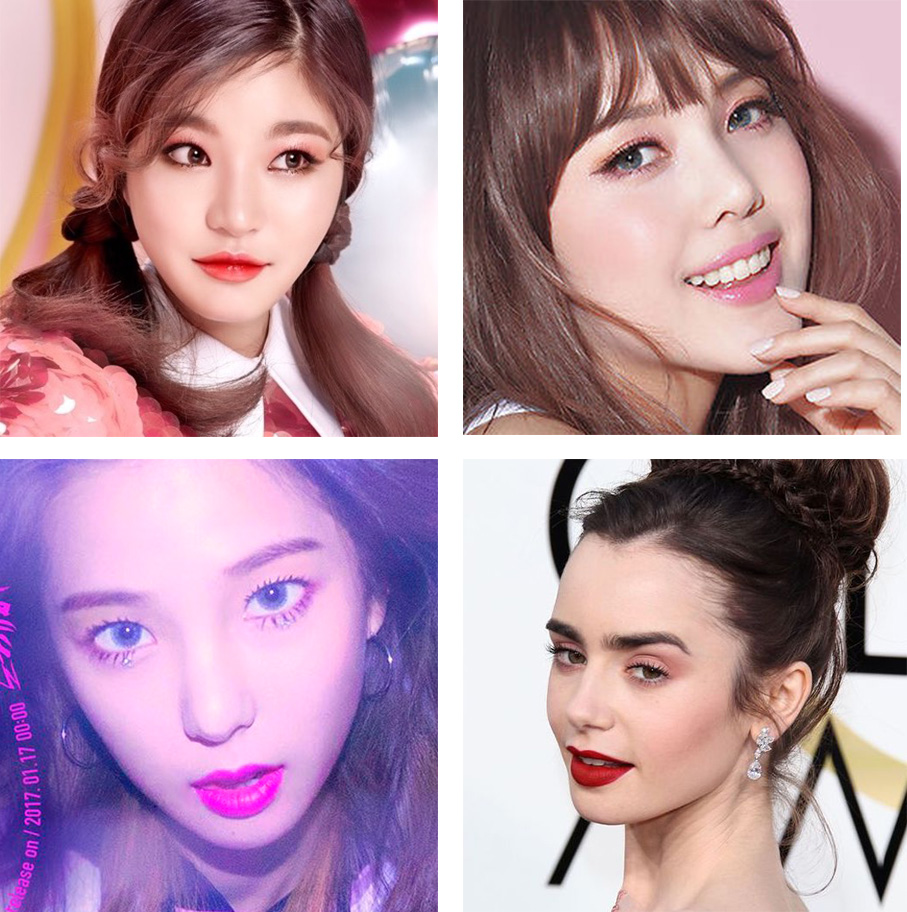 It's a trend that seems to be infiltrating the red carpet looks of Hollywood celebrities as well. At the 2017 Golden Globes, Lily Collins showed off her flawless skin with a dusty rose eye look to match her gorgeous gown, while Emma Stone kept it subtle with a soft, silvery-pink glitter eye shadow and a warm neutral pink lipstick.
Of course, pink eye makeup can be challenging. It can look cartoonish if the shade is too bright, and even the most beautiful model can look like she's sick if you apply the color incorrectly. To make pink less challenging and more fun, take a cue from some popular Korean vloggers on how to properly wear pink and peach eye colors. You'll be surprised at how wearable — and how pretty — pink eye makeup can be.
Pony's Romantic Pink Eye Makeup Look
If you want all eyes on you, try this mesmerizing look from famed Korean makeup artist Pony.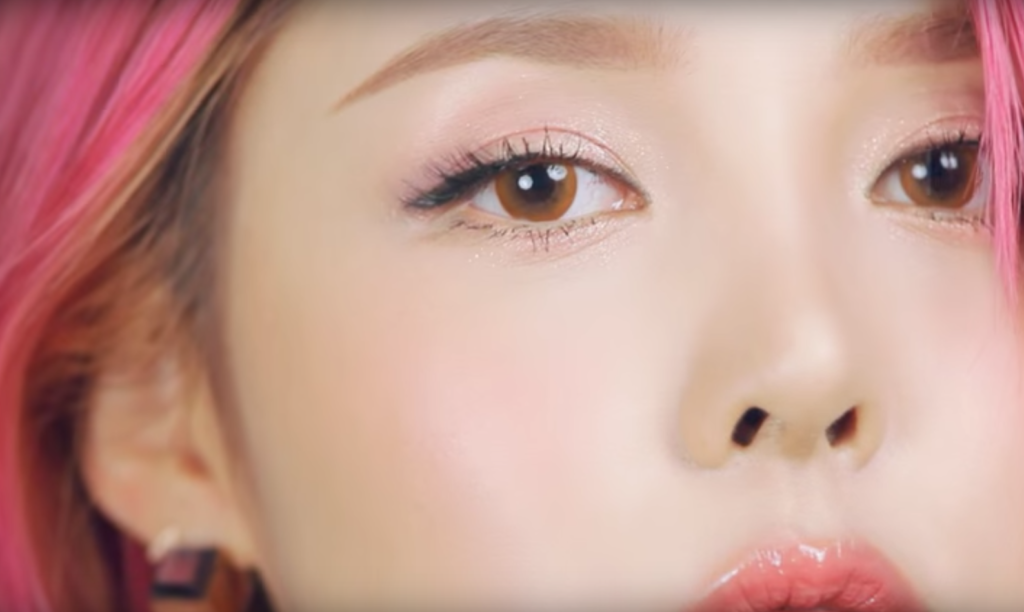 In her tutorial titled "Girlish Pink Makeup," Pony uses three different eye shadow shades: a shimmery peach (Innisfree Mineral Single Shadow Shimmer in No. 1), a pink with gold glitter (Innisfree Mineral Single Shadow Glitter in No. 7), and a matte purple-brown. Using her fingers, Pony applies the peach shadow all over the lid as well as along the lower lash line. She then applies the pink glitter shade on the inner half of the upper lid and the center of the lower lid. To ground all the pink, she applies the purple-brown shade to the outer third of the upper lid and accents with a brown gel liner. She pairs the eye look with light brown brows and a good amount of pink blush high on the cheekbones. (If you really want to go all-out, she suggests lightly tapping pink blush on top of your brows.)
 The takeaway: Anchor your glittery pink eye shadow with a matte purple shade and brown eyeliner.
Ches's Edgy Grapefruit Pink Eye Makeup Look
When you think pink, you may be picturing an electric Barbie-pink color. But there are a variety of shades of pink and peach that are completely wearable, as long as you know how to apply it. Korean YouTube beauty vlogger Ches uses golden and red shades to create a grapefruit pink eye makeup look (a mix of pink, orange, and peach) with a bit of edge.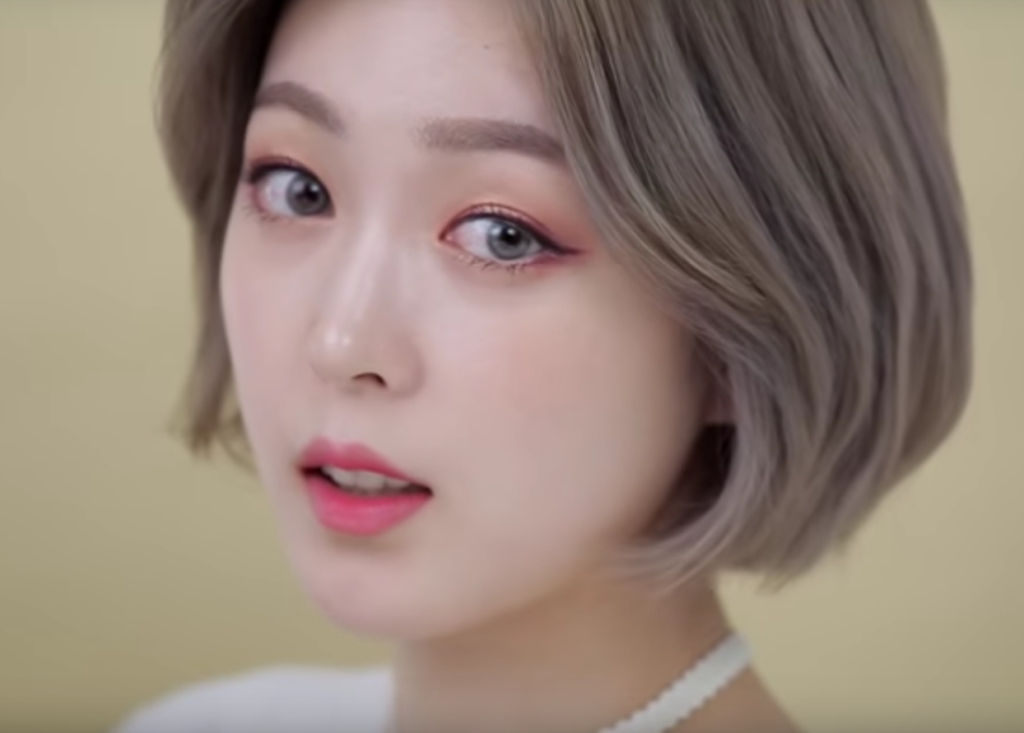 After contouring her face, she applies a shimmery golden shade all over and then a reddish shade on the outer and inner corners of her lids. Make sure to blend well. To emphasize the resulting grapefruit pink hue, Ches accents with a burgundy eyeliner on the upper and lower lids. She finishes off the look with a coral blush high on the cheekbones and a bright pink ombré lip.
 The takeaway: Mix different shades in your palette to create a custom pink or peach color.
https://youtu.be/hYipNe1dDGk
So Young's Girls' Night Out Pink Makeup Look
Nothing beats getting together with your girlfriends and having a fun girls' night out. This is the time to experiment with your makeup a bit more — girls just wanna have fun, after all. Korean beauty vlogger So Young shows you in her "Girls' Night Out Pink Makeup" tutorial how to use bolder pinks and plenty of glitter to achieve a fun party look.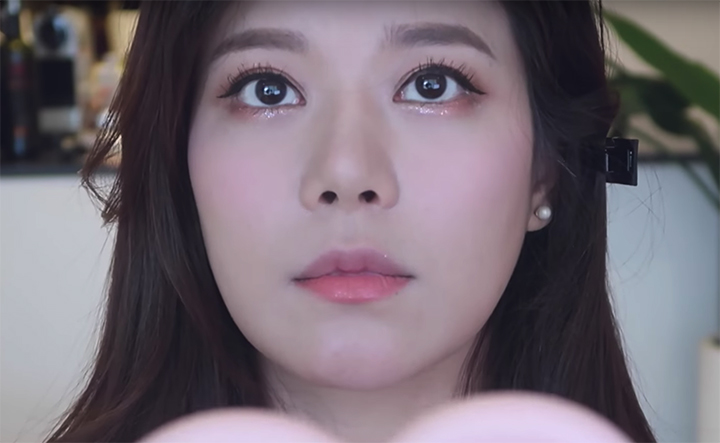 After a wash of neutral beige shadow all over the lid to help the eye shadow shades pop and go on smoothly, she applies a shimmery pink shadow by Clio all over the lid with her finger. She applies the same color along the lower lash line with a small brush. Add depth to the eye with a shimmery golden and copper shadows on the outer third of the lid, while a touch of glittery coral pink shadow on the center of upper lids provides an eye-opening effect.
To really get this look ready to party, add a shimmery reddish-pink shadow to the outer edge of the lower lashes. (We love the one in CELLNCO's palette here.) Then to balance the look, apply a light-catching pale pink glitter along the rest of the lower lash line. So Young finishes the eye look with a delicate black wing using liquid liner and plenty of mascara.
 The takeaway: A touch of bright pinky-red along the outer lower lash line takes your pink eye look from sweet to sassy.
Does pink work for your eye look? Let us know your pink eye makeup tips, tricks, and questions in the comments below.
---