Kim Tae Hee's Wedding Makeup By JSM Slays (Even For Everyday)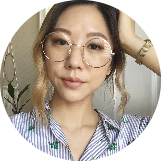 Ruth Kim
Jun 28, 2017
---
Want that bridal glow for your wedding (or just every day)? Our detailed rundown on how to get the Kim Tae Hee wedding makeup look, courtesy of one of Korea's top celeb makeup artists, Jung Saem Mool.
_____________________________________________________________________
When news of wedding bells for Korean mega-stars Kim Tae Hee and Rain hit Hallyu-wood in a frenzy, we were preoccupied with one important detail: the makeup look for Kim Tae Hee's very special day. Lucky for us — and for you — we've got the details on how to achieve the actress's bridal makeup directly from celebrity makeup artist Jung Saem Mool, who created the look that's not only wedding-day perfect, it's everyday perfect.
With a reputation for being the "Nation's Goddess," Kim Tae Hee did not disappoint when it came time to say her vows. The successful 36-year-old actress looked like a bona fide Korean Aphrodite with all kinds of glow, and it was thanks to Jung Saem Mool and her talented team of beauty pros. Sought after by celebrities and denizens alike, both in Korea and abroad, Jung Saem Mool has built her portfolio and solidified her standing as one of Korea's go-to makeup artists since her start in the 1990s.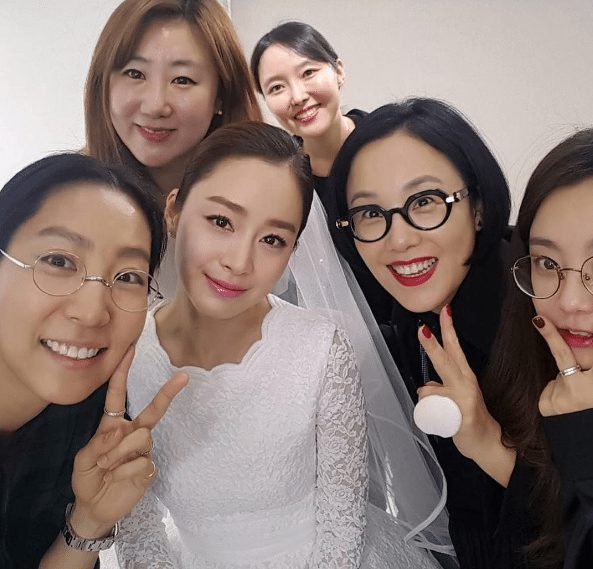 Despite Kim's immeasurable success thanks to her roles in cult dramas like Stairway to Heaven, Iris, Love Story in Harvard, and Yong-pal — not to mention her husband Rain's equally impressive fame and fortune amassed as a K-pop singer, songwriter, music producer, and actor — the two stars decided to tie the knot in a small private ceremony at a Catholic church this past January. "We thought about the circumstances at the time," the actress said in an interview. "We didn't want to hold an overly fancy wedding when the current economic situation is so difficult." (Talent, affluence, and social consciousness? This power couple is the complete package.)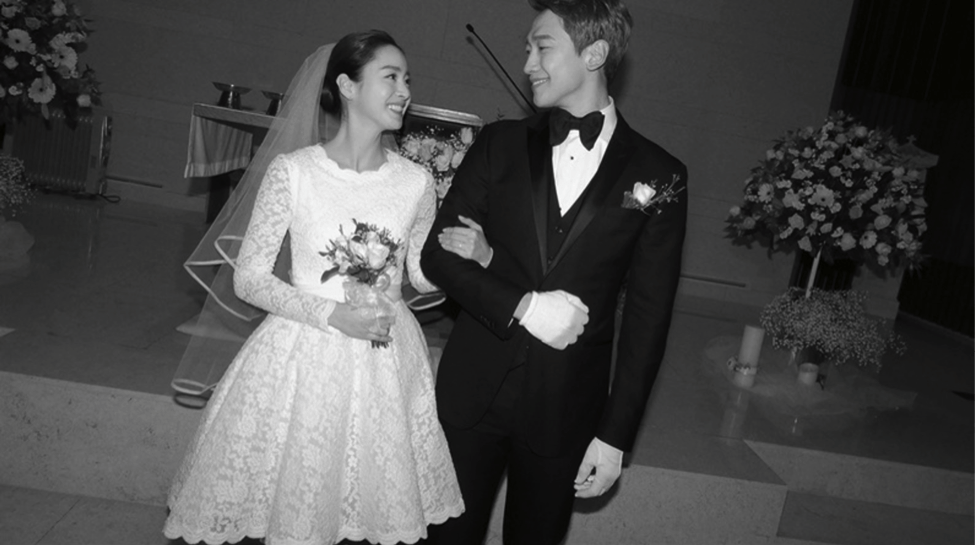 With modesty on the mind, the veteran K-drama star planned her wedding style in reserved fashion. Less glamorous and more demure, Kim chose to wear a plain veil and an inexpensive knee-length, long-sleeved dress with scalloped hems, custom made by her personal stylist. And for makeup, the actress opted for her signature look: clean, simple, and classy.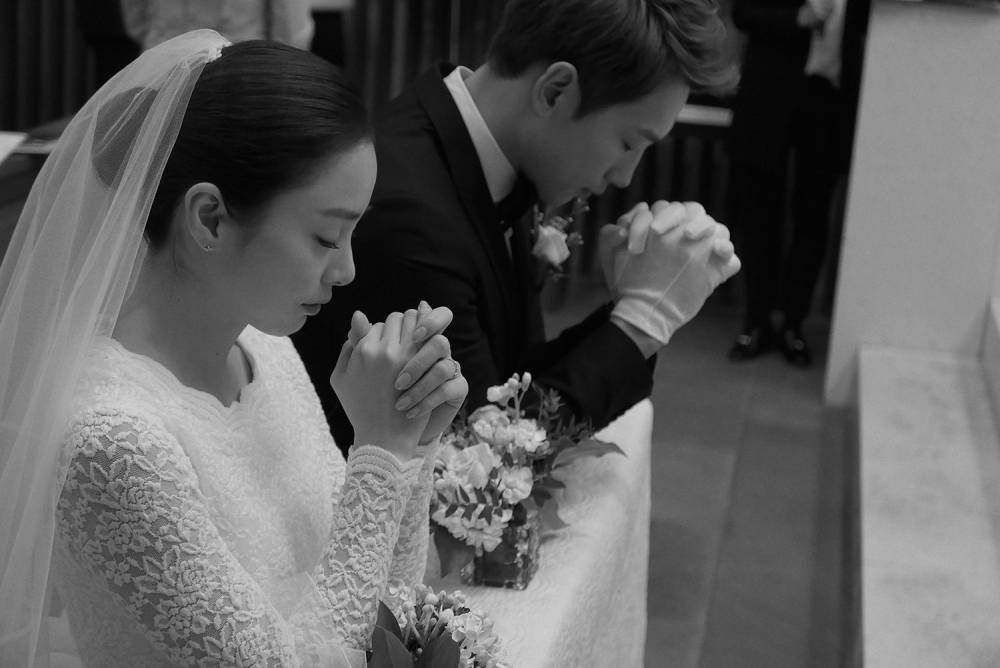 The Jung Saem Mool Effect
Taking the reins of Kim Tae Hee's wedding look, makeup artist Jung Saem Mool teamed up with her fellow beauty pros, which notably included JSM Art & Academy director Choi Younmi, hairstylist Yunjeong from the Jung Saem Mool Inspiration East atelier, and makeup artist and vice president for Jung Saem Mool Inspiration, Juhee Sohn.
The final look was all about enhancing Kim's natural beauty: dewy and flawless skin highlighted in all the right places; minimal eyeliner accented by thick, defined lashes; and blushing-pink lips. It's a look you could wear every day — handsome groom optional. Jung Saem Mool herself shared the steps to the actress' soft wedding look in a recent tutorial on her YouTube channel. Here, we break it down for you in five steps. (And true to Korean form, you'll see that three of the five steps are spent on perfecting the skin.)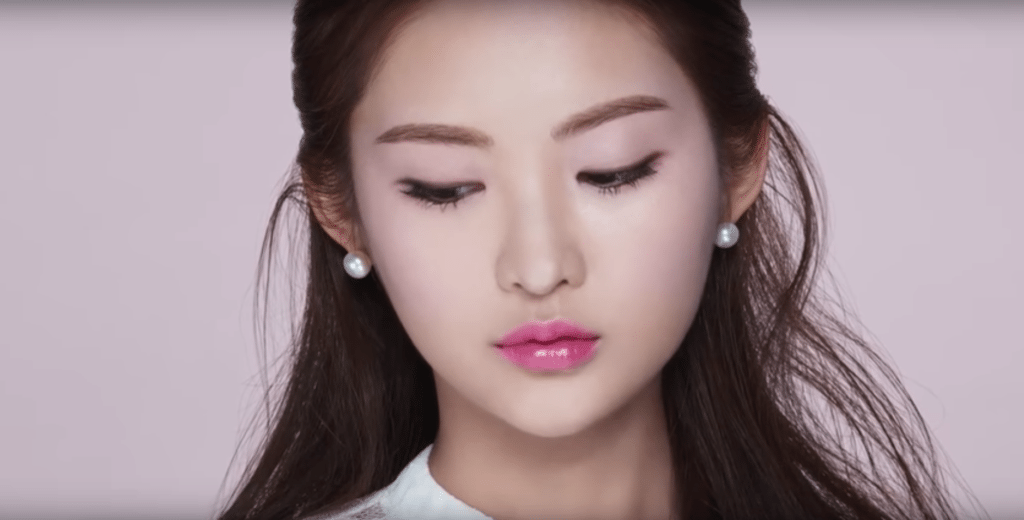 Step 1: Create your base
Start out by moisturizing the skin. Then apply a foundation slightly lighter than your skin tone — like JSM Essential Star-cealer Foundation — all over the face (and neck!) to create your makeup base. Using a medium sized brush, apply concealer on the cheeks and nose, and then taking a smaller brush, concentrate the same concealer on the T-zone, nose tip, and on blemishes or discoloration around the lip. 
Step 2: Brighten and highlight
A pink-toned concealer brightens and adds glow by counteracting sallowness and dark circles. Jung blends in a concealer in a pink shade around the eyes and along the C-zone (from the outer brow bone down to the cheeks). You can watch her do it here (starting at 1:00), but we also break it down for you after the video.
To add a natural highlight, take a skin-toned concealer and blend it with a whiter shade, applying it on the T-zone for a brightening effect.
Finally, dab a lavender-hued color corrector on the eyelids, along the bottom lash line, and on the C-zone. As the color opposite yellow on the color wheel, the purple-based shade eliminates unflattering sallow undertones to simultaneously even out skin and brighten the eye area.
For application, it's important to note the way Jung blends in all of the products. The makeup artist ensures an impeccably smooth and flawless finish by implementing small, light, and precise motions all over the face. Instead of swiping on the products, you'll notice that she employs quick dabbing motions, which she repeats numerous times until the product is completely blended in. In the same way that Korean beauty junkies thoroughly pat pat pat their skincare products until fully absorbed into the skin, applying your makeup in this manner ensures that the products are well-blended for a natural makeup finish.
Step 3: Add a natural pink glow and mattify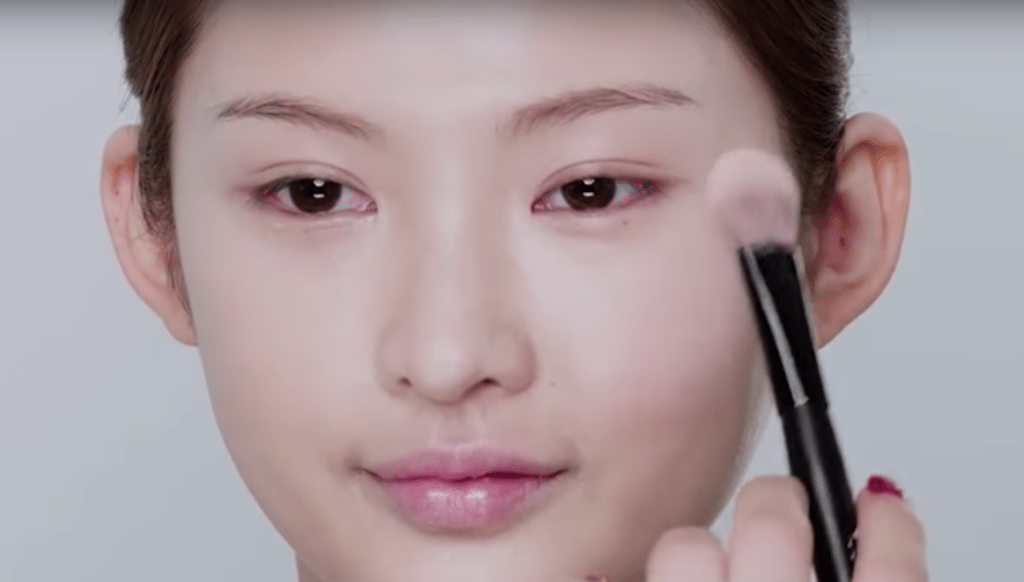 Mix a pink pearl powder (or highlighting powder) with pink and lavender blushes, sweeping it lightly and quickly on the high points of your cheeks and eyelids. You can use the same blush shades on your eyelids and under the lash lines to create your eyeshadow base.
Then take a powder pact and press the product onto the T-zone using a flat brush in light patting motions to remove excess oil.  
Step 4: Enhance your eyes
Line your waterline with a brown gel eyeliner, extending out slightly past the corners to elongate and widen your eyes. Soften the liner by blending in brown eyeshadow, taking it under the lash line as well for more depth.
Define the upper and lower lashes with a generous layer of mascara, and frame the eyes by filling in your brows with a brow pencil in your hair's shade.
Step 5: Finish with the lip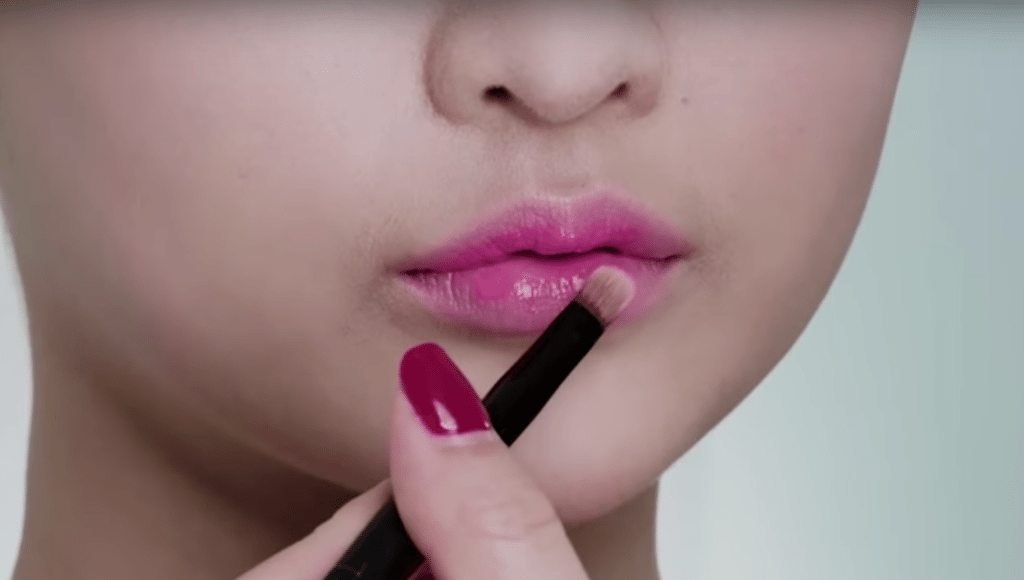 Taking a light rose pink color, apply the lipstick directly onto your lips. Then apply a nude shade with a lip brush along the outer edges of the lips and blend to blur the lines between the two colors. Finally, apply a bright, glowing pink color onto the inner part of your lips with the same lip brush, dabbing out to create a gradient effect.
The end result? Warm, sophisticated, and understated elegance, allowing the spotlight to shine on the most important features of the wedding day: commitment, celebration, and love.
---
Author: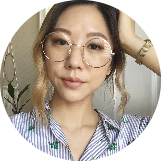 Ruth Kim
Ruth is a 20-something creative with a fixation on black coffee, black boots, and the beautiful black hole that is all things K-beauty. A Southern California native, she loves to share her current skincare favorites and lifestyle inspirations on her Instagram @ruthhlesslyy.
---
Comments