Strikin' It Rich: Eclado Gold Essential Mask Review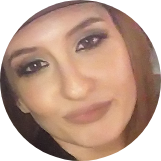 Coco Park
Jul 02, 2017
---
Asking why you should spend $50 for 10 sheet masks when there are $10 options is like asking why you should spend $50 on a nicer bottle of wine when you can get drunk off $5 rotgut. A sheet mask like Eclado Gold Essential Mask is an experience, an indulgence — and it gave me a 24-karat glow for a good 24 hours.
_____________________________________________________________________
I was sent the Eclado Gold Essential Mask to try last week, and it happened to arrive (along with some really great Cellnco eyeshadows I'll be writing about later) the day before my anniversary, which was an excellent surprise and so very fitting. Whenever I have a fancy mask, I'm always torturing myself over when to use it, as I keep convincing myself that nothing is ever a fancy enough occasion. But with my anniversary around the corner, I couldn't talk myself out of committing to using it. The seventh anniversary gift is traditionally copper, but this year it was gonna be gold!
I immediately went to Beautytap to check out the product and get some more information.
"This gold hydrogel mask is not merely window dressing — there really is 24-karat gold in this mask (it's the fifth ingredient listed). Purportedly used by Cleopatra in her beauty regimen, gold has long been touted for its ability to firm skin, increase circulation, and tamp down inflammation. Six herb extracts, including lavender, chamomile, and purslane (which has antimicrobial and anti-inflammatory properties), soothe and calm skin while fighting oxidative damage from UV rays and pollution. Hyaluronic acid draws in moisture and keeps skin hydrated. But what we really love about this mask is its unique design that allows even the eyelids and lip area to get the full benefit of the mask, leaving skin plumped and firmed with a matte finish."
Interesting indeed.
The previous week had been a rough one for me. I'd been doing a bare minimum skincare routine since my 7-month-old was cutting his first teeth, two at once, and was especially clingy and fussy. If you don't know a lot about dry skin, know that even a little bit of neglect quickly takes hold, and your skin becomes dry and angry before you know it. I had also been spending a lot of time outside on 5+ km walks every day, so I was a bit weather beaten. What I'm trying to convey to you is, if there was ever a time I was in need of a rescue skin-wise, it would be now. I didn't want to go into this special occasion looking like a dishrag.
The next morning I woke up early and swiped my face with my SanDaWha Liposome Skin Softener and then did another layer all over just for some extra hydration. I excitedly opened my Eclado Gold Essential Mask and saw the shimmering hydrogel inside. It really is pretty — you can sure see that fifth ingredient gold shining. I was surprised at how dry the mask was, though, and started to get worried. Was something not absolutely saturated with product be able to bring my skin back from the brink? I was skeptical.
via GIPHY
I put the mask on and the fit was very nice. You have the option of putting the flaps over your mouth and eyes, which I always appreciate because that's what I love to do. So I turned on a fun podcast and laid back for 20 minutes and let this mask do its thing.
When the allotted time was up, my mask was pretty dry (however, it's to be noted I was in front of a fan), so again I was worried. However, upon removal my skin was absolutely glowing, and it wasn't just glowing from leftover serum or remaining wetness the way it does with some other masks. The serum had penetrated, and I was left with hydrated, bouncy, glowing skin. My skin was very much dry (dry as in not wet, not dry as in dehydrated) but still glowing. The matte finish was something I was skeptical about but was ultimately something I really appreciated. It was especially nice as it didn't leave my eyelids too slick and oily when it came time to apply my eyeshadow.
I did the rest of my routine as normal and went on about my day, which was wonderful by the way.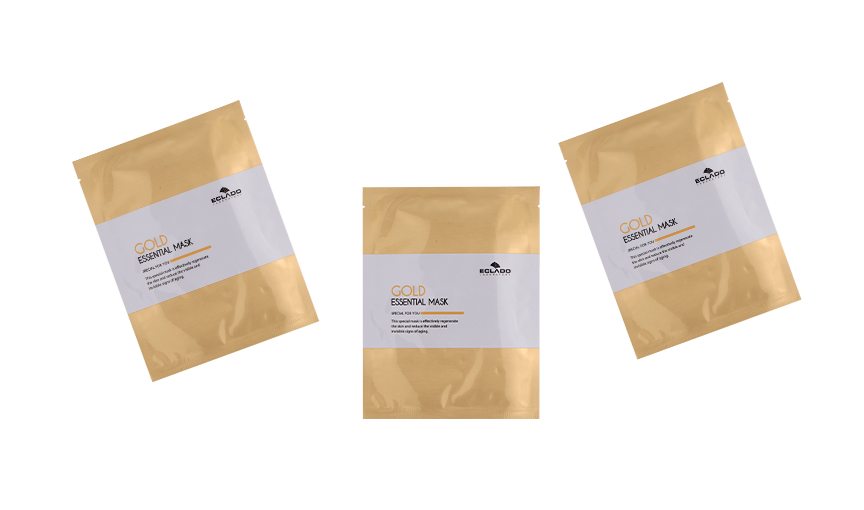 By the end of the night my skin was still feeling awesome. My glow was still there, my skin still felt plumper and definitely still hydrated. So I decided to do a little experiment. I removed my eyeshadow and lipstick with a makeup remover cloth, as that was the only makeup I'd worn that day, and decided to go to bed to see if this mask could carry me over into morning with my skin still feeling this way. A dangerously stupid thing to do but, as the kids say, yolo.
I woke up the next morning only the slightest bit dry, but nothing that wouldn't be cured with my morning routine. You guys may not understand the impact of that statement, but my normal nightly routine always includes copious amounts of oil and a sleeping pack, so the fact that this single mask and normal morning routine carried me 24 hours is pretty amazing.
So just like how you might have a nice bottle of wine or champagne on hand, treat yourself to the Eclado Gold Essential Mask, but don't wait around for an anniversary to try it. In the words of Tom Haverford, treat yo self!
What's the most expensive sheet mask or skincare product you've ever tried? Was it worth it?
---
Author: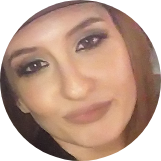 Coco Park
Coco Park is an author, beauty journalist, blogger, podcast host, and all around oddball living in Montreal Quebec with her family. Originally from the southern USA, she worked for several years in the makeup industry as a professional makeup artist and holds a certificate in esthetics. She is a proud member of the Choctaw Nation of Oklahoma. Want to know more? Check her out on the Beauty Beyond Basics podcast, on her blog TheBeautyWolf.com, on Instagram @thebeautywolf, and in her book "Korean Beauty Secrets: A Practical Guide to Cutting-Edge Skincare & Makeup."
---
Comments