3 Must-Haves For Your Korean Makeup Base Starter Kit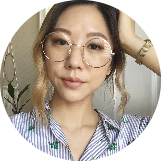 Ruth Kim
Jul 18, 2017
---
Let's touch base, literally. In K-beauty, your color makeup look doesn't begin until you've perfected your makeup base. Make sure you have these three must-haves to create the perfect foundation for your makeup look.
_____________________________________________________________________
The brow gods may be in your favor and your eyeliner winged to perfection, but consider it all in vain without a proper makeup base. In Korea, your makeup base is not just about smearing on a foundation. As you would expect from a country that made 10 steps the skincare norm, a proper makeup base protects, primes, and even treats skin as much as it conceals imperfections. Here, we've narrowed it down to the three essential types of products you need for amazing skin (after your thorough skincare routine, of course).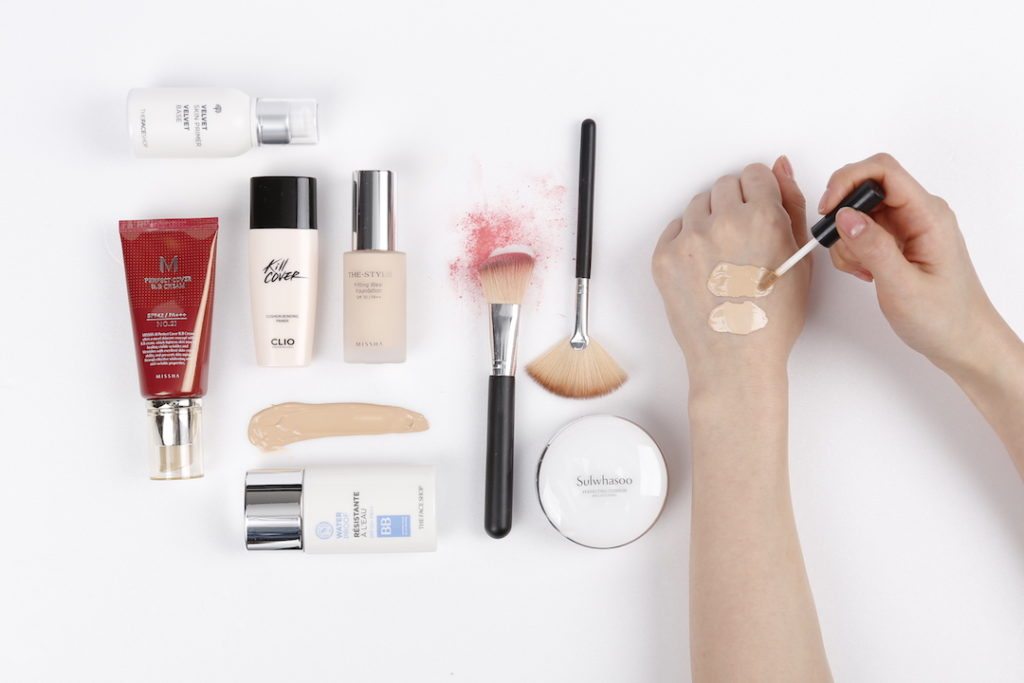 It starts with prevention
You've heard it all before: UV rays are no joke, and too much exposure to the sun's harmful radiation can lead to burns, premature aging, even cancer. And although the dangers of the sun — yes, even on a cloudy day — are common knowledge, using sunscreen isn't always a priority, especially for us Stateside.
Well, it's no secret that Koreans swear by the benefits of wearing sunscreen daily, and the proof is in their radiant skin. A daily application of sunscreen can ward off dark spots, wrinkles, and the early onset of a rough, leathery skin texture by preventing the breakdown of collagen and elastin supporting the structure of your skin. It's the ultimate base for your makeup.
With innumerable options for sun protection on the market, you'll have to do some screening (pun intended) to find one that fits the bill. (Editor at Large Jude Chao discovered her new HG here, Contributing Editor Coco Park recommends these, and Contributing Editor Sheryll Donerson likes these for oily skin types.) The good thing is Korean brands indicate UVA protection with a PA+ label (look for at least "+++" or "++++" for the best protection), so there's no guessing about broad-spectrum protection like there is with American brands. Make sunscreen your new daily mantra, and you'll have a lot less to cover up in the long run.
Primed to perfection
Often underrated and overlooked, primer is an important step in building a smooth foundation for your base makeup. And best of all, it can be catered to your skin's needs.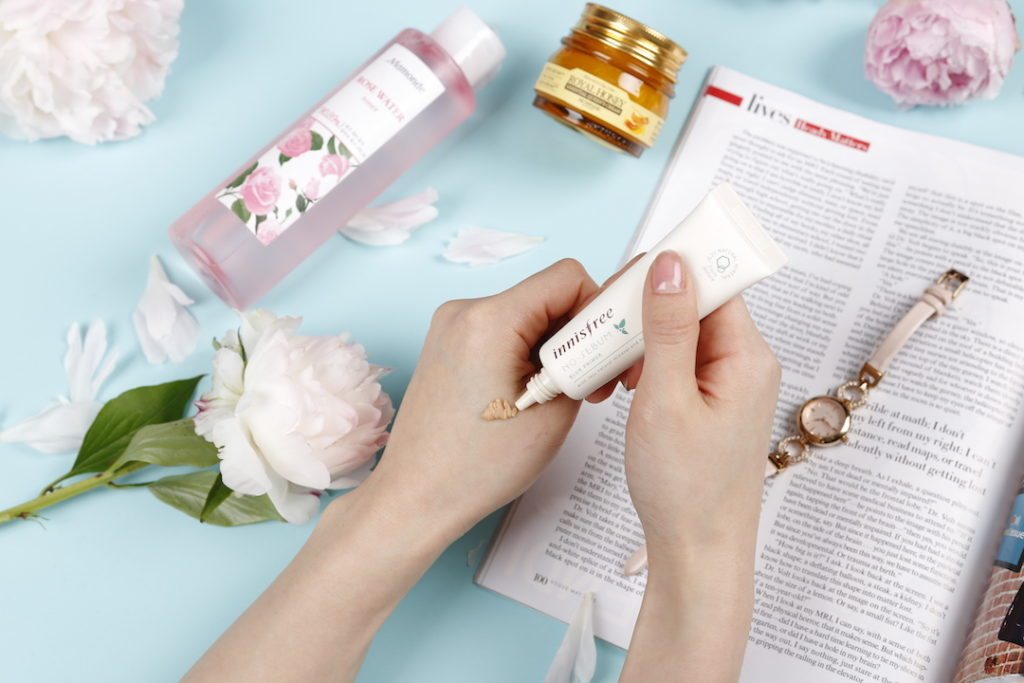 Oily skin? Choose a sebum-controlling, oil-free primer like Innisfree No Sebum Blur Primer or The Face Shop Face It Velvet Skin Primer.
Dry skin? Laneige Water Supreme Primer Base SPF15 PA++ is a great example of a moisturizing primer that's infused with optimal mineral water for all-day hydration.
Enlarged pores and prone to creases? Find a primer that excels at blurring between the lines. (We like Tony Moly Egg Pore Silky Smooth Balm.)
Not all makeup primers are created equal, so evaluate your skin type to guide you to the one.  
The ABC's of foundation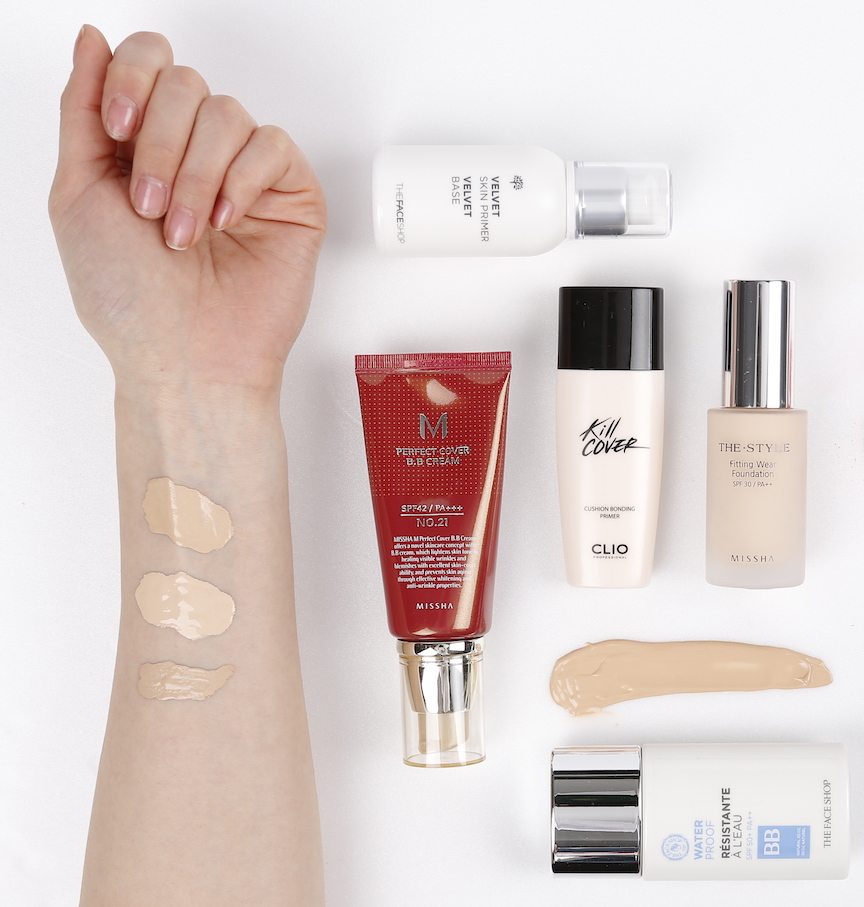 It's time for coverage, and for Koreans, this comes largely in the form of BB and CC creams and cushion compacts. Taken from "blemish balm," originally created by a German dermatologist for her post-treatment patients, BB creams are usually of a thicker consistency, with higher levels of zinc oxide and titanium dioxide for UVA and UVB protection and medium coverage. (Think more coverage than tinted moisturizers, less or the same than your average foundation.) BB formulas are also touted for its antioxidants and other skincare benefits, like the tried-and-true Missha M Perfect Cover BB Cream, which offers full coverage in a lightweight formula flush with hyaluronic acid and ceramide.
For dull skin or issues with redness, CC cream is your best friend. Generally more lightweight and sheerer than its BB counterpart, CC creams boast "color correcting" formulas, sun protection, and skin-brightening properties (hello, light-diffusing particles!). The Banila Co. It Radiant CC Cream is a favorite among K-beauty junkies.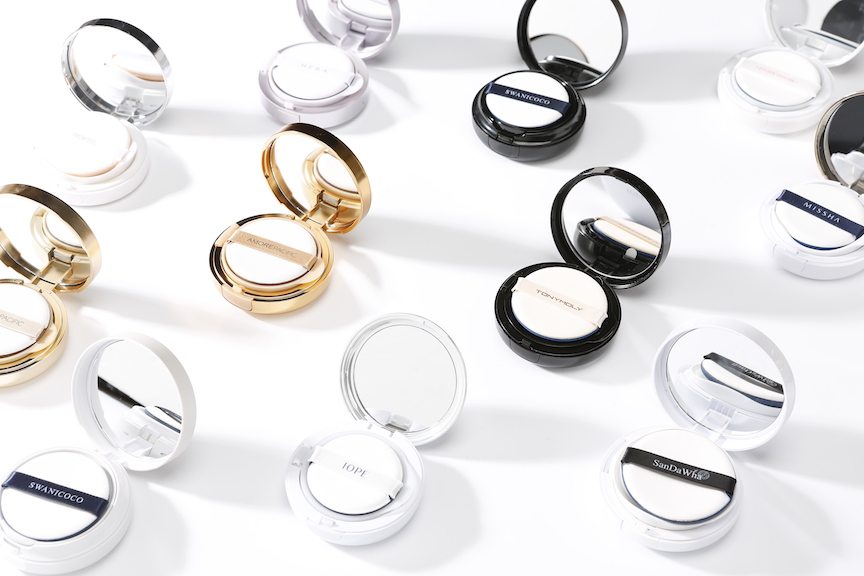 The latest innovation in base makeup is the cushion compact, which essentially lets you take your foundation and sunscreen on-the-go. The travel-friendly cushion compact features a soft sponge soaked in a base makeup formula with a special ruby cell puff for application. Lightweight cushion compact formulas are perfect for those looking for coverage, sun protection (reapplication every two hours is a must!), and skincare perks that improve the condition of the skin. One of our favorite cushion compacts is Sulwhasoo Perfecting Cushion Brightening, which brightens skin over time with magnolia and licorice extracts, all in a semi-matte finish.
With these three base makeup essentials, you'll have smooth, radiant coverage all on an impenetrable layer of sun protection — so you can keep applying your favorite base makeup routine again and again on healthy, glowing skin.
What's your base makeup routine? Have you tried primers or color correctors? Let us know!
---
Author: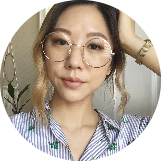 Ruth Kim
Ruth is a 20-something creative with a fixation on black coffee, black boots, and the beautiful black hole that is all things K-beauty. A Southern California native, she loves to share her current skincare favorites and lifestyle inspirations on her Instagram @ruthhlesslyy.
---
Comments