How I Do K-Beauty: Ruth's Skincare Routine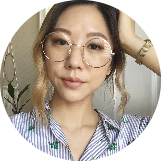 Ruth Kim
Jul 04, 2017
---
Just like everyone's skin is unique, the way everyone cares for their skin is also unique. After all, there's no right or wrong way to do K-beauty; it's what works for you. In this series, we take a deep dive into the individualized skincare regimens of some K-beauty insiders. Here, W2Beauty associate editor Ruth Kim gives us a peek into her 10+ step routine.
_____________________________________________________________________
If you asked me what my skincare routine was two to three years ago, I would have shrugged indifferently. Makeup wipes, face wash, and a moisturizer. (I know, crazy, right?) There'd be the occasional sheet mask that my mom would bring back from her visits to Korea, but that was pretty much the extent of my skincare routine.
It's only been a few years since I saw the light that is Korean beauty and skincare, and let me tell you, it's been one helluva ride. From figuring out what an emulsion was to my essence enlightenment, if you will, I can happily say that my B.S. days — Before Skincare, that is — are long behind me.
But before I jump into my routine, a word on self-care (and it's likely something you've heard many times before). As important as it is what I put onto my skin, I've found that what I put into my body (and how I take care of it) has as much — nay, more — impact on the overall health and appearance of my skin. Without going into too much detail (because it ain't pretty), I've had digestive issues my entire life. Just two years ago, these problems escalated into a pretty serious bacterial imbalance in my gut, and since then, my diet has undergone a complete overhaul. During the most intense period, I completely cut out gluten, sugar, alcohol, coffee (withdrawal headaches for days), processed foods, fried foods, and surprisingly, even some veggies and fruits that weren't easily digestible. Not only did my stomach begin to feel better, my complexion cleared and my skin seriously glowed.
Alas, I still deal with gut issues on the daily (the gut is as complex and individualized as one's skin type), and when I do indulge in sugar, alcohol, or fried and processed foods, I experience immediate ramifications in the form of breakouts and overall poor skin health — notably, a new development of hormonal acne (which I've never faced before, literally). All of this is to say: Consider reevaluating what you eat (keep a food diary and keep track of breakouts and other skin issues in relation to your daily meals) as well as your stress and sleep patterns, and you might find the culprit is outside of your skincare routine.
With that said, let's jump into our routine check-up.
Age range: 20s
Skin type: Combination/sensitive skin (oily T-zone, dry and sensitive on cheeks)
Skin issues: Redness, dullness, dehydrated skin
Skincare steps: 7-11 (depending on night or daytime routine)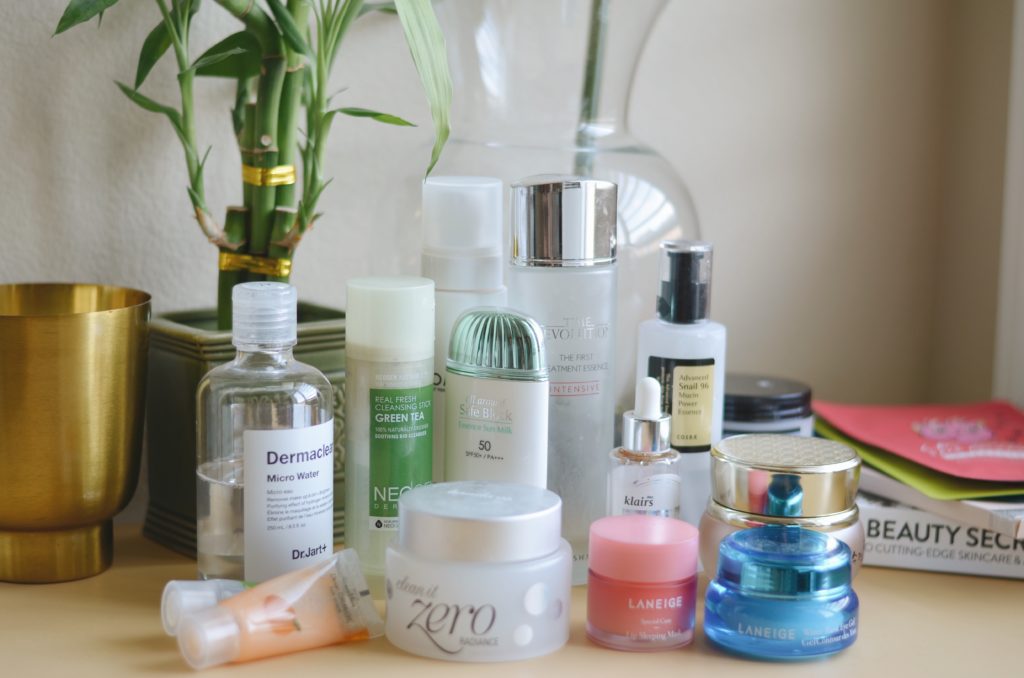 Step 1: Makeup remover (night)
At night, I always use a makeup removing wipe to get an initial cleanse on my face and thoroughly erase any stubborn mascara or eyeliner.
Step 2: Oil cleanse (night)
Next, I go in for the double cleanse (again, only a nighttime step for me). For the past few months, I've been alternating between the Klairs Gentle Black Deep Cleansing Oil and the cult favorite Banila Co. Clean It Zero cleansing balm, in the Radiance version. I've also recently started incorporating quick facial massages during my double cleanse, a super easy way to treat yoself after a long day of furrowed brows and pursed lips in front of a screen. (Guilty, right now.)
Step 3: Water-based cleanser (day + night)
I finish off my triple cleanse with a gentle foaming cleanser to rinse off any remaining water-based residue. For nights, I've been using a small gift set-sized version of The History of Whoo Essential Foam (thanks, mom!), a very thick cleanser that smells like ginseng (in the best way) and lathers up really nicely into a luxurious foam.
In the mornings, I skip the wipes and the oil cleanse for a one-step wash with one of my favorite gentle cleansers, the COSRX Low pH Good Morning Gel Cleanser. I'll occasionally use a cotton pad soaked in a cleansing water (currently: Dr. Jart+ Dermaclear Micro Water) for good measure.
Step 4: Exfoliation (night)
I exfoliate 1-2 times a week, on average, and especially when my skin looks a little dull (I see you, dead skin cells). I've been using a few exfoliating products in rotation, notably the Moksha Dear.Orange Jam Scrub and a sample size of the Iope Moisture Skin Soft Peeling Gel, a gommage-type exfoliator great for sensitive skin like mine. Sometimes I'll exfoliate before my water-based cleanser, because I find that some exfoliating products can leave behind a thin film on my skin.
Step 5: Toner (day + night)
After cleansing, I pat my face dry with my hands and soak a cotton pad with a toner to sweep all over my face and neck. My very first toner was — yes, like a million others — the Son&Park Beauty Water. Currently, I'm in the process of using up two toners to phase them out of my routine, not because they're terrible, but because their performance was a little lackluster on my skin. (Next up to bat: the Klairs Supple Preparation Facial Toner — I can't wait to try this much-hyped toner).
Step 6: Essence (day + night)
Following toner, I pat in a generous amount of essence all over my face and neck. The essence that took my skin-virginity was the Missha Time Revolution First Treatment Essence. I'm on my second bottle now, and I alternate it with the COSRX Advanced Snail 96 Mucin Power Essence.
Step 7: Sheet Masks/Clay Masks/Wash-off Masks (night)
Ah, sheet masks. The gateway drug to K-beauty addiction. I keep at least 10-15 different sheet masks from various brands in my bathroom drawer, and I've got clay and wash-off masks in heavy rotation. I love incorporating masks into my nighttime routine at least two to three times a week.
Step 8: Ampoule (night)
The only ampoule I've used to date is the Missha Time Revolution Night Repair Science Activator Ampoule, which I usually use in conjunction with the aforementioned First Treatment Essence. I'm still an ampoule novice, and I'm looking forward to trying out different ampoules to target specific skin concerns in the future. (Currently eyeing the well-reviewed CELLNCO ampoules.)
Step 9: Facial Oil (day + night)
I've come a long way from running away in horror at the idea of using an oil on my skin to absolutely falling in love with facial oils. There's just something so calming, therapeutic, and luxurious about warming up a pea-sized amount of oil in my palms and pressing it deep into my skin.
At night, I've been using a sample size of the Seaberry Moisturizing Face Oil by Fresh, and in the day, a miniature bottle — clearly, I love me some sample sizes — of the Kiehl's Daily Reviving Concentrate. My skin loves both of these oils.
Step 10: Eye Cream (day + night)
Next step: treating the delicate skin under my eyes with a lightweight eye cream. Several months ago, I tried a tiny tube of the Laneige Water Bank Eye Gel that I really enjoyed, so I recently bought the full size jar, which will probably last me quite a number of months. (Previous to this, I used the Missha Misa Geum Sul Vitalizing Eye Cream, which ended up being way too thick for my skin, resulting in clogged pores and milia.) 
Step 11: Moisturizer (day + night) & Sunscreen (day)
Finally, I seal everything in with a moisturizer. My go-to right now is the COSRX Hyaluronic Acid Intensive Cream, which can tend to feel a little too sticky for day use, but in careful moderation, can be quite lightweight. And of course, I always follow my moisturizer with sunscreen in the daytime.
While I clearly follow an often 10+ step skincare routine, I'm still in the never-ending process of learning to listen to my skin and discern what works and doesn't work. My routine may condense, evolve, or grow in steps over time, but that's the best part about K-beauty. It's not one-size-fits-all — it's all about understanding your unique skin and body, inside and out, and tailoring your skincare routine (and lifestyle!) to achieve the very best skin that you deserve.
So what's your unique skincare routine? I'd love to swap notes. Share in the comments below!
---
Author: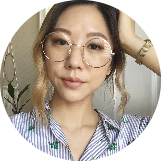 Ruth Kim
Ruth is a 20-something creative with a fixation on black coffee, black boots, and the beautiful black hole that is all things K-beauty. A Southern California native, she loves to share her current skincare favorites and lifestyle inspirations on her Instagram @ruthhlesslyy.
---
Comments