Beauty While Traveling: 7 Ways to Maintain Your Sanity (& Look Good) on the Road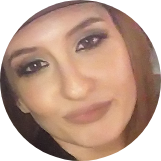 Coco Park
Aug 09, 2017
---
If you're at all into beauty, then beauty while traveling may sound like an impossible feat or at the very least, oxymoronic, what with the stress, liquid restrictions, and lack of space. But it doesn't have to be. Here, 7 ways your can maintain your (beauty) sanity on the road.
---
Whether it's for business or pleasure, beauty while traveling is a real concern. It's right up there with making sure your boarding pass is in order and that everything you can't live without is in your carry-on. Your carry-on is your lifeline, so let's get into some carry-on essentials to make beauty while traveling less chaotic.
1. Sheet masks
At this point, this may be the biggest "duh" ever, but sheet masks are a traveler's best friend. If you have an early flight and can't be bothered to do your usual routine before arriving at the airport, sheet masks are perfect in a pinch for combining both the toner and essence steps. If you've done your routine and just want to bliss out for a while, they're great for that, too. They're also great on long train rides or if you're carpooling for a long stretch on business. (If you're the passenger, that is. If I pull up next to a car with someone sheeting while driving, you're getting posted to my FB for the amusement of my friends.)
I really enjoyed the last few Moksha masks I tried. They come in both cream type and essence type masks, which is great depending on the time of year you're traveling and your skin type or even just preference.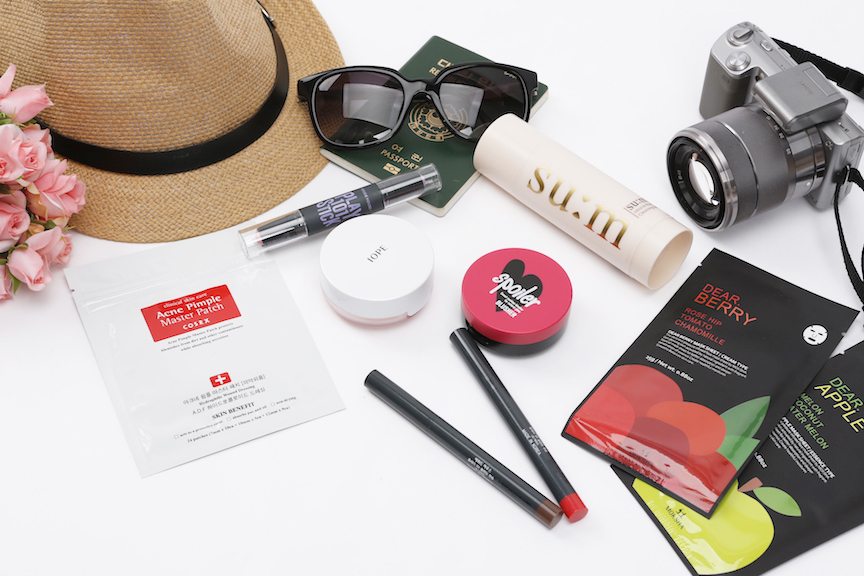 2. Cushion anything
Another product I love to travel with is cushion-type makeup, and I don't just mean BB cushions. Cushion blushes are some of my very favorite products out there. They impart a glowy flush that a powder just can't achieve. Iope Air Cushion Blusher and Tony Moly Spoiler Mini Cushion Blushers are my two favorite out there. The shades of blush available between the two and the results they give you are stunning enough to build an entire look around. They're also so perfectly portable that I can't believe it took the industry so long to get behind it.
3. Multitaskers
Multitasking products are a must for saving space, and anything in stick form gets the thumbs up from me. Etude House Play 101 Blending Pencils can be used as blush, lipsticks, eyeshadow, you name it. They come in creamy, velvet, jewel, and jelly type finishes and have 33 shades to choose from. You can do an entire look with just these little sticks — they're perfect!
4. Cleansers
For ease of use, portability, and multitasking, I think the Su:m37 Miracle Rose Cleansing stick is an absolute must have for traveling. It can function as both your first and second cleanser if need be, and there's no worry about any leakage or spills since it's in a solid stick form. I really wish more companies would do cleansers in a stick. There's a reason why this product has a fanatical cult following — it's perfect!
If your skin is oily and you really feel like you need a second cleanser that's just as portable, Iope Enzyme Powder Treatment Wash is ideal. This wash comes in a fine powder, kind of like detergent, and foams with the introduction of water. What I appreciate about the Iope Enzyme Powder Treatment Wash when compared to other powder washes is this one isn't drying and it doesn't have an insane pH. It clocks in right around 6, which is perfectly acceptable.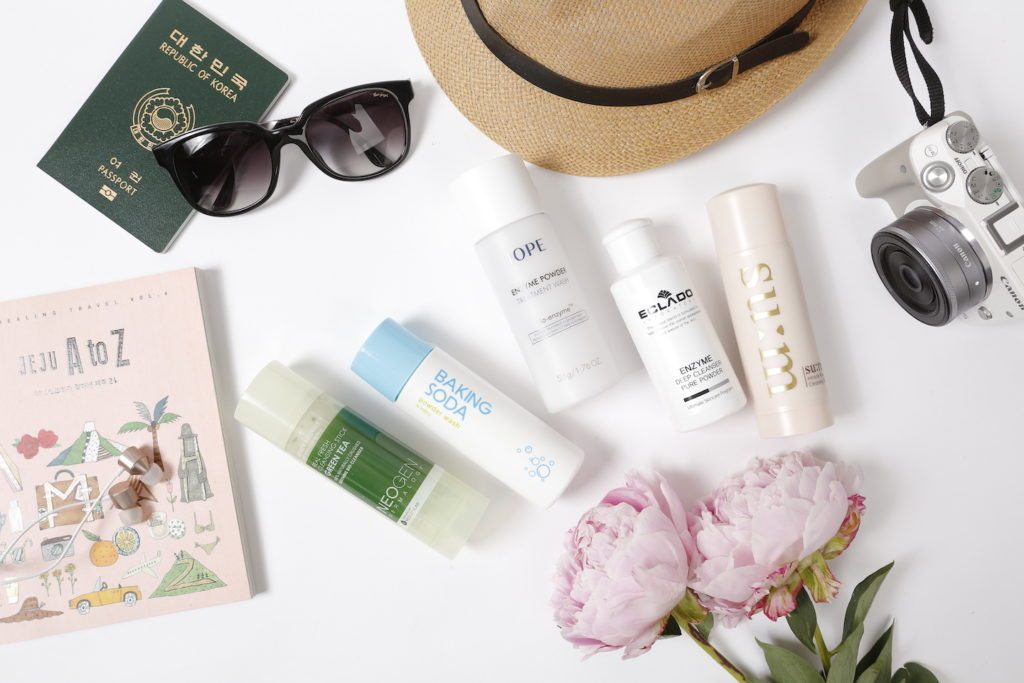 4. Travel brushes
Traveling with makeup is its own chaotic insanity. Much like packing shoes, you're kind of tempted to bring everything but the kitchen sink for those "just in case" moments — but resist the temptation and play it simple.
Plus, the less you bring, the less there is to lose! I had a friend insist on bringing her beloved brush collection on vacation once and a misunderstanding with housekeeping found her brush collection taken away with the rubbish. The horror!
For that reason, it's always best to travel with brushes that are good enough to get the job done, but won't break your heart to lose. A good travel set is the best thing to have on hand. Many different brands have them available.
5. Samples
If you're traveling by plane, you already know you're limited as to what you can bring on in terms of liquid. So be sure to stock up on samples of your favorite creams and serums if you ever come across them. You can always decant your favorite products into travel safe containers, but if you do have the chance to get the samples of your faves, it's always easier to go that route.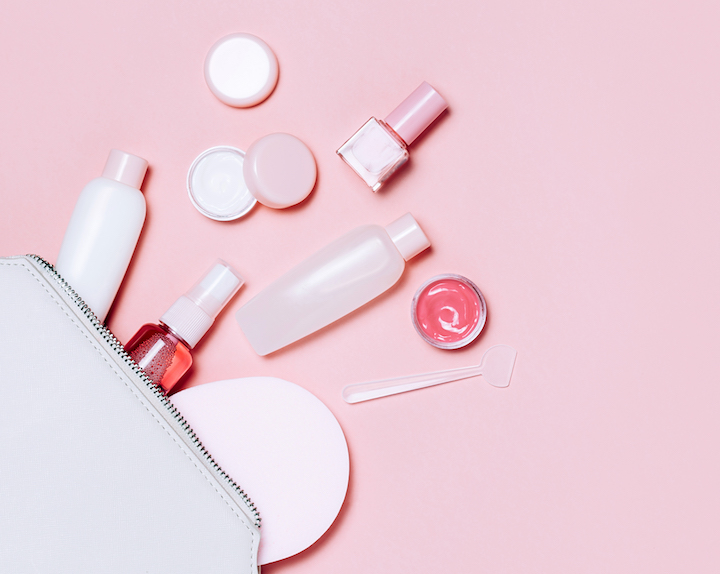 Traveling by rail is a little easier, but you'd be surprised at the size of your regular routine and how much precious packing real estate it takes up if you try to bring it all on the road. Investing in a cute travel kit and hoarding samples are the way to go. Just remember to be safe and toss those samples after a year if you haven't used them yet! Better safe than sorry.
7. Troubleshooters
Even though I don't have acneic skin, whenever I travel for an extended period of time, I have breakouts. I don't know if the new water hardness, pH, or just stress of it all is the culprit, but I can be guaranteed a spot or two. For this reason, I always have a pimple patch on hand. COSRX Acne Pimple Master Patch is an absolute lifesaver. Slap one of these babies on a burgeoning whitehead and overnight it will magically suck out all the infection. It's some next level wizardry. Seriously, it's miraculous. The formerly red, raised, and angry spot will be either completely or near flat, and nothing that a wee bit of concealer can't fix.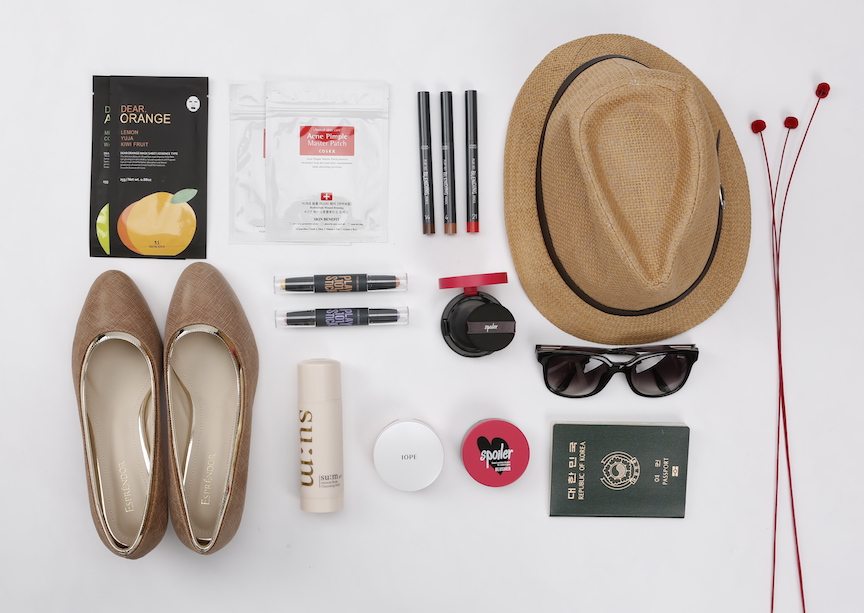 In all seriousness, I keep a toiletry bag packed with most all of the products I've mentioned ready to go at all times: sheet masks, cleansing stick, powder wash, samples, travel brush set, makeup sticks, and cushions. I keep it in a drawer next to my passport, and it really helps to know I'm prepared for anything, even if I have a last minute thing crop up. As morbid as it sounds, it's also been a lifesaver for unexpected hospital trips! And if it's good enough to keep me covered in emergency situations like that, it's certainly good enough to get me through beauty while traveling.
Being prepared is a great feeling. It's one less thing to worry about, and it helps me enjoy the moment and focus on other things that might need my attention. Like where in the hell are my sunglasses? Let's go, let's go, let's go!
How do you beauty while traveling? Share your best tips below!
---
Author: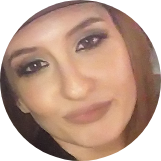 Coco Park
Coco Park is an author, beauty journalist, blogger, podcast host, and all around oddball living in Montreal Quebec with her family. Originally from the southern USA, she worked for several years in the makeup industry as a professional makeup artist and holds a certificate in esthetics. She is a proud member of the Choctaw Nation of Oklahoma. Want to know more? Check her out on the Beauty Beyond Basics podcast, on her blog TheBeautyWolf.com, on Instagram @thebeautywolf, and in her book "Korean Beauty Secrets: A Practical Guide to Cutting-Edge Skincare & Makeup."
---
Comments