The Best Beauty Looks of 2NE1 & How You Can Recreate Them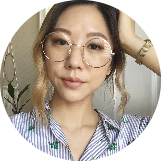 Ruth Kim
Aug 02, 2017
---
We're paying a visual homage to 2NE1, one of South Korea's most idolized girl groups, and their lasting impression on the world of K-pop, fashion, and beauty trends. Here's how you can recreate Minzy, Dara, Bom, and CL's beauty looks, then and now.
_____________________________________________________________________
It's not too late to join the Blackjacks, the worldwide fan base for the recently-retired girl group, 2NE1. Although the internationally recognized idols have now gone their separate ways to solo music, acting, and modeling careers, the formidable K-pop phenomenon as we know it — and their eight-year-long legacy — live on through their catchy tunes, statement-making fashion, and of course, their trendsetting status as beauty icons of Korea.
With early singles like "Can't Nobody" and "Fire" to unforgettable hits like "Lonely" and "I Am The Best," the four bold women of 2NE1 provided plenty of inspiration since their debut in 2009 with their often outlandish outfits, accessories, hair, and makeup.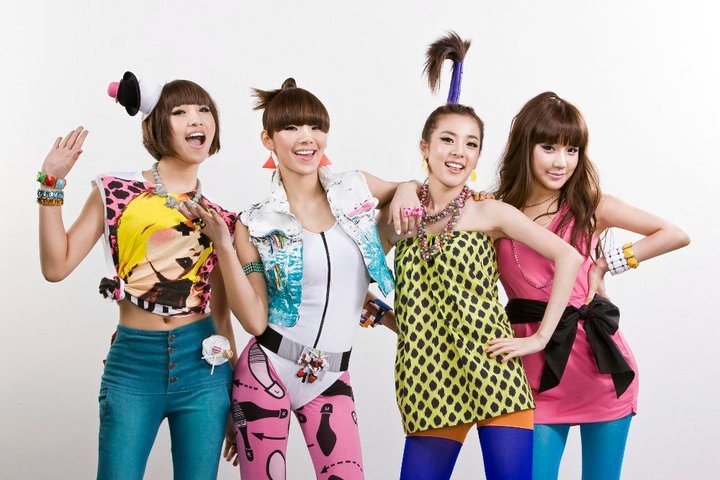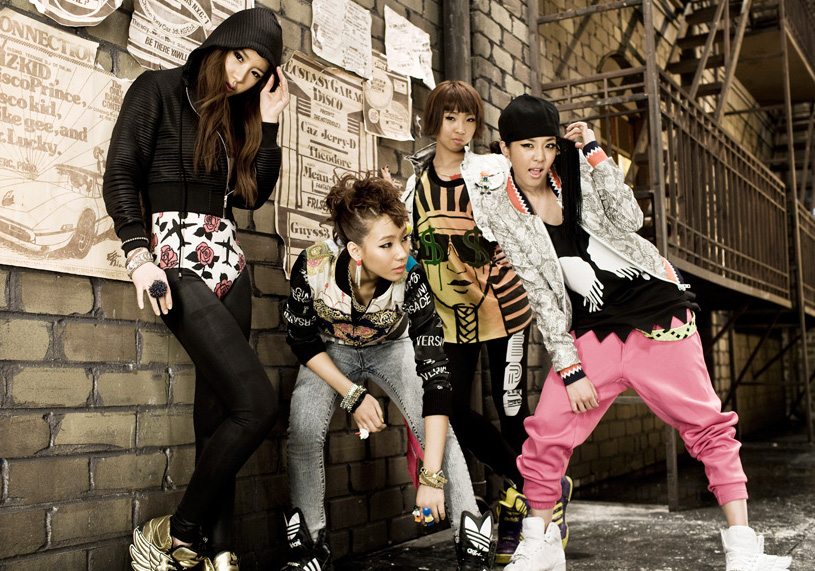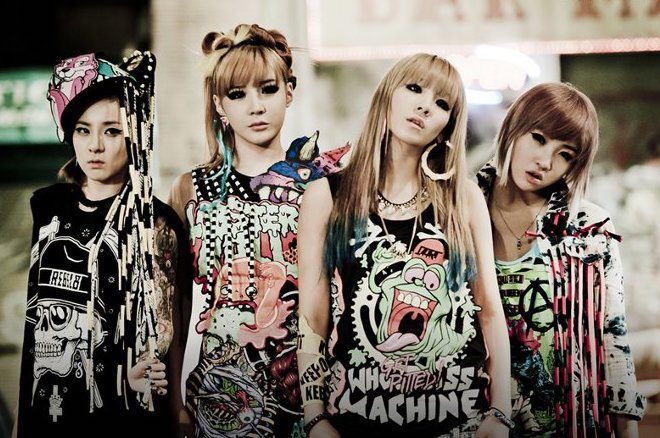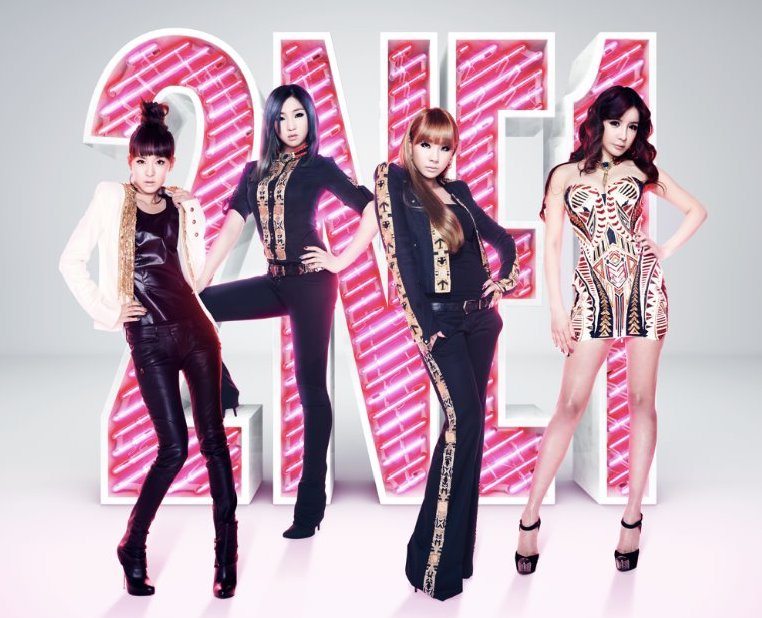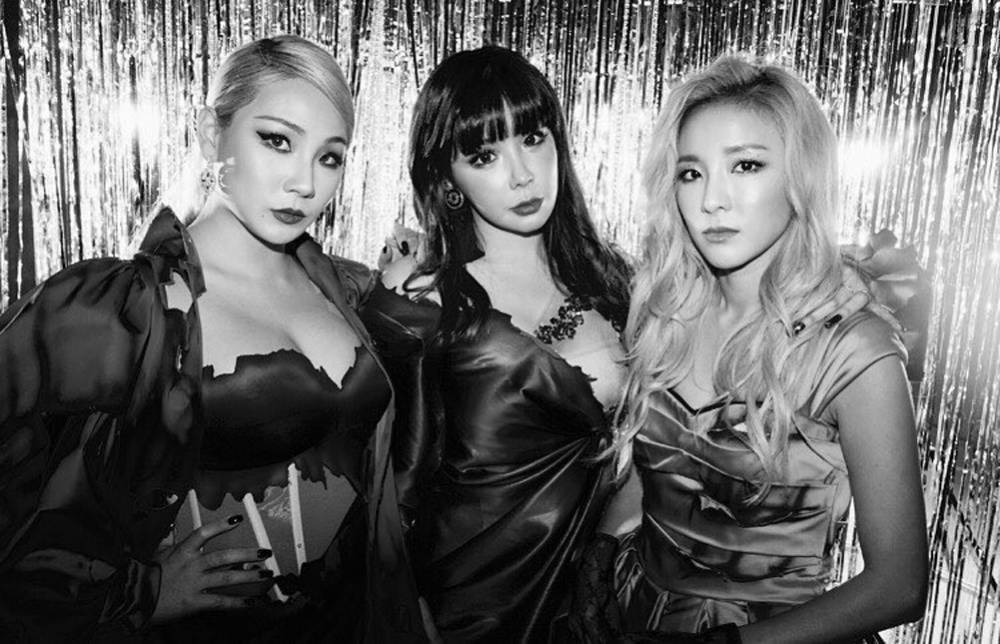 Although some of us might cringe looking back at the fashion choices in their first-ever single, "Lollipop," we think there's a lot to learn in the visual timeline of 2NE1's transformation, from fresh faces in the industry to sophisticated stars on the next leg of their careers. Let's take a closer beauty look at the women who made up the dominating quartet.
Minzy
The youngest of the four, Minzy was the group's main dancer, showing off her singing and rapping chops throughout their albums. In the early days of 2NE1, her style was bold and bright — she rocked thick cat-eyes with pops of color and thick lashes, not to mention hairstyles in interesting cuts and shades.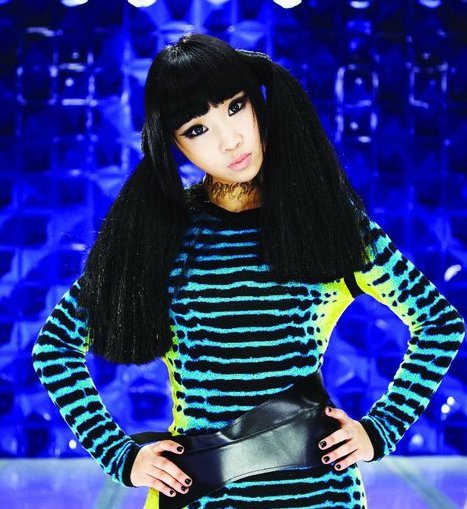 Get Minzy's 2NE1 look:
Use a soft gel eyeliner in black, like the popular Banila Co. Eye Love Cushion Gel Eyeliner, paired with a smudge-able brush, such as Etude House's My Beauty Tool Brush 320 Eyeliner. The small tip allows for precise wings, and the soft bristles are great for blurring any harsh edges. The result? Perfectly defined eyes with the slightest hazy finish, which complements bold cuts and colors.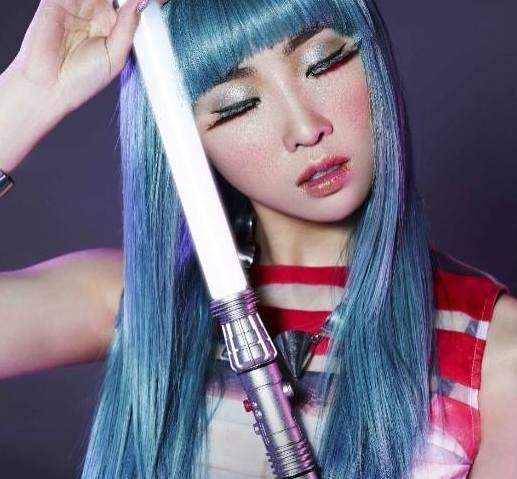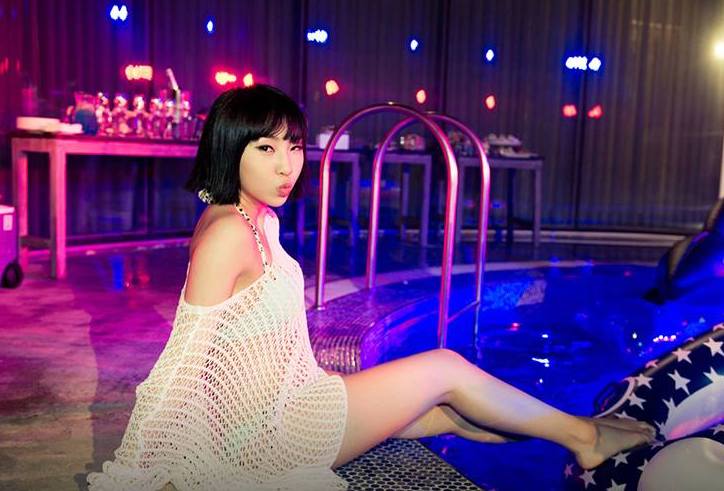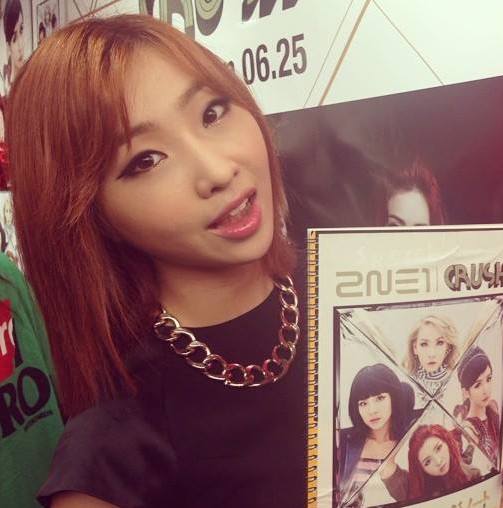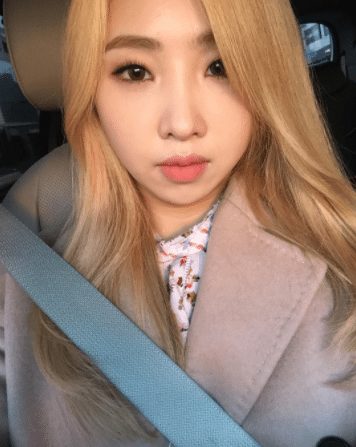 Get Minzy's new look:
It's safe to say that Minzy has come a long way from a heavy-handed cat-eye, especially now that she's embarking on a solo musical career. We love her updated take on subtly lined eyes, which can be replicated using Clio's Kill Black Waterproof Pen Eyeliner. The full, brushed brows are key for this soft look; we like the results of the Tony Moly Coloring Browcara, which fills in brows and adds the slightest tint of color. Finish with a girly wash of blush, like Skinfood's Rose Essence Soft Cream Blusher, and your favorite pink, matte finish lip color — and don't forget to pop on natural lashes for good measure.
Park Bom
Launching her career in 2006, Park Bom — or who's also simply known as Bom — joined 2NE1's lineup as the main vocalist for the group. Although some news of scandal pushed the sweet-voiced singer out of the spotlight for a couple of years later in her career, Bom has still managed to build quite a repertoire, singing alongside K-pop stars the likes of Lee Hyori, G-Dragon, Big Bang, Epik High, and Lexy. Through her various outfits for 2NE1, Bom's signature style has generally remained the same: sweet and sexy with a touch of glamour.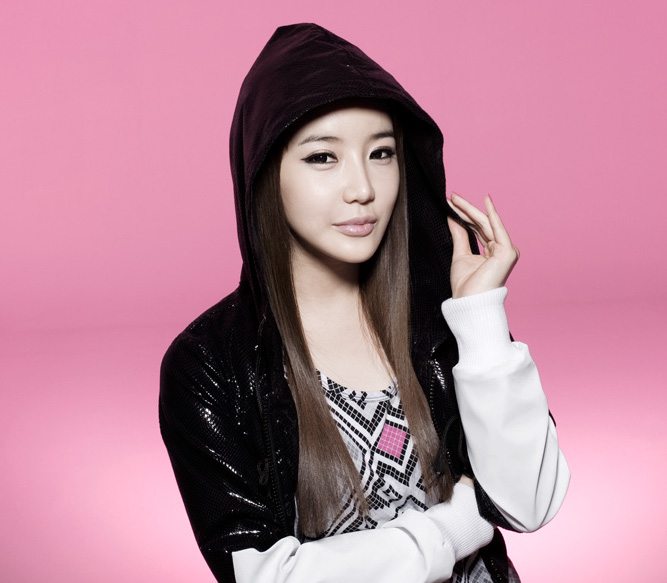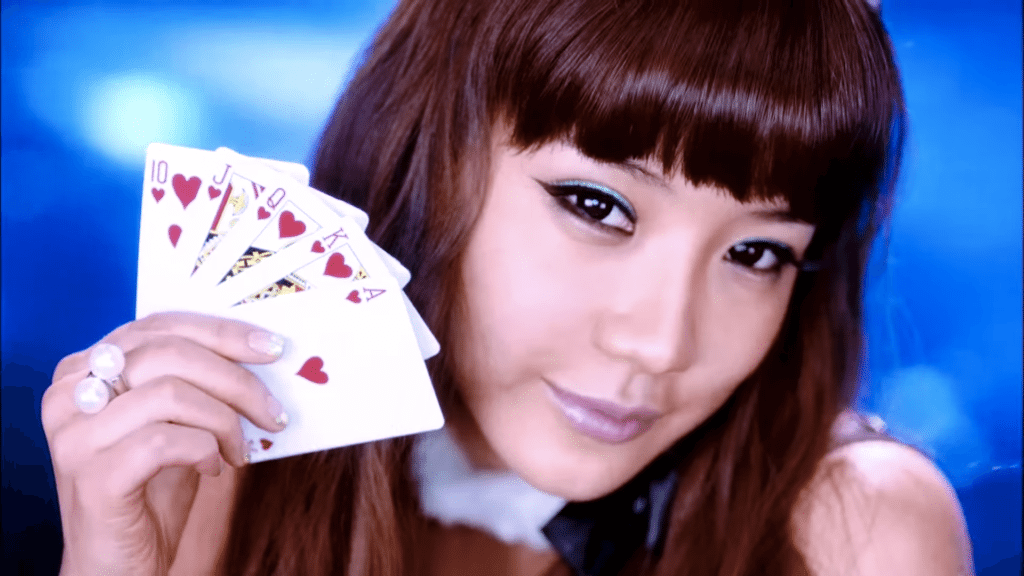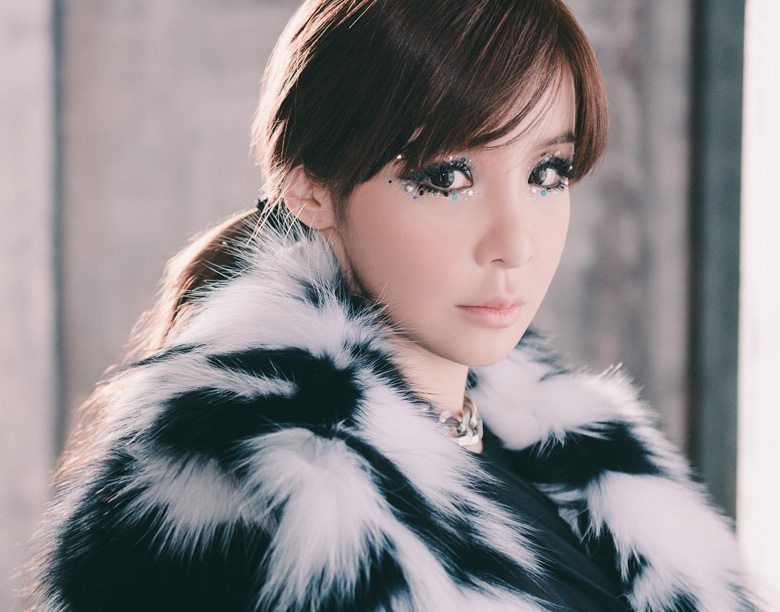 Get Bom's 2NE1 look:
While neutral colored eyeshadows are the norm for most Koreans, a touch of color can make a world of a difference in brightening those eyes and setting you apart from the crowd. Sweep on a layer of a shimmery shade, like Ameli's Sparkle Spot Eyeshadow in Soda Blue or Angel Wings, a gorgeous seafoam green. Take note of Bom's no-fuss cat-eye, winged to perfection with a precise felt or brush tip liner (Clio's Kill Black Waterproof Brush Liner will do the trick).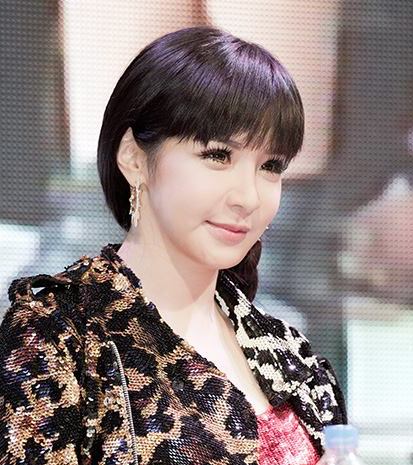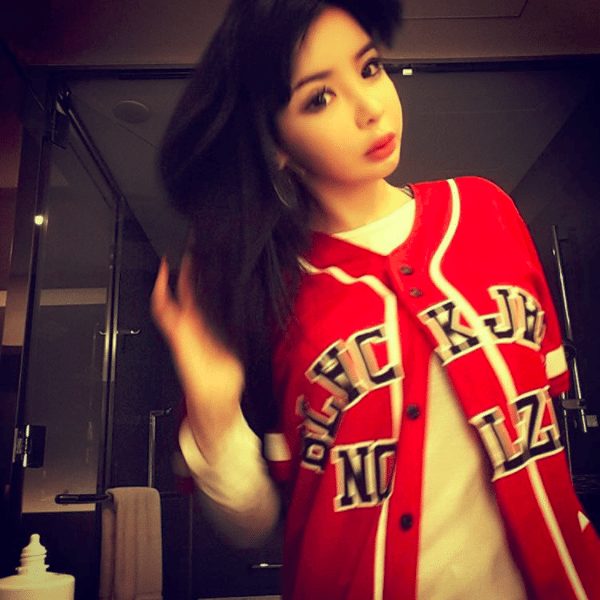 Get Bom's new look:
If one thing's for sure, Bom loves a full set of lashes. Keeping the face makeup and lip color neutral, the now 32-year-old singer makes sure her eyes do the talking with thick, glamouous lashes. Try out 3CE's Eyelashes in #13 or The Face Shop Pro Eyelashes in 08 Smoky for a similar sultry look.
Sandara Park
Better known by her stage name Dara, the singer-turned-multitalented Korean icon (she's now hosting Korea's top beauty show, Get It Beauty) joined 2NE1 at the young age of 25. But before her rise to international stardom through the popular girl group, Dara had already reached idol status in other parts of Asia, where she was known as the "BoA of the Philippines." Needless to say, her influence goes far beyond the small peninsula of South Korea. The baby-faced singer is known for her risk-taking attitude (she's rocked head-turning hairstyles like the "palm-tree" ponytail in the hit single "Lollipop," and a one-sided buzz cut for the song "I Love You"), and when it comes to beauty and fashion, Dara might be the most versatile out of the crew.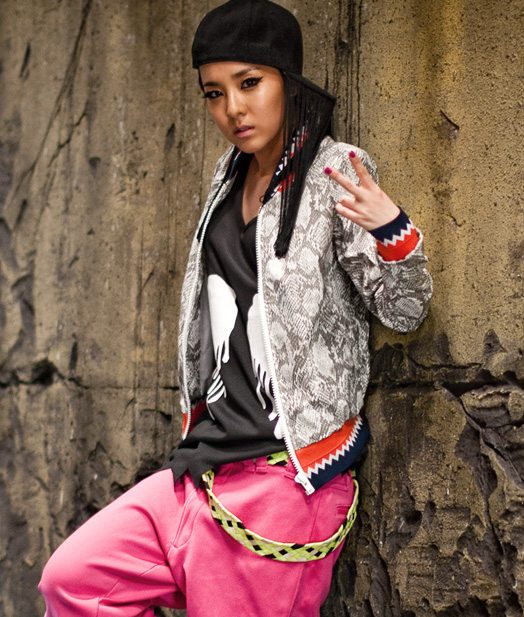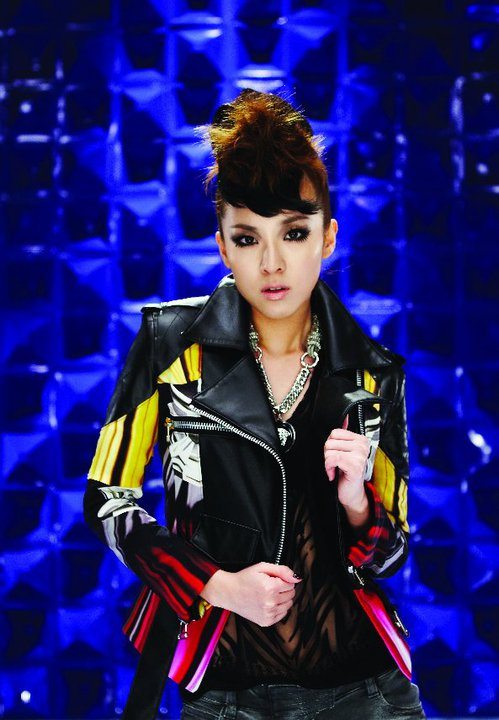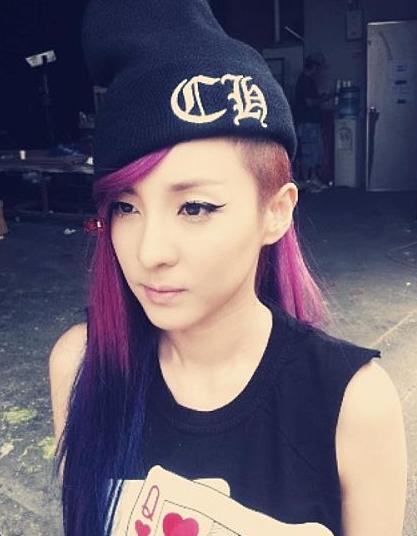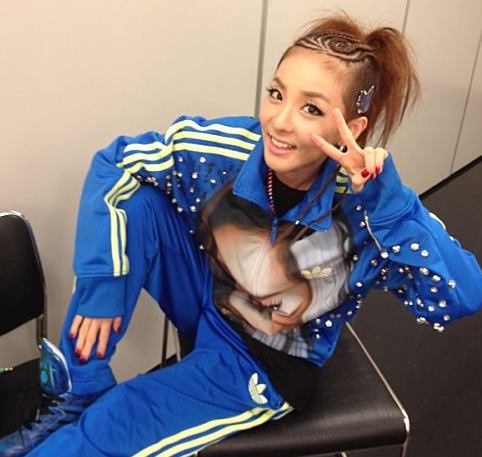 Get Dara's 2NE1 look:
For that lit-from-within glow, try the VDL Lumilayer Primer, a blogger-approved primer that adds a sheer violet-hued layer to cancel out any dullness. Pat on your favorite dewy BB cream or CC cushion compact for medium coverage, and line the eyes with an easy gliding liquid liner like the Etude House Oh My Line eyeliner. Finish the look with a shiny lip gloss, and style hair with loose, messy waves.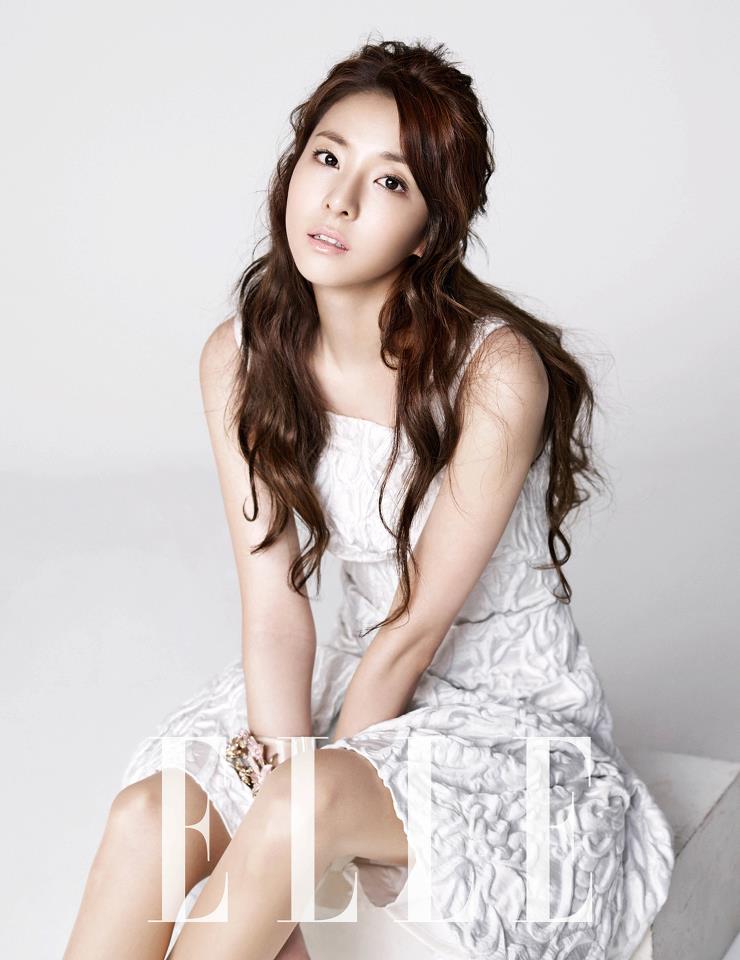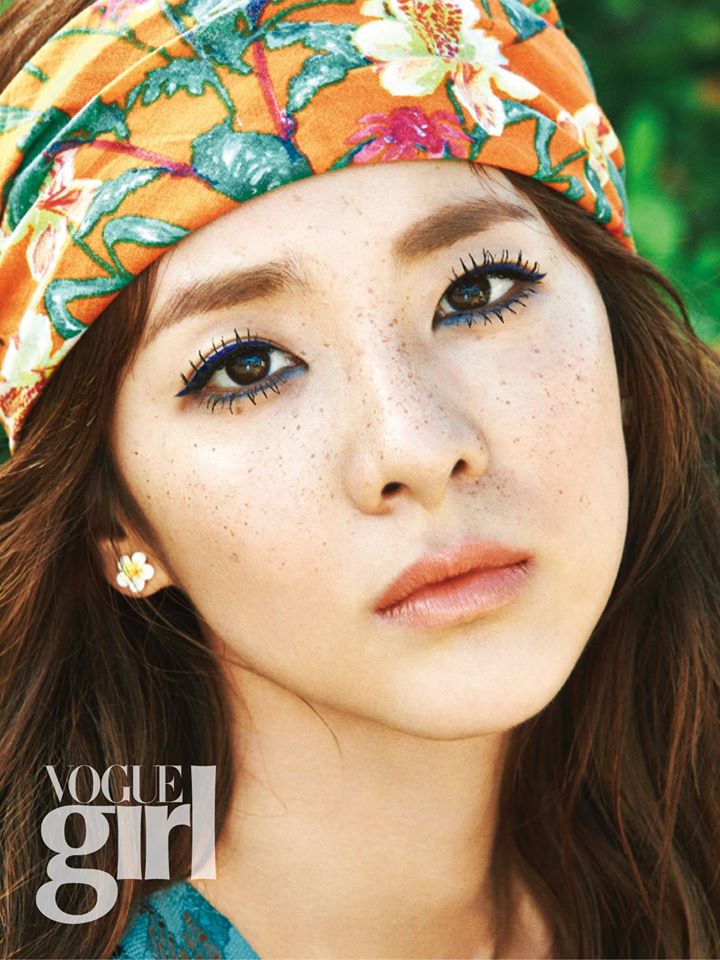 Talk about a transformation. From grungy, hip-hop-inspired attire to ethereal garb and angelic glow, Dara proves that she's got a knack for being a true beauty chameleon. Ditching the edgier cat-eye, Dara glowed in radiant skin, "no-makeup" eye makeup, and a barely-there pink lip gloss for her editorial shoot for Elle and then an edgier, fashion-forward beauty look for Vogue Girl.
Get Dara's new look:
Dara's faux-freckled look had us swooning over the ultra-defined spider lashes and unexpectedly colorful lash lines. First, line the upper lash line with a black or dark brown eyeliner, and contrast the lower lash line with a teal-colored counterpart; you can choose your preferred color from the Holika Holika line of colorful Jewel Light Waterproof Eyeliners.
Next, pick a volumizing mascara like Clio's Peripera Salon de Cara Mascara or A'Pieu's High Stretching Mascara. Instead of zig-zagging the brush through your lashes, which separates and makes the lashes look more natural, apply mascara in an upward motion, let dry, and apply another coat to add thickness. There are many ways to get the clumped lash look; one method is to apply a final light layer of mascara, and to use tweezers to essentially "stick" the lashes together.
Finally, apply tiny random dots all over the nose and cheeks with soft touch eyebrow pencils in light and dark browns for a more realistic effect. Try Swanicoco Show the Eyes Color Artist Eyebrow in Real Brown and The Saem Eco Soul Powerproof Mega Slim Brow in Light Brown.
CL
Talented rapper and ringleader CL (or Lee Chae-rin) has stayed most true to her style out of her three 2NE1 sisters. You'll always see the 26-year-old singer-songwriter sporting her signature cat-eye, varying from sleek and simple to full-on smoky and intense. Her upbringing in culture-rich cities like Paris and Tokyo shines through in her eclectic and unapologetically unique style. She made her solo debut in the States with head-banger songs like "Hello Bitches" and "Lifted"; and Time even calls the budding Korean talent the "future of K-pop in America."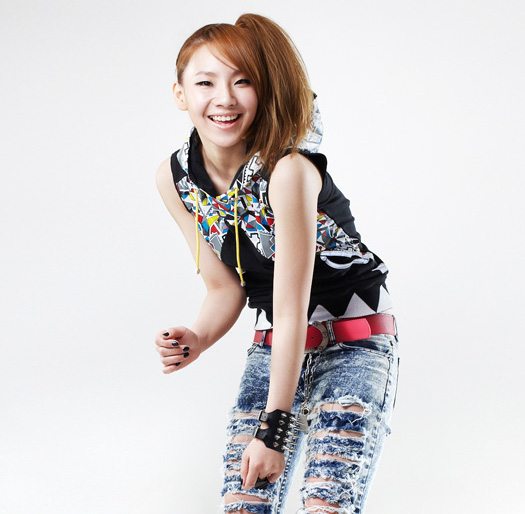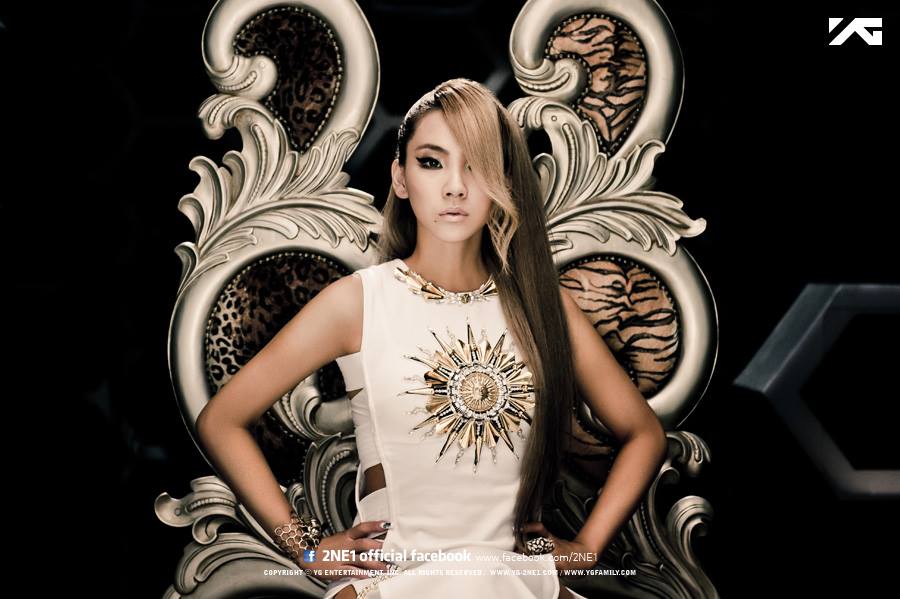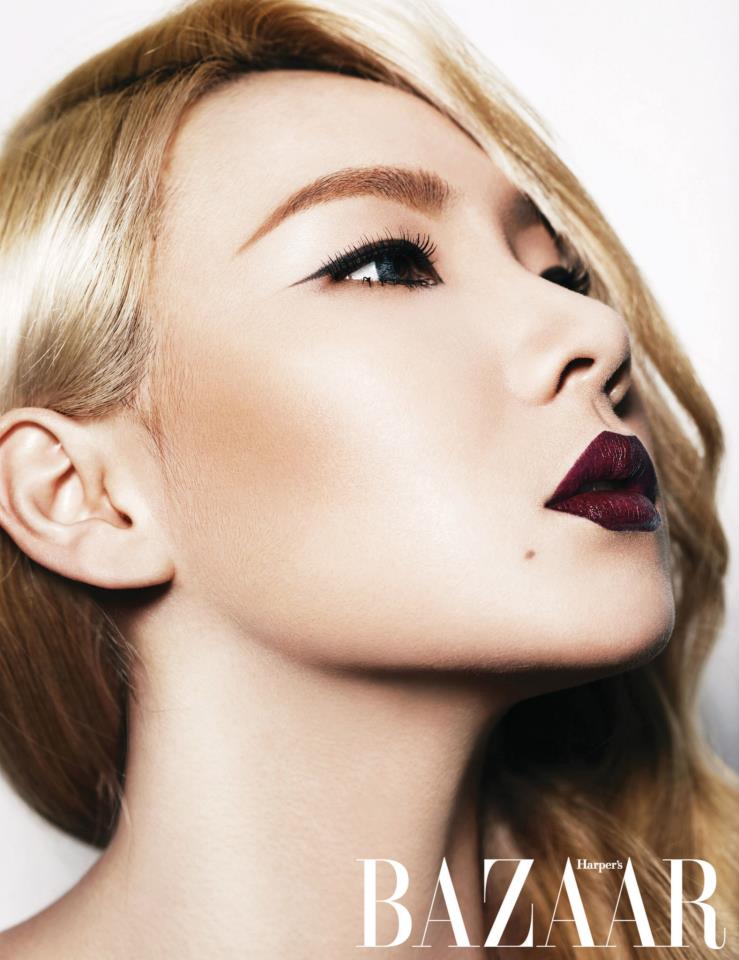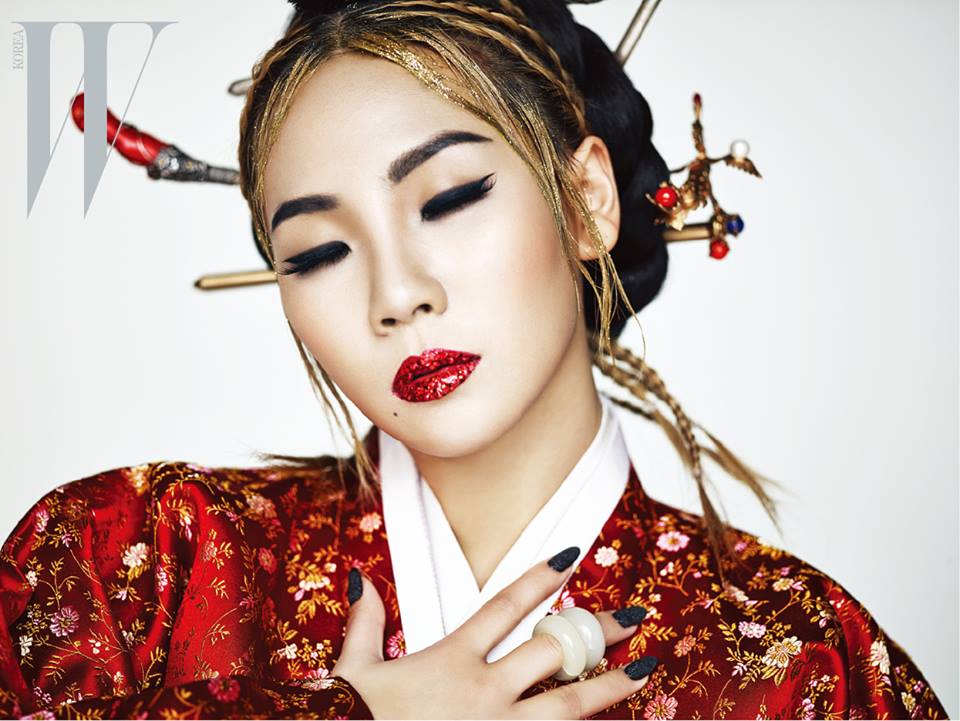 Get CL's 2NE1 (and still current) look:
While we love CL's signature K-pop baddie style (thick-lined cat-eye and smoky shadows), we're head-over-heels for this almost futuristic take on her classic look. For the ultra-precise winged eye, use a sharp felt or brush tipped eyeliner like Clio's best-selling Kill Black liner. Pay special attention to the under-the-cheek contour, using a warm-toned shading kit or bronzer for glowing definition. Seal the deal with a vampy lip — 3CE's Matte Lip Color in shade Gone Bad sounds right up CL's alley.
Whose style do you love the most? Let us know who your inner 2NE1 girl is in the comments below!
All photos: Facebook.com/2NE1, unless otherwise stated.
---
Author: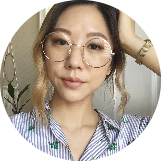 Ruth Kim
Ruth is a 20-something creative with a fixation on black coffee, black boots, and the beautiful black hole that is all things K-beauty. A Southern California native, she loves to share her current skincare favorites and lifestyle inspirations on her Instagram @ruthhlesslyy.
---
Comments