Lee Min Ho Did What for Gangnam Blues?! Our KCON K-Drama Beauty Panel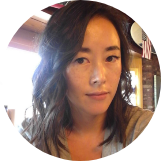 Jude Chao
Aug 30, 2017
---
K-drama fans, did you get a chance to see the panel I moderated at KCON LA this year on K-dramas and the beauty trends they showcase? If not, don't worry — I've got a video recap for you!
_____________________________________________________________________
Our entire KCON LA experience was amazing. We met and selfied with crowds of fans signing up for our new W2Beauty Community at the W2Beauty booth. We carried in and gave away literal tons of product in swag bags and daily giveaways. Our bright silver W2Beauty tote bags were all over the expo hall floor. We enjoyed a soju-soaked K-BBQ dinner with our new friends and panel guests, Viki Social Media Specialist Kathryn Squicciarini and Viki Marketing Coordinator Angie Mills. The next night, we caught up with the ladies of COSRX, including my old friend Hye Young. But among all these good times, one in particular stands out for me: my panel on K-Drama Beauty Trends.
While I'm not the biggest drama buff, I am entranced by K-drama beauty: the flawless skin, the artfully placed products and charming snippets of the heroines' skincare routines, and the ability of popular dramas (especially those starring Jun Ji Hyun or Song Hye Kyo) to create massive beauty trends. Also, I was hoping to talk about Goblin some and Gong Yoo more. So when KCON LA approached me about moderating a panel, beauty in K-dramas seemed like a perfect fit.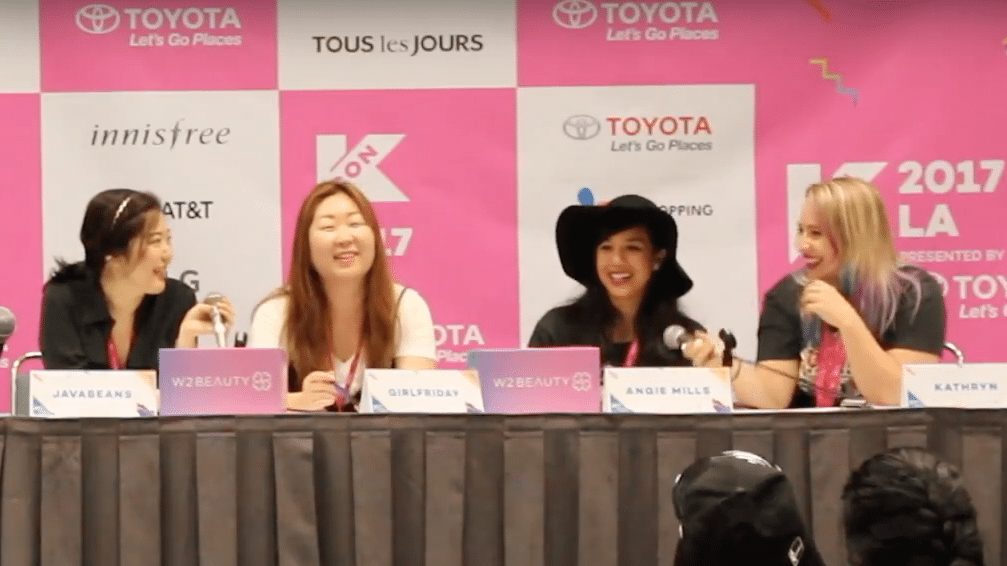 We pulled together a fantastic panel. In addition to our panelists from Asian media streaming giant Viki, we brought in Javabeans and Girlfriday from the massive K-drama blog and community Dramabeans. We also lugged in four of my Fifty Shades of Snail Light & Bright Box to give away during the chat!
So what did we talk about?
We talked about the definitive K-beauty heroine look:
Then we contrasted that with the K-beauty villainess look, which our panelists agreed is much more fun:
We pondered the rise (and fall) of certain trends, as reflected in the latest K-dramas:
We discussed the influence K-dramas have had on our panelists' own beauty routines:
Since no K-drama is complete without some prominent product placement, we covered product placements in the drama world:
And since female characters aren't the only beauties in K-dramas, we took a moment to talk about male beauty in dramas:
Of course, we also had those Light & Bright boxes to give away! I wanted to make it a bit more challenging for our audience, so each panelist came up with a drama trivia question. First audience member with the correct answer won. (If you wanna test yourself before getting the answers, here are the questions:)
1. There is a male actor who made a lipstick go very viral. It was actually called the Yo Na tint after he did it. Who was that male actor?
2. In Weightlifting Fairy Kim Bok-Joo, Lee Sung-kyung used a specific beauty brand. What was it?
3. In Reply 1988, Hyeri tries to dye her hair with something weird. What was it?
Our time was up too soon, and there was so much more we could have talked about if we'd had another hour. Like Gong Yoo's gorgeous hair. Personally, I could spend an hour talking about Jun Ji Hyun's influence on my own beauty ideals and perceptions. Maybe next year …
What was your favorite KCON LA experience? Let us know in the comments, and be sure to post some KCON LA pictures on your Beauty Wall in the W2Beauty Community!
---
Author: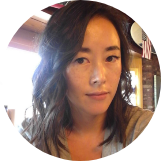 Jude Chao
Jude writes as Fiddy Snails at the K-beauty and skincare blog Fifty Shades of Snail and can be found on Instagram @fiddysnails. Named the ELLE Malaysia Beauty Blogger of the Month for June/July 2017 and one of ELLE Magazine's 10 Cool Beauty Bloggers to Watch in 2018, Jude loves ginseng, snail, honey, propolis, and tuna fish kimbap, though she generally doesn't put the kimbap on her face.
---
Comments