I Went Away for the Weekend & Only Used Beauty Samples — and Survived
When you go away for the weekend, you don't have to leave your multi-step skincare routine behind. Why not make good use of Korea's freebie generosity and use beauty samples to pack lighter and smarter for weekend trips? I tried it, and this is what I found.
_____________________________________________________________________
There's an art to packing for a weekend getaway, and it's an art that involves trying to take as much as possible and also have it weigh as little as possible. I dared myself to spend a weekend using only beauty samples, and it was more do-able than I expected.
In the middle of summer (read ghastly humidity and impossibly high temperatures) in Korea, I headed for my favorite beach spot east of Seoul, Sokcho. The small city is famous for its crystal clear beaches and fresh-off-the-boat seafood and once used to belong to North Korea back in 1945 (add that to your knowledge for the next pub quiz).
Since beauty stores are so big on handing out generous amounts of samples and freebies with even the smallest purchase, I figured that there must be a way to use them wisely. As I packed my suitcase for a weekend of tanning, barbequeing and general de-stressing, I made it my goal to take just the essentials.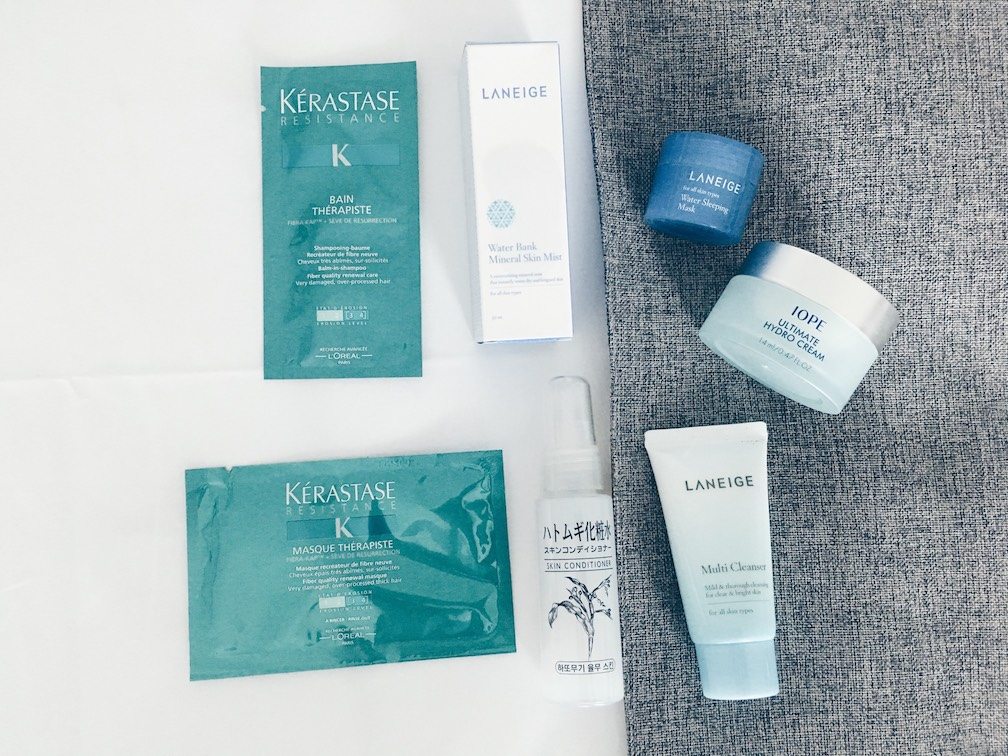 Hair care
It's usually the haircare products that weigh me down the most, especially since my LOFN Baobab Premium Shampoo and Ceramide LPP treatment each weigh a whopping 500g each. There's no way I would be lugging around one kilo of shampoo and conditioner, so I made the move to try Kérastase's Resistance Bain Thérapiste Shampoo and the Masque Thérapiste treatment. Let me just tell you that they was an absolute breath of fresh (sea) air and left my locks feeling light and luscious. These products are all about hydration, and it was just what I needed after a few hours spent under the sun and dipping into the cool ocean. The sample packs I used were just 10ml and 15ml, respectively, and barely made a dent in my luggage.
Face wash
My go-to face wash at the moment is COSRX's Low pH Good Moring Gel Cleanser, but it suddenly felt a little on the heavy side for my ambitious plans. I left this purifying cleanser with its botanical ingredients in my bathroom and opted for a heavenly Laneige Multi Cleanser sample, which did more than enough for my skin. Laneige's product is a 4-in-1 foam cleanser that has micro-cellulose beads that lather up to form a rich cloud of fresh smelling goodness that took off my makeup in seconds. The mini 30ml tube got me through the weekend, and was a welcomed change to my daily routine.
Toner
My love for Mamonde's Rose Water Toner is no longer a secret, but I had to leave the delicately scented, Damask rose toner behind in favor of a smaller spray bottle filled with Hatomugi's Skin Conditioner. This barley-like grain-derived all-in-one skin conditioner is weightless and scentless and is extremely moisture-holding and easily absorbed. As much as I enjoyed dipping my toes in the Japanese product, I think it's safe to say that my loyalty lies with the rose water.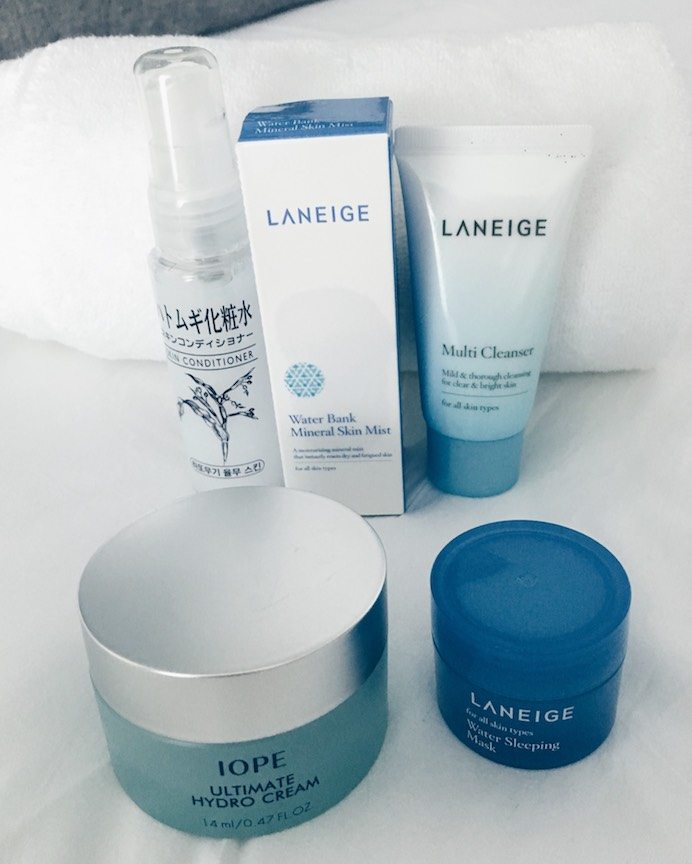 Sleeping mask
There's nothing I love and appreciate more than fresh, crisp hotel linen. Checking into a hotel for a few nights means catching up on precious sleep, and I needed to make sure that my skin received the same luxury. I opted for my Laneige Water Sleeping Mask, which did wonders at purifying and hydrating skin as I slept. Laneige goes so far as to formulate Sleepscent, which releases a therapeutic aroma to help you relax and let your skin work on improving overnight. Any product that has my best interests at heart to this extent definitely has my vote! My tiny sample tub slipped neatly into my bag, ready for a weekend of relaxation and rejuvenation.
Face mist
No Korean beauty arsenal is complete without a mist, which I like to see as the icing on the cake. Laneige has a wondrous Water Bank Mineral Skin Mist, which succeeds at its claim of being able to "instantly reset dry and fatigued skin." Being a water-based mist, it works at cooling the skin down, and the ingredients of mineral water and organic lemon verbena extract soothe skin. It was a refreshing change from Mamonde's Floral Hydro mist, although I didn't notice anything significant besides their sizes of 30ml versus 120ml.
Face cream
One of my favorite new acquisitions is the Iope Ultimate Hydro Cream. It moisturizes my face at the deepest level and uses hyaluronic acid to form a smooth film to keep moisture in. With a gel-like consistency, it is absorbed quickly. The Bio liposomes, which contain 14 super fruits, have a sweet citrusy smell and leave a light and clean scent on my skin. Stashing my tiny 14ml beauty sample into my vanity bag was as easy as one, two, three, and it gave me a chance to leave my Skinfood Royal Honey Essential Queens Cream (62ml) behind for a few days.
I discovered on my return that my precious face cream got a longer vacation than I did and that it was now a permanent residence at my hotel next to the beach. As they say, you win some and you lose some.
Thanks to Korea's generous dishing out of delightful beauty samples and freebies at most major beauty stores, I was more than set to handle a weekend of sunshine and salt water. I enjoyed having to deal with smaller sized products and also the chance to try an array of goodies that would otherwise have remained stashed away in my bathroom cabinet.
If you're feeling a little tied down by your daily beauty products and don't want to lug them across the country, why not try to survive off of just samples? I've done it, and I (and my skin) lived to tell the tale.
What are your beauty traveling tips? Do you travel with only beauty samples or do you lug full-sized products with you? What can't you live without while traveling?
All photos by author.
---
Author:
Megan Bursey
I'm Megan, and I'm obsessed with travel, beauty and LGBTQ rights. I hail from South Africa, where I cut my teeth as a journalist, writing for the biggest-selling English magazine in the country. I spent three years in South Korea and discovered a passion for K-beauty and the jjimjilbang. I'm always on the go, but I make time for my skin. Follow me on Instagram at @meg______b and at linkedin.com/in/megan-bursey-530b4177
---
Comments