This Is Why I'm Hoarding Creamy Sheet Masks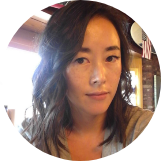 Jude Chao
Sep 03, 2017
---
You may be familiar with the typical watery essence sheet mask, but did you know that creamy sheet masks offer a whole lot of benefits that the watery type just can't? Find out why Editor at Large Jude Chao is hoarding creamy sheet masks in advance of cooler weather.
_____________________________________________________________________
For those of us currently sweating and suffering through late-summer heat waves, it may be hard to believe, but winter is coming, and with it, winter-dry skin. Cold weather and indoor heating can wreak havoc on complexions and make skin look more aged. I'm starting to prepare my defenses, which will include my go-to winter remedy: creamy sheet masks!
Creamy vs. watery sheet masks: What's the difference?
So at this point, you're probably very familiar with watery sheet masks, the typical ones soaked with a clear, hydrating essence. Cream sheet masks are a less common type of sheet mask with a different focus.
Both creamy and watery sheet masks can brighten, reduce redness, and do other nice things for skin. Where a watery sheet mask essence is heavy on the humectants to pump water deep into skin, creamy sheet mask essences emphasize emollient formulations to intensely moisturize at skin's surface. A watery sheet mask plumps and creates a bouncy effect. A creamy sheet mask seals and creates a smooth, supple texture. Also, watery sheet masks tend to work best if you lock in the hydration with a moisturizer afterwards. Creamy sheet masks often negate the need for a final step cream.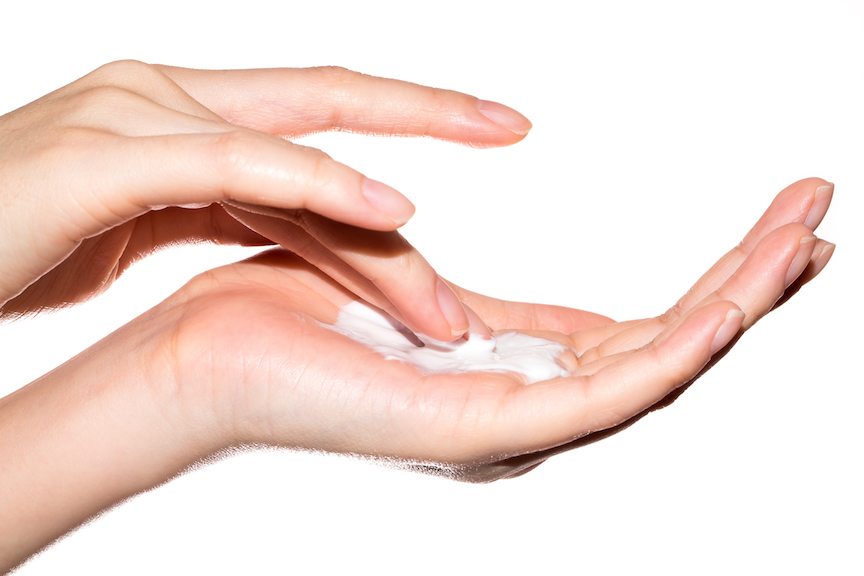 Who could benefit from cream sheet masks, and what's the best way to use them?
If your skin, like mine, dries out easily in winter and develops textural issues like roughness, crepiness, or loss of resilience, a cream sheet mask can help immensely. Similarly to how a mask sheet helps skin absorb more hydration from a watery sheet mask than it could without the sheet, creamy sheet masks push more emollient moisture into the gaps and crevices between outer skin cells than a typical lotion or cream can. This reduces roughness, temporarily firms skin up, and increases glow.
Overexfoliated or overcleansed skin can also benefit from creamy sheet masks, since they'll help shore up a damaged barrier against additional moisture loss. On the other hand, oily or clog-prone skin may not do as well with this type of mask.
Since creamy sheet masks don't hydrate as much as watery sheet masks do, make sure to use some hydrating layers before applying the mask. Or if you really want to treat yourself, use a watery mask first and finish with a creamy mask!
As a final note in this section, I find I don't feel the need to leave cream sheet masks on my face as long as I do watery ones. My skin can't take in as much emollient moisture as it can hydration, so 20 minutes or so is all I need. I therefore also find that I don't need cream sheet masks to be quite as saturated with essence as watery sheet masks.
Some creamy sheet masks I like
I first started noticing creamy sheet masks a couple of years ago. I loved the now-discontinued Etude House I Need You, Snail! and I Need You, Red Ginseng! creamy sheet masks and also polished off several packs of The Face Shop Mascream Sheets over the winter of 2016-2017. The Nourishing, Moisture, and Brightening Mascream masks come with copious amounts of lotiony essence on thin, silky microfiber sheets that cling like second skin. In fact, each packet contains so much extra essence that they double as the night's dose of body lotion, too. They're kind of excessive that way.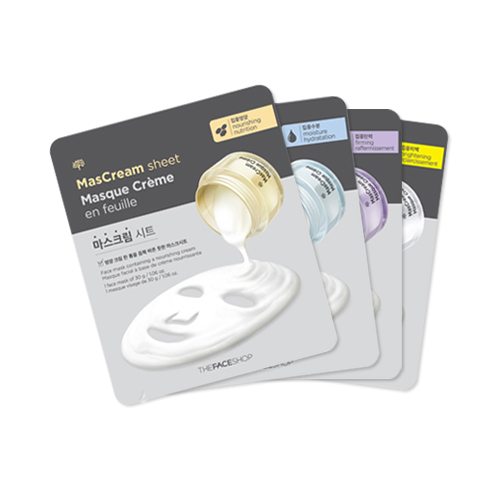 My main problems with the Mascream masks were that the essences were a little too heavy for my skin, and that the sheets actually held too much of it. I liked the results of the masks but disliked having to wipe a bunch of lotion off my face after removing them, even if I left them on for a full hour. So this year, I decided to keep looking for something I'd enjoy even more.
The search brought me to a pair of masks from one of my favorite brands: Illi!
Owned by AmorePacific Group, the cosmetics conglomerate responsible for major global brands like Sulwhasoo, AmorePacific, Laneige, and Innisfree, Illi emphasizes traditional herbal ingredients. The brand makes a range of excellent sheet masks (as well the great Total Aging Care Body Lotion, my old holy grail Illi Total Aging Care Cleansing Oil, and another cleansing oil I'm currently liking — seriously, I love Illi).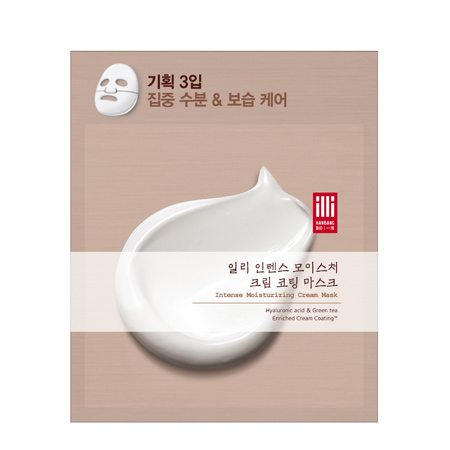 The Illi Intense Nourishing Cream Mask and Intense Moisturizing Cream Mask came my way in my most recent big box of requested items. (Part of my job involves being familiar with as many of the products W2Beauty carries as possible. It's backbreaking labor. Mostly for my mail carrier.)
Illi's Intense Nourishing and Intense Moisturizing Cream Masks are made of a medium-weight cotton and cut horizontally into two pieces, like hydrogel masks. The split sheets allow a better fit than many single-piece sheet masks, since you can adjust to the length of your face instead of ending up with sheet mask in your hair or an inch-high swath of uncovered skin at the top of your forehead.
If you often find that Korean sheet masks' eye and mouth holes are too small for your features, you'll also like the generous cut on the Illi cream masks, which provide room for fuller lips and larger eyes. No more accidentally eating essence or getting it into your eyes!
The Illi cream masks contain significantly less essence than the cream masks from The Face Shop. I was disappointed at first, especially when I found the masks feeling pretty dry after 20 minutes. Then again, I remembered that the requirements for cream masks are different from those for watery masks. Also, the effects were superb.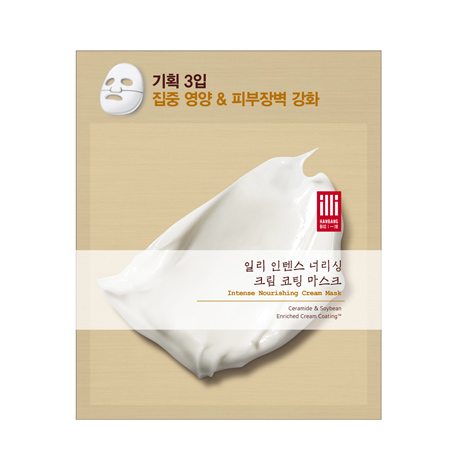 Both the Intensive Moisturizing and the Intensive Nourishing Cream Masks pushed a high dose of moisture into my skin, leaving it ultra smooth, supple, and protected. I didn't use any moisturizer after either mask and didn't suffer the ill effects I usually would if I dared to skip cream.
The moisture and softness persisted through the next day. My skin felt buttery even after my morning cleanse, and on the days after using the masks, I got away with much shorter morning routines than usual, since I already felt adequately moisturized.
Differences between the Intensive Moisturizing and Intensive Nourishing masks were subtle for me. The Intensive Moisturizing Cream Mask has a slightly lighter finish and dries down faster after removing the mask and massaging the leftover essence in. Its fragrance is soft and unobtrusive. The ingredients list is also simpler, which may make it more suitable for sensitive skin.
The Intensive Nourishing Cream Mask has a more noticeable floral fragrance, perhaps to cover the natural scents of the larger number of extracts in the ingredient list (provided below). The extracts are attractive, particularly the soybean ferment, which gives me a nice lifting effect and added resilience.
Personally, I found that the Intensive Nourishing Cream Mask gave a stronger brightening and firming effect than the Intensive Moisturizing but also finished heavier on my skin. The essence took longer to dry. I'll be getting more of both varieties and saving the Intensive Nourishing flavor for my driest nights.
Illi Intense Moisturizing Cream Mask ingredients:
Water, Butylene Glycol, Glycereth-26, Glycerin, Cetyl Ethylhexanoate, Sodium Hyaluronate, Phenoxyethanol, 1,2-Hexanediol, Sorbitan Sesquioleate, Polysorbate 20, Acrylates/C10-30 Alkyl Acrylate Crosspolymer, Cetearyl Olivate, Sorbitan Olivate, Arginine, Ammonium Acryloyldimethyltaurate/VP Copolymer, Allantoin, Myristic Acid, Stearic Acid, Panax Ginseng Root Extract, Ethylhexylglycerin, Cetearyl Alcohol, Xanthan Gum, Disodium EDTA, Fragrance, Tocopheryl Acetate, Camellia Sinensis Leaf Extract (CosDNA analysis)
Illi Intense Nourishing Cream Mask ingredients:
Water, Caprylic/Capric Triglyceride, Glycereth-26, Glycerin, C14-22 Alcohols, Macadamia Ternifolia Seed Oil, Dimethicone, 1,2-Hexanediol, Hydroxypropyl Bispalmitamide MEA, Lactobacillus/Soybean Ferment Extract, Inulin Lauryl Carbamate, Panax Ginseng Root Extract, Tocopherol, Glyceryl Stearate, Cetearyl Alcohol, PEG-100 Stearate, Simmondsia Chinensis (Jojoba) Seed Oil, C12-20 Alkyl Glucoside, Polysorbate 60, Saccharide Isomerate, Acrylates/C10-30 Alkyl Acrylate Crosspolymer, Arginine, Allantoin, Panthenol, Ethylhexylglycerin, Vegetable Oil, Xanthan Gum, Butylene Glycol, Sodium Citrate, Citric Acid, Stearyl Behenate, Polyglyceryl-3 Methylglucose Distearate, Polysorbate 20, Phenoxyethanol, Fragrance, Disodium EDTA (CosDNA analysis)
Have you used any creamy sheet masks? Which are your favorites? Let us know in the comments, and post to your Beauty Wall if you love cream masks!
---
Author: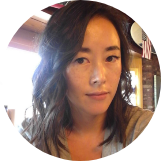 Jude Chao
Jude writes as Fiddy Snails at the K-beauty and skincare blog Fifty Shades of Snail and can be found on Instagram @fiddysnails. Named the ELLE Malaysia Beauty Blogger of the Month for June/July 2017 and one of ELLE Magazine's 10 Cool Beauty Bloggers to Watch in 2018, Jude loves ginseng, snail, honey, propolis, and tuna fish kimbap, though she generally doesn't put the kimbap on her face.
---
Comments