I Tried the Potato Mask from 'Weightlifting Fairy Kim Bok Joo' & Here's What Happened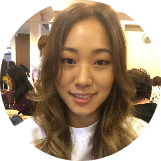 Angela son
Sep 14, 2017
---
If you've seen the charming K-drama Weightlifting Fairy Kim Bok Joo, you probably laughed your way through episode 14 when Bok Joo tried a DIY potato mask and ended up with Rudolph's nose. And if you're into taking care of your skin, especially with DIY facials, you probably wondered whether Nan Hee's special mask works IRL. Well, for all the curious K-beauty fans out there, I braved up to the task. Here's what happened.
_____________________________________________________________________
One question haunted me after the last episode of Weightlifting Fairy Kim Bok Joo. The Korean drama ended months ago, but every time I saw a potato in any form, which is quite often thanks to my affinity for French fries, I'd wonder, Does Nan Hee's special potato mask actually work?
After tomboyish Bok Joo started secretly dating her heartthrob boyfriend, she stepped up her beauty game, even asking girly Nan Hee about her masking ritual. After seeing Nan Hee's post-mask, beaming, "rice cake" skin, Bok Joo actually lets Nan Hee apply the mysterious goo on her …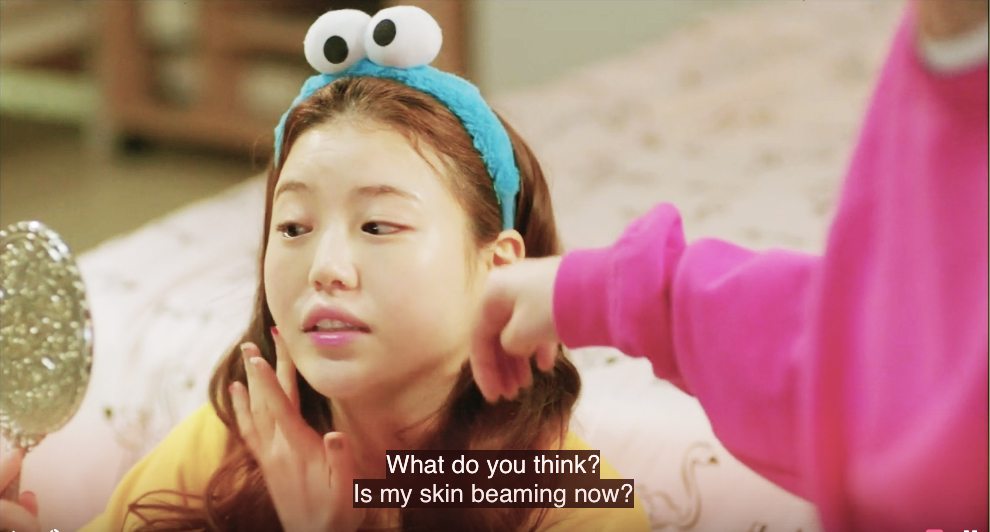 … only to wake up to a glaring red pimple on her nose. She confesses later that she fell asleep with the mask on — the unpardonable sin of masking. What ensues is a charmingly hilarious episode of Bok Joo desperately avoiding her new beau.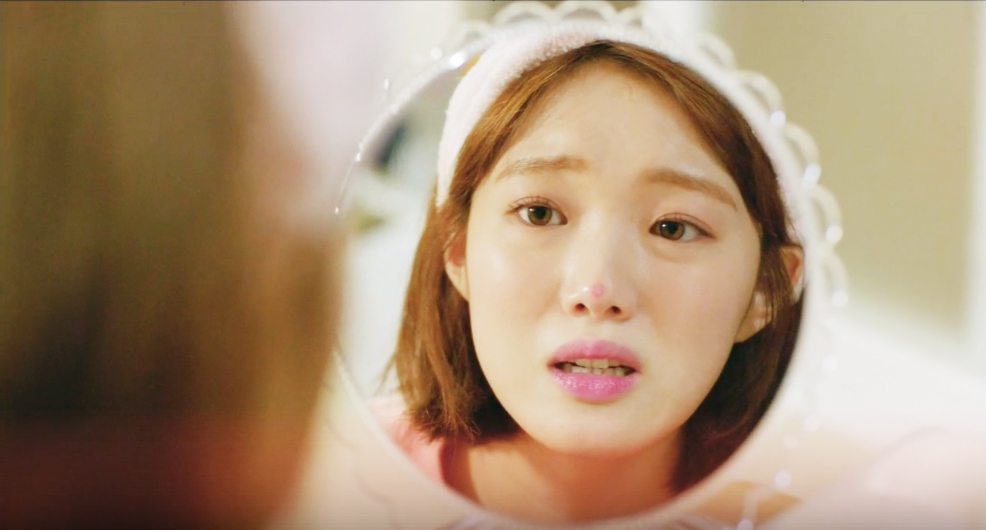 By the end of the episode, all is well in romance land, but the question of whether Nan Hee's potato mask works or not IRL still begged to be answered. So I decided to play the guinea pig and try it out, since the ingredients seemed simple and safe — and in K-dramas I trust.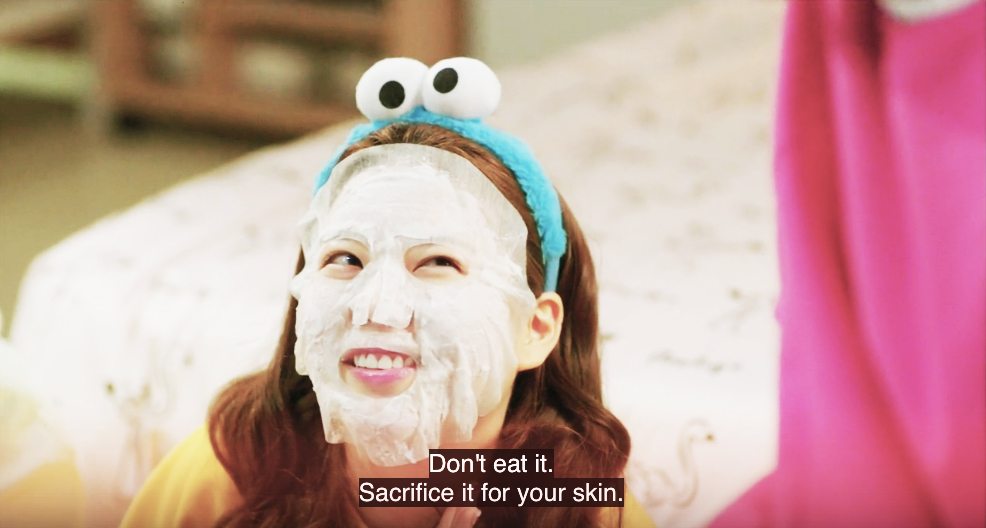 I knew flour was a popular K-beauty facial ingredient, believed to naturally "whiten" and brighten the complexion and fade dark spots caused by sun exposure. Its grainy texture also makes it an effective natural exfoliant. There's also gram flour, or besan, commonly used in Indian cuisine and loved by DIY facialists for its acne-fighting, sebum-zapping, physically exfoliating, and moisturizing powers.
And of course, honey is a K-beauty favorite. Rich with phenolic acids and ascorbic acid, the antioxidant is nature's humectant that works emulsifying and anti-aging wonders on dry and oily skin alike. (If you're interested in honey and flour, check out the Skinfood's Honey Flour cleansing line.)
Potatoes, on the other hand, I've heard very little (if anything) about in terms of skincare. But to my surprise, I found out that potatoes are actually a pretty popular beauty ingredient. These starchy underdogs are packed with vitamins B and C, which are so key to beautiful skin. They are known to help remove dark circles and puffiness, ward off wrinkles, fade dark spots, treat acne, alleviate sunburns, exfoliate, and hydrate dry skin. Needless to say, I was sold.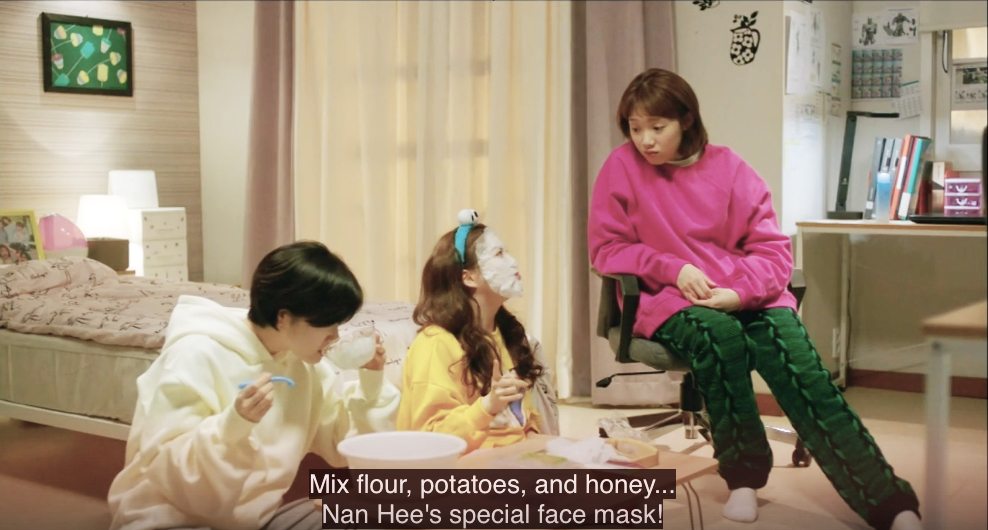 Since Nan Hee's instructions were pretty general — "Mix flour, potatoes, and honey" — I decided to try an adaptation of this one (it turns out Nan Hee's special face mask was actually a thing before Weightlifting Fairy). I should note here that I have a combination skin type — oily T-zone with drier cheeks.
I mixed together the following in a bowl:
½ cup of finely grated organic potato (about one medium-sized potato)
2.5 teaspoons of white flour
½ tablespoon of organic raw honey in a bowl
Then I refrigerated the mixture for about 5 minutes while I cleansed my face and soaked and rolled out my compressed mask sheet.
You can spread the mask directly onto your face, but I followed Nan Hee's lead and spread it over a plain sheet mask. I used Muji's Compressed Facial Mask Sheet just because I already had it. I prefer to expand the compressed sheet by soaking it in toner or even rice water, but to keep this mask as true to Nan Hee's as possible, I simply used water and then wrung the sheet to remove excess moisture. Other options may be cotton sheet masks from Amazon or even your own DIY cloth mask.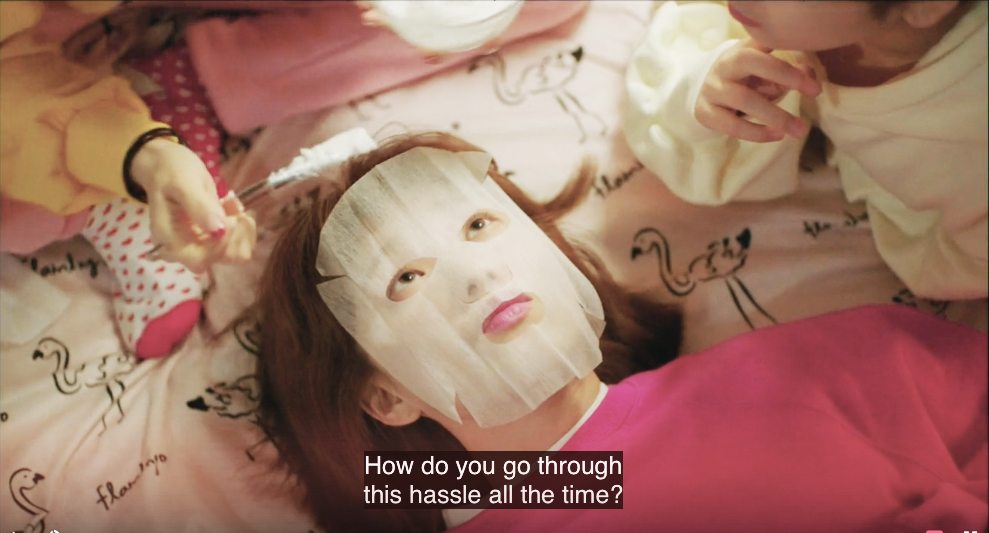 When my sheet was ready, I placed it over my face and then smoothed the mask mix on top, avoiding my eyes and lips. It was an impressive first start, as I loved the cooling sensation (from the few minutes of refrigeration) against my skin.
I wasn't a huge fan of the flour scent, but the note of sweet honey was its saving grace. I felt a slight tickling, tingling sensation which might alarm some, but my skin is not the sensitive type so I regarded it as a sign that something's working and kept twiddling my thumbs.
I removed the mask after 20 minutes, just as Nan Hee instructed, and rinsed off with water.
Ready for the results?
I immediately noticed that my skin appeared fresher and cleaner, and my complexion seemed a tad bit brighter. I'm a bit of a skeptic when I try new skincare, so I chalked up the latter to the fact that I had washed my face after all, and pretty much any mask can make skin look brighter than it did pre-mask. I was disappointed, though, that my skin didn't look dewy and moisturized. It also wasn't baby soft. In fact, I thought my skin might become too dry in a few more minutes.
But for the sake of giving Nan Hee's mask a true chance, I gave it some more time before I turned to my trusty toner to hydrate my skin. And I'm so glad I did because just a few minutes later, I noticed my skin had become super soft and didn't feel taut or dry at all! In fact, I couldn't help repeatedly touching my smooth skin as I jotted down notes to include here. Even after 35 minutes, my skin stayed soft without a stripped sensation. I finally applied toner and the rest of my skincare because I had to step out for dinner, but I'm betting I could've gone longer without my skin starting to tug. I should probably also include that no such red pimple greeted me in the morning.
I would definitely try this DIY potato mask again, and if the results are consistent with my first go at it, I'd love to incorporate it into my weekly skincare routine. It didn't give me dewy, glowing skin, but it left my skin clean, refreshed, and soft to the touch. Plus, the ingredients are always in my kitchen anyway. Next time I try the mask though, I'll probably apply the mixture directly onto my skin instead of on a sheet, just so I can use the flour to exfoliate before rinsing off.
Thanks, Nan Hee! Have you ever done a DIY potato mask or any DIY mask? How did it work for you? Would you try this one out?
---
Author: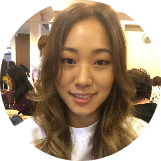 Angela son
---
Comments