Degunk Pores, Lighten Spots, Hydrate Skin: Can the Aqua Peel Really Do All That?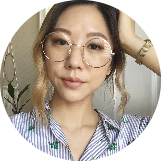 Ruth Kim
Oct 18, 2017
---
The aqua peel procedure is supposed to do it all — deep clean pores, exfoliate dead skin cells, brighten dark spots, smooth fine lines, and even hydrate skin. Is it really a miracle cure-all? We do a deep dive into the aqua peel (and offer some at-home options in case booking your next flight to Seoul in not in your future).
_____________________________________________________________________
When it comes to staying au courant with innovative and fast-developing Korean beauty and skincare trends, you've gotta keep your eyes peeled — because as trends, by definition, they come and go. But with the latest tidal wave of a trend crashing through the beauty scene, we think this one may be here to stay. Originating in derma clinics and only recently rising to popularity, the aqua peel is the latest must-try beauty secret that have both Koreans and skincare lovers abroad intrigued. Why? Simultaneously a deep cleanse, an exfoliation, an infusion of hydration, and an acne treatment, the aqua peel is the multitasking all-star of Korean skincare treatments.
What is the aqua peel?
Essentially, aqua peeling (also referred to as skin scaling) is a cleansing bath of hydration and skin-enhancing treatment for your pores, using AHA- and BHA-infused solutions and a suction nozzle to sweep away blackheads and residue. The serum exfoliates and clears away debris, priming the skin so the vacuum-like device is better able to exorcise the gunk out of your pores. Say goodbye to annoying whiteheads, blackheads, excess sebum, and the like.
Although "peeling" or "scaling" doesn't necessarily sound hydrating for the skin, the nozzle simultaneously infuses and saturates the pores with healing, nutrient-rich serums throughout the entire procedure, banishing any worry of dry or irritated skin at the end. As Refinery29 puts it, "The solution creates a centrifugal liquid seal with skin to powerfully pull out impurities, while at the same time cushioning the skin from damage and irritation that a dry vacuum of the same force would cause."
AHAs and BHAs 101
Alpha hydroxy acids (AHAs) and beta hydroxy acids (BHAs) are naturally occurring chemical compounds widely used in skincare treatments for their exfoliating capabilities. Water-soluble AHA is an umbrella term for a wide range of acids: malic acid (commonly associated with apples), glycolic acid (derived from cane sugar), citric acids (oranges, lemons, limes and other citrus fruits), as well as lactic acid (found in milk, yogurt, and wine).
On the other hand, BHAs are oil soluble and less common; the most well-known BHA found in skincare products is salicylic acid, which can penetrate into the pores to get at sebum and help "unglue" the dead skin cell layer.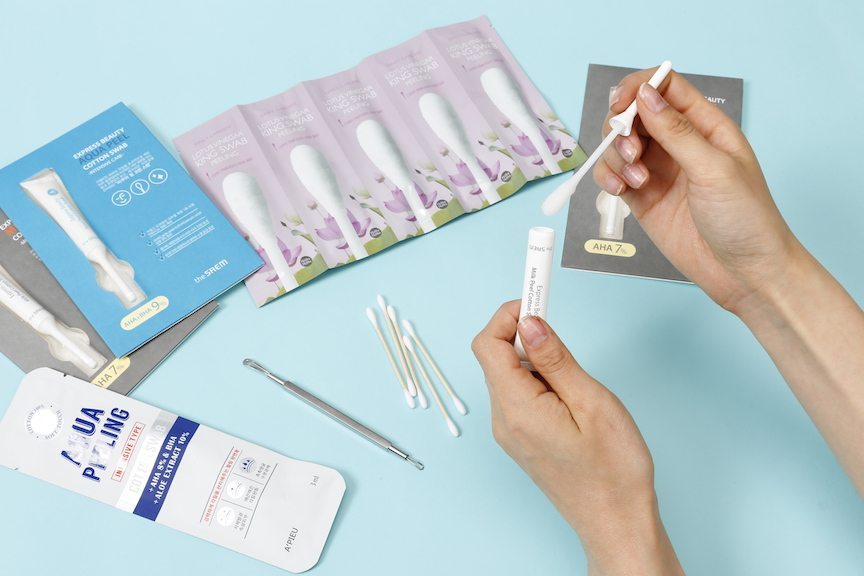 Acting as chemical exfoliators, products with AHA (with a recommended concentration of 10 percent or less) help slough away dead skin cells, smooth out wrinkles, even skin tone, and allow for regrowth of new skin cells and moisture penetration. BHAs also exfoliate and due to their oil-soluble nature, beta hydroxy acids more effectively treat oily or acne-prone skin.
Benefits of the aqua peel
In recent years, it seems nearly every Korean dermatology clinic proudly advertises the suction-powered technique at the top of their menu of treatments, and for good reason. Aqua peeling effectively treats hyperpigmentation, fine lines, and wrinkles, and it's a go-to for an overall skin brightening and smoothing session. One Reddit user named MiraMode raved post-treatment, "I don't even feel like wearing makeup the following week [so as] not to hide that glow from the inside."
What's more, aqua peeling is a potent and generally painless method to thoroughly degunk your pores, evident in the cloudy tank of water that's filled with sebum and other waste at the end of the procedure. The spiral-tipped suction sloughs away dead skin cells on the stratum corneum, the outer layer of the skin, and although redness may occur, it's not a permanent effect.
The aqua peel is popular because it's a quick trip to the clinic and requires no downtime post-procedure. It's also an excellent stand-alone treatment or can serve as an ideal pre-treatment before laser skin procedures, which are more effective on a freshly exfoliated base. Costs do vary: derma clinic CNP shows the treatment costs around 150,000 to 200,000 won (around $150-$200), and Reddit user MiraMode shared that she paid $160 at CNP. On the other hand, Refinery29 writer and aqua peel fanatic Joyce Kong revealed that she paid 15,000 won ($15) to get her pores vacuumed. The final price may depend on whether you opt only for a quick pore fix or for the whole shebang (cleansing, facial, aqua peel, and more) as seen in this strangely calming video of the aqua peel procedure above.
The at-home aqua peel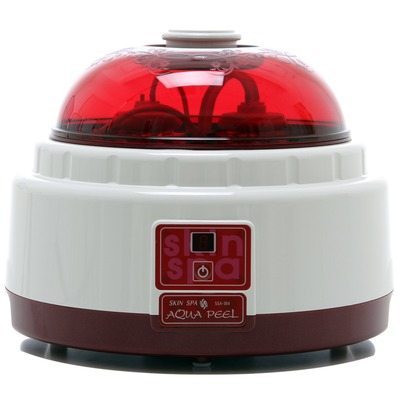 We all know that once a Korean skincare treatment or procedure takes the world by storm, the do-it-at-home counterparts will inevitably — and quickly — make their way into the market. For those who don't want to shell out two Benjamins every four to six weeks to see more permanent and lasting results for your skin, there's a miniature version of the derma-sized pore vacuum on the market from Skin Spa, selling for 200,000 won (around $200).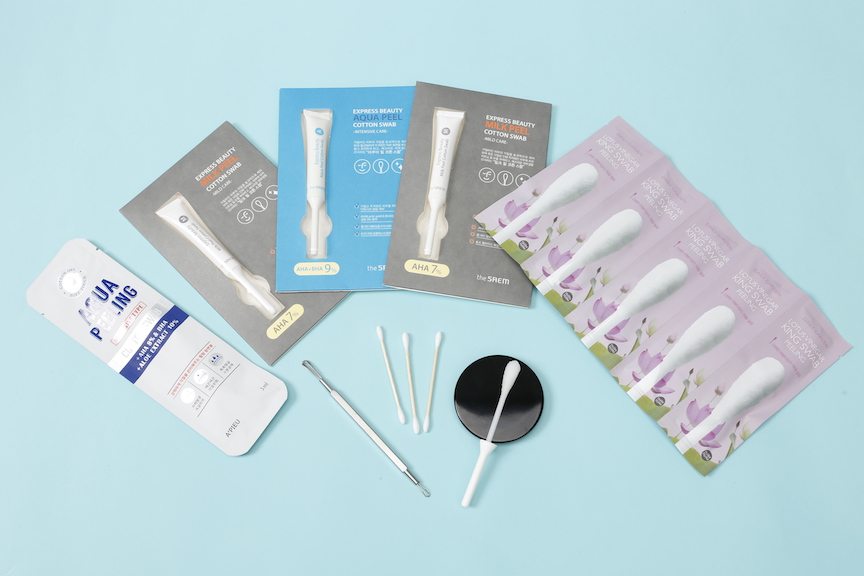 And of course, there's a slew of aqua peel-inspired skincare products that claim to exfoliate, hydrate, and shrink pores. 3CE's White Milquidro Peeling Toner uses milk proteins, AHA, and BHA in its exfoliating toner, while the Mamonde Aqua Peel line gently refines skin with plum enzymes and AHA.
The more popular (and fun) at-home aqua peel method is probably the comically oversized cotton swabs soaked in AHA/BHA solutions, like Etude House One Sheet Solution Swab&Mask Peeling, Tony Moly Skin Clinic 3 Step Micro Peel Swab Kit, The Saem Express Beauty Aqua Peel Cotton Swab, and the A'Pieu Aqua Peeling Cotton Swab. YouTube beauty vlogger Denise Lim put the latter two exfoliating swabs, as well as the Holika Holika Daily Garden Lotus Vinegar Big Cotton Swab Peeling, to the test. (Spoiler alert: Her favorite was the Holika Holika, which she claims removed a few of her whiteheads.)
From natural sugar scrubs and pore strips to aqua peel visits to the local dermatologist, there's countless ways to exfoliate and ban blackheads for good. What's your go-to method? Let us know in the comments below!
---
Author: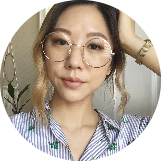 Ruth Kim
Ruth is a 20-something creative with a fixation on black coffee, black boots, and the beautiful black hole that is all things K-beauty. A Southern California native, she loves to share her current skincare favorites and lifestyle inspirations on her Instagram @ruthhlesslyy.
---
Comments