Sure, It's Cute, But Does the Tony Moly Tako Pore Line Actually Work?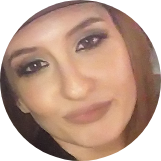 Coco Park
Oct 19, 2017
---
Take four products, three family members, and two very different skin types, and what do you get? Some serious family skincare bonding time apparently. Oh, and a nice little review of what really worked and what didn't in the adorable new Tony Moly Tako Pore line.
_____________________________________________________________________
I'm a grown woman, but I'm not immune to the siren song of achingly cute packaging. I usually take the gamble and buy these products, crossing my fingers and hoping they'll work. Sometimes they do, oftentimes they don't.
Tony Moly can be really hit or miss. Their makeup is made up of almost entirely hits for me, but I've been less than impressed with a lot of their skincare offerings most of the time. So how did the Tony Moly Tako Pore line go for me? Come with me and find out!
The packaging
First off, we can't start this review without talking about the packaging. Holy mother of adorable! Each product is a charming little octopus, and depending on the product they range from a wee two inches (the scrub stick) to big daddy four inches (for the mask). What I love about the kind of cute that this is, is that it's not toooo over the top. Like, this looks totally at home with my minimalistic Scandinavian decor. I don't feel like a goofball with child-like products, but they're whimsical enough to make everyone smile. They're just a delightful addition to anyone's bathroom!
via GIPHY
Product breakdown
So this line consists of four products officially. There's the the three strong octopus family consisting of a bubble mask, a blackhead scrub stick, and a mattifying cream. Rounding out the collection is the giant Tako Pore One Shot Nose Pack, which covers all the trouble spots that people usually have: blackheads, sebaceous filaments, congested pores. Imagine a giant upside-down T with a more organic shape, kinda like a weird squid.
I tested these both on myself — pretty dry skin but coming off of a humid summertime — and my husband who is oily as the day is long. He has permanently dilated pores after years of unchecked oil production, so debris buildup is very noticeable for him. Pore care is an important part of his skin maintenance. He also had a huge casting call coming up and we needed to make the world believe that he hadn't been completely Dad-ing out all summer and not staying on top of his skincare game. With that on the line, I was hoping these Tako products might help.
Tako Pore Blackhead Scrub Stick
I'll start with the product I found the least useful, the Blackhead Scrub Stick. I really wanted to love this one because it's just so damn adorable. It's a little ball of product (reminds me of the Eos lip balm packaging) that's supposed to give you precision pore scrubbing. I tried this both with and without steaming my face, and I didn't find that it did much at all.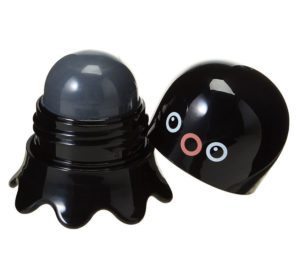 That being said, everyone is going to have a different experience so I will give this props for being the proper shape and size to give a proper scrub to the rougher textured nose area. This product is the most popular in the line right now so it's gotta be working for someone! I asked my husband how it worked for him and he gave me a pretty noncommittal answer of "it was OK, I guess." He said his nose did feel smoother, but it wasn't anything that wowed him.
Tako Pore Bubble Pore Pack
Next is my favorite in the line, the Tako Pore Bubble Pack. I love this one because it worked for both me and my husband and our very different skin types. Like I mentioned before, we are coming out of an extraordinarily humid summer. As a matter of fact, on the first official day of fall we had a record-setting heat wave, and with the humidity even my dry self was getting a shining T-zone. It was insane! This bubble pack was just the thing to quell the craziness.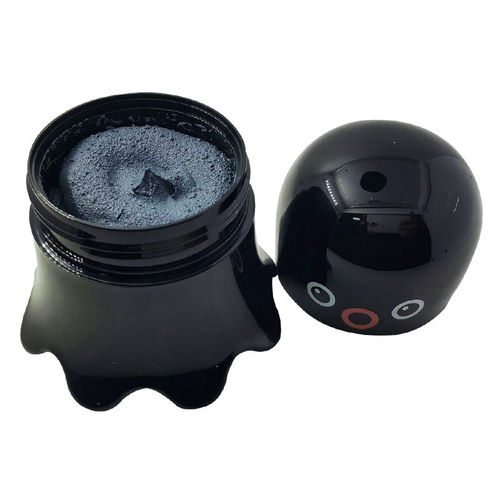 What I really appreciated about this bubble pack is how different it is compared to the Elizavecca Milky Piggy Carbonated Bubble Clay Mask. I went into this thinking it would just be a straight dupe in a cuter package, but it really is different. If you're one of the ones who found the Elizavecca to be too harsh, this is a great alternative. These bubbles are milder; think about it like the difference between Rice Krispies in milk and Pop Rocks in your mouth. It was so mild I felt comfortable letting my 5-year-old join the fun (she was very jealous Appa and Mommy got to have bubble faces). That being said, it is still effective. It does remove sebum and can make a difference in the superficial appearance of pores after a few uses.
Tako Pore Sebum Control Gel
On to the Tako Pore Sebum Control Gel. Normally a sebum control gel wouldn't be suitable for my skin, but with this insane heatwave and humidity, makeup was literally sliding off my nose.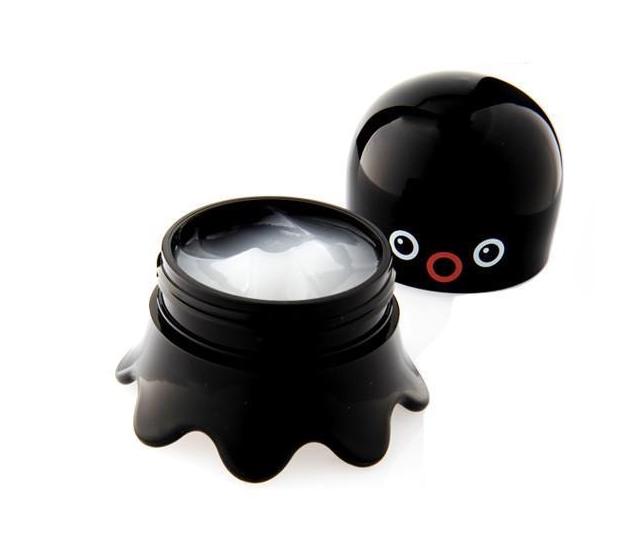 This gel worked extremely well for me. It held up for the entire day and really helped my makeup stay put on my face even through my 3-mile walk to pick up the kids in the heat of the day. When it came to my oil slick of a husband, the effects weren't as dramatic, but it did mattify his nose and T-zone for a lot longer than using nothing did.
Tako Pore One Shot Nose Pack
Finally, the Tako Pore One Shot Nose Pack mask. I only received one of these masks to test, so I decided to use this on my husband as I expected the most dramatic results, and boy did I get them. This thing removed a lot of crap from his pores, especially around the nose and cheek. The thing looked downright furry after removal; it was pretty gross-slash-satisfying. I asked him if it hurt more than other pore strips, and he very stoically said no. He was too busy inspecting the pulled out plugs to care, I think.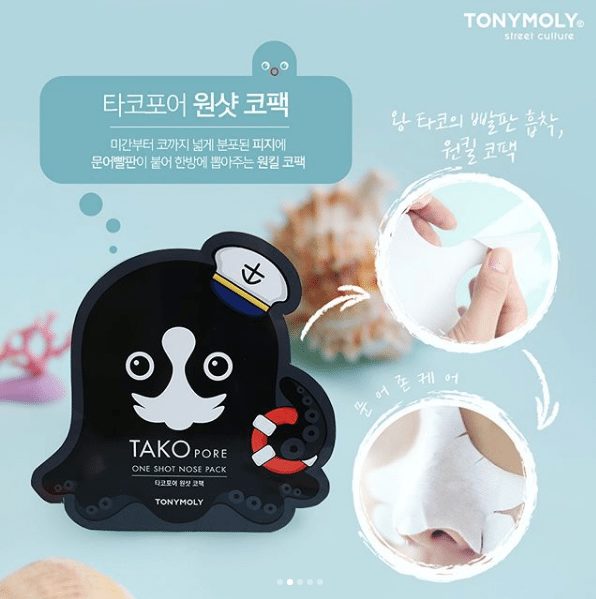 Overall, my impressions of this line are pretty positive. But keep in mind, with products like these, they're not going to bring an end to your blackheads; they're more of an immediate comfort thing. Not every product can be a cure. Sometimes it's just about triage and symptom treatment. At times, that's exactly what we need before we can get to the actual cure. And that's exactly what this is: symptom management. It's going to take more drastic steps for a cure.
But I will say this, I can't think of a cuter way to keep your pores lookin' fresh.
Have you tried the Tony Moly Tako Pore line? Have you ever tried any beauty product simply because it was cute? How'd it work out for you?
---
Author: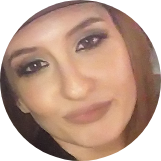 Coco Park
Coco Park is an author, beauty journalist, blogger, podcast host, and all around oddball living in Montreal Quebec with her family. Originally from the southern USA, she worked for several years in the makeup industry as a professional makeup artist and holds a certificate in esthetics. She is a proud member of the Choctaw Nation of Oklahoma. Want to know more? Check her out on the Beauty Beyond Basics podcast, on her blog TheBeautyWolf.com, on Instagram @thebeautywolf, and in her book "Korean Beauty Secrets: A Practical Guide to Cutting-Edge Skincare & Makeup."
---
Comments