This Is What It's Like to Get the V-Line Surgery (+ 3 Ways to Get It Sans Scalpel)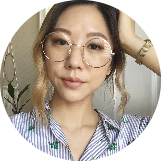 Ruth Kim
Oct 05, 2017
---
It's not just Korean men and women who are making a beeline for the V-line, that super-defined jawline sported by practically every K-pop and K-drama star. YouTube vlogger Mandy Candy also decided to go under the knife — and you can watch her do it here. Of course, if you're a bit squeamish about slicing off bits of your jawbone, don't worry — we show you less invasive ways to achieve a slimmer jawline.
_____________________________________________________________________
If you've visited Korea in recent years, you've likely noticed the ubiquitous advertisements for plastic surgery. Plastered on the subway or on billboards, the "before" photos of ordinary Korean women (and men) are nearly unrecognizable when compared to the adjacent "after" photos. Such drastic surgical alterations to one's face are so commonly accepted that there's even a famous  "beauty belt" in the tony neighborhood of Apgujeong in Gangnam, where thousands of high-end plastic surgery centers are lined up one after another. Walk around this area, and it's not uncommon to see women and men — both locals and foreigners — shopping, their faces wrapped in bandages.
With such high standards of skincare and beauty in Korea, it may be near impossible to resist the urge to get some surgical work done. A 2009 Trend Monitor survey reported that one in five women in Korea have undergone surgery. Although simpler procedures like the double-eyelid surgery are widely accepted in both Korea and more recently in the States, there's a slew of increasingly invasive incisions that cause more than just a shudder. We're talking about the V-line jaw reduction surgery.
It's something that Brazilian YouTube vlogger Mandy Candy decided to undergo this past summer, flying all the way out to Seoul for the procedure. Naturally, she recorded the whole thing for her audience to witness, from the pre-op wash-up to the post-op pain (and boy, did it look painful).
Though the process looked pretty grueling (and again, painful), she seems pretty happy with the results. Here she is in a recent Instagram shot: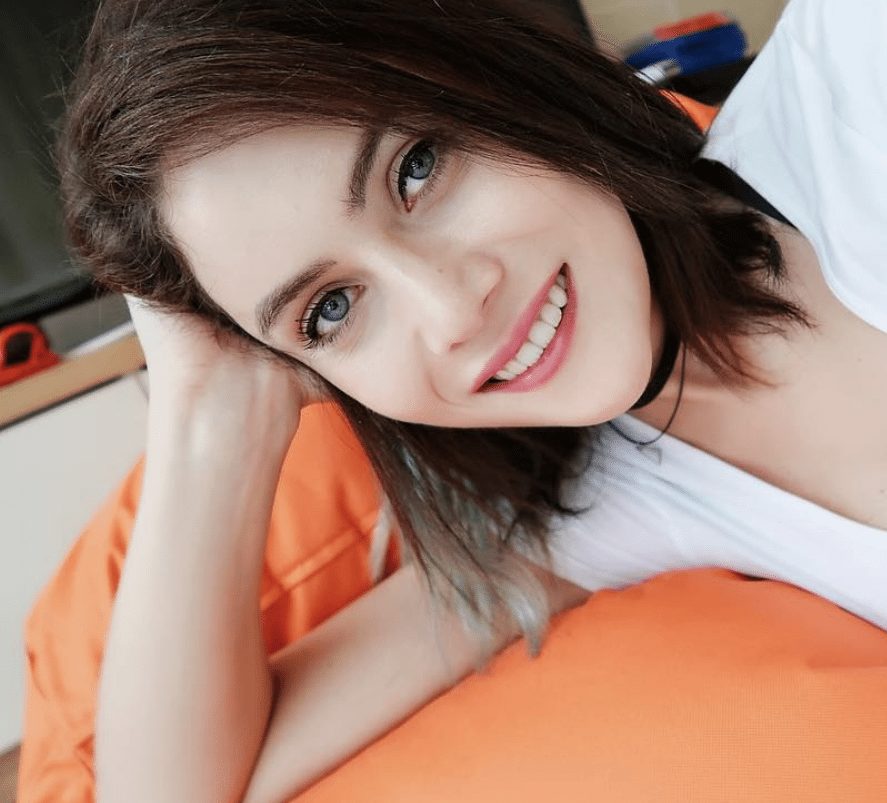 Or watch her reveal her new jawline to her YouTube audience, along with some snippets of her post-surgery recovery.
Defining the V-line
V-line surgery is nothing to sneeze at. Essentially, the complex procedure aims to slim the jawline and chin into a narrow V-shape. This requires removing bone from both sides of the jawline as well as a piece of bone from the center of the jaw. The jawbone is then put back together with pins. If that sounds harsh, it is. Recovery can take up to a few months, and there is risk of nerve damage, even paralysis. And yet it is one of the most popular cosmetic procedures in the country.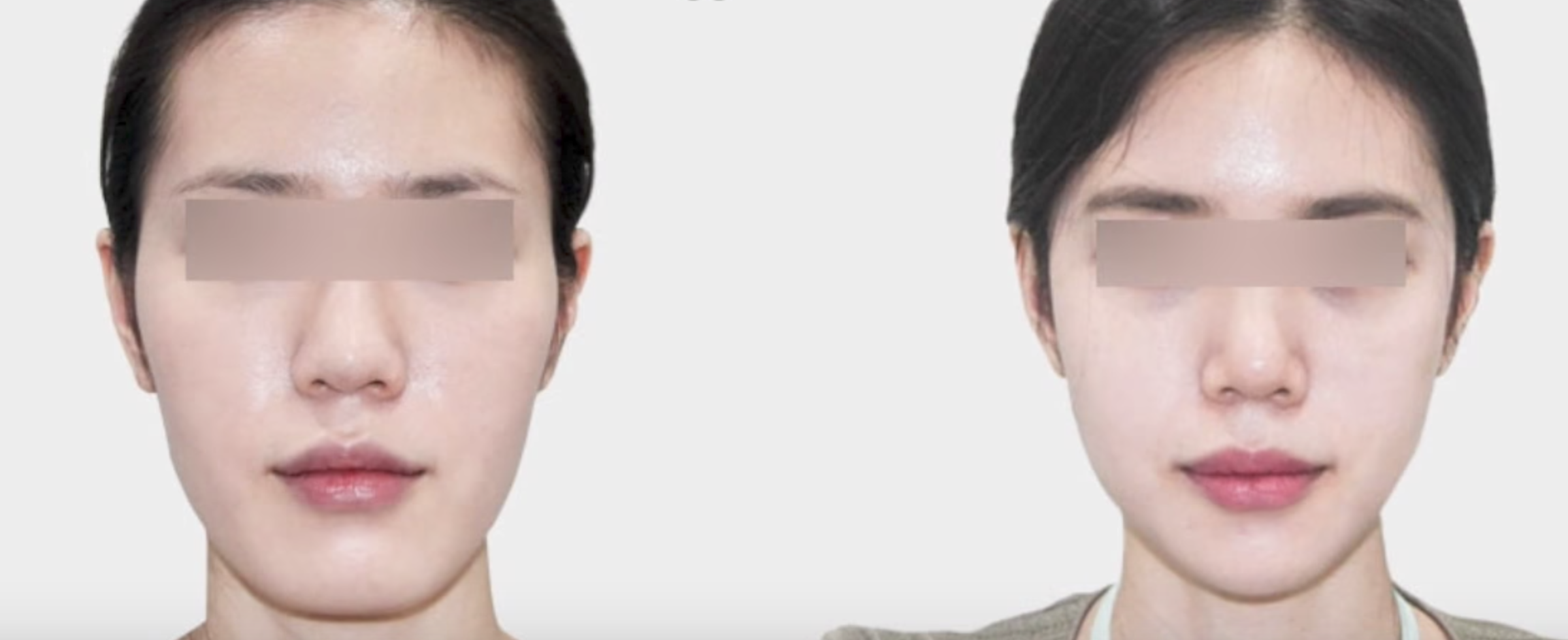 So why are Koreans so fixated on the V-line? For starters, they believe that the V-line shape, like the straight eyebrow and puppy eyeliner, creates a more youthful face. Think of Korea's top celebrities — from beloved 40-year-old actress Kim Hee Sun to pretty much every member of girl group Black Pink — all of whom boast translucent skin and elegant, V-shaped faces. While the age-deceiving doe-eyed look can be easily achieved with makeup, a narrow jawline isn't always in the books for those who aren't naturally born with the shape. And with these visages serving as the country's standard for beauty, it's no wonder denizens are scrambling to make appointments for their V-line consultation.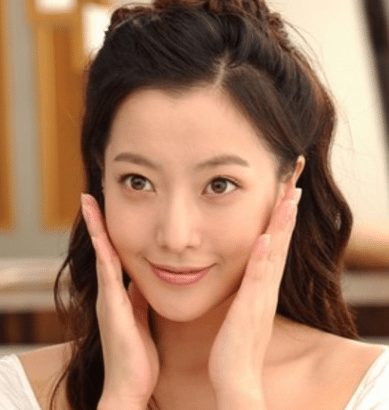 Of course, if you're not keen about flying 5,000 miles, going under the knife for hours, and sawing off big chunks of your mandible, you can always try these three non-invasive methods that are just as popular in Korea (not to mention safer!).
1. "Make Up" Your V-Line
For those of us who want to non-surgically enhance our natural-born features, there are a few ways to slim down the face without the doc's help.
There is power in makeup, and even for nonexistent V-lines, your favorite foundations and bronzers can create an outline for the shape. One of the simplest ways to achieve this is to take a powder or cream product in a shade darker than your skin tone and apply it just above the jawline. Products like the Etude House V Line Slim Maker or the 3CE Duo Contour Stick 01 Shading will do the trick. Much like how you would apply your contour under your cheekbones, diligently blend in the product along your jawline until it is evenly smoothed out. The darker shadow will minimize the size of your face and give the illusion of a V-line.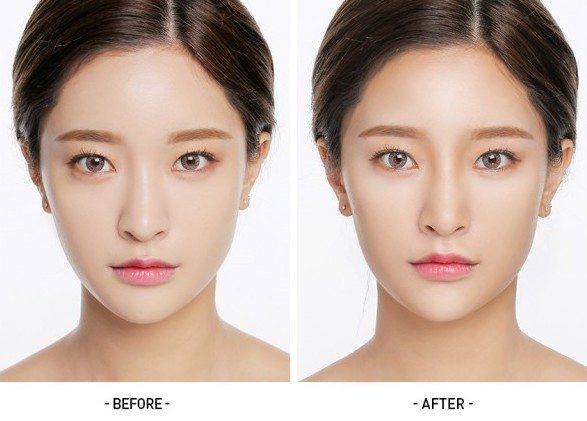 Strategically applying a lighter shade of foundation can also affect your face's silhouette. Korea's top celebrity makeup artist Jung Saem Mool likes to apply a cushion compact or cream foundation in a slightly lighter shade starting above the cheekbones and moving inward and down to the chin, leaving the outer perimeter of the face untouched. Continue to blend on and around the nose as well as the forehead, using a darker concealer only to cover blemishes in the actual V-line zone. This draws the eye to the "inner triangle" of the face and away from the jawline. (You can begin watching at the 17:20 mark.)
Post-application, you can see a subtle V-line shape; the lighter shade highlights the angle from the high point of her cheek to her chin, while the untouched "outer V-zone" is subtly contoured and defined.
2. Patch It Up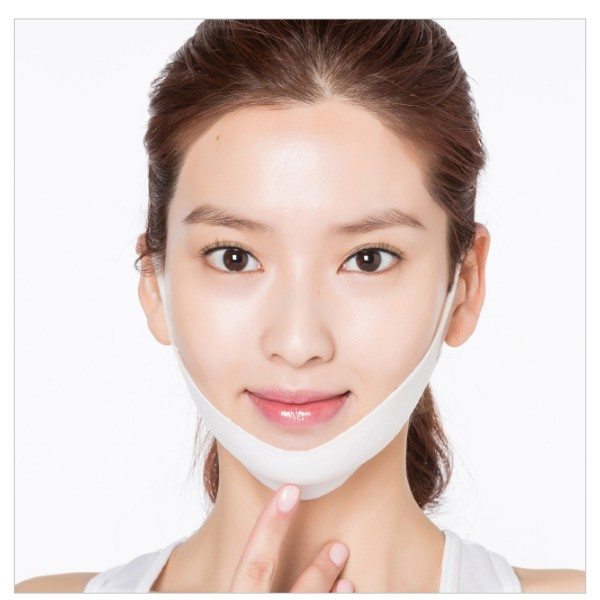 Makeup aside, you can achieve a temporary tightening and lifting effect with V-line "patches," which have been making the rounds in the Korean beauty-sphere. These sheet mask-like products like Missha's Speedy Solution Lifting Patch and The Face Shop Face It Modeling Patch Sharp Face fit around the chin and jawline and help to relax and lift the jawline, while simultaneously tightening the skin for a slimmer silhouette.
3. Roll It Into Shape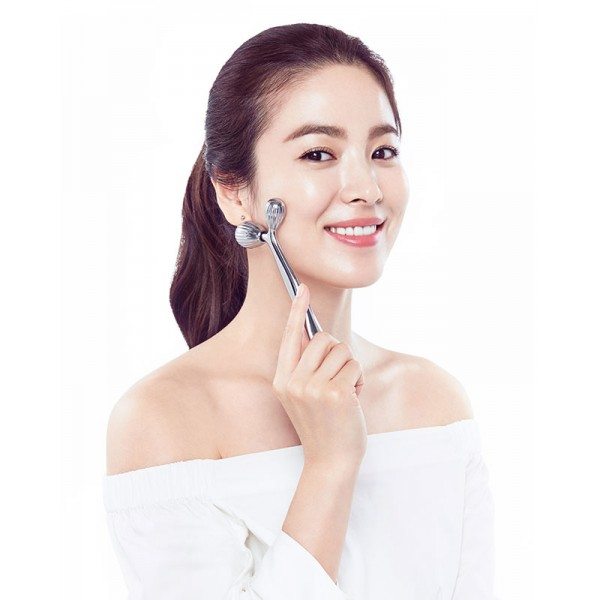 You can also shape the V-line with unique and innovative tools that claim to tone your facial muscles. Jawline rollers, like Laneige Time Freeze Face-Fit Roller, are widely used by many beauty junkies who want a slimmer face. The idea is that the balls on the roller gently massage the muscles of the jawline, and daily use of the anti-aging tool is supposed to tighten the muscles over time for firmer skin. Even Korean American style blogger Chriselle Lim swears by the funny-looking tool for a slimmer jaw line and youthful skin.
Needless to say, many beauty lovers the world over are willing try anything for a little beauty enhancement. Do you covet the V-line? Have you tried any of these methods? Let us know in the comments below!
---
Author: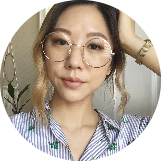 Ruth Kim
Ruth is a 20-something creative with a fixation on black coffee, black boots, and the beautiful black hole that is all things K-beauty. A Southern California native, she loves to share her current skincare favorites and lifestyle inspirations on her Instagram @ruthhlesslyy.
---
Comments