Here's How You Slay the Season: an Easy-to-Do K-Beauty Holiday Gift Basket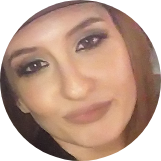 Coco Park
Nov 08, 2017
---
Stress much? Sure, Thanksgiving is arriving a whole week earlier this year, but that doesn't mean you have to sweat the holiday onslaught. Take our tips for the easiest gift of the year — a K-beauty holiday gift basket anyone will love.
---
You might have seen my stories about gift baskets before. If you have, you already know I love a good basket. If giving-themed groupings of gifts were a sport, I'd like to compete on a professional level. Sounds especially nerdy, but I truly love hunting all over to pull together a themed basket. It's like every part of my hunter-gatherer lizard brain is pinging off the charts.
The holidays are prime gift basket season, and there's never a lack of great things to pull from to create your own gift masterpiece. Today we're going to build a basket that's as universal as possible, so we'll eschew a lot of ultra-personalized skincare and focus more on fun goodies and color.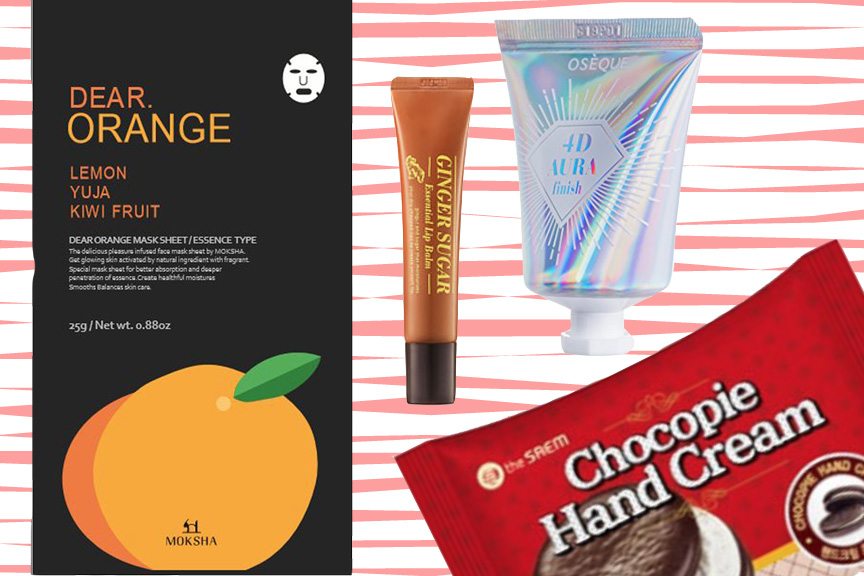 This year I'm putting together a basket that pulls from all of my favorite holiday things: sugar, spice, and everything nice.
Sugar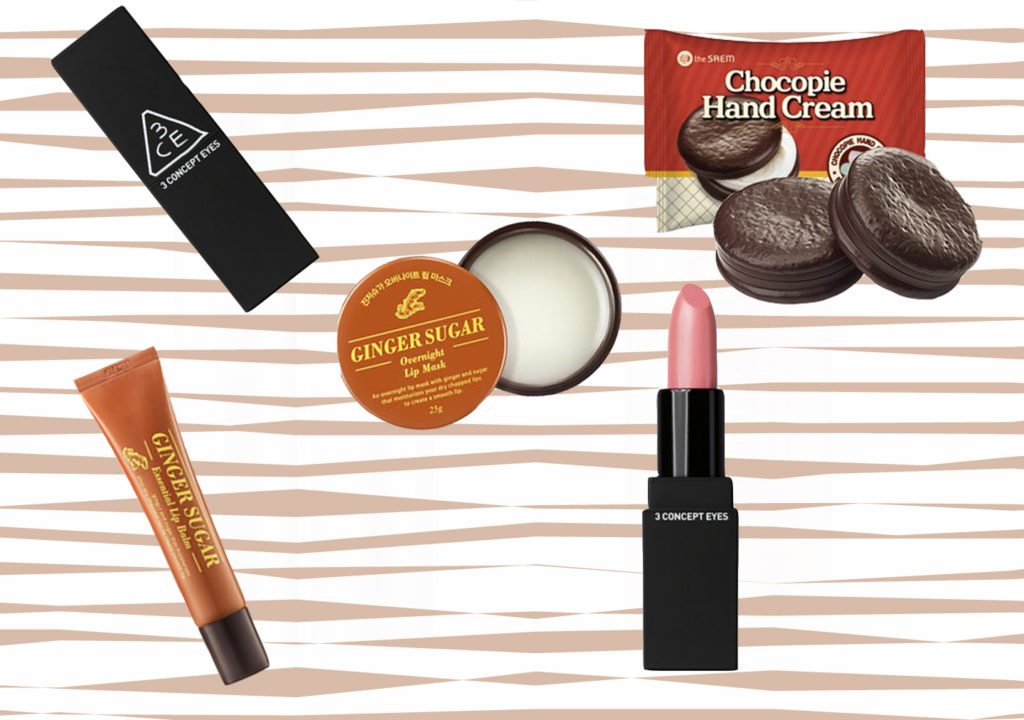 The Saem Chocopie Hand Cream Cookies & Cream
This has to be one of my favorite novelty products. The Saem brings you a nourishing hand cream housed within a replica Chocopie. If you're not familiar with Chocopies, I highly recommend you seek out a box either online or at your nearest Korean market because Chocopies are the superior snack cake. Anyone who is familiar with Chocopies will be delighted to see this old friend show up in the form of a nice, rich hand cream.
3CE Lip Color #705 Sugary Cake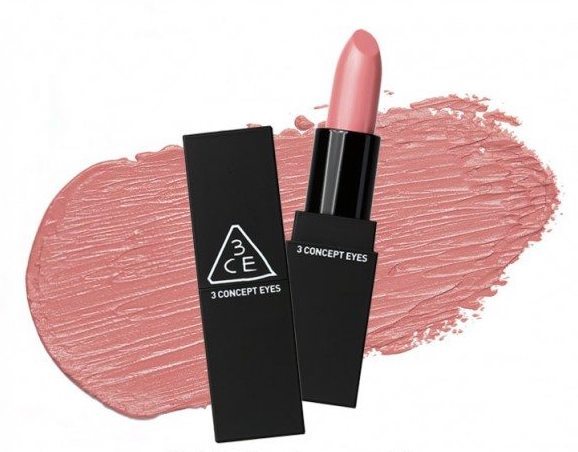 You probably already know that 3CE kills it in the cool ultra-trendy game, but this lippie is a classic. #705 Sugary Cake is a beautiful nudie-pinky shade that it flattering to just about everyone. It's one of those shades that you could wear with a smoky eye all year-round, and it also calls to mind a yummy Christmas sugar cookie.
Aritaum Ginger Sugar Essential Lip Balm & Overnight Lip Mask
Ok, I'll be the first to admit: This doesn't actually smell like candied ginger. But we're not always here for novelty; it's very nice to be able to give people products that actually work, and these two certainly do. The Ginger Sugar Lip Balm comes in a squeeze tube, which is my fav lip balm delivery system and is very moisturizing without being sticky. The Lip Mask is very nourishing and healing, so it's great to slick on as you're going to sleep with visions of sugarplums dancing in your head.
Citrus & Spice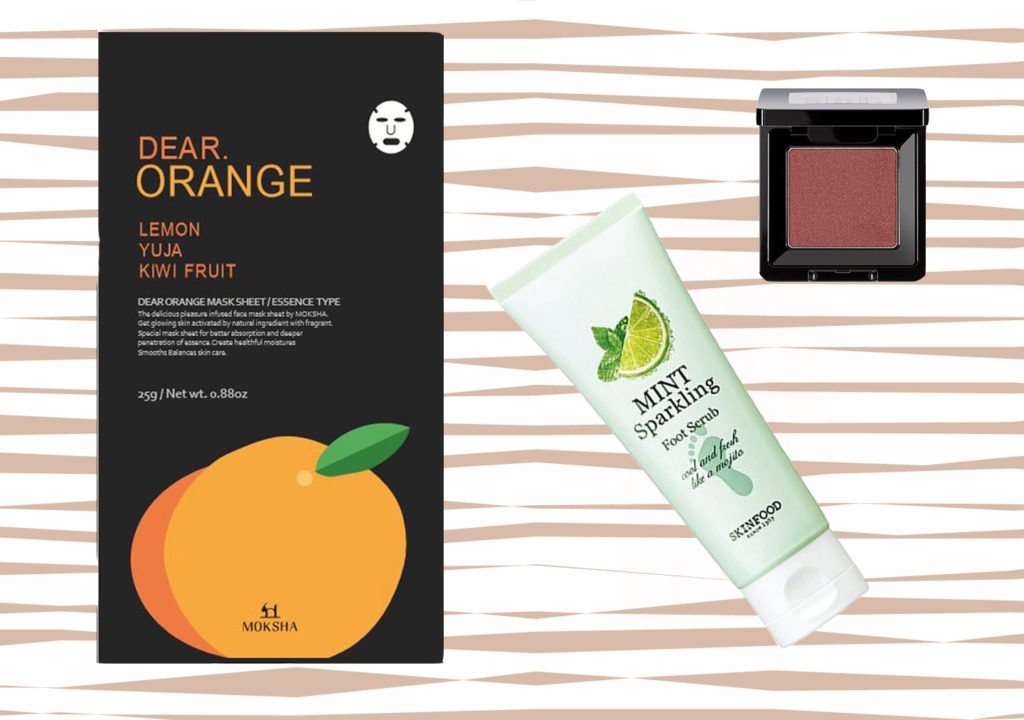 Missha Modern Shadow Shimmer SRD03 Burnt Cinnamon
What are the holidays without cinnamon? And what's a sultry eye look without an exciting smoky neutral? Have both with this shimmery Missha shadow. This smooth shadow is as easy to work with as it is pretty. It's also a bargain at just under $6. Your gift recipient can pair it with the 3CE above for a beautiful holiday look that would pair perfectly with a chunky beige sweater.
Moksha Dear Orange Mask Sheet
Receiving oranges and other citrus treats in your stocking is a tradition dating way back to the olden days when citrus was a rare treat. Give their faces their own treat with these Moksha Dear Orange Mask Sheets. Moksha masks are some of my favorite new bargain masks, but they don't feel cheap at all. This version is hydrating, brightening, and refining. Would wouldn't want that?
Skinfood Mint Sparkling Foot Scrub
Mint is technically an herb, but we use it to spice up our food and, in this case, feet. Boot weather can be hellish on feet. This is a nice way to say, "Hey Ma, I notice a little funk wafting up from those snow boots — treat yourself." This scrub smells more citrusy than minty, but that mint is definitely in there as the product boasts three kinds of mint extracts. It's also made of fine pumice to exfoliate and glycerin, honey, and sucrose to soothe and moisturize. An exfoliating, soothing, serious cleansing for my tired feet? Yes please, and here's one for you, too.
Everything Nice
Oseque 4D Aura Finish
Put this in their basket with New Year's Eve in mind. I can't think of a single person who doesn't want to glow on NYE! This luminescent liquid cream can be worn alone, or mixed into BB cream for an outstanding radiance. I really like it used alone along the collarbones or on the shins; it gives a really lovely holographic shine that's not too try-hard. It's described as a "glotion," and I think that's a genius way to put it!
CELLNCO 24K Gold Peptide Anti-Wrinkle Ampoule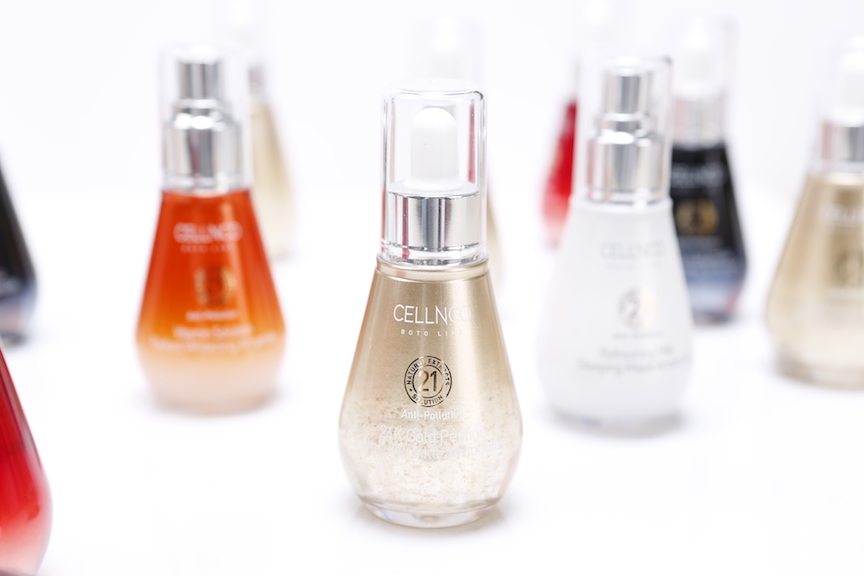 I can't speak to the veracity of 24-karat gold doing anything for the skin (other than being a baller ass way to treat someone like the god or goddess that you think they are), but I do know that the niacinamide, allantoin, adenosine, and Camellia sinensis leaf extracts within this ampoule all do great things for my skin. And at $34, it's a very affordable way to gift someone a very lovely and fancy sounding serum with a solid ingredient lineup. And what's more traditional than gold as a gift? It's right up there with frankincense and myrrh.
Beautytap Signature Candy: Lotte Green Grape Candy
Maybe this should have gone under the Sugar column, but personally I categorize this one as Everything Nice. Whenever I get a package from Beautytap, my husband has his hand out asking for those yummy candies. Despite the fact that he grew up eating these, he now associates them with my skincare packages, as do a lot of us! Grab this bag of these candies and sprinkle them liberally in your gift basket; it's the perfect topping to a wonderful gift!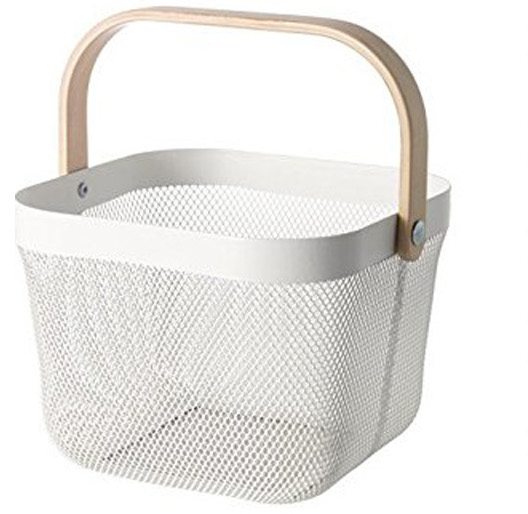 Now for the basket itself! What are we going to put all these awesome goodies in? The Ikea RISATORP wire basket in white. It's a perfect modern little basket that's just the right size to show these goodies off. Pack it with your color choice of tissue paper (I'm going to go with a nice burgundy) and arrange everything on top. Santa ain't got nothin' on you this year.
What would you like in your personalized holiday gift basket this year? Let me know in the comments!
---
Author: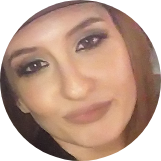 Coco Park
Coco Park is an author, beauty journalist, blogger, podcast host, and all around oddball living in Montreal Quebec with her family. Originally from the southern USA, she worked for several years in the makeup industry as a professional makeup artist and holds a certificate in esthetics. She is a proud member of the Choctaw Nation of Oklahoma. Want to know more? Check her out on the Beauty Beyond Basics podcast, on her blog TheBeautyWolf.com, on Instagram @thebeautywolf, and in her book "Korean Beauty Secrets: A Practical Guide to Cutting-Edge Skincare & Makeup."
---
Comments