Your Scalp Is Skin; That's Why Korean Hair Care 101 Starts With Scalp Care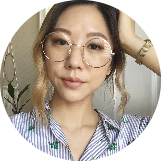 Ruth Kim
Nov 02, 2017
---
In Korean beauty, a great makeup look starts with your skin, which is why so many Korean makeup tutorials start with good skincare. So it makes sense that when it comes to K-beauty hair care, a good hair day should begin with good scalp care. So don't gloss over these hair care guidelines, essential for lush locks from root to tip.
---
Let's get down to the root of the problem. No matter how radiant the skin on your face might be, if the skin on your scalp isn't happy — well, your whole appearance can fall flat. That's why Koreans devote as much TLC to the skin on their head as they do in their multistep facial skincare routines. So whether you've got long flowing locks or a short pixie cut, it's time to have the talk about your scalp care routine.
Why you need to pay special attention to the scalp
If you've noticed that your hair has been nothing short of lackluster in the past couple of months (or even years), then it may be about time to reevaluate your scalp care routine. If you simply foam up a shampoo, lather on a conditioner, blow dry your hair, and call it a day, then you're likely neglecting the needs of your hair. Dry flakes or dandruff, oily residue, sensitivity, brittleness — these are all indicators that your scalp is signaling for help. In fact, the health of your scalp will determine the overall luster and condition of the strands of your hair.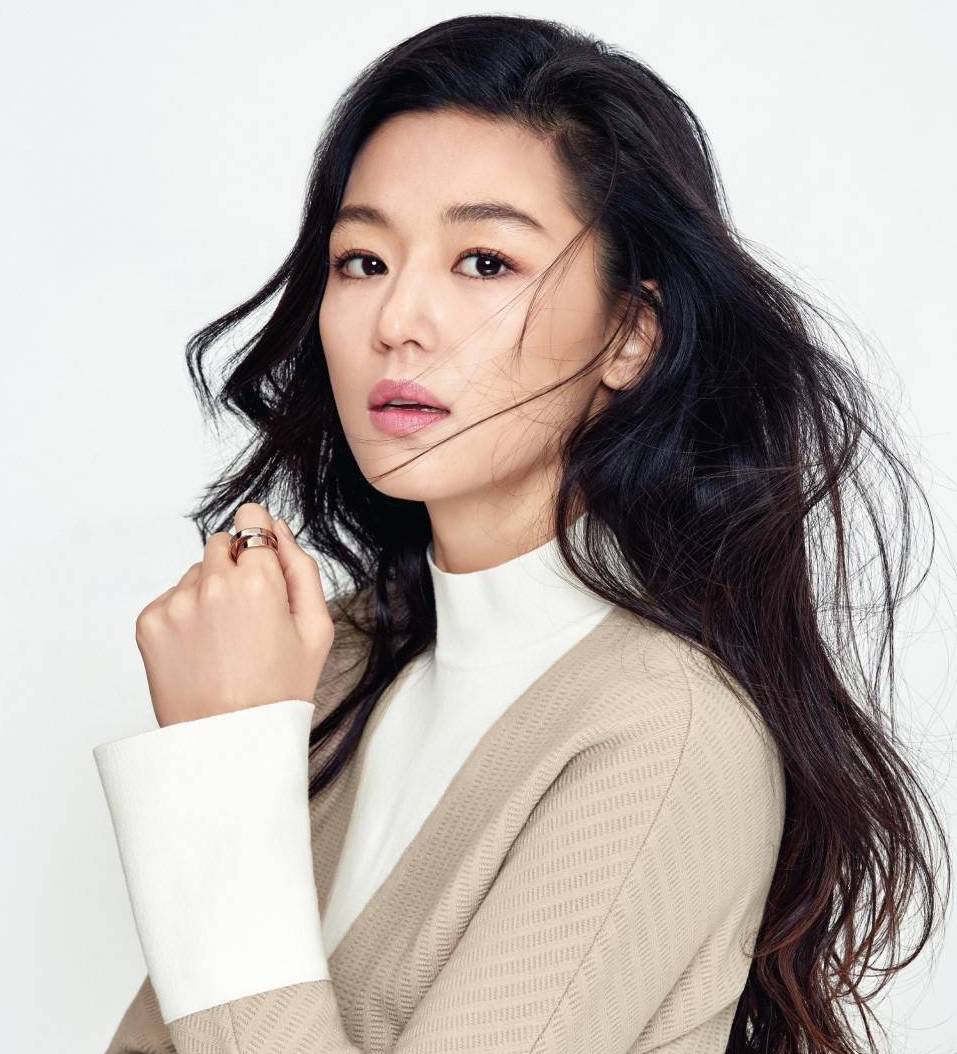 Industry expert Mindy Goldstein, Ph.D gives the long and short of it. "It's the scalp that really controls the health of the hair," she says in a podcast interview. "So what's going on in the follicle and the skin around the follicle that makes — could make a difference in whether you're losing more hair, or maintaining your hair, or [whether] you have healthy hair, or brittle hair."
The thick skin on your scalp is different than the skin on the rest of your body, notably housing a wealth of sebaceous glands that produce sebum (oil). Hair follicles and pores can easily get clogged if oil build-up goes unchecked; and dandruff is a byproduct caused by bacteria trapped in the sebum, which yields problematic fatty acids and flaking dead skin. Additionally, clogged follicles can detrimentally stunt hair growth, says Dr. Goldstein, because new hairs are often not strong enough to break through and grow.
Of course, the actual hair shafts and strands can have their own set of problems (dry, frizzy ends or lack of volume, anyone?) which require its own tender loving care — but in different ways. It's actually recommended that you target your shampoo and conditioner at the scalp and the tips of the hair, respectively. Dermatologist Zoe D. Draelos, MD, FAAD advises: "When shampooing, concentrate on cleaning primarily the scalp, rather than the entire length of the hair, as washing only your hair can create flyaway hair that is dull and coarse. When using a conditioner, the recommendation is different. Conditioners should only be used on the tips of the hair and not on the scalp or length of the hair since conditioners can make fine hair look limp." It's safe to say that, just like the sensitive skin on the visage, your hair and your scalp require a special kind of multi-step skincare routine for head-turning results.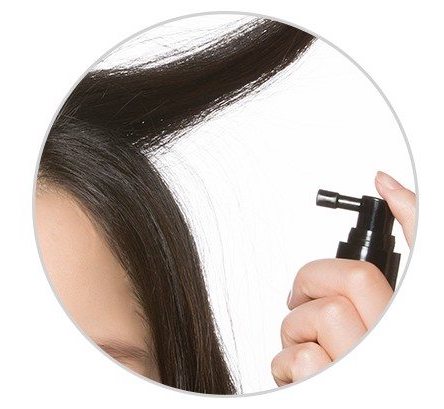 Scaling: The essential step in Korean scalp care
Naturally, the skincare experts in Korea leave no stone unturned in all realms of beauty, and when it comes to an unhealthy scalp, they put it under a literal microscope to find the cause and the appropriate remedy. On Korea's top beauty shows, like Get It Beauty and The Body Show, industry experts come armed with scalp-magnifying devices that reveal the true state of one's scalp, shocking audiences with the before-and-after transformation from damaged to healthy skin. YouTube K-beauty gurus, like Wendy from Korean beauty channel WishTrendTV, divulge that the secret to silky, voluminous locks is to use specialized scalp treatments; and even the beauty-loving denizens of Reddit share their tips on Asian hair care, emphasizing the roots of the hair.
While Korean hair care can encompass a wide variety of products and methods from serums to hair milks, we're going to focus on one thing the routines of these hair experts and novices had in common: exfoliating the scalp.
Whatever you prefer to call it — scalp exfoliation, scalp cleansing, or scalp scaling — make sure it's the first step in your journey to a healthy scalp. Used once a week, scaling treatments are easy to add into your routine, and they work wonders on opening the hair follicles to exfoliate away dead skin and get rid of waste. As Reddit user cutis_pura puts it: "Think of this as clearing the weeds to make way for the field."
Or as Korean hair artist Beom Ho called it on a hair care episode of Get It Beauty, "The top of the head is considered your hair's trash can." Ew.
On the episode, Beom Ho used a magnifying scalp checker to reveal the redness and irritation on a volunteer's scalp (warning: more ew on the way):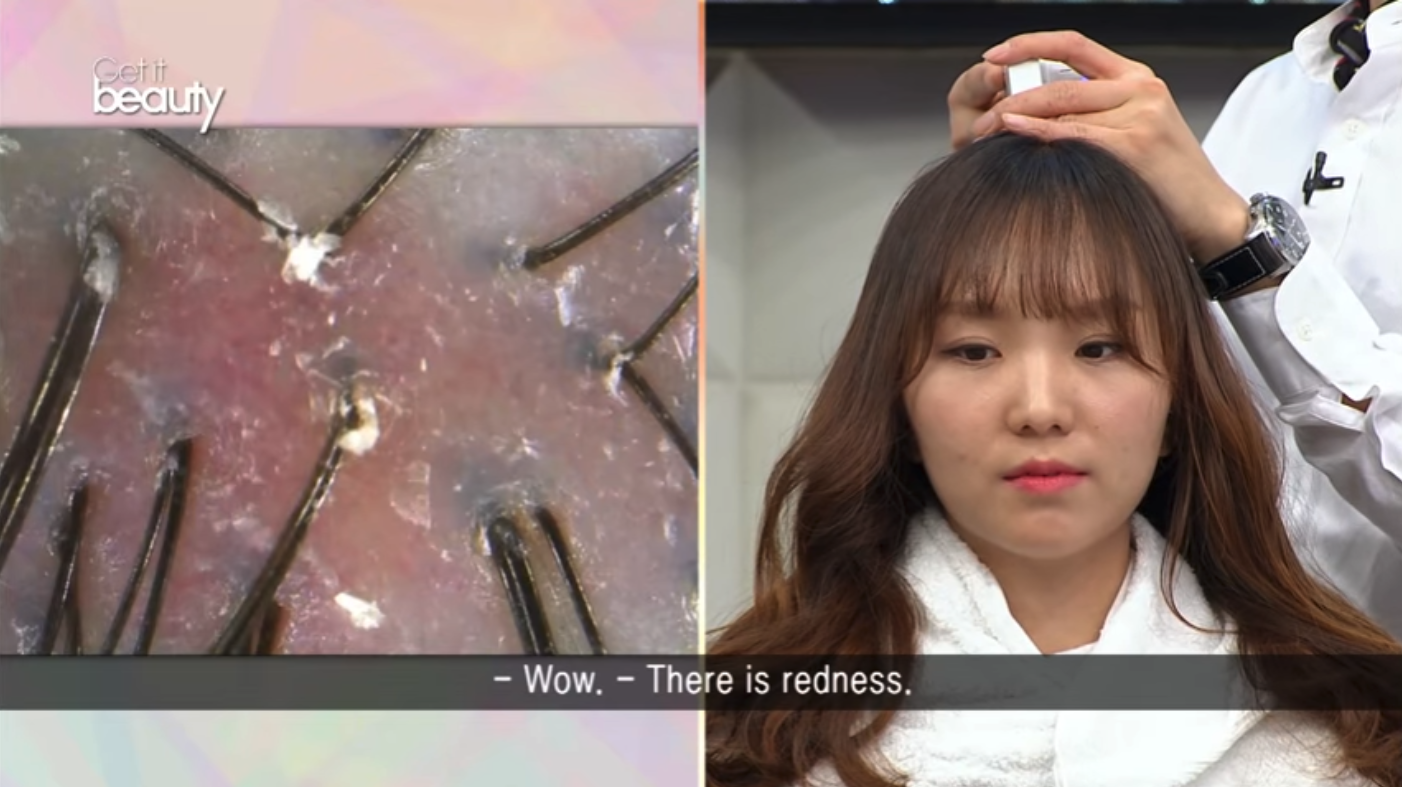 Post-scalp care, Beom Ho revealed the stunning results of already-improved skin after a single scalp treatment, with noticeably reduced redness: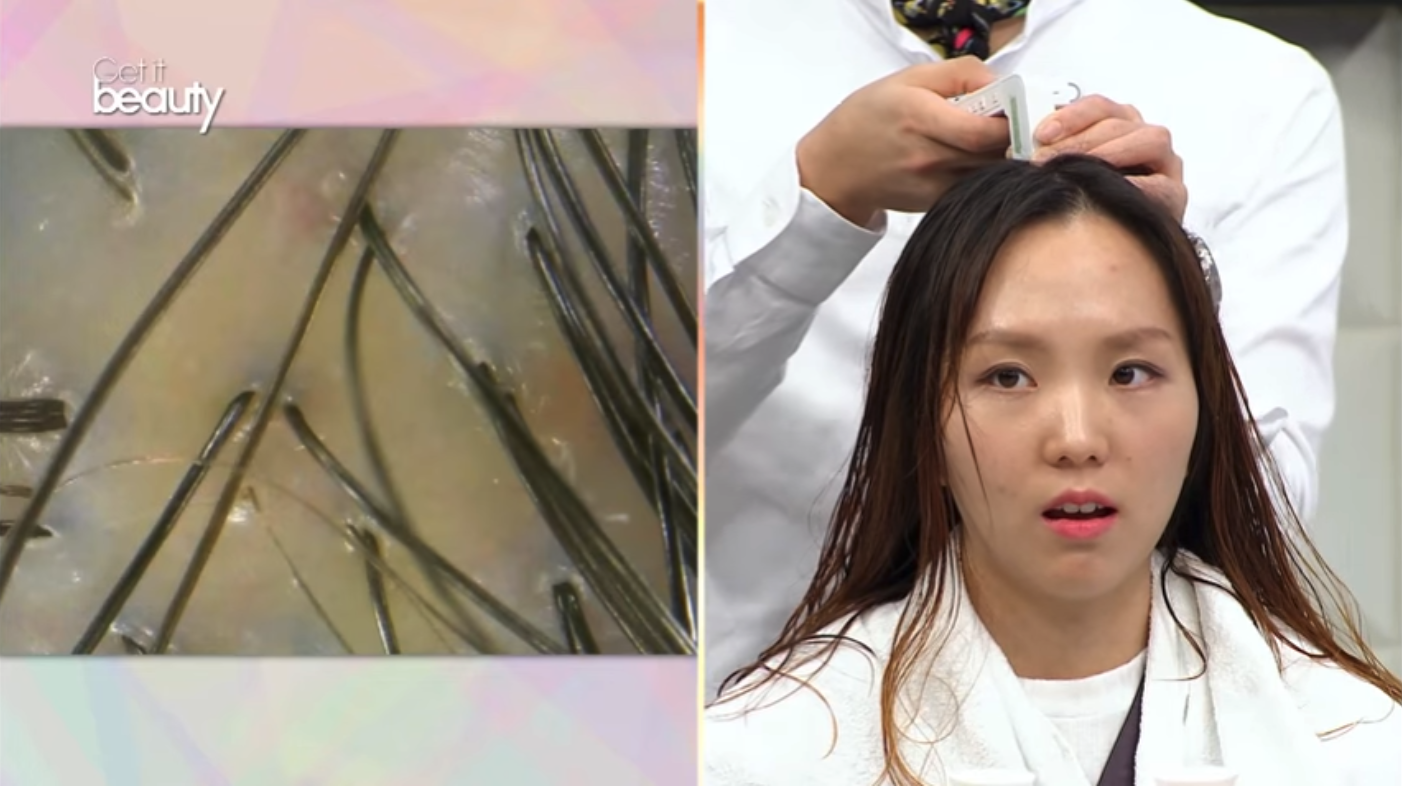 Before shampoo, Beom Ho recommends a scalp tonic, like this one from Skinfood infused with soothing and refreshing peppermint or this one from Truezyme with lactobacillus ferment, green tea, and camellia extract. He also recommends going the extra mile and using a scalp massager, as well as wrapping a steamed towel around your head after you've applied the treatment for intense pore-purifying results.
Scaling can also come in the form of convenient pre-soaked cotton swabs. Take a scalp-cleansing swab and run it back and forth along the hairline to remove dead skin cells and dirt, making sure to part the hair in different sections for a thorough cleanse.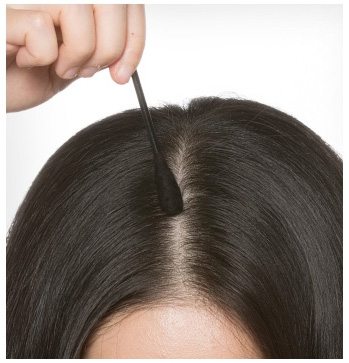 Another method of scalp exfoliation involves a little bubbly (and no, not the alcoholic variety). You've likely heard of the skincare face wash trend involving carbonated mineral water to purify your skin and tighten pores. Similarly, using natural sparkling water on the scalp can help dislodge dead skin cells and pore-clogging gunk, as well as facilitate blood circulation and balance the pH levels of your skin, according to The Body Show.
Make like the show's experts and soak your entire head into a bowl of carbonated water for around ten minutes, incorporating a gentle massage during the process. (Warning: you might be surprised at the amount of debris floating in the bowl afterwards!) Alternatively, you can fill a spray bottle with sparkling water like WishTrendTV's Wendy, who spritzes the liquid directly onto her roots for a quick scalp refresher.
Along with other scalp-focused products like perfumed treatments and anti-hair loss masks, Korean hair care runs the gamut beyond shampoo and conditioner, from treatments and serums to masks and mists, all of which take in a variety of factors like pH levels and whether you've chemically treated your hair. But before you jump down the rabbit hole of hair care, make sure to start at the roots to ban bad hair days for good.
Have you ever thought scalp care the way you do skincare? What does your hair and scalp care routine look like? Share with us in the comments!
---
Author: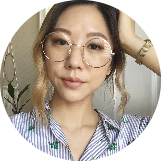 Ruth Kim
Ruth is a 20-something creative with a fixation on black coffee, black boots, and the beautiful black hole that is all things K-beauty. A Southern California native, she loves to share her current skincare favorites and lifestyle inspirations on her Instagram @ruthhlesslyy.
---
Comments