Say Goodbye to the 3-D's: Tips & Products to Combat Winter Skin Fatigue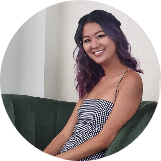 Wendy Chuong
Nov 30, 2017
---
When it comes to your skin, you definitely don't want to go 3-D. And yet dryness, dullness, and damage are exactly what you get from all the indoor heating, stress, and overindulgence of the holidays. Here's what you can do to fight winter skin fatigue.
---
Cold weather brings us decadent comfort foods, permission to live in sweaters, and the best holidays of the year. But the drop in temperature, sugary treats (I'm not going to say no to a pie), and stress that come with holiday travel and planning can wreak total havoc on your skin. No matter your skin type, we're all likely to be affected by three main ailments: dryness, dullness, and damage — or the 3-D's. But taking the proper precautions and making simple lifestyle changes can ensure our skin stays supple and glowing for the rest of 2017 and well into the new year.
Dryness
Dryness is a common concern during colder months and can lead to irritation, flaky skin, redness, and general discomfort. A number of things can cause skin to dry out, including a decrease of moisture in the air, harsher outdoor environments, and cranking up the heat indoors. Your regular routine may no longer be keeping your skin properly hydrated and nourished. And since you can't really hide dry skin under makeup, the only solution is to treat skin from the inside and out.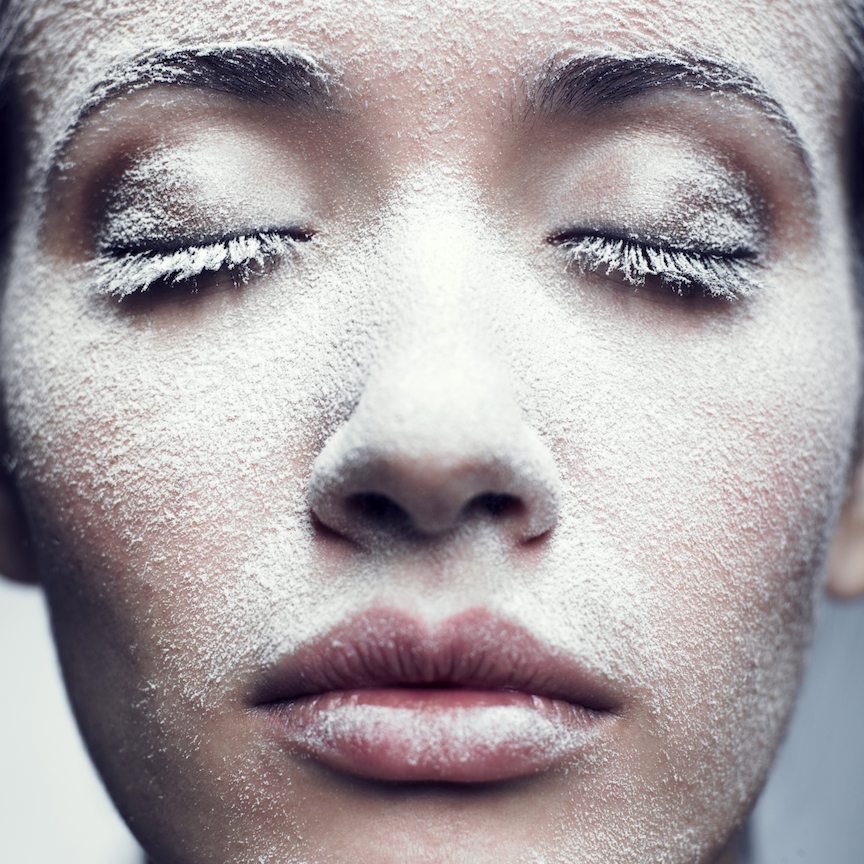 Start by incorporating skincare products that specifically boost moisture into your everyday skincare regimen. Using a face oil can be a great way to keep skin easily hydrated and nourished. I've been loving the SanDaWha Camellia Face Oil, which is full of antioxidants and vitamins and dries without leaving my face sticky or greasy.
Another way to boost moisture is by swapping out gel-textured and lightweight facial lotions for creamier moisturizers. There are tons of options to choose from, but my favorite daytime moisturizer is the Klairs Rich Moist Soothing Cream. It feels luxurious without being heavy, is great for sensitive skin, and is super hydrating.
And don't forget the eyes! Eye creams are a must, as the delicate skin around the eyes is prone to getting dry and dehydrated, leading to fine lines. I can't get enough of the super-affordable Innisfree Orchid Eye Cream that feels rich and fights signs of aging.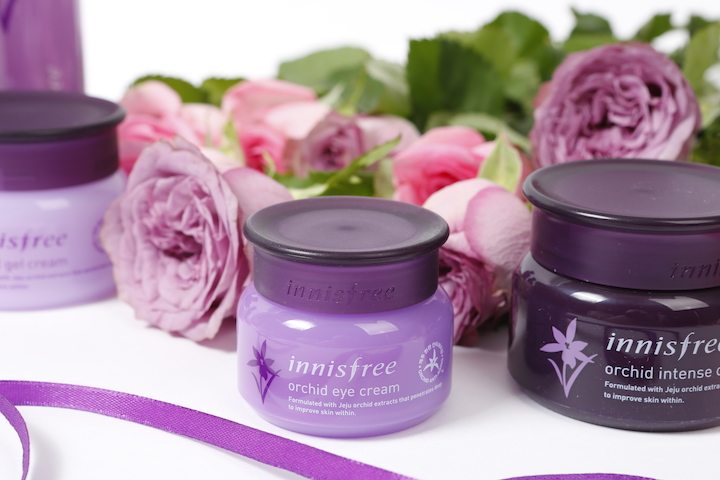 As for makeup, this is the best time to use liquid and cream-based products. Cushion foundations are great for keeping skin radiant and are more forgiving on dry patches than powder. Cream blushes stay on longer and look most natural during this season. And lip oils and glosses keep lips from getting chapped.
If you really want to prevent all 3-D's, I'd recommend purchasing a humidifier for your bedroom. They not only prevent respiratory illnesses during colder months but humidifiers also make sure you wake up with hydrated, supple skin every morning.
Dullness
Who doesn't love bright, radiant skin? It's the perfect accessory but one that's gets harder to maintain as the weather cools off. In a domino effect, dryness is one of the factors that can lead to skin looking tired and dull. Other factors include buildup of dead skin cells, sun damage, and stress. Not only can you protect your skin against these factors but by adding a brightening product to your routine, you can also look lit-from-within all winter long.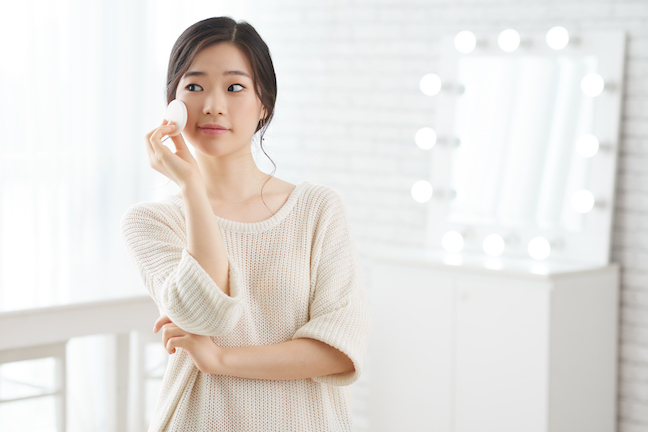 Exfoliation is important all year long, but finding a gentle exfoliator that boosts circulation and doesn't strip the skin is crucial during this season. I especially love using the Neogen Gauze Peeling Pads right now. Gentle but effective, these pads never dry out the skin and leave the face baby soft and more radiant after every use.
Many people skip sunscreen in the colder months, thinking it's unnecessary. I know I'm guilty of this! But the sun can still cause damage even on an overcast day. Prolonged damage can lead to weakened collagen and hyperpigmentation — both contributors to dull skin that doesn't reflect light. Dr.Jart+ makes great sunscreens. I prefer Dr.Jart+ Sun Fluid SPF 30, which has a lower SPF and feels more like a lightweight moisturizer.
Moisturized skin is step one to brighter skin. But to really boost radiance, look for essences and serums with ingredients like vitamin C, niacinamide, glycolic acid, and retinol, which help lighten all that sun damage you may have incurred over the summer.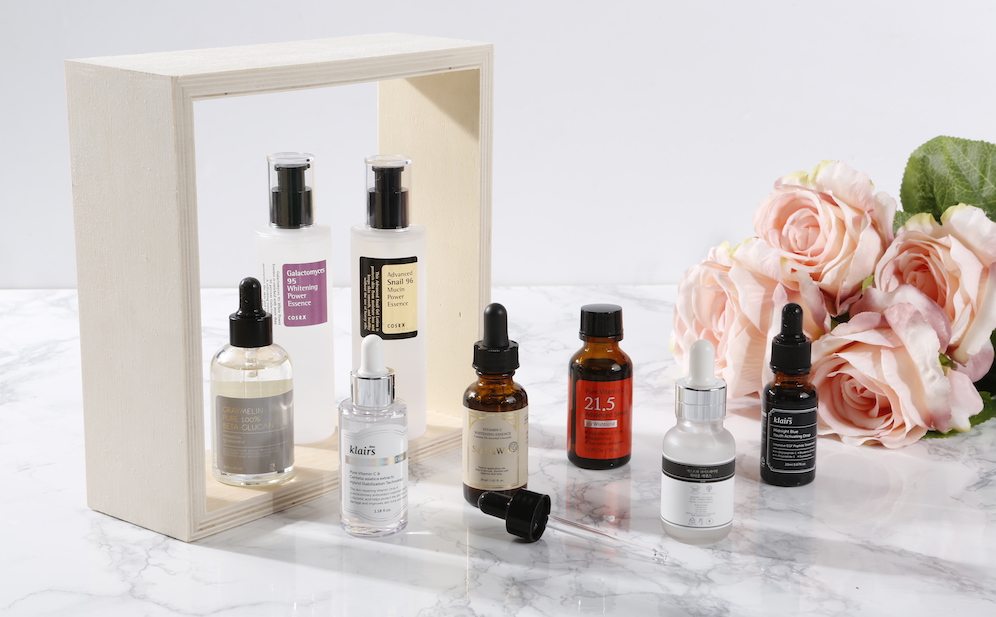 And remember that your makeup can do double duty. Reach for illuminating primers, foundations, and cushions (my current favorite) and go wild on highlighters. My go-to winter look is glowing skin, rosy cheeks, and a vampy lip.
And here is where I sound like everyone's mother — remember to drink tons of water. I know it sounds cliché, but there's a reason why models and actresses constantly credit their glow to their water intake! Dehydrated skin = dull skin. So grab a refillable bottle and take a cue from Song Hye Kyo by drinking more than 1.5 liters of water a day.
Damage
Damage is a very broad problem. We've already discussed damage caused by dehydration and the sun, but 100 other things can be causing damage to your skin, without you even realizing it. Free radicals from pollution, various chemical irritants in your daily life, a poor diet, cigarettes and alcohol, and even repetitive facial movements (like furrowing brows or frowning) are just a few culprits of skin damage.
A great way to reverse signs of damage with very little effort is by using a sleeping mask at night. Slathering on a luxurious cream, like the Sulwhasoo Overnight Vitalizing Mask, that targets a variety of issues is a great way to heal any existing damage and soak in rejuvenating ingredients to prevent future damage.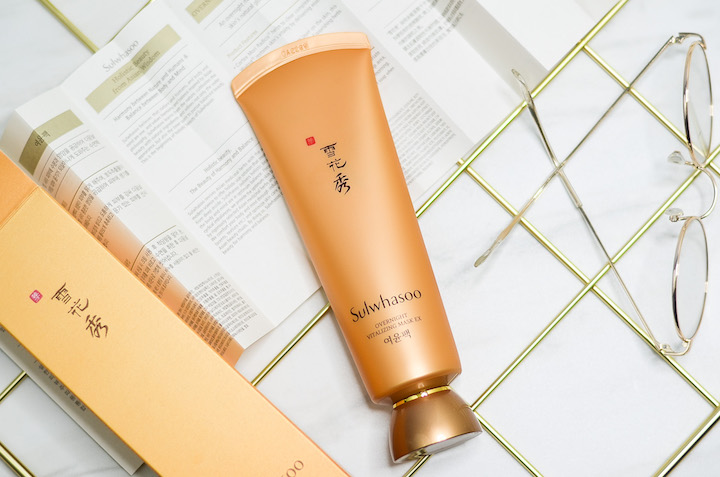 And if you aren't already sheet masking every day, there's no better time to start than now! Mediheal makes my favorite sheet masks as they are ultra-effective at providing specific benefits. The Premium Essential Mask NMF Aquaring Nude Gel Mask is deeply hydrating and nourishing, so if I accidentally get a sunburn while trying to snowboard, I can quickly soothe and heal my damaged skin.
As we know, beauty really comes within. I know it's tempting to eat all the sugary desserts and drink all the holiday cocktails, but this can damage our skin as well. Balance out the holiday meals by making sure to eat a diet full of antioxidants and anti-inflammatories, which work to heal our bodies, and drink a glass of water for every glass of alcohol (OK, try to do this). Get adequate sleep to boost cellular turnover and let that sleeping mask work. And if you're feeling stressed, remember, 'tis the season to treat yo'self (to more K-beauty obviously).
Don't let the 3-D's keep you from your best skin goals. Making just a few of these changes in products and practices can make the difference between skin that makes you want to hibernate and skin that shines in all those holiday selfies.
What do you do to fight winter skin fatigue? And what's your favorite part of this time of year? (Mine is Christmas!)
---
Author: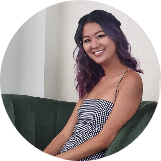 Wendy Chuong
---
Comments