Your Search For the Best K-Beauty Red Lip Is Over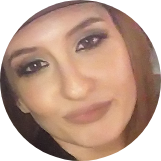 Coco Park
Dec 06, 2017
---
Whether you're a classic lipstick-in-a-tube girl or all about the liquid lips and stains, makeup artist and esthetician Coco Park has a red lip for you. Just be prepared to love it because some of these colors will last you all night.
_____________________________________________________________________
A red lip is a staple — it's classic, it's bold, it's cute, it's sexy, and most of all, it's timeless.
Korean beauty has my favorite lipstick, stain, and gloss formulas across the board. Combine two and you've got an unbeatable duo. Today I'm rounding up my top 10 favorite reds and my favorite formulas.
Red Lipsticks
Romand Matte Lipstick in Red Carpet
No surprise I'm starting off this list with Romand. I love their creamy mattes, which are never drying, and this shade, Red Carpet, is a rich, classic movie star blue-based red. For daytime I like applying this with a finger for a more diffused soft look that packs all of the punch of a red lip without being too much.
Missha Signature Dewy Rouge RD04 in Scarlet Lady
I love Missha's Dewy Rouge formula. It's like a cheaper version of Hera's famous Rouge Holic but with all the bells and whistles. This is a very moisturizing formula, so it's great for those with drier lips who might be afraid of the harshness of a red lip. It has high shine like a gloss but rich pigment like a lipstick. I really like the deep red of Scarlet Lady, which reminds me of an '80s video vixen.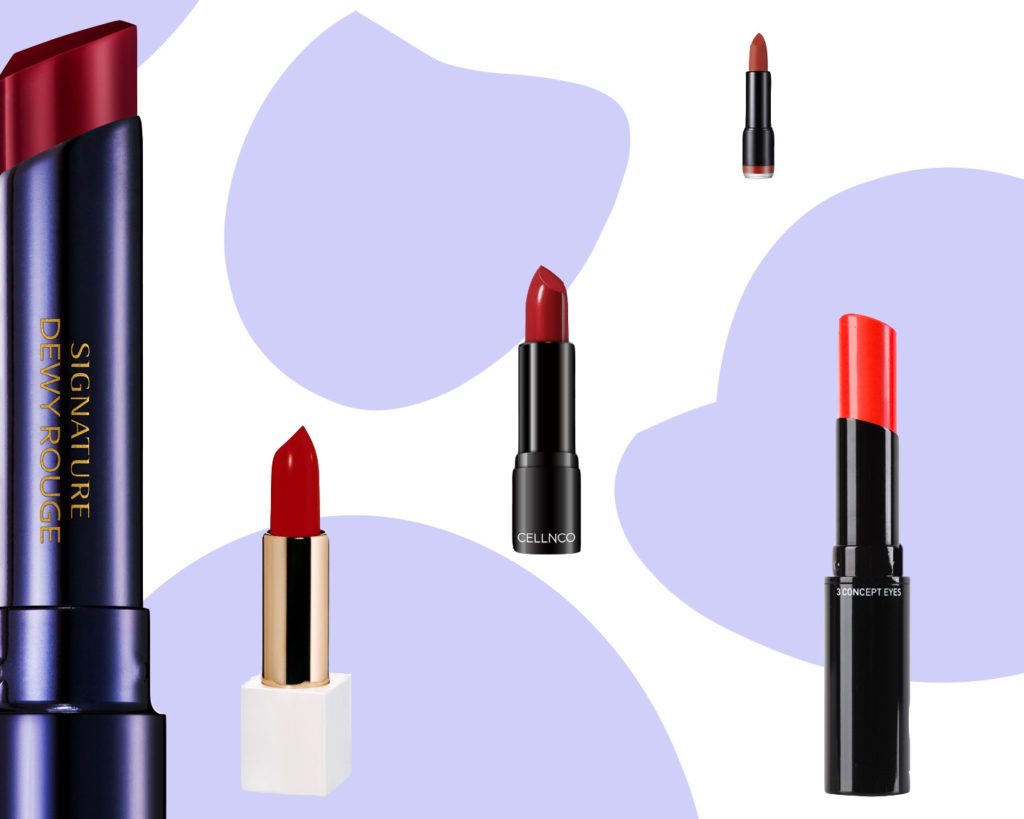 3CE Creamy Lip Color #9 in Kitsch Biker
This lippie is not for the faint of heart. The sizzling orange-red is a real statement maker, and I absolutely love it. One of my favorite looks is heavy whispie faux lashes, bronzer, and an all-eyes-on-me focus of Kitsch Biker on my lips. The formula is kind of like the Missha Dewy Rouge but less slick and with more pigment. It is also moisturizing and glossy, so reapplication after a few hours is going to be a must. This color is so unique, and I love the cushy formula; this will always be a must-have for me.
Tony Moly Perfect Lips Lip Cashmere in Red Wood
Tony Moly always impresses me with their makeup line, and I'm rarely disappointed. No exception here with their Perfect Lips Lip Cashmere line. These rich, gorgeous, highly pigmented, smooth mattes are pleasing to the eye and the lips. The bullet itself looks a lot like a Charlotte Tilbury lipstick but performs better for me honestly. I also appreciate their color line in this formula, one of the standouts being Red Wood, a brown-orangey tinged red. Check out their other reds in this line; they're equally awesome if you like the formula but not nearly as unique.
CELLNCO ChuChu Lips in Spicy Red
If I started this list with Romand, you know I'm going to close it out with CELLNCO! CELLNCO came in and killed it this year with their ChuChu Lips line. In my review I talked about how these are totally the type of lippies Solange would wear. The formula is on point, the pigment is richer than a Russian oligarch, and the color line is straight out of a Frida Kahlo painting. Love, love, love these! Sour Candy will always be my favorite shade, but for classic reds I'm going to go with Spicy Red: drop-dead, kick-you-in-the-face beautiful like a '50s screen siren.
Red Liquid Lips and Tints
Etude House Rosy Tint Lips in #2 Sunny Flower
It seems like a lifetime ago that I first fell in love with Etude House Rosy Tint Lips. In fact, it was the first K-beauty lip product that really turned the tide for me as a dedicated follower of K-makeup. With its fuzzy doe foot applicator and creamy tint, I was hooked right away. At the time, I had never seen that kind of delivery system and formula — it was exciting, new, and best of all, excellent quality with a tiny price point. Years later, here we are and it's still a great product. While #8 After Blossom is my favorite shade in the line, #2 Sunny Flower is a pretty and cheerful yellow-based red. You can tap it on with the doe foot for a more diffuse gradient look or slick it on for a stronger statement.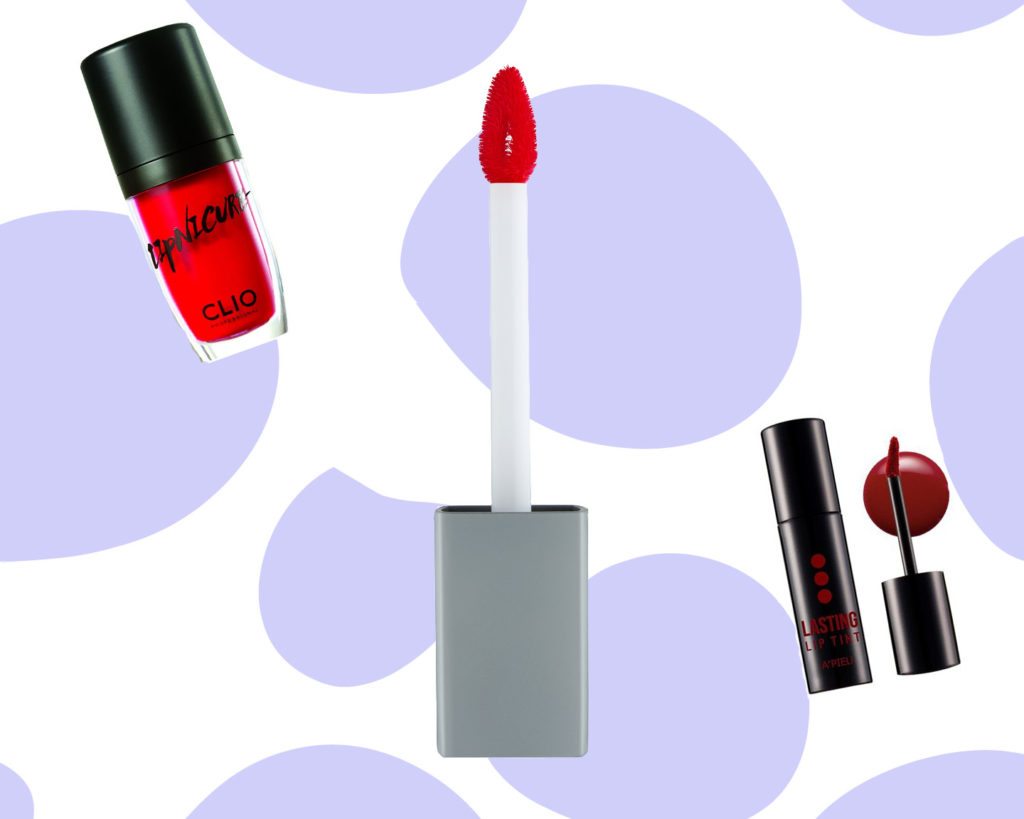 A'Pieu Lasting Lip Tint in RD03 Hailey
A'Pieu is a brand that doesn't get enough love and recognition. They have so many little treasures hidden in their product line and the Lasting Lip Tint is one of them. This tint is thicker than a watery tint but not quite a creamy tint either. It goes on smooth and doesn't run all over the place. This color, Hailey, is a vampy, almost merlot red, which I think is a lovely departure from the pinky reds you find in a lot of other tints. This is a long-lasting stain, so feel free to wear this one on a dinner date.
Peripera Ink The Velvet in #3 Sellout Red
Peripera and sister company Clio kill it when it comes to long-lasting stains and tints. They're my go-to brand for this category most of the time. Peripera's Ink line has a lot of different formulations, from the water type (sounds like a Pokemon) to the creamy type, which The Velvet line is. It's billed as a "whipped cream" type formula. It's definitely cushy, and it definitely puts a nice, even stain on the lips, even when the initial product is wiped away, so be steady with your application! Sellout Red is a really peppy pinky-red. Beware not to accidentally lick your lips with this one — as part of the trade-off for having a long wearing lip stain, your lips are going to taste like soap, which is kinda gross. I'll take it though, because the colors are gorgeous, and it doesn't dry out my lips.
Romand Juicy Lasting Tint Summer Scent
It's no longer summer, but I still have wonderful memories of this fruit-scented sunny red. I reviewed this line earlier, so you can read all about why I love it there. Just let me say that this is the ultimate cocktail for your lips and the cutest little red.
Clio Virgin Kiss Lipnicure in Tension Red
Do you want a bold red that isn't going to budge? Want to make out with a hot person and still walk away looking like a goddess instead of a mess? Let Lipnicure be your lip lord and savior. Called a Lipnicure because it's supposed to be as tough as a manicure but for your lips, this long-lasting liquid lip is hard-core. Because of its strength, it does cling to dry spots and dead skin, so make sure to exfoliate and moisturize your lips before use. Despite this, the formula isn't that drying on me, and I've got some pretty dry lips in the winter. Tension Red is a classic, timeless blue-based red that has been in style for the last 100 years and will be in style for the next 100 years. It's a safe buy and a smart buy if long-lasting is your aim.
Do you love a red lip? Have you tried any of these? I'd love to know what you think!
---
Author: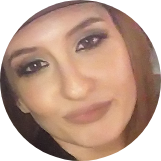 Coco Park
Coco Park is an author, beauty journalist, blogger, podcast host, and all around oddball living in Montreal Quebec with her family. Originally from the southern USA, she worked for several years in the makeup industry as a professional makeup artist and holds a certificate in esthetics. She is a proud member of the Choctaw Nation of Oklahoma. Want to know more? Check her out on the Beauty Beyond Basics podcast, on her blog TheBeautyWolf.com, on Instagram @thebeautywolf, and in her book "Korean Beauty Secrets: A Practical Guide to Cutting-Edge Skincare & Makeup."
---
Comments