What You'd Be Doing on Christmas Day If You Lived in Korea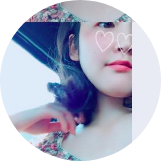 Michelle Kim
Dec 25, 2017
---
There may be no Christmas ham and St. Nick may be wearing blue, but generally speaking, Christmas in Korea is a lot like Christmas in the States, with a few surprising tweaks (read: date night!). Here, how they celebrate the season in Korea (and some holiday-related K-drama references, just because).
_____________________________________________________________________
Ahh, Christmas. The time for freshly baked goods, exchanging heartfelt sentiments, and gathering around the fire. Or at least that's what we usually associate with the season. If you're anything like me, your reality is probably a little more like this: Listen to Mariah Carey nonstop, indulge every now and then in an overpriced seasonal latte, bundle up, listen to some more Mariah Carey, and try to squeeze in some super-frenzied, last-minute shopping. Eek!
Of course, this is probably a more American reality. In preparation for the crazy times to come, I started to wonder what it was like in other parts of the world. OK, let's be real — in South Korea specifically. Sure, we slather on all these Korean skincare products day and night, but what do we really know about Korean culture? Well, I decided it was time for a little seasonal journalism (and found that we probably already know a little bit just from watching K-dramas!).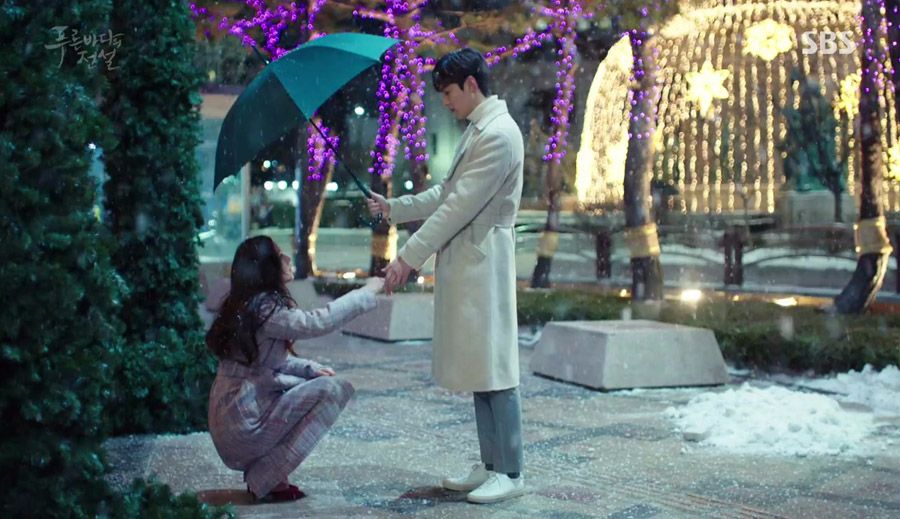 Although Christmas may not be held in as high regard in Korea as it is here, it's still important enough to be considered a national holiday. (Unlike Japan, where it's just another workday.) Just like in the States, gift-giving and decorating your home are a thing — sort of? Christians are more likely to decorate the interiors of their homes, and gifts are usually cash rather than things.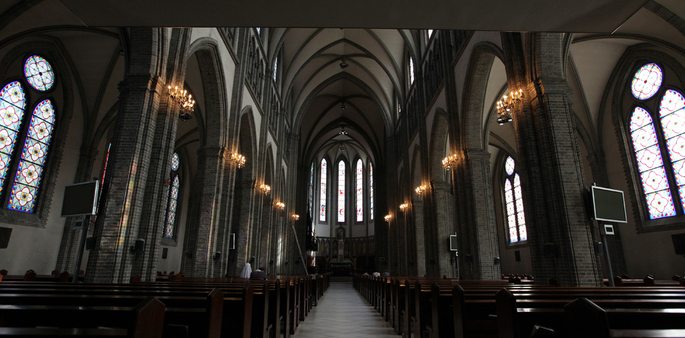 Churches in South Korea are particularly packed around the holidays (although isn't this the case everywhere?). Depending on who you ask, Christianity still holds some considerable influence on South Korean culture, so maybe this isn't entirely surprising. One of the most popular churches during this time is actually a cathedral. And why not? The high-vaulted ceilings and stained-glass windows of the century-old Myeongdong Cathedral provide the perfect atmosphere for some deep soul-searching, even if you're not religious. This year, there will be over 10 different opportunities to attend services on either Christmas Eve or Christmas Day. If any of you adventurous souls decide to make the trek, there's even an English confession offered before the Sunday morning mass. (Or you can just go to see the site where Hwang Tae Gyeong was supposed to meet Minam in the Korean drama You're Beautiful.)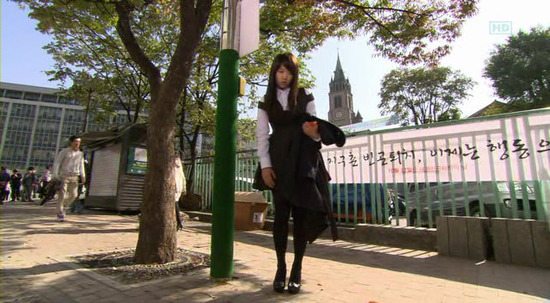 Nowadays, those of us in the States have been seeing the demise of the department store. For those of us who have seen, really, any number of American '80s movies, we know that the department store used to be a way bigger fixture in popular culture. Remember watching Big and being astounded with the absolute ostentatiousness of the FAO Schwarz? (If you have absolutely no idea what I'm talking about, this video will help you understand.)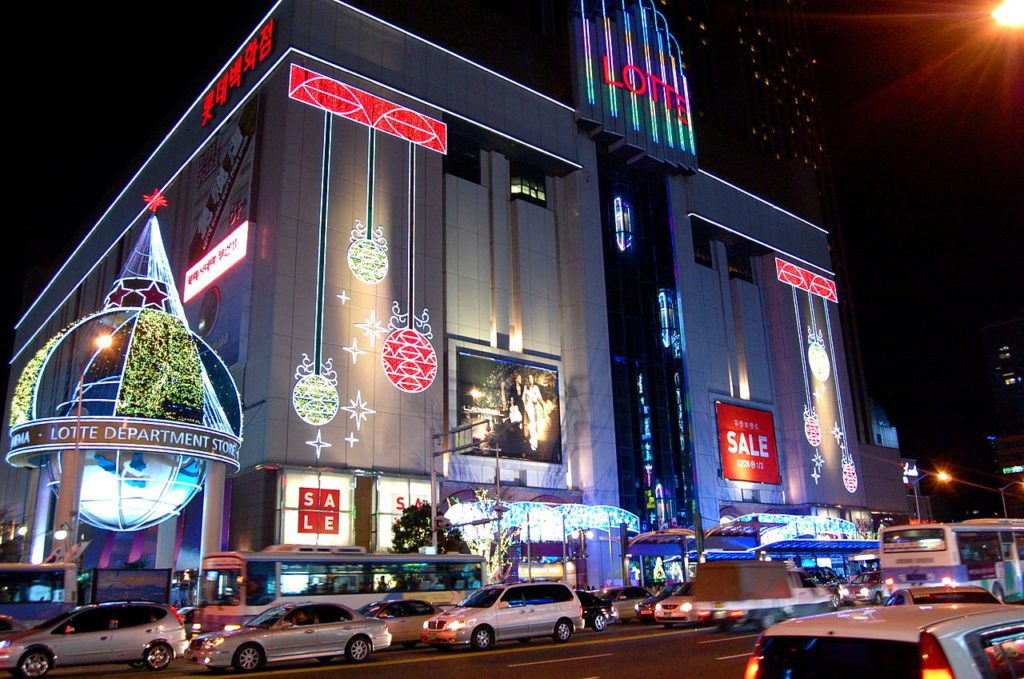 Well, turns out that the culture of the department store is still alive and well in South Korea today. Check out these pictures of the Lotte Young Plaza and Lotte Department Store (above). All decorations, all the time. K-drama mega stars Lee Min Ho and Jun Ji Hyun filmed a pivotal scene in front of the bedecked Shinsegae department store in Myeong-dong in The Legend of the Blue Sea, and Lotte World (also known as Wonder Land from Hyde, Jekyll, and Me) is all decked out, too.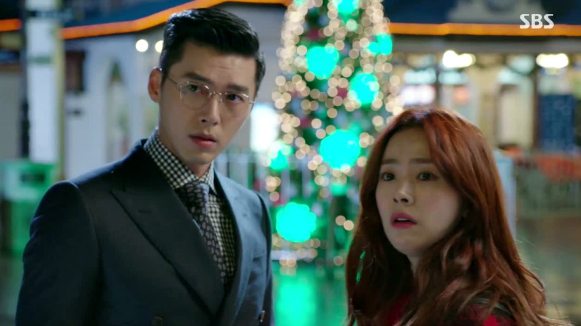 And it's no wonder, given the fact that the holiday is reserved mostly for friends and couples. (New Year's is for the family.) There are multiple festivals and events going on to cash in on this — check out this Busan Christmas Tree Festival.
Actually, after I took some time to think about it, this makes perfect sense to me. After all, how many Korean dramas have we all seen with a dramatic Christmas subplot?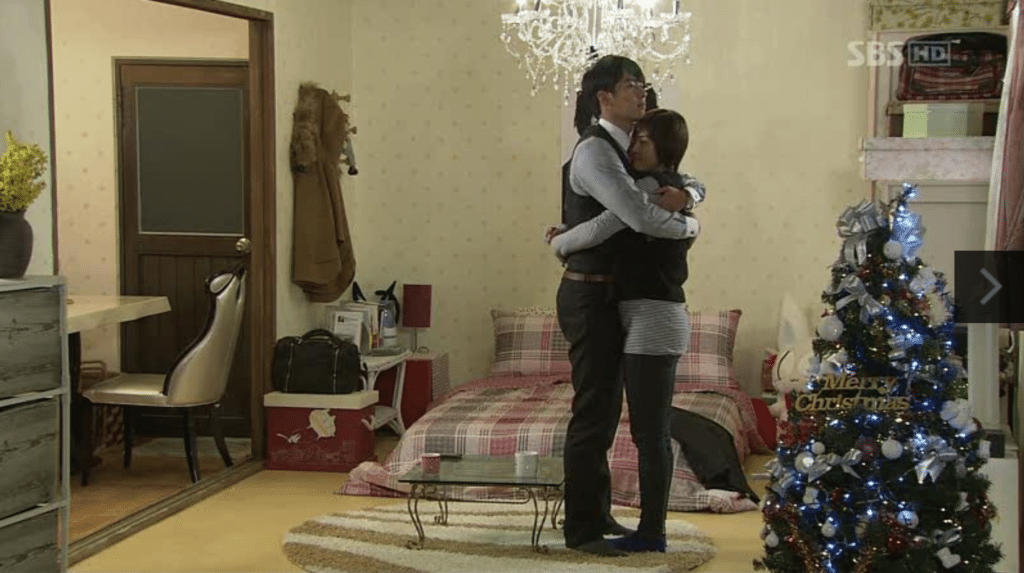 Extra points for kissing in the middle of an ice skating rink, surrounded by colorful lights. I mean, they call wintertime cuffing season for a reason, right? (I feel so corny for saying that. Please forgive me.)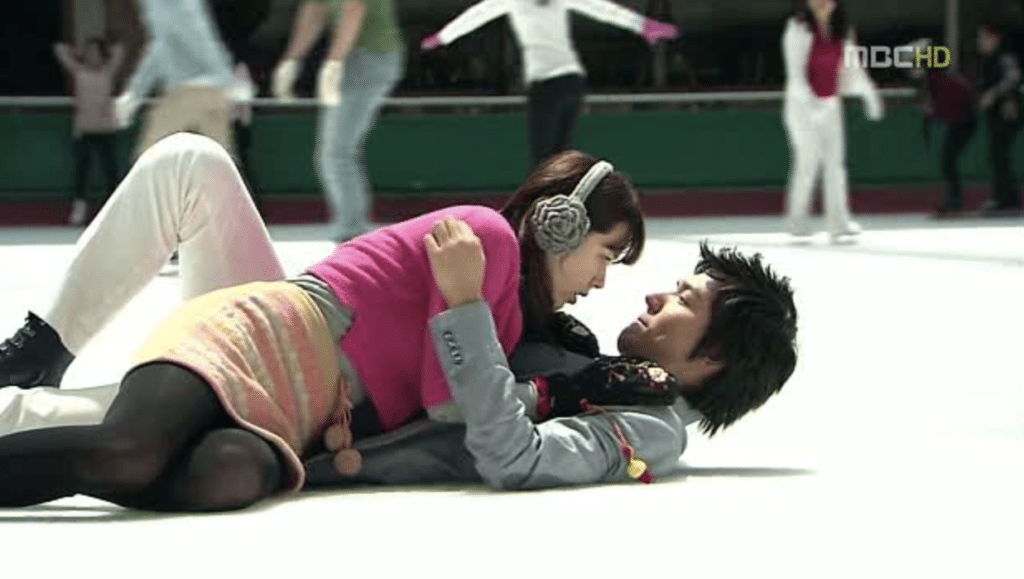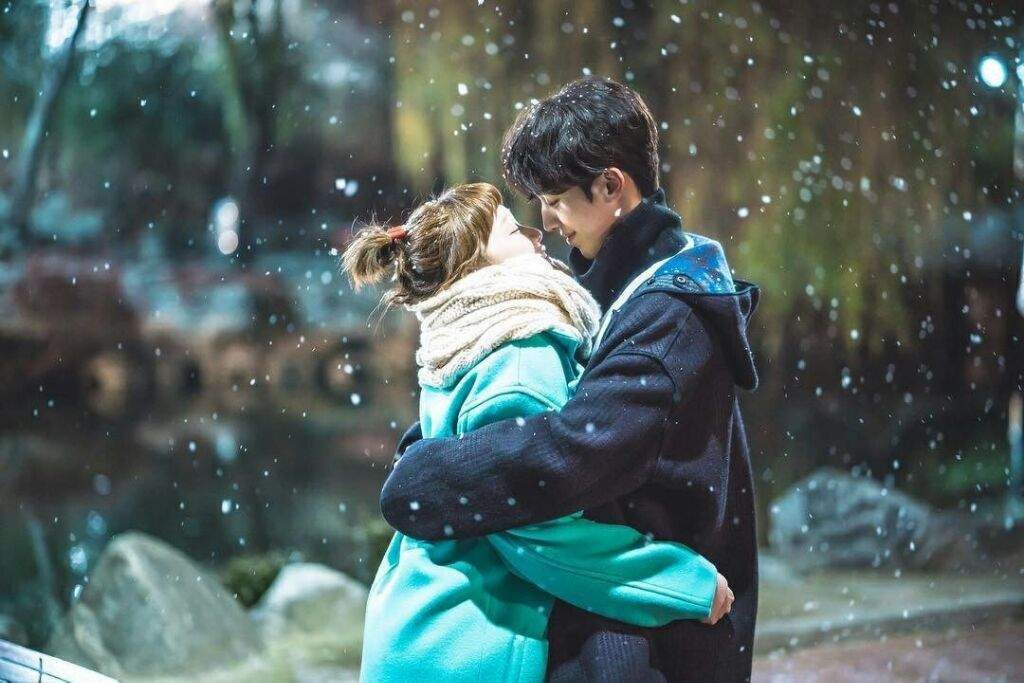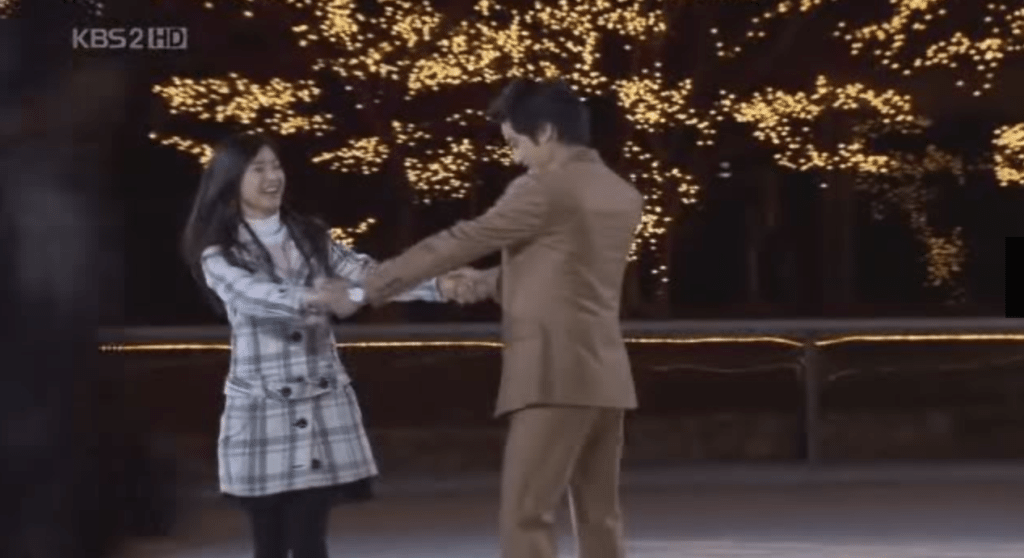 If you and your significant other are feeling particularly romantic, you might go to the Seoul Tower. Just like with the Paris Bridge, couples go there to affix padlocks to the tower as symbols of their love. As the padlocks will last forever, so will their love. (Aww.) And as an added bonus: Remember when Goo Jun-pyo and Geum Jan-di got stuck in a cable car in Boys Over Flowers? Those locks in What Happens to My Family? And when Lee Min-ho takes a selfie while waiting for Jun Ji Hyun in The Legend of the Blue Sea? Yep, all that was right here.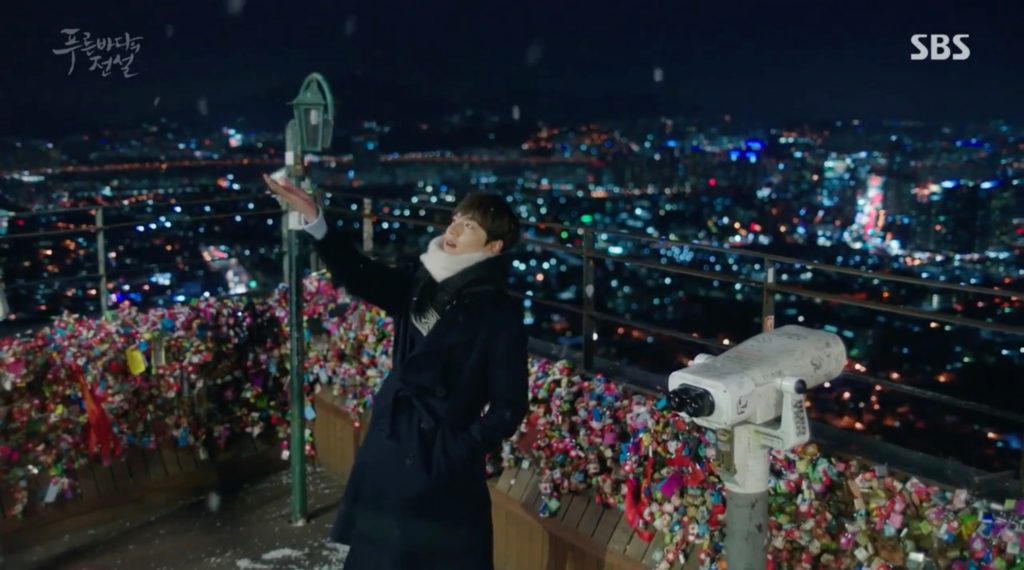 Since Christmas is primarily a couple's holiday in Korea, restaurants are packed to the gills, just like they would be for Valentine's Day. Even singles like to spend this day with their friends. Restaurants don't close on Christmas, like they do in the States, and you can find an array of Christmas buffets serving everything from sushi to turkey.
For more traditional fare, try baesuk (steamed pear), gotgamssam (persimmon-wrapped walnuts), or ppopgi (traditional sugar candy). And you can't forget Christmas cakes. Yes, you heard that right: Christmas cakes. (And no, we don't mean the dreaded fruitcake.) These are just like your regular cake, available in all sorts of flavors (even ice cream cakes, courtesy of Baskin Robbins) but decorated, of course, in a Christmas theme. If you've ever stepped foot in a Korean bakery like Paris Baguette, you already know how intricate these cakes might get! (Check out this scene in I Do, I Do when Eun-sung throws a holiday party for some expectant mothers, complete with a Christmas cake.)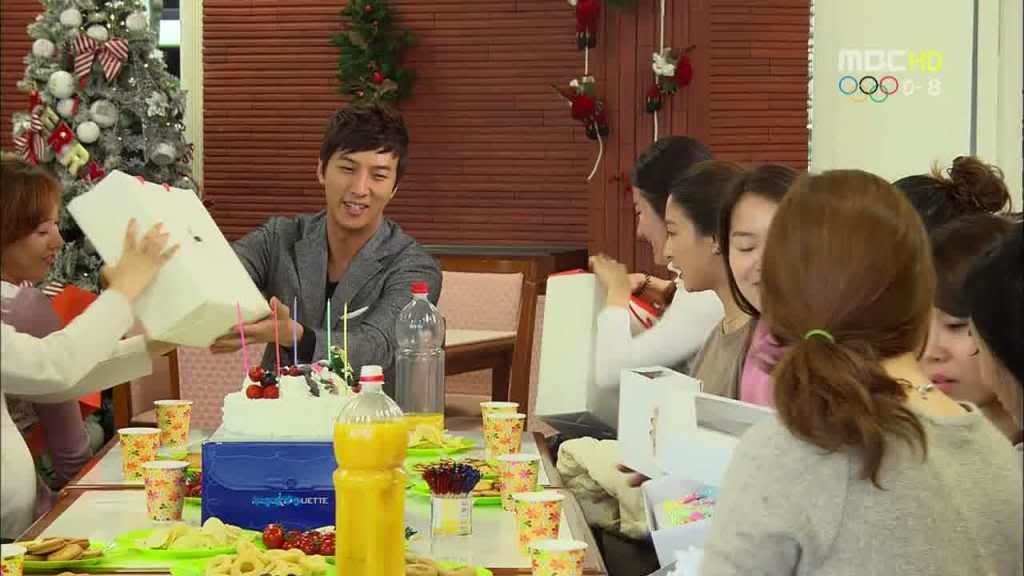 There's even a hashtag on Instagram dedicated to Korean Christmas cakes. Just like with restaurants, you better plan this one out way in advance — these are popular, and you don't want to spend your whole Christmas in line!
For everyone else, it's likely they'll be busy getting their last-minute shopping in at one of those super-sparkly department stores, where they might be greeted by someone in a Santa suit handing out candies. (Fun fact: Santa is sometimes dressed in blue in Korea.)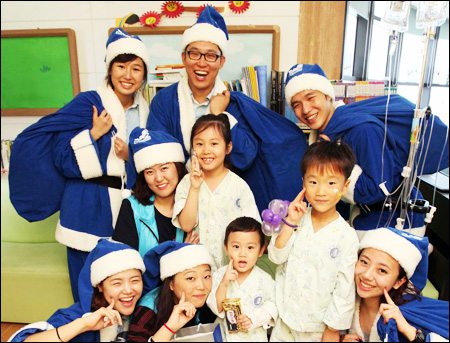 What's Christmas like in your neck of the woods, and what's your favorite part of the holidays? Let us know in the comments and we can compare and contrast!
---
Author: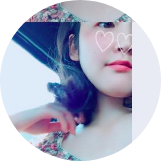 Michelle Kim
---
Comments