What's In My Bag: A Glance Into Ruth's Tote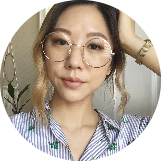 Ruth Kim
Dec 26, 2017
---
Sucker for beauty flat lays and anything (or everything) marble? So is Ruth, Beautytap's Social Manager and Associate Editor. Here, we get up close with her personals, from favorite keychains to current lippie loves.
_____________________________________________________________________
My style is fairly minimal, always accented with a touch of bling from a pair of earrings or a dainty necklace. Naturally, when it comes to my bag (and my life in general), I aim to be as minimal and as organized as I can be. But I also hate being unprepared, so you'll always find a few extra miscellaneous items jostling in my purse. And since we're talking minimal, let's just get straight to it. Here's what's in my bag.
Bag basics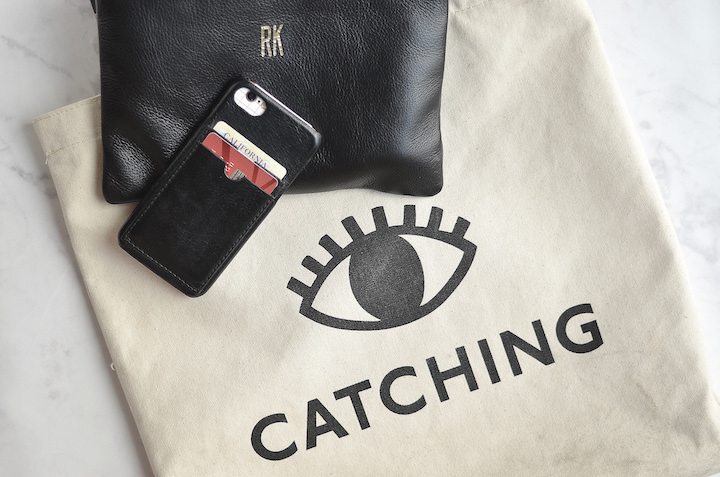 I got this eye-catching tote bag as a free gift from my favorite store ever (aka the bane of my wallet's existence), Madewell. I love it for its effortless style and easy portability, especially when I'm just out running errands or bringing my laptop to a cafe to do a few hours of work. And since it was free (well, aside from the unspeakable amount of money I spent as a "Madewell Insider" to qualify for this free gift), I can take it with me on the daily without worrying too much about wear and tear. Other days, I'll usually sport a simple black leather crossover purse, of which I own way too many variations.
My personalized pouch, phone case & keys
This personalized black leather pouch was a gift from a group of lovely church friends, and it's now become a staple in my bag. Another Madewell item, the pouch has several card slots, a small buttoned pocket, and ample space for some cash and other miscellaneous items.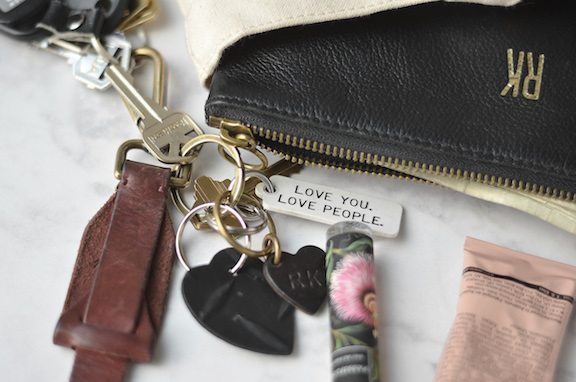 There's really not too much to say about a phone case, but I do have to profess my affection for phone cases that double as a wallet. They're so functional, and they make being on-the-go so much more effortless, when all I need is my phone, a debit card, and a license. (And you guessed it — it's from Madewell.)
To me, keys and keychains are special. Not only do they literally unlock the doors to homes and cars, but they can represent places you've been, people you've met, or simply objects that you might have an affinity for. That's why I love to keep these unique tokens on my everyday key set. My favorite is the "Love You. Love People." tag from a blog/community/shop called So Worth Loving.
Lip essentials
I suffer from Dry Lips Syndrome, so any form of chapstick or lip balm is a life essential. I also carry two or three different lip tints, balms, or glosses, usually in neutral shades because I'm not much of a bold lip color kind of gal. (Think muted burgundies, mauve-y browns, or dusty pinks.) Lately, I've been reaching for the Glossier Generation G lip balm in the shade Leo, a beautiful neutral, warm brown shade, or the NYX Soft Matte Lip Cream in the color London.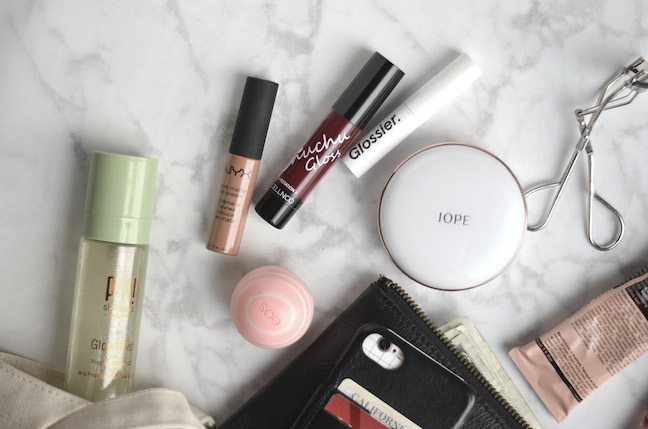 For a more pronounced lip tint, I've been trying out the CELLNCO ChuChu Lip Gloss in the shade Sugary Grape, which can be applied with a light hand for a sheer wash of fuchsia or built up to a more pigmented layer of dark magenta. This lip gloss has a pleasant, fruity fragrance, and it's infused with squalane, avocado oil, rose hip oil, and macadamia oil for lasting moisture.
Lash lifeline
There's not much to say about this one, except thanks to my stubborn, straight-as-an-arrow eyelashes, I always carry my eyelash curler with me for midday and late afternoon pick-me-ups.
Scented things
Along with my Dry Lips Syndrome, I also suffer from DHS, or Dry Hands Syndrome, so having a hand lotion, ahem, on hand is key. This mandarin rind, rosemary leaf, and cedarwood-scented number from Aesop was gifted by a lovely unni of mine (a Korean term for sister), and she's actually also a talented writer here at Beautytap.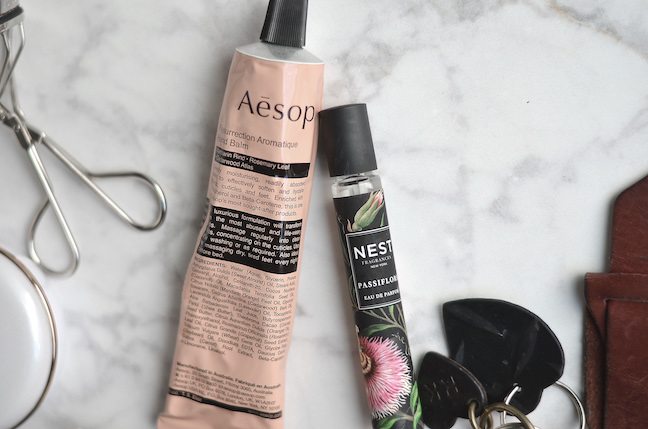 I've been wanting to find a signature fragrance for a while, so I was testing this one out by Nest. I don't particularly love the overly sweet smell though, so I'm on the hunt again. (I'd love to hear your favorite fragrances and recommendations! I'm all about fresh and light scents.)
Give us our mist, our daily mist
I've been mixing in spritzes of face mists (pictured: Pixi's Glow Mist) into my routine and throughout the day, and my skin is loving the extra bit of moisture. During my skincare routine, I'll spray the mist two to three times after my toner and/or essence steps; and when I use a cushion foundation, I'll sometimes moisten up my ruby cell puff with a few sprays and then apply my cushion foundation. The results? An extra hydrated, slightly dewy finish.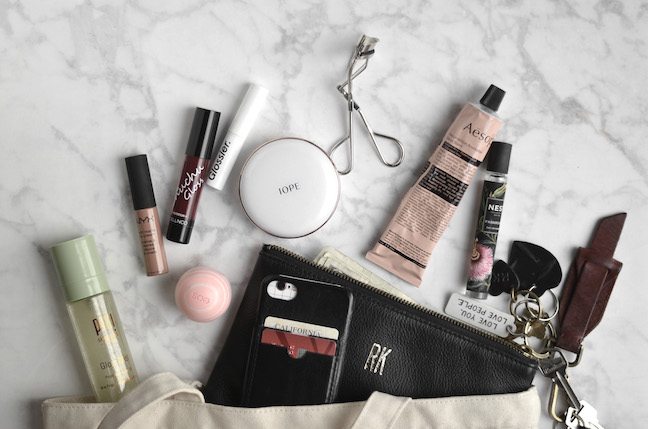 Cushion the glow
Speaking of cushion foundations, Iope's Air Cushion Flawless SPF50+ in the shade W23 is today's #COTD. This was the first cushion I ever tried, and to a certain degree, it did not disappoint. (Iope was the first brand to introduce the magic of cushion compacts to the world, after all.) The first and most important thing I like about this foundation is its color match to my skin — I'm a slightly-tanner-than natural beige and nowhere near as pale as most South Koreans tend to aim for, so finding a cushion foundation that's a good color match for me has been a struggle. (And I'm Korean! I can't even imagine the frustration for darker-skinned beauties. At least Innisfree has now finally gotten the memo. End rant.) The shade W23 is described as a "Warm Light Medium," and it fits my warm, yellow-undertoned skin nicely, with a brightening, matte finish. It's also got a honeycomb type cushion, which is supposed to disperse the foundation more evenly onto the puff.
Throw in a water bottle and a pair of sunnies, and that's my everyday haul. What can't you live without on the day-to-day grind? Let me know in the comments below!
---
Author: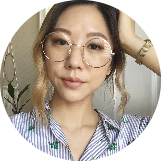 Ruth Kim
Ruth is a 20-something creative with a fixation on black coffee, black boots, and the beautiful black hole that is all things K-beauty. A Southern California native, she loves to share her current skincare favorites and lifestyle inspirations on her Instagram @ruthhlesslyy.
---
Comments