From Diamonds to Wires, How to Get Korea's Hottest Nail Trends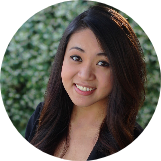 Ethel Navales
May 30, 2017
---
The nail trends everyone's following come not just from Korea but from one nail salon in Korea: Unistella. Try these DIY nail art looks inspired by the mastery of Unistella founder Eun Kyung Park.
____________________________________________________________________
Even if you've never heard of Eun Kyung Park, you've probably already seen her work. Founder of the famed Unistella salon in Seoul's tony Cheongdam neighborhood, Park found herself featured in Teen Vogue, Refinery29 and Marie Claire, all within the last few months. As it turns out, South Korea is not only taking the lead when it comes to beauty and music, they're also calling the shots when it comes to nail trends.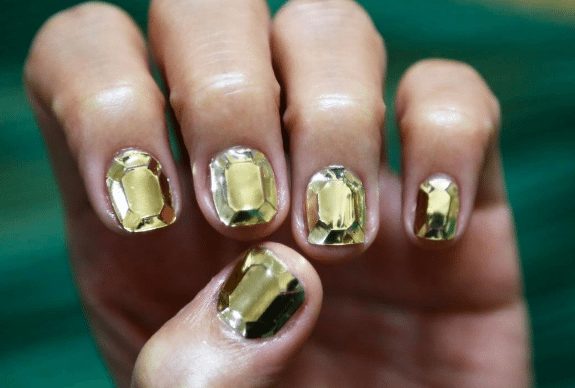 It started with the shattered glass nail trend from a few years back (which was started by Park, natch). That morphed into the popular diamond nails, which fed off the beautysphere's obsession with all things hologram-inspired. But her most recent creation is the stunning gold bar or 24K nails. It's really no surprise that the manicurist genius has over 200k followers on Instagram.
But what about those of us who can't jet off to Korea to drop into Unistella? While we may not be able to get our nails done by Park herself, there's no stopping us from trying to achieve the looks at home. Get ready to be inspired with Korea's top nail looks for 2017.
Wire Nails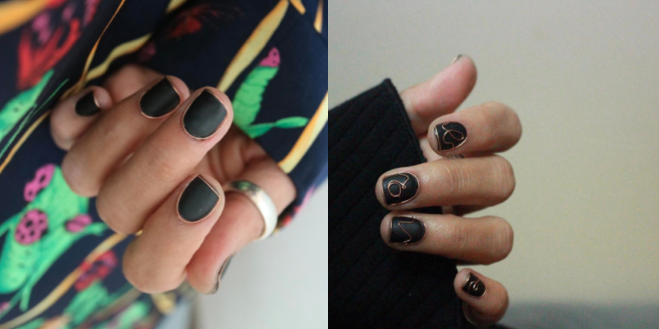 Yup, you read that correctly. One of the sleekest and most polished looks in Korea is the wire nail trend. Happy to say goodbye to chipped nails, Marie Claire proclaimed that these are the go-to nails of the future. This look is only for the handiest of do-it-yourselfers, which requires twisting thin wire into shape, applying it on clear gel nail polish, and curing it under UV light. Make the wire pop against a black matte background with 3CE Matte Top Coat.
Cuticle Cuffs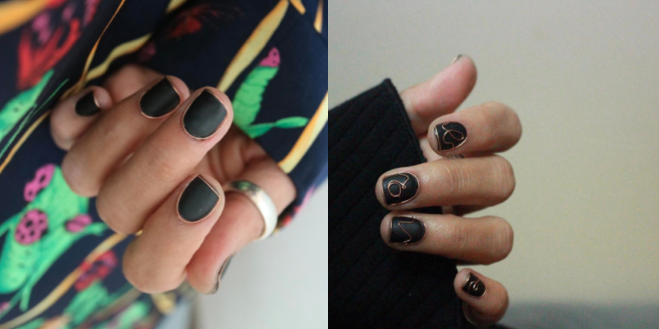 Who knew that reversing the French tip could be so chic? The cuticle cuff is exactly what it sounds like — a gold cuff along the nail closest to the cuticle. With or without a contrasting nail color, the cuticle cuff looks super glamorous. But unlike the French manicure, you don't need a steady hand to get that curve just so. Just use these Innisfree Eco Nail Henna Stickers for an easy DIY.
High Heel Nails
We simply can't take our eyes off this unique look. This trend uses negative space in a completely new way, and we're in love. (Bonus points for adding a tiny cuticle "choker" at the base of the "high heel.") Perfectly straight lines are key here, so use scotch tape to keep lines sharp or cheat with A'Pieu My Nailist Line Sticker in Gold.
Nail Tattoos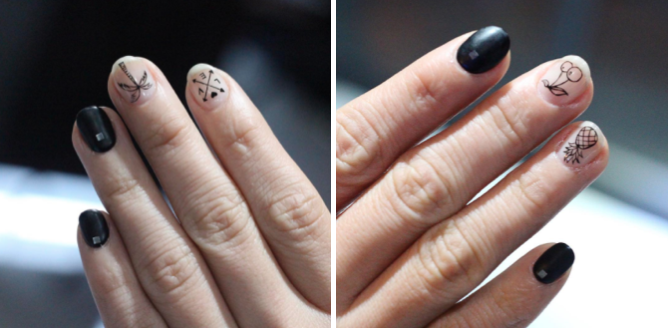 Let your inner child rejoice! Nail tattoos are back and better than ever. Let these dainty images show off your fun side. The best part is that nail tattoos are super easy to do — just get some nail stickers and apply to a couple fingernails on each hand.
Color Block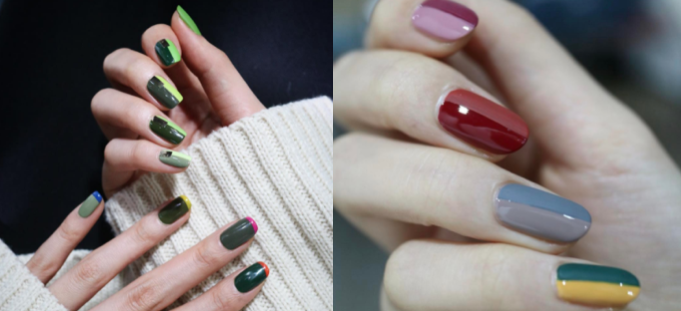 We've always loved colorful nails, but this new color block trend is elevating our appreciation to new heights. A skillful mix of muted and vibrant shades, both vertically and horizontally, color block nails are sure to get a few double takes. Again, nail tape or nail stickers are key here. Try Missha Gelatic Nail Polish for that perfect pop of color.
What nail trends are you loving right now?
---
Author: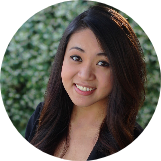 Ethel Navales
---
Comments