All About the Korean Sauna + Essential Skincare For Your Spa Day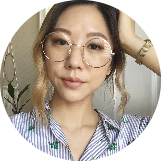 Ruth Kim
Jul 09, 2017
---
The Korean sauna, or jjimjilbang, is a staple in Korean culture, as much a place for self-care as it is health care. Consider it skincare for your body, mind, and soul.
_____________________________________________________________________
The Korean sauna, also known as the jjimjilbang, is no new phenomenon. If you grew up in Korea, the sweat-inducing bathhouses are a familiar and almost homey scene, a backdrop for weekly family outings, a setting for a casual fifth date, or even a 24-hour open pad for the inebriated folks who can't quite make it home after hours at the bar.
Of course, saunas aren't exclusive to Korean culture; in Finland, there are over three million saunas, a reported average of one per household, and Japan is known for their onsens, or hot springs. Needless to say, people the world over have long loved to spend their time in a spa — and it's not only for hygienic reasons (or to cure a monster hangover). The hot tubs, steam rooms, and dry saunas work wonders to rejuvenate the mind, rest the soul, and of course, restore and beautify the body.
In case you aren't well-versed with jjimjilbang jargon, here's a brief overview. The Korean sauna is separated into different areas. There's the gender-specific locker room, which is connected to the public showers, hot tubs, scrubbing and massage areas, and steam rooms (of course, all separate for men and women).
Then there's a common area where both genders convene (don't worry, you'll be fully clothed in the provided sauna attire) to eat, watch TV, sleep, relax, or detox in the co-ed dry saunas.
Once it's time to hit the tubs, you'll head back into your locker room where you'll have to get naked (yes, fully out-of-the-womb nude); and you must shower before entering the hot tubs for obvious sanitary reasons. While some spas provide basic toiletries like toothpaste or soap, we recommend you BYOS (Bring-Your-Own-Skincare) to maximize your soul-pampering stay at the sauna.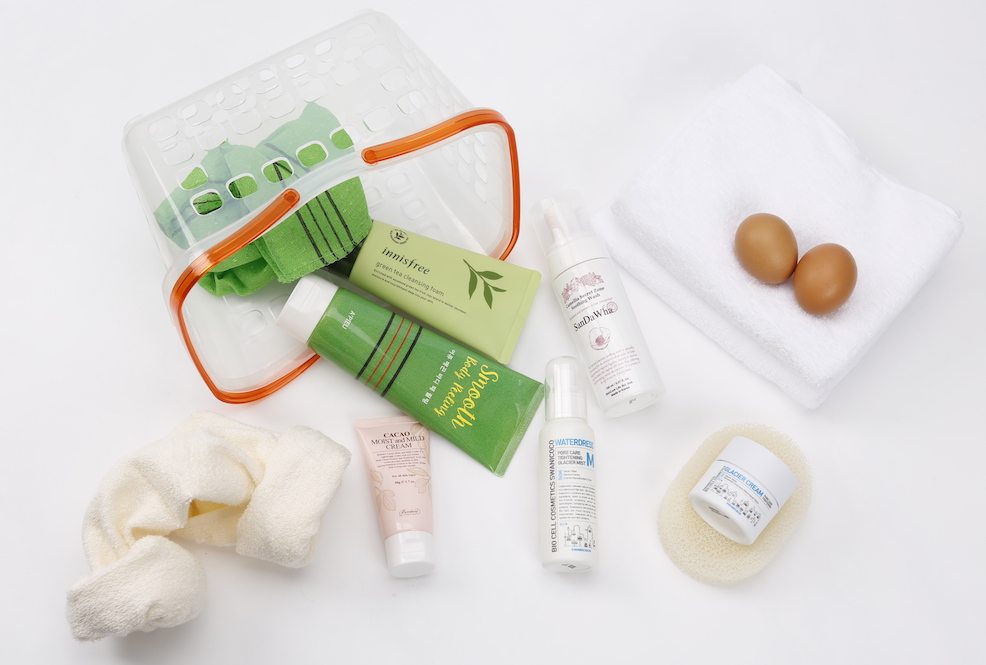 The benefits of the sauna for your skin
While it's fairly common knowledge that the Korean sauna offers health benefits, what exactly are these benefits? Some patrons pay weekly visits for deep cleansing or muscle pain relaxation and relief, and other health-conscious visitors come for the stress-reducing, heart-strengthening effects of the spa. While there are several perks of visiting the bathhouses, we're focusing on skin-centric reasons why you should immediately schedule your next date at the Korean sauna.
Primetime for exfoliation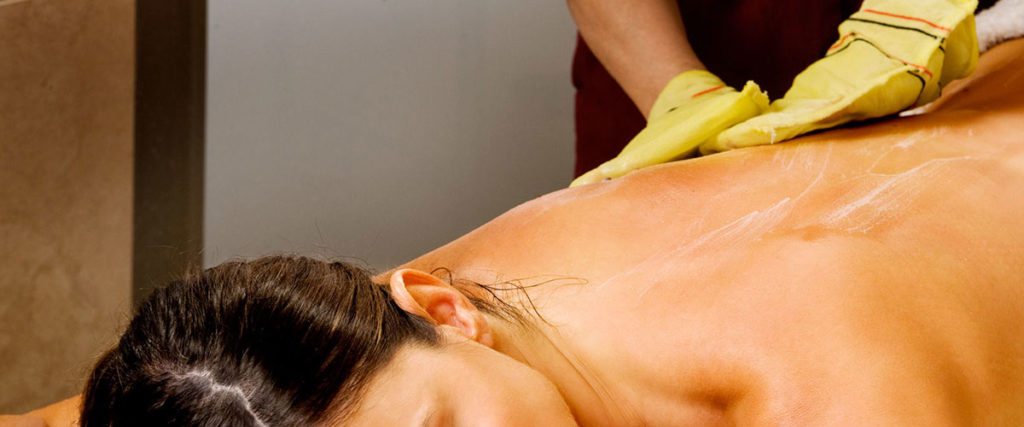 A Korean sauna is a prime location to get your scrub on. But before you dive into exfoliation, preparation is key. Let the hot and humid air from the steam rooms open up those clogged pores, and indulge in an extended soak in the heated tubs to soften and prepare your skin for an effective scrub. You can bring your own scrubbing mitt for a private exfoliation session, or opt for a more expensive (but quite priceless) experience with a body scrubbing professional who'll mercilessly eradicate those layers of debris on your skin (wearing a uniform of only underwear garments, natch). If it's your first time on the scrubbing table, you'll simultaneously be disgusted and utterly satisfied at the layers of dirt and dead skin cells coming out of what you thought was clean skin.
Don't fret the sweat
Think about the last time you worked up a sweat after an intense workout. Besides looking a little worse for wear, you probably experienced a boost of energy and a noticeable lift in your mood. That's because sweating is undeniably good for you. It's a crucial, multitasking bodily function that releases those feel-good chemicals post-workout, prevents your body from overheating, and gives the boot to bad toxins and waste in your system. According to Dr. Julian Whitaker, "Sweating mobilizes toxins stored in the fat and enhances their elimination." All of that waste — pollution in the air we breathe, chemicals in the products used on the skin and in the foods we consume, and of course, sebum and impurities that build up throughout the day — clogs up the pores, causing breakouts and overall poor skin health. That's why it's imperative to open up those sweat glands, and saunas are the go-to remedy.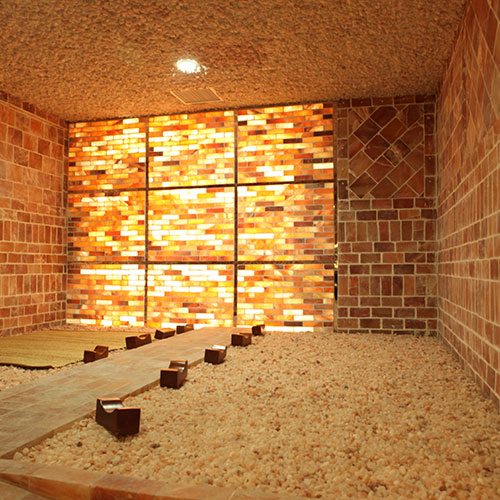 What's more, the dry saunas are usually held within rooms made of varying natural minerals and rocks with healing, detoxifying, and purifying abilities. For example, the L.A.-based Wi Spa is home to five signature sauna rooms with unique properties: bulgama (or oak wood) is supposed to reduce blood pressure; salt strengthens the immune system and heals skin; clay detoxes heavy metals; jade eases muscle tension and balances hormones; and ice (recommended as the last stop) restores body temperature, improves circulation, and tightens pores — bringing your stay at the sauna full circle.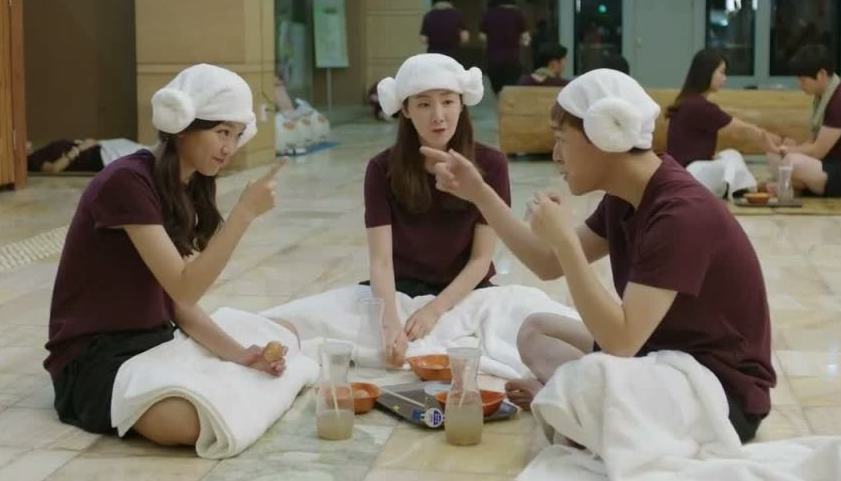 Maximize your spa day with skincare must-haves
There's no better time to treat yourself than a day at the sauna — so why not go all out by bringing a DIY sauna skincare kit? If you don't want to spend extra dollars on an oil massage or a 24K gold treatment masque, bring your own gold sheet mask (for only $5 a pop and well worth it, according to this review). Not only are they ultra-hydrating and nourishing for the skin, sheet masks are also the perfect tool for a bonding experience, whether it's between mom and daughter, or boyfriend and girlfriend. If you're feeling generous, this Klairs Rich Moist Soothing Sheet Mask set comes with 10 individual masks, perfect for your entire squad. We especially love cucumber-based masks for their cooling properties, which balance out your body's temperature in the warm environment of the sauna.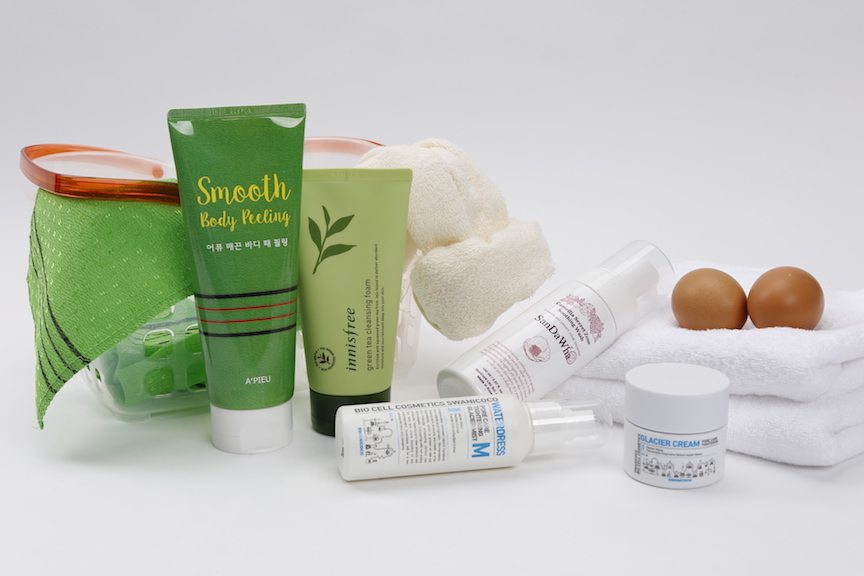 Secondly, take full advantage of your opened pores to eradicate any blackheads with portable nose strips or exfoliating facial scrubs. Your steam-prepped skin will thank you later. And last but not least, arm yourself with a hydrating and cooling facial mist, like a floral mist or these easy-to-carry pocket mists. It's the ideal pick-me-up to get you through your spa day.
Have you ever been to a Korean sauna? Tell us about your experience! Love or not so much?
---
Author: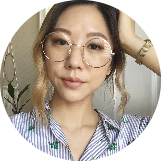 Ruth Kim
Ruth is a 20-something creative with a fixation on black coffee, black boots, and the beautiful black hole that is all things K-beauty. A Southern California native, she loves to share her current skincare favorites and lifestyle inspirations on her Instagram @ruthhlesslyy.
---
Comments