Nail the Monochromatic Peach Makeup Look for Fall (With a Dash of Berries)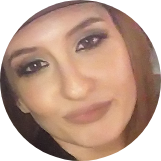 Coco Park
Sep 08, 2017
---
If Kendall and Gigi are doing it, it's got to be hot. Monochromatic makeup is the look right now, and when done with the K-beauty fave shade, peach, it's a look that'll keep you looking fresh and in season. Slay your monochromatic peach makeup  look with these easy steps.
_____________________________________________________________________
The monochrome makeup look is huge right now. If you've seen a Jenner or a Hadid lately, you've definitely seen them in this look. You can approach it several different ways to suit a variety of different skin tones and personal preferences. While experimenting with this look, I discovered you can totally switch it up while still staying within your monochromatic color scheme with just a quick change of the lip.
Today I'm going to show you a delicious variation — the peach look — using only Korean cosmetics. Unlike the brief window of freshness for real peaches, this look is ripe all year round.
The Peach Look 
To get the monochromatic peach makeup look, start with your favorite BB cream and then add a dusting of Innisfree No Sebum Mineral Powder on top. We want to mimic the soft powdery matte found on a fresh peach's skin but don't want to totally drown out the glow, so use a light hand concentrating on the T-zone especially as that's where most people tend to be more oily.
Next we're going to bring our skin to life with Romand's Multi Duo Blush in Peach Scandal. Start with the darkest shade on the right and isolate that on your brush. Sweep all over the apples of the cheeks and upward toward the ears. We're also going to very lightly sweep across our foreheads to give an overall peachy look to the skin. Then take the lighter shade of the duo and create some depth using light. Sweep that shade along the tops of the cheekbones and other areas where you'd usually use highlighter. We're keeping it matte but still playing with dimension this way.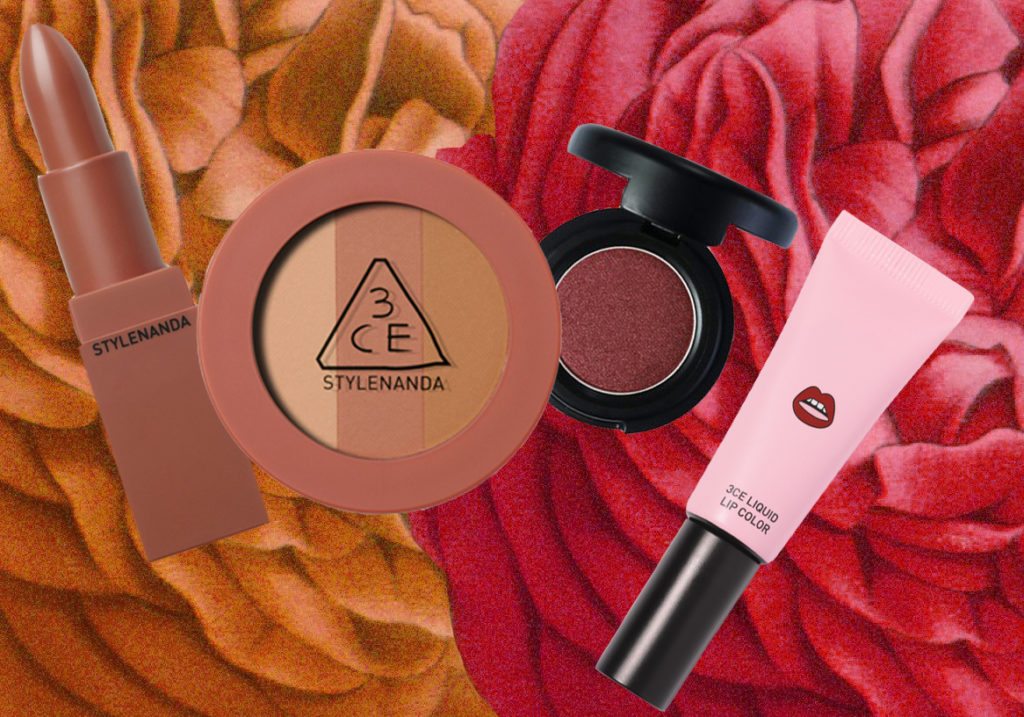 For the eyes we're going to use 3CE's Mood Recipe Triple Shadow in Dainty Tasty. To get a really nice peach shade going, mix all the shades together. One is slightly pinker than the others, which are more brown, so when mixed together they make a nice earthy peach. Depending on your eye shape, you can either opt to do a wash of this color mix all over the lid and up toward the crease or you can create a cut-crease here with the darkest brown shade and use the lighter pinky shade on the lid and the lightest shade to buff it all out. Use a narrow tipped brush to sweep a mixture of all three shades all along under the eye and just past the ends to create depth and length. Join your elongated end with your cut-crease for maximum oomph.
Next take a brown gel eyeliner like Tony Moly Back Gel Real Fit Waterproof Liner in shade #04 to line the upper lid ending with a little downward flick for the puppy dog look or an upward flick for a cat eye effect. I don't like to recommend one or the other normally, because it's really dependent on what's the most flattering for your eye shape. The important thing here is the color. Sticking with this bronze-y brown liner stays within our peach-inspired color palette and gives definition and interest with a certain softness that monochromatic looks inspire.
Remember how I said you could do this three ways? Here's where that comes in. Depending on what lipstick color and formulation you choose, it totally changes the look.
Peach #1
3CE Mood Recipe Matte Lip Color in Inked Heart is going to bring out the earthy brown tones in this look. The matte finish also lends itself beautifully to the soft matte skin, blush, and eyes we have going on throughout.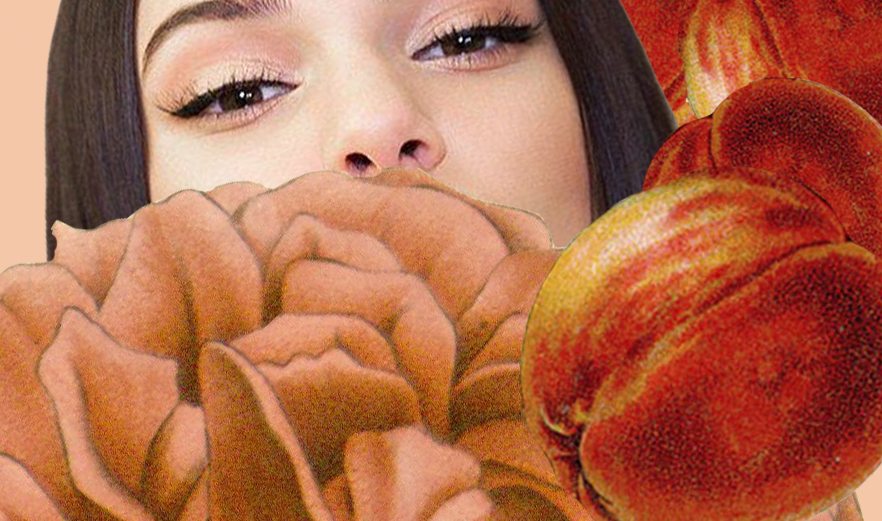 Peach #2 & #3
If you want to have a softer look that skews toward the pinky peach instead of the browner peach, Romand Juicy Lasting Tint in Peach Me is the way to go. I've talked about how much I love these tints before, and they're such a joy to wear and work with.
Another option from this line would be the orange-based shade Juicy Oh. It goes to show the versatility of this look that you can pick up on either the browny, pinky, or orangey shades in the look and it all works out in the end.
Also, if you want to stay with the matte theme, Romand has a really cool product to help with that. Romand Lip Matter is a clear topcoat that mattifies any lip product instantly. I've been using it a lot lately just to switch things up from day to night while I'm out with only one gloss on hand.
Not much of a peach girl? How about berries!
I was sent a package of CELLNCO eyeshadows and lipsticks last month, and I am so very glad I was. While writing this article I thought about these eyeshadows and remembered a beautiful berry shade I received that would make for a nice variation on our fruity monochromatic journey. This would be a warmer cozy look heading into fall and would work especially well for deeper skin tones.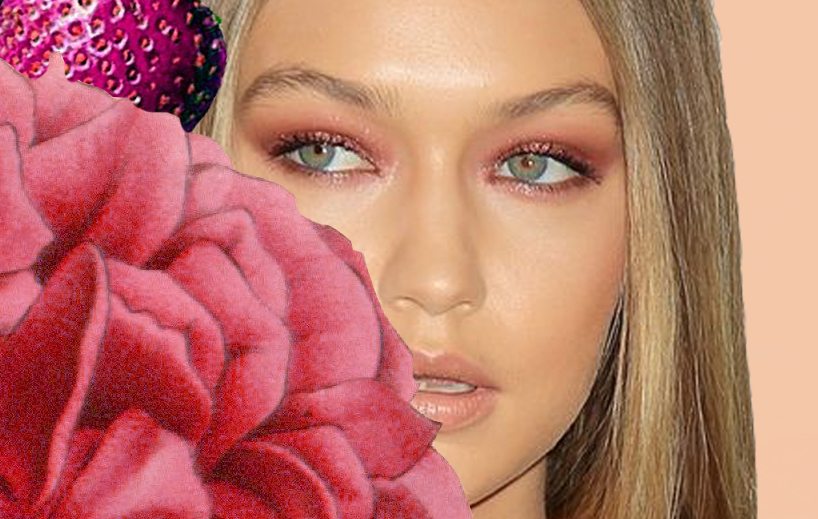 You can basically repeat all the steps for the peach look but exchange the 3CE eyeshadow for CELLNCO shades #06 and #08. #08, the darker of the two is a rich burgundy, while #06 is a deep warm pink. Both have a slightly shimmery finish and both apply smooth and pigmented.
For the eyeliner, you can keep it the same Tony Moly Back Gel Real Fit Waterproof Liner #04 or opt to go deeper and redder with shade #08. Either works here and both stay within the color family.
For the blush, give 3CE's Red Recipe Face Blush in Purity Red a sweep on the cheeks. It looks blood red in the package but applies as a flushed deep pinky berry shade that really sets things off nicely.
As with the peach look, you have three lip choices here. You can go more pinky brown and use Romand's Juicy Lasting Tint in FigFig (which I absolutely LOVE), or go super dramatic with 3CE's Liquid Lip Color in Obsessed. Obsessed is a dark, warm, matte sweet berry wine shade that doesn't transfer easily to tissues. Great for wearing while sipping actual wine if you're anything like me and get wine stains on your big stupid lips. ;)
For a softer look, CELLNCO's ChuChu Lips in Spicy Red can be applied with your fingers for a softer wash that brings out the red berry hues in this look. You could top these lippies off with Etude House Dear Darling Tint in PK006 for a glittering sparkly twist that reminds me a lot of this awesome raspberry cocktail I had once.
What I love about these looks is no matter which way you go, all roads lead to delicious.
Have you tried the monochromatic peach makeup look? How did you like it?
---
Author: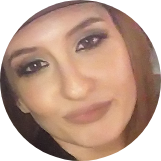 Coco Park
Coco Park is an author, beauty journalist, blogger, podcast host, and all around oddball living in Montreal Quebec with her family. Originally from the southern USA, she worked for several years in the makeup industry as a professional makeup artist and holds a certificate in esthetics. She is a proud member of the Choctaw Nation of Oklahoma. Want to know more? Check her out on the Beauty Beyond Basics podcast, on her blog TheBeautyWolf.com, on Instagram @thebeautywolf, and in her book "Korean Beauty Secrets: A Practical Guide to Cutting-Edge Skincare & Makeup."
---
Comments