Your Ultimate Guide to Beauty Tool Cleaning: Brushes, Blenders, and Puffs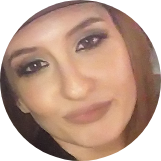 Coco Park
Jan 26, 2018
---
If you've been lazy about keeping your beauty brushes, puffs, and other tools in tip-top shape (and trust us, we've all been there), here's something else to consider beyond just the ick factor: That may be the reason why you're breaking out. Here, your quick and dirty (pun intended) guide to beauty tool cleaning.
_____________________________________________________________________
You take painstaking measures to ensure your skin is clean and in top shape. Do you do the same for your brushes and puffs?
I've you've got a solid routine down pat and are still trying to trace the source of pesky breakouts, unclean makeup brushes and puffs may be the culprit. Keeping your accoutrements clean will lead not only to happier skin but to their longevity. Here, your guide to beauty tool cleaning.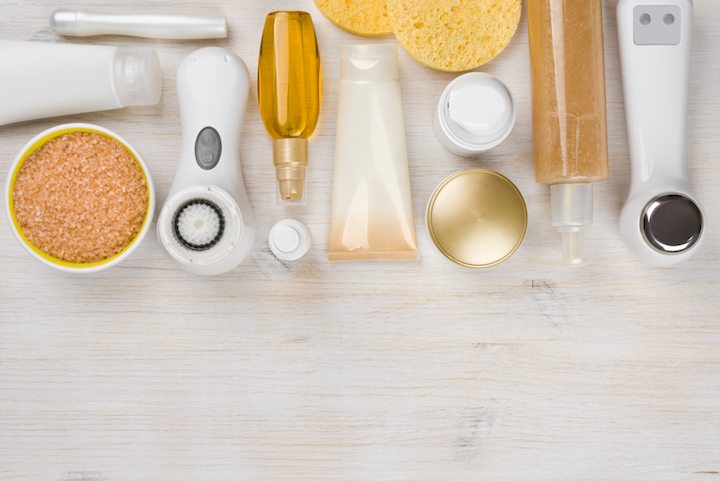 Brush cleansing: Soak and shape
No matter if your brushes are synthetic and vegan friendly, or luxurious hand assembled goat haired numbers, a good cleanser is of the utmost importance. If you've never washed your brushes before, the difference will shock you. Even stained white brushes can be restored to their former gleaming glory with a few swishes.
I clean my brushes one of two ways, depending on how dirty and stained they are. For brushes that aren't very dirty, I'll make a bath of two parts soap, three parts water in a small cereal bowl. From there I'll soak the brushes for a few minutes before swirling them around the bowl to further cleanse. I finish with a very thorough rinse, dry with a cloth, and then shape them back to normal.
For especially soiled and stained brushes, I'll supplement the soak by adding a few drops of cleanser to each brush and rubbing it along the textured rubber surface of a brush cleansing tool. You can find these from a lot of different K-beauty and North American brands in different shapes, sizes, and prices. They look like this: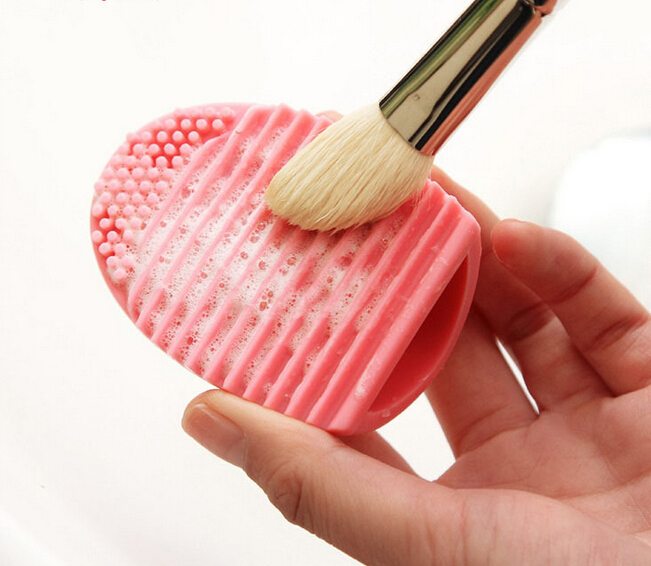 These are extremely handy and are an excellent way to give your brush a deep, penetrating clean, safely. It's important not to press too hard when cleaning your brushes, as you want to minimize any shedding or warping.
I've heard of people using dishwashing liquid to clean their brushes, but I would really discourage that as they can be very detergent heavy and harsh. Use a dedicated brush cleanser such as Innisfree Eco Beauty Tool Brush & Puff Cleanser. It sounds like I'm shilling, but I really do love this cleanser. It's extremely gentle on the delicate bristles in my brush collection, and it removes stains almost instantly. It's very impressive.
Puffs and Blenders: They're more like your skin than you think
When it comes to cleaning your cushion compact puffs and blenders, you can use the same technique as you do your face. That's right, you can double cleanse your puffs!
Start by gathering all your puffs and a couple of Ziploc bags, depending on how many you're cleaning at once. I usually separate my blush puffs and blenders from my cushion puffs when cleansing. It just makes it easier.
You have a choice here of using a regular oil cleanser or a balm type oil cleanser here. Some people prefer the ease of the runny oil as you don't have to do much to get it into the puff, but some like the work the balm through and into the puff. Whichever route you go, don't over saturate your puffs with oil, as it will make it harder to rinse.
Here's an abbreviated version of the method from Laneige US, followed by the detailed step-by-step guide:
Put your oiled puffs or blenders into the Ziploc and close it.
From there you gently massage the puff, working the oil through (sans mess!).
Next, add some water to emulsify the oil and continue your massage.
Next, take out your puffs and rinse them thoroughly, getting out all of the oil and built up product. Take care to never, ever twist your puffs, as this will cause tearing and rips in the delicate silicone. Just press them in your hand to rinse and work them. This will ensure their safety.
Just like with your face, you need to follow up with a foaming type cleanser to finish things up. Some use face wash, which is OK as long as it's gentle. You can also use the Innisfree brush wash I mentioned earlier. Another option is A'Pieu No Dirty Puff Cleanser, which is formulated with peppermint, cucumber, and centella extracts! Work the cleanser through with a gentle thumb massage for puffs and a little more vigorous work-through for blenders.
Rinse very thoroughly and leave the sponge side up for puffs to dry.
Additional tips
A good, complete rinse is very important for both brushes and puffs, but especially for brushes. If they aren't properly rinsed, they can become sticky, matted, and out of whack. Seriously. You don't want your precious brushes to end up looking like Cynthia from Rugrats.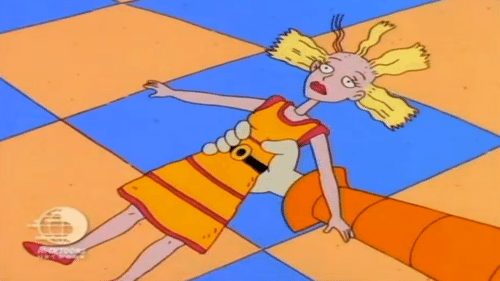 Shaping them is also integral. Another important tip is the make sure your brushes are dried either standing up in a cup to protect the bristles from becoming misshapen or hung from a brush drying rack if you have one. They can be found very easily on Amazon or ebay. If you're feeling handy, you could even make your own by fashioning a rubber band around your brush and hanging it from a towel rack or drawer knobs! You can see what I mean on Pinterest here.
Also make sure to thoroughly dry the handles with a towel to prevent cracking of the lacquer, rusting of the ferrules, or weakening of the wood where the handles aren't plastic.
I hope these tips help you keep your tools in top shape and stop preventable breakouts. I have brushes in my collection that are old enough to buy alcohol — I have no doubt that proper maintenance has a lot to do with it. Do you have any beauty tool cleaning tips? Let me know and how often you clean your beauty tools in the comments!
---
Author: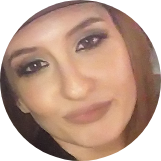 Coco Park
Coco Park is an author, beauty journalist, blogger, podcast host, and all around oddball living in Montreal Quebec with her family. Originally from the southern USA, she worked for several years in the makeup industry as a professional makeup artist and holds a certificate in esthetics. She is a proud member of the Choctaw Nation of Oklahoma. Want to know more? Check her out on the Beauty Beyond Basics podcast, on her blog TheBeautyWolf.com, on Instagram @thebeautywolf, and in her book "Korean Beauty Secrets: A Practical Guide to Cutting-Edge Skincare & Makeup."
---
Comments