Here's How Oils for Oily Skin Can Get You Glowing & Acne-Free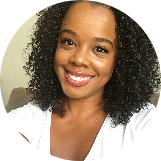 Sheryll Donerson
Feb 22, 2018
---
Think oils are just for the dry skin types among us? Think again. Oils can actually make oily skin less oily, more glowy, and more blemish-free. You just have to use the right type of oils. Here, contributing editor Sheryll Donerson on the right oils for oily skin.
_____________________________________________________________________
I know you're reading this title and possibly thinking, Girl, what in the entire world are you talking about? OILS FOR OILY SKIN? And I hear you loud and clear. I used to see the posts touting the benefits of using oils and laugh heartily because my skin is a giant grease pit and there's no way that I'm going to use MORE oil. But … I was wrong.
See, not all oils are created equally. There are linoleic acids, which are unsaturated omega-6 acids, and oleic acids, or monosaturated omega-9 acids. For the sake of brevity, we are going to focus on linoleic acids, which are the acids that are better suited for oily, acne-prone skin.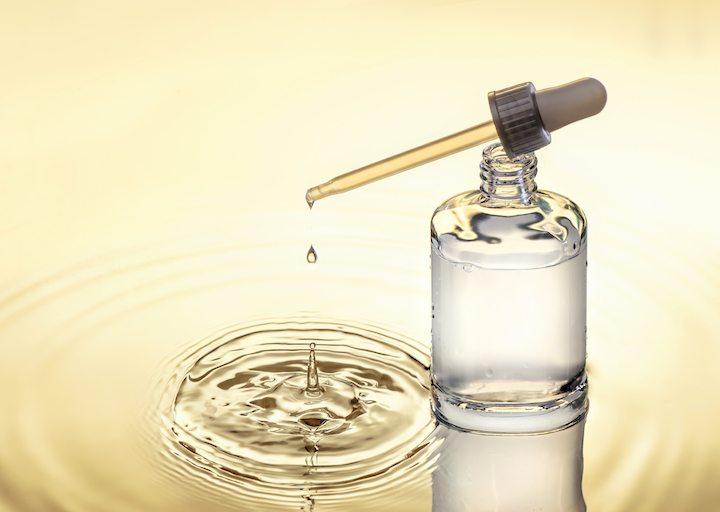 Studies have shown that individuals with oily skin tend to lack linoleic acid in their skin. To counteract this deficit, instead of not using oils at all, we actually should be using an oil high in linoleic acid to balance the skin and to correct levels of linoleic acid present in the skin. When your skin has the correct balance of linoleic acid, you actually should see an overall decrease in the oiliness of your skin, plus less acne, and an overall dewy, natural glow. Isn't science cool?
So if you've ever used an oil and you've been less than impressed with the results, you should be looking into the type of oil and what it's linoleic acid content is. Oils that are high in linoleic acid usually have a thinner and runnier consistency than oils that are high in oleic acid (i.e. olive oil, jojoba oil and argan oil). Some oils that have a high linoleic acid content are rosehip seed oil, pumpkin seed oil, primrose seed oil, hemp seed oil, pomegranate seed oil, etc. My favorite oil website, Mountain Rose Herbs, actually has a breakdown on each of the oils it carries and how much linoleic and oleic acid each has. For example, their rosehip seed oil has an oleic acid content of 13.9%, and a linoleic acid content of 44.1%. Even if you don't buy anything, it's an excellent research tool!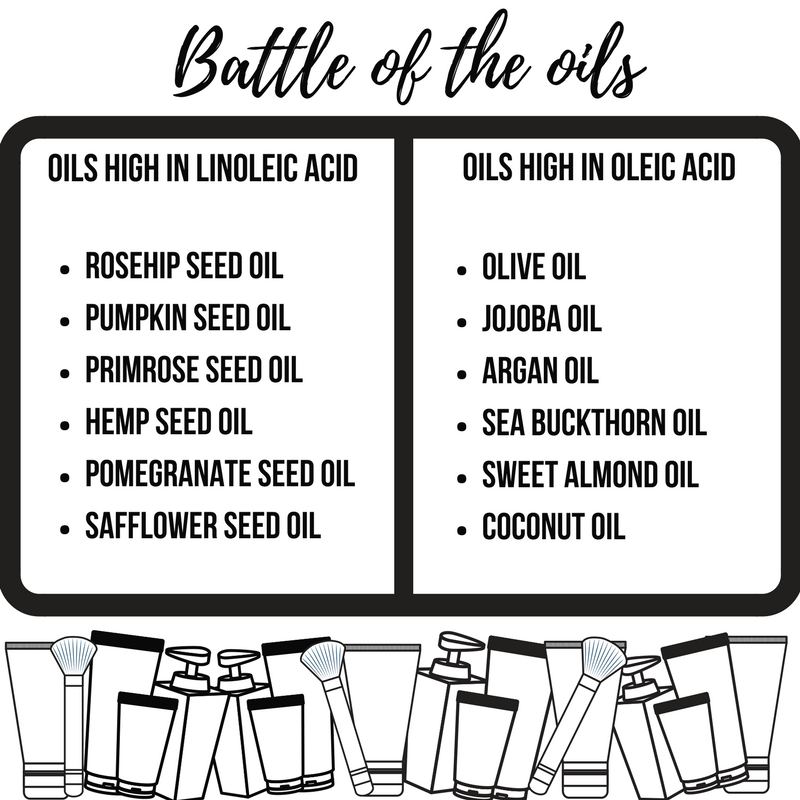 When searching for your perfect oil to use, you can use oils straight from the source, or you can choose to dip into an oil blend. However, be careful of certain oil blends, as some tend to rely on a lot of the heavier oils such as coconut or argan oil, which aren't suitable for those with acne-prone skin. I incorporate my oils into my nighttime routine, either by mixing a few drops into my sleeping pack/night cream, or using it as the final step of my nighttime routine to seal in all the moisture from my routine.
My current favorite is the Eclado Red Velvet oil, which is chock full of a great balance of oleic acid oils, such as olive, meadowfoam seed and macadamia oils, as well as linoleic acid oils, such as safflower oil and evening primrose oil. I also love to use regular ol' rosehip seed oil from The Ordinary. And remember, oils should not be used as your sole moisturizer. Oils are meant to seal in moisture, not "give" you moisture.
In short, by incorporating oils with a high linoleic acid content into your routine, you can balance out the skin, resulting in a beautiful, healthy glow!
Do you use any oils for oily skin in your routine? Which ones and how? Let me know in the comments!
---
Author: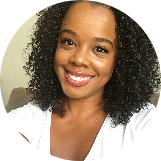 Sheryll Donerson
Sheryll Donerson got her start as a beauty writer by writing K-beauty reviews for her blog, The Wanderlust Project. These days, she's lifting heavy weights, eating tacos, drinking (too much) coffee and is 1/4 of the beauty podcast, Beauty Beyond Basics (or Triple Bees for short). You can find her on Instagram and Twitter at @sheryllrenata.
---
Comments