This Korean Hair Care Guide Will Do For Your Hair What K-Beauty Does For Your Skin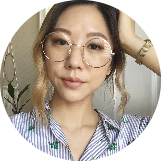 Ruth Kim
Mar 12, 2018
---
Just like Korean skincare, Korean hair care is all about amazing ingredients and high-tech formulations. So don't leave your hair stranded. Revive your tresses with this Korean hair care guide for a gunk-free scalp and healthy, lush locks.
---
Your beauty regimen doesn't end at your neck. Dry and cracked heels, wrinkly hands, or that dreaded case of bacne are all signs that your body needs as much care and attention as your facial features demand.
One often neglected beauty area is hair care. Whether it's brittle and frizzy or polished and strong, your hair — and its health — can make or break your overall appearance. That's why we put together this basic Korean hair care guide so that you can achieve tresses that will turn heads like the well-coiffed ladies of your favorite K-dramas.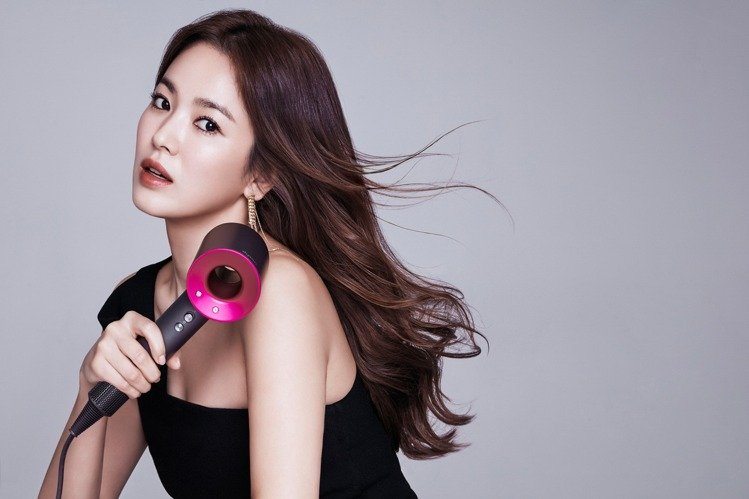 Healthy Scalp, Healthy Hair
The root of all your hair woes stems from the scalp. In the same way that the condition of our pores dictates the production of oil or acne on our faces, the state of our hair follicles, and its surrounding skin, directly impacts our hair's presentation. The difference between facial skin and the skin on our scalp, though, is in the number of sebum-producing sebaceous glands on our head, which can easily get clogged if the buildup of oil, dirt, dead skin, sweat, and other impurities goes unchecked. The result can be as unpleasant as oily strands or an abundance of dandruff, or of more consequence, like stunted hair growth and loss of hair.
That's why you might want to add scalp exfoliation once or twice a week to your shower routine. If you've never heard of exfoliating your scalp — also known as scalp cleansing or scalp scaling — you're not alone. Most of us in the West don't go beyond a simple shampoo-and-conditioner regimen, possibly adding in a hair oil or heat-protectant spray and calling it a day. Unfortunately, that kind of simple hair care routine often isn't enough to thoroughly exfoliate dead skin cells and get rid of waste. Luckily, that's what scalp treatments do best. Try it in the form of scalp tonics, scalp-cleansing swabs, or even carbonated exfoliation (you can read up on all the particulars in our detailed scalp care story here). If you've been having issues with your scalp — or even less than lustrous hair — scalp exfoliation just may be the first step towards healthy, happy hair.
The Basics: Lather, Rinse, Condition
We all shampoo, but did you know that you should use shampoo primarily on your scalp and not your strands? Shampoos with strong surfactants (more on this later) can often cause your hair, and especially its ends, to become brittle and dry. First, lather up a quarter-sized amount into a foam in your hands. Once applied, thoroughly cleanse the scalp, lightly massaging to promote blood flow circulation. If you've got an excessively oily scalp, you might find that you need to shampoo daily, but if you suffer from a dry scalp, try to go a day or two in between washes.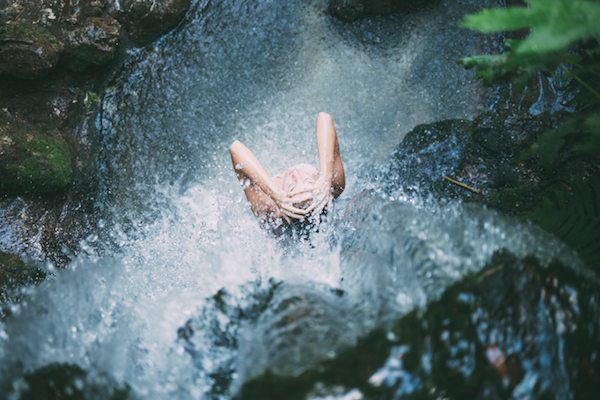 Conditioner should be used only on the ends of the hair, and never on the scalp. Made of lubricating oils and waxes, conditioners can clog up the follicles, causing sebum buildup and stunted hair growth. Oh, and avoid using steaming hot water, which can stretch and damage the hair. Ideally, use warm-to-lukewarm water for your washes, and end with cold water to close the hair cuticles and seal in moisture.
A Tangent on Shower Science
So a shampoo cleanses, a conditioner softens — but how exactly do these everyday products work?
Shampoos get their hair-cleansing abilities from surfactants, which are negatively-charged amphiphilic detergents. Amphiphilic means "that the detergent molecule possesses both lipophilic, meaning oil attracting, and hydrophilic, meaning water attracting, sites." Essentially following the double cleanse rules, oil dissolves oil and water dissolves water, which allows for the removal of sebum from the scalp with the combination of shampoo and water. There are many types of surfactants used in shampoos; notably, the heavy-duty anionic surfactants (like sodium laureth sulfate and sodium lauryl sulfate) are strong sebum-eradicators but can also cause hair damage if you're not careful (which is why some shampoos are foregoing sulfates altogether). To counteract, many shampoos also contain milder, positively and negatively charged surfactants like the amphoteric variety (you'll often see them listed as betaines), which are gentle enough to be used in baby shampoos.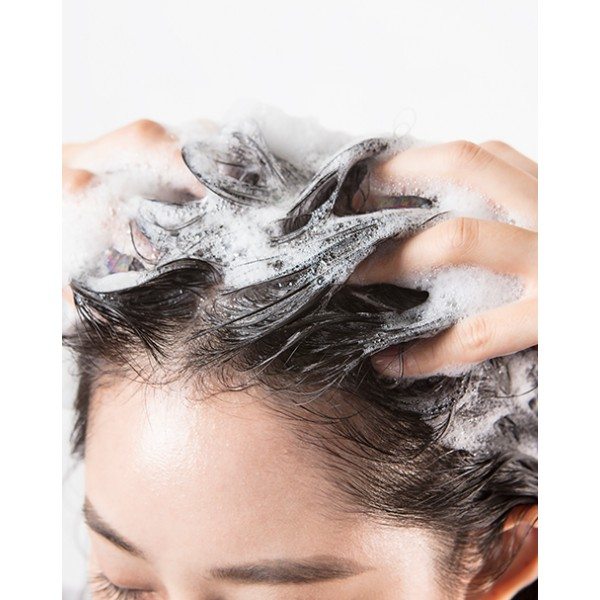 On the other end of the spectrum, you've got conditioners, which contain anti-static and lubricating substances like polymers, oils, and waxes, according to The International Journal of Trichology. The most common conditioning agent used across the board is silicone. Not only do conditioners smooth, reduce friction, and enhance hair shine, they also reseal the cuticle and neutralize the negative charge induced by powerful anionic surfactants in shampoo.
It's also important to consider the pH levels of your shampoo and conditioner, just like it is to balance pH for your skin. Most shampoos have an alkaline pH level, which makes the hair shaft swell, opening the protective cuticle and causing damage to vulnerable hair shafts. In other words, frizz and breakage. Although there's yet to be expansive research on pH levels for hair care products, it's widely recommended to find the right balance, like counteracting a high pH shampoo with a low pH conditioner. SanDaWha Camellia Clear Moisturizing Shampoo is a pH-balanced option and is rich in its signature camellia water, seed oil, and extract, as well as a number of botanical extracts.
Bask in Hair Masks
Now that your hair's cleansed and conditioned, go a step further and try a hair mask or hair treatment once or twice a week for a boost of moisture and revitalization. YouTuber Joan Kim recommends the Nature Republic Argan Essential Deep Care Hair Pack, which is a life-saver especially for chemically dyed hair. Remember to avoid the scalp, as heavy treatments can clog pores.
The Essence of Hair
Want soft and silky hair? Incorporate a hair essence to impart baby-soft feels into your tresses. Hair essences are the salon-approved secret to the luxurious locks flaunted by Korean women, who depend on these misty or liquid essences to enrich and nourish their hair. Plus, they make for prime styling tools, taming frizz and fly-aways for smooth, cooperative hair.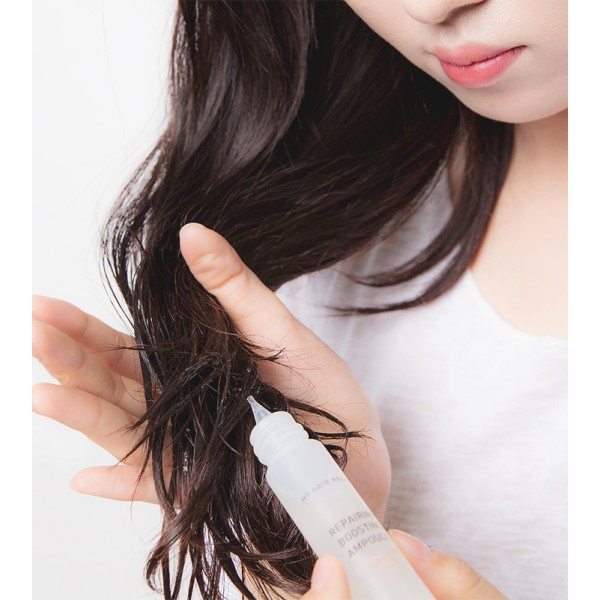 Burn the Midnight Oil
While hair essences temporarily coat the exterior of your hair shaft, hair oils permeate deeper for long-term results. According to "Hair Cosmetics: An Overview," published in the International Journal of Trichology, "Some oils can penetrate the hair and reduce the amount of water absorbed in the hair, leading to a lowering of swelling. The oil can fill the gap between the cuticle cells and prevent the penetration of the aggressive substances such as surfactants into the follicle." Applying a hair oil, like that from moisturizing camellia flowers or argan, onto the ends and shaft of the hair will prevent hair breakage, seal cuticles, ease tangling, and even protect strands from heat damage from your favorite styling tools.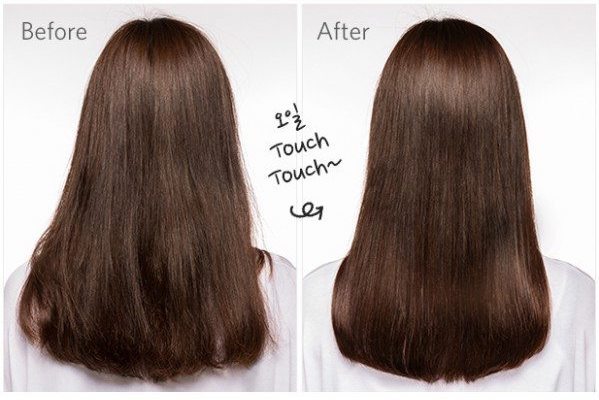 Milk It
Hair milks, creams, lotions, or leave-ins are your last line of (conditioning) defense. Many of these hair-softening products are infused with natural ingredients, such as nourishing avocado oil or argan oil. Squeeze out a dollop of product into your hands, warm it up, and distribute evenly for seriously smooth hair.
While we can't squeeze in an entire encyclopedia of hair care into one article, we hope this Korean hair care guide is helpful in getting you on your way to healthy hair. Share your secret hair care tips in the comments below!
---
Author: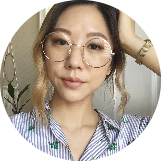 Ruth Kim
Ruth is a 20-something creative with a fixation on black coffee, black boots, and the beautiful black hole that is all things K-beauty. A Southern California native, she loves to share her current skincare favorites and lifestyle inspirations on her Instagram @ruthhlesslyy.
---
Comments