AHA 101: Wanna Get AHAs Into Your Routine? Here's What You Should Know First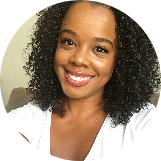 Sheryll Donerson
Apr 05, 2018
---
You want to incorporate AHAs (alpha hydroxy acids) into your routine, but what to choose and where to start? Here, our quick and dirty primer on the three main AHAs and how to choose the right one for you.
---
You might have seen me write about how much AHAs have changed my life like once or twice (or everyday tbh). But really though, AHAs have completely changed my life. Do you want smooth skin? AHAs. Do you want glowing skin? AHAs. Do you want to reduce or get rid of that pesky hormonal breakout? AHAs. I mean, they are kind of like the Wonder Woman of the skincare world.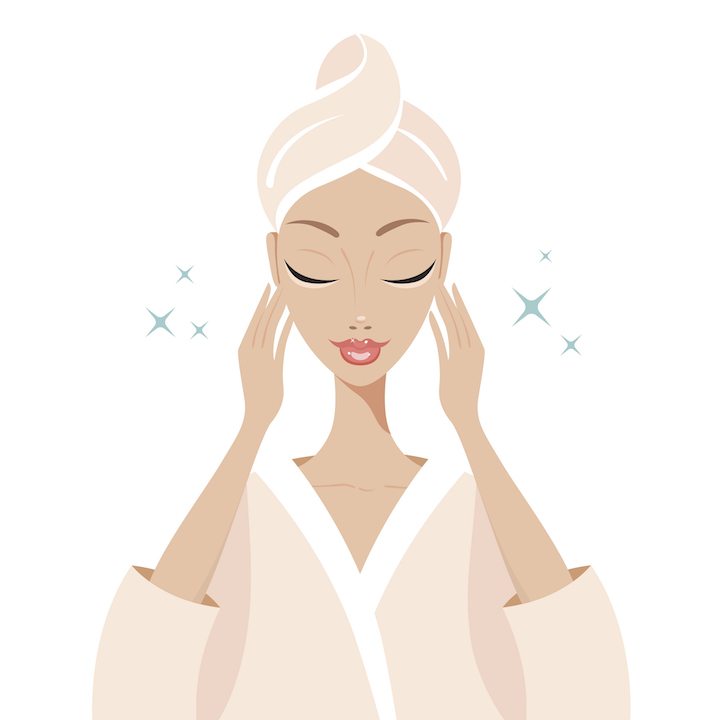 So what are AHAs? AHAs, or alpha hydroxy acids, work by "loosening" the top layer of dead skin cells on your skin, revealing the healthy, newer skin underneath. But not all AHAs are created equally. I'm here to dish on my top three AHAs and the difference between the three.
Glycolic Acid
Glycolic acid is probably the most used and most widely known AHA. It's a derivative of sugar cane (for those who claim "chemicals" aren't natural) and has the smallest molecule size out of the three major AHAs, which means that it can penetrate the skin faster. It works by "ungluing" that top layer of dead skin cells, but studies have shown that continuous use of glycolic acid can help the skin heal faster and decrease signs of environmental damage, like sunspots. Hooray!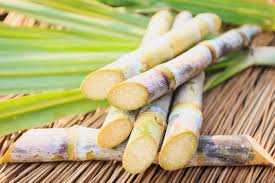 Glycolic acid can also help dislodge blackheads and whiteheads and decrease oiliness. Personally, glycolic acid has 10,000% helped clear up my acne breakouts and has also helped balance my super oily skin. One of my all-time favorite glycolic acid products of all time is the Swanicoco 10% Coco Peeling Cream (now reformulated as the A-PHA Skin Purifying Peeling Cream). I'm not going to lie: I did not have high expectations for this, mostly because my skin is so used to acids it really takes a lot to make a difference, but baby, this stuff is EVERYTHING.
There are some cons to glycolic acid. It can be a bit irritating to those with sensitive skin. Also, if you have darker skin, there is a chance that it can cause skin discoloration. And like all of the rest of the AHAs, you ABSOLUTELY MUST use sunscreen, as they are photosensitizing and cause your skin to be more sensitive to sun. (But you were already using sunscreen, right? Right?!)
Lactic Acid
Lactic acid is the gentle sister of the AHAs. Derived from sour milk, this AHA is the ideal choice for those with sensitive skin. Lactic acid is known for making the skin extremely soft while also brightening those PIH (post-inflammatory hyperpigmentation) spots, improving skin tone, and increasing the collagen production in your skin. And like all of the other AHAs, it also helps with acne, blackheads, and whiteheads.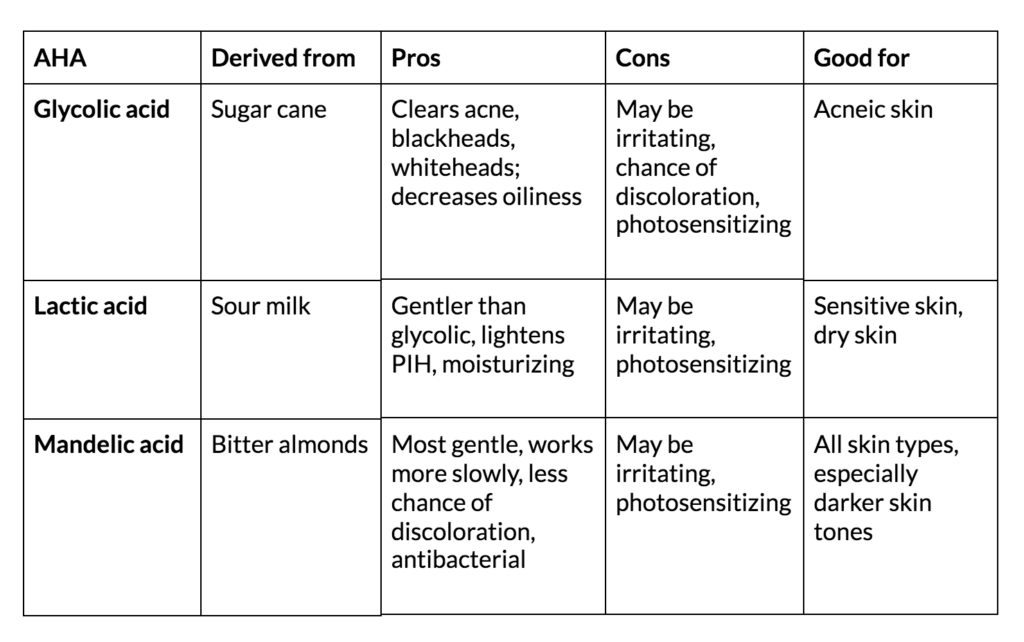 Lactic acid is different than glycolic acid because it doesn't penetrate the skin all that well due to its larger molecule size. It's also more moisturizing than glycolic acid, making it the ideal AHA choice for those with dry, delicate skin. One of the most popular AHA products is Sunday Riley Good Genes, but I absolutely love the lactic acid pads from Garden of Wisdom. A small warning — they have a very low pH, so make sure that you work your way up to using them because they are quite strong!
Mandelic Acid
If I had to choose a favorite AHA, it would be mandelic acid. Mandelic acid is derived from bitter almonds, and it is also a gentle choice for all skin types. Mandelic acid molecules are quite large — larger than glycolic and lactic acid — and as a result, take their time to penetrate the skin. Mandelic acid was a major game changer in my skincare routine — I haven't used anything quite like it!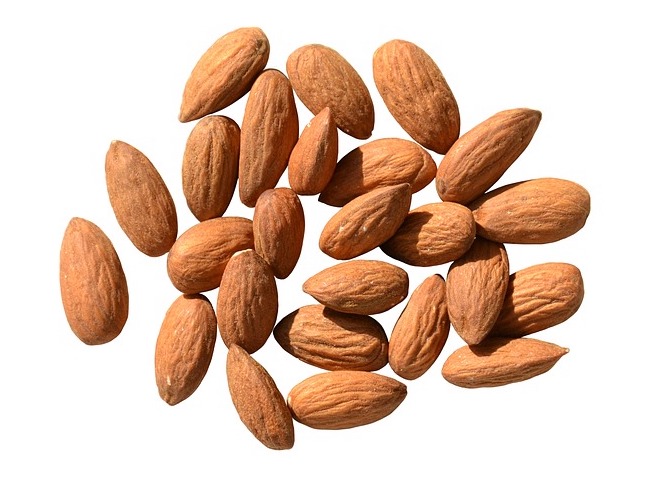 Like the other AHAs, mandelic acid gently sloughs away dead skin cells and can also increase collagen production, resulting in firm, soft, and glowing skin. Mandelic acid can also help soften fine lines and improve your skin's texture.
Mandelic acid is the ideal acid for those suffering from PIH or those with darker skin tones, as it greatly reduces scarring while improving your skin's tone without any unnecessary skin discoloration. It also helps regulate oil production and has amazing antibacterial properties that are perfect for fighting acne. Whenever I'm having a major breakout, I always reach for my mandelic acid serum. My favorite is from Vivant Skincare — I have used both the 8% and 15% with excellent results!
What is your favorite AHA and AHA product? Has it made a difference in your skin?
---
Author: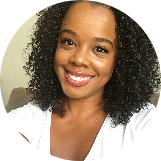 Sheryll Donerson
Sheryll Donerson got her start as a beauty writer by writing K-beauty reviews for her blog, The Wanderlust Project. These days, she's lifting heavy weights, eating tacos, drinking (too much) coffee and is 1/4 of the beauty podcast, Beauty Beyond Basics (or Triple Bees for short). You can find her on Instagram and Twitter at @sheryllrenata.
---
Comments