Mother of All (Beauty) Invention: The Story Behind the Cushion Compact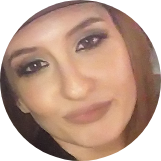 Coco Park
Apr 09, 2018
---
You live and breath by your cushion compacts — they're your all-in-one foundation, SPF, and skincare to go. So it's hard to imagine that just four years ago, few outside of Korea had ever heard of a cushion compact. Here, a quick recap of how the cushion compact went from lightbulb moment to holy grail must-have.
_____________________________________________________________________
People cite the invention of antibiotics as the turning point in medical breakthroughs. If I had to point out a similar moment for beauty, for me it would hands down be the cushion compact. That sounds dramatic, but I can't think of a more innovative and even, some might say, polarizing product. The cushion compact framed an entire beauty revolution, and made the K-wave soar that much higher.
While Korea didn't technically invent the cushion delivery system, you'd be hard pressed to say they didn't perfect it, and they most certainly sparked the huge trend that it's since become.
The cushion compact
It all started in 2008, when AmorePacific, the largest cosmetic brand in Korea, developed a special urethane foam pad as a product delivery means for sun protection. When I say Korea perfected the cushion, I don't just mean that willy nilly. According to AmorePacific, they conducted over 3,600 tests using 200 different types of sponges. They were serious about engineering the perfect delivery system. It was meant to be an alternative to goopy, liquid-y sunscreens so that women could more easily apply them on top of their makeup.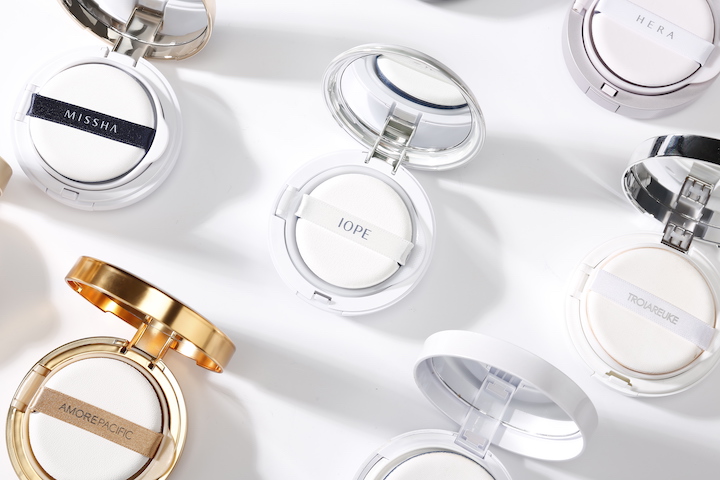 It was housed in a compact and came with a flat silicone sponge applicator that was meant to "stamp" the product on rather than dragging it, ensuring an even application. This also made reapplication a breeze as it was portable and mess-free. AmorePacific brewed up a perfect storm when they combined sun protection, makeup, and skin-friendly ingredients into one compact, and released it under their brand Iope. From there it took off to become one of the best-selling products of all time.
The Iope cushion timeline went like this:
March 2008: Iope introduces the Air Cushion sunblock
March 2010: Iope releases the Air Cushion Sunblock EX, a smaller compact with higher SPF
April 2013: Iope Air Cushion XP is released, which includes a special Siberian peptide.
2014: AmorePacific introduces the first cushion compact into the U.S. market.
February 2014: Iope Men Air Cushion debuts. Not wanting to leave men out of the game, they introduced a cushion just for them.
May 2014: Iope Air Cushion Blusher hits the market, one of my personal favorite inventions, so thank you for that, Iope.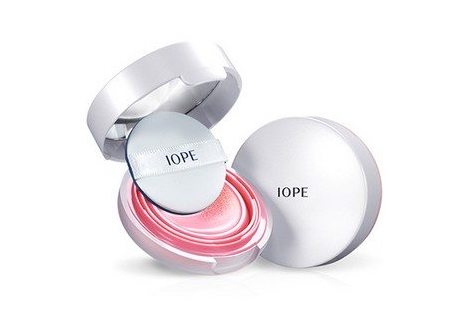 Also notable in 2014, AmorePacific wanted to step up and meet the global demand for its product, so they automated their cushion production process so that it could launch its cushion into the giant U.S. market.
While traditional cushion compacts were still all the rage and taking hold even in the global market (by some estimates, one cushion was sold every 1.2 seconds in 2014), some concerns began to arise. Wouldn't a damp sponge and puff be a breeding ground for bacteria? While they tried to combat this kind of paranoia with the release of antimicrobial and antibacterial sponges, it also gave rise to the cushion's next iteration, the metal cushion.
The metal cushion
Since they missed out on getting in on the game early with the sponge style cushion compact, LG Care, which is Korea's second largest beauty market holder, launched the metal cushion. In 2014, LG released the Isa Knox X2D2 Metal Cushion. It had the same silicone puff delivery system, but the foundation from which the product was delivered had changed: In place of the sponge pad, it had a special metal plate with little holes. You pressed the puff onto the metal and it would evenly dispense the product.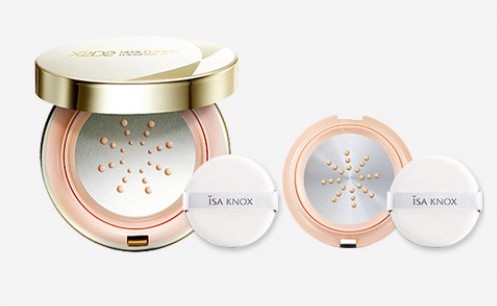 This was seen as more sanitary as you could easily disinfect the plate, unlike the sponge. It was also touted as having a superior "cooling effect" as the product was dispensed from a cool metal plate. (Yeah, I don't get it either, but the public seemed to get it, and it turned out to be a success.)
The tension pact and beyond
Of course, Korean beauty companies never stop innovating, so in the ensuing years, all sorts of iterations of the original cushion compact appeared on the market. The metal cushion eventually gave way to a plastic version — The History of Whoo even added a fancy little button to their plastic cushion to dispense the foundation.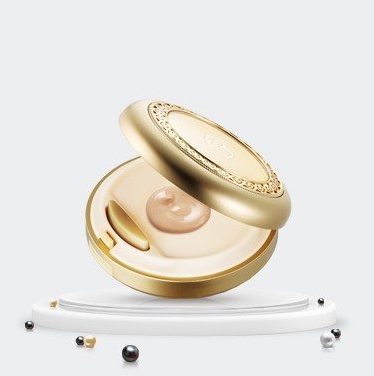 Tension pacts made an appearance, with its thin layer of mesh on top of a creamier, thicker foundation that is supposed to offer more coverage. The tension pact is my own personal favorite delivery system, and I wish more brands offered them. The evenness of the coverage is unparalleled and anecdotally, I feel like they just last a little longer than the sponge system, maybe because the tension net doesn't absorb as much product as a sponge.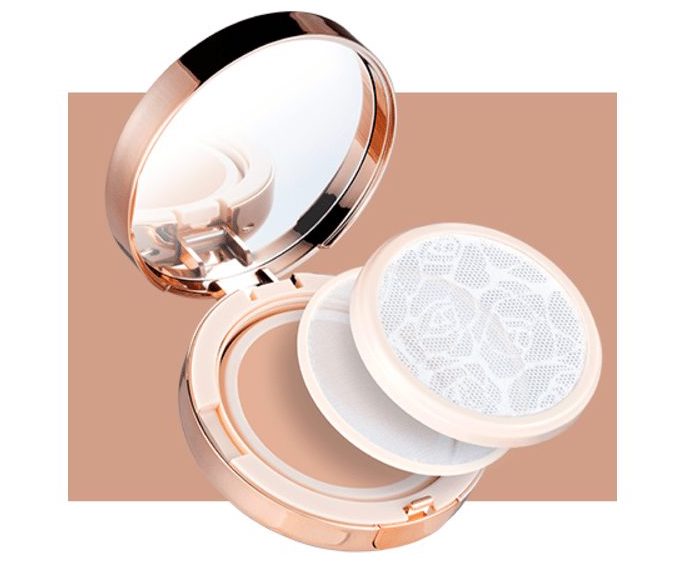 Then came the mochi cushions, with its mochi-like sponge that held the foundation within its center. There are cushions to control oil, cushions to moisturize, cushions to fight acne, and cushions to brighten. Innisfree (finally!) introduced 14 shades of its most popular cushions, ranging from cool ivory to chocolate. And Laneige recently launched what is sure to spark a dozen copycats: a double cushion with a concealing base cushion on one side and a more dewy traditional cushion on the other.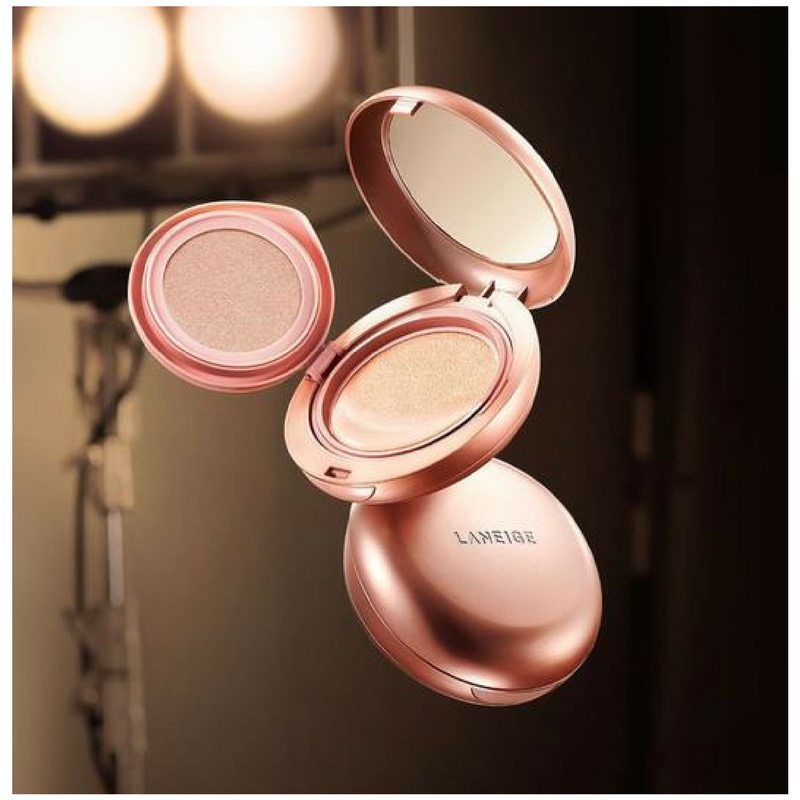 The hygiene issue
Despite the loud critics of the wet sponge cushion, its sales continued to rise. More was done to quell the bacteria fears. Spare silicone puffs were sold, so that if you wanted, you could switch them as often as you'd like. I've even know some people to take it as far as using a new puff every day, which I think is being way too extra. Another option is to simply wash your puff once a week. (In fact, that's what's recommended.) Even if you do wash them once a week, it's still recommended that you replace your puffs every month if you haven't used up all your cushion in that time.
But what about the potential bacteria in the sponge pad itself? Well, nothing's perfect, but it is at least protected from the outside air and contaminants by the seal of the closed plastic cover and lid of the compact. It should stay good for two to three months, by which time you'll almost certainly be out of product, and that's where the second genius marketing part of the cushion compact shines through.
The refill
You don't need to toss your pretty compact and start over, which would be especially crappy if you've invested in a real beauty like the limited edition Sulwhasoo cushions. You simply need to pop in a refill and go. Almost every cushion sells refills, so once you've invested in the compact, you only need to pay roughly half (sometimes less) of the cost to re-up with a refill. It cuts down on packaging waste and ends up being an excellent bargain in the long haul.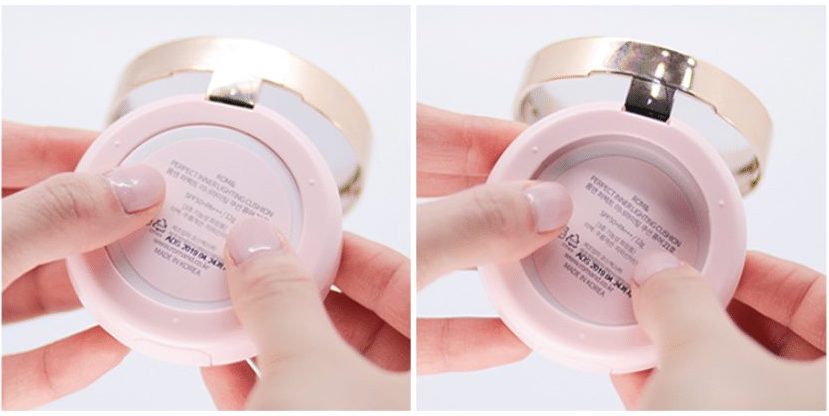 AmorePacific is serious about its domination in the cushion market; it's applied for 114 patents and registered 13 in China, Japan, Europe, the U.S., as well as Korea. Since the launch of the first cushion a mere decade ago, it's been full steam ahead. As of 2015, AmorePacific offered 19 cushion products from its 13 brands, including Iope, Sulwhasoo, Innisfree, and Laneige, so chances are one of your favorite cushions falls under that prestigious rainbow. It seems like every year there's a new cushion that holds just as much excitement and promise as the first, and we're excited to see what Korea comes out with next.
What are your favorite cushion compacts? Do you prefer sponge, metal, plastic, or tension?
---
Author: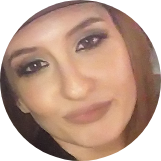 Coco Park
Coco Park is an author, beauty journalist, blogger, podcast host, and all around oddball living in Montreal Quebec with her family. Originally from the southern USA, she worked for several years in the makeup industry as a professional makeup artist and holds a certificate in esthetics. She is a proud member of the Choctaw Nation of Oklahoma. Want to know more? Check her out on the Beauty Beyond Basics podcast, on her blog TheBeautyWolf.com, on Instagram @thebeautywolf, and in her book "Korean Beauty Secrets: A Practical Guide to Cutting-Edge Skincare & Makeup."
---
Comments