I Tested 2 Korean Sunscreens While Long Distance Cycling — Here's What Happened
There are better ways to spend one's brief holiday than mounted firmly upon a very rigid road bike, with four days' worth of clothing and snacks stashed in heavy duty compartments and a 633-km journey ahead. At least I got to test some Korean sunscreens while cycling long distance — and live to tell about it.
---
During a holiday last fall, I navigated the bike paths of South Korea while cycling from Seoul to Busan (the country's second largest city) with two friends who can't read a map (either). While biking for 633 kilometers might not sound like a vacation to some, I couldn't find a single thing I'd rather do with my time and that led me to undertake this rather magical and thrilling cross-country adventure.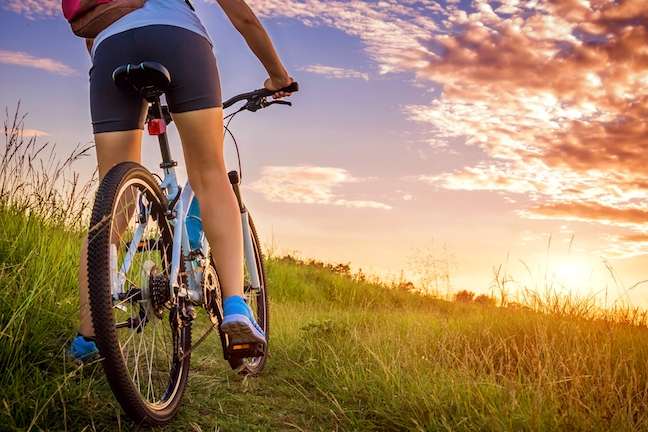 My journey, which was to take four days and three nights, occurred during a special time of year in Korea known as Chuseok, which can be likened to a Thanksgiving holiday. After learning that this year's Chuseok break would be all of 10 days long, I schemed with a few of my soccer friends who have as much energy as I do, and we decided it would be a grand idea to cycle from the top of South Korea to the bottom. Why not, right?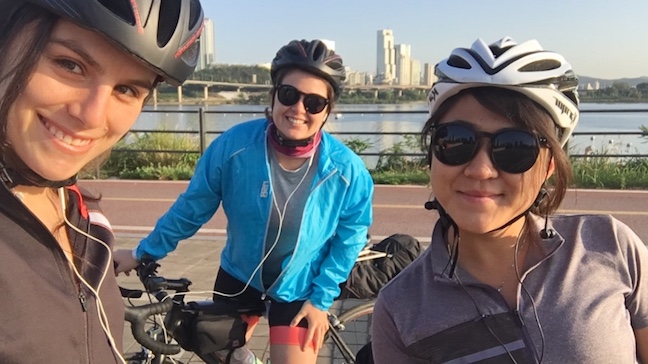 Packing for the trip was to be a struggle, as I had to carry everything I required on my bike for the upcoming few days (not to mention a few nights in Busan, a city on the sea, and the bus ride back). It was at this moment that my practical side had to override any outrageous thoughts I had of having outfit options. Pajamas? Who needed them. A change of shoes? No way. I went with what I thought were the bare necessities. Here's what I packed: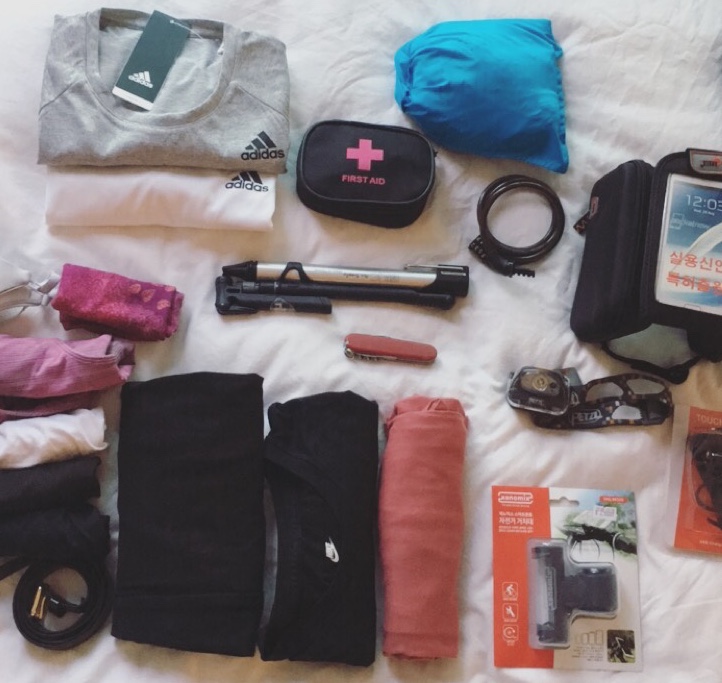 | | |
| --- | --- |
| Bicycle (obviously) | Underwear and socks |
| 2 quick dry short sleeve shirts | First aid kit |
| Padded cycling shorts | Sunscreen (2 types) |
| Lightweight rain jacket | Headlamp, bike flashlight, bike lock |
| Black skinny jeans | Bicycle pump |
| 2 casual T-shirts | Old sneakers |
| 2 sports bras and one regular one | |
I managed to stash this all into a small 10-liter bike bag that fit snugly under the main frame of my trusty steed, and thanked the god of all that is practical that I managed to pull it off.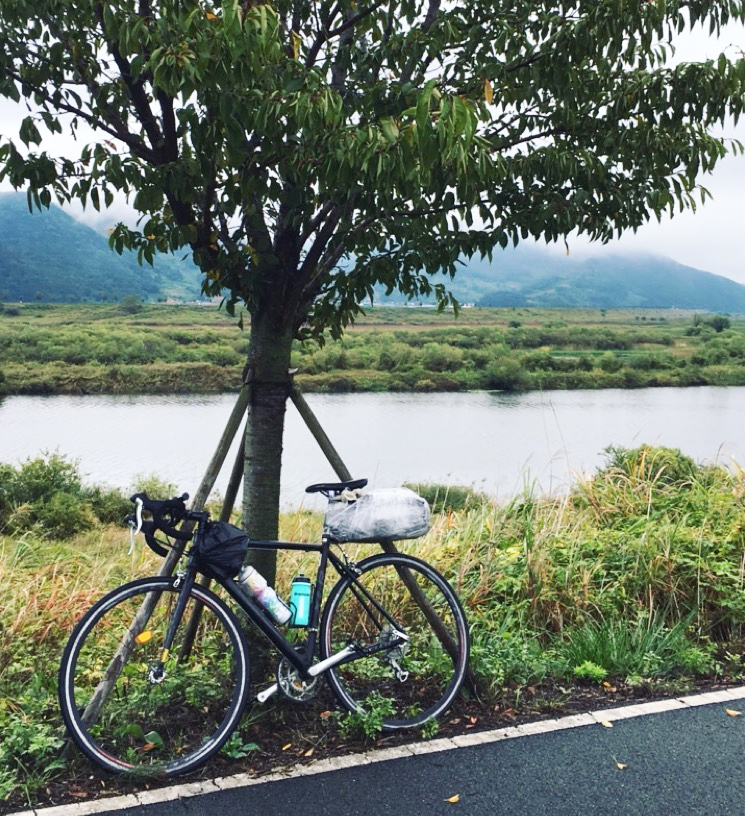 Fall in Korea is still warm, if not hot, around midday, and I made sure to bring along two of my favorite sunscreens that would each do their best to protect my face and neck from 10 hours on the road each day. Each has very different features, and each fared very differently in reality.
Innisfree Daily UV Protection Cream SPF35/PA ++
On day 1 and 3, I decided to test the Innisfree Daily UV Protection Cream SPF35/PA++. This has been one of my favorite go-to choices for daily use, and it is light enough to offer a decent few hours of protection even in the middle of a scorching summer. Given the nature of my activity, which was to involve over 150 kilometers of cycling a day, often with 10-km uphills through mountainous, humid regions, the Innisfree sunscreen ticked a number of my boxes. At less than $6 in the Innisfree stores in Korea, it's a steal and worth stocking up on.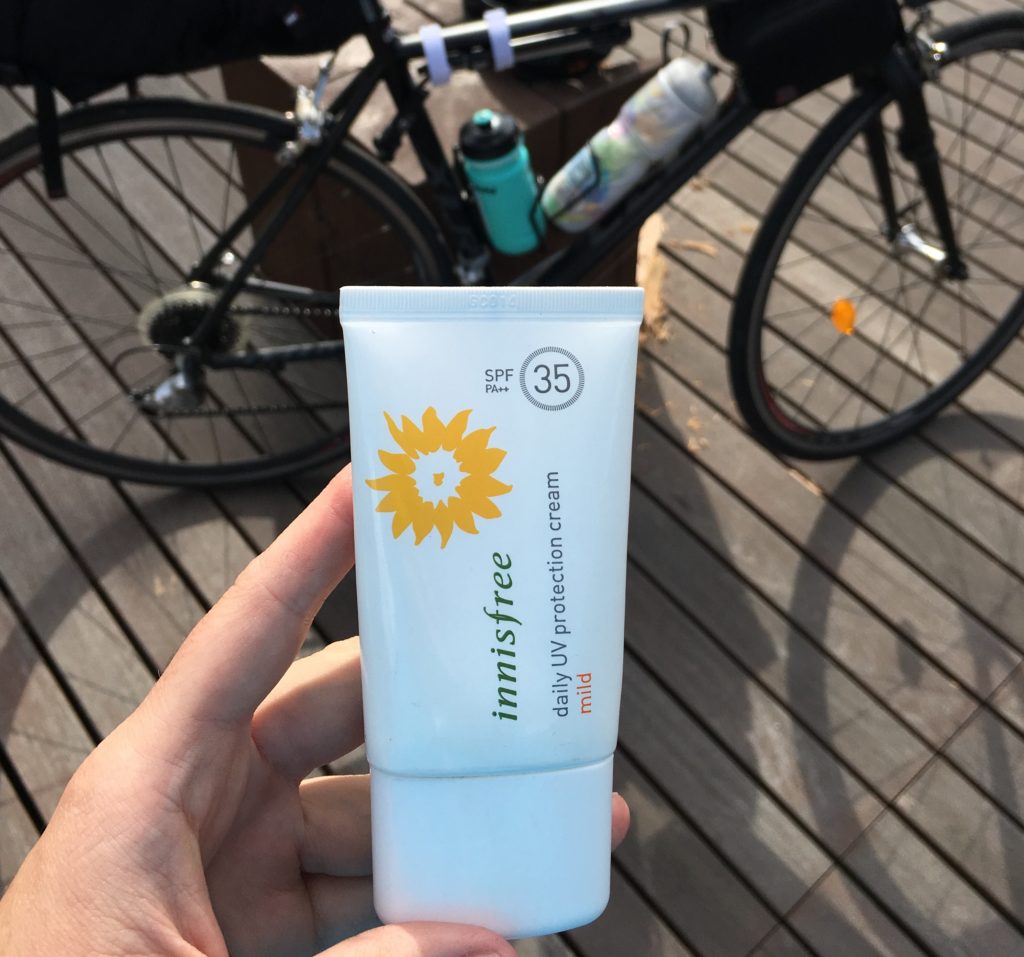 The Product:
It's a water-based formula and contains sunflower oil and green tea extract from nowhere else but Jeju Island, the land of all things natural and good. I found the product absorbed quickly and evenly into my skin, and it didn't leave me a few shades whiter. What I like about this sunscreen is that it boasts a "5-free system" — free of any animal ingredients, mineral oil, perfume, tar color and talc. The scent is quite unique, and I got a strong sense of sunflower, which was more interesting than off-putting.
The Findings:
As much as I am a loyal fan of the Innisfree sunscreen, it failed me when the heat became too intense and the uphills too steep. I was left at the side of the road with sweat dripping from my forehead straight into my eyes, rendering me partially blind while my friends whizzed on ahead. I have never been particularly sensitive to any beauty or skincare products, but once this sunscreen trickled into my eyes, I was left with a lot of discomfort. I managed to rub it off with the hem of my sleeve, which was also probably drenched in sweat, and doused my eyes out with a bit of PowerAde infused water. Overall, it would probably have been better to use a thicker sunscreen developed specifically for sports, but I am glad I put my trusted favorite to the test.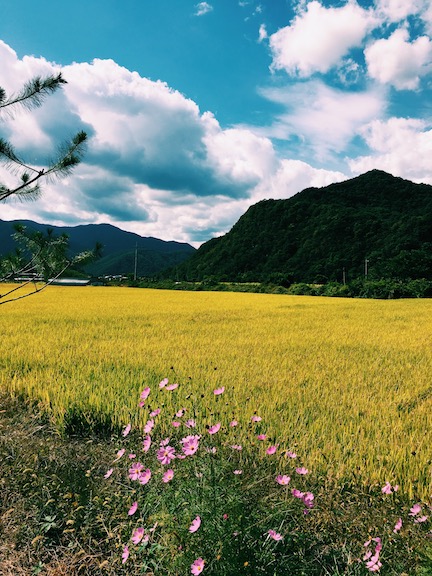 Laneige Marshmallow Sun Cushion SPF50+/PA +++
On days 2 and 4, I switched it up and gave my Laneige Marshmallow Sun Cushion its time in the sun. With an SPF of 50+ PA +++, I knew that I wouldn't be let down. The packaging was not really suited to my needs, as it functions as a pop-open cushion compact with a nifty little mirror inside to ensure that all areas of the face are well-covered. It was a bit of a hassle to use it given the nature of my activity, but on any other occasion it would be have been ideal.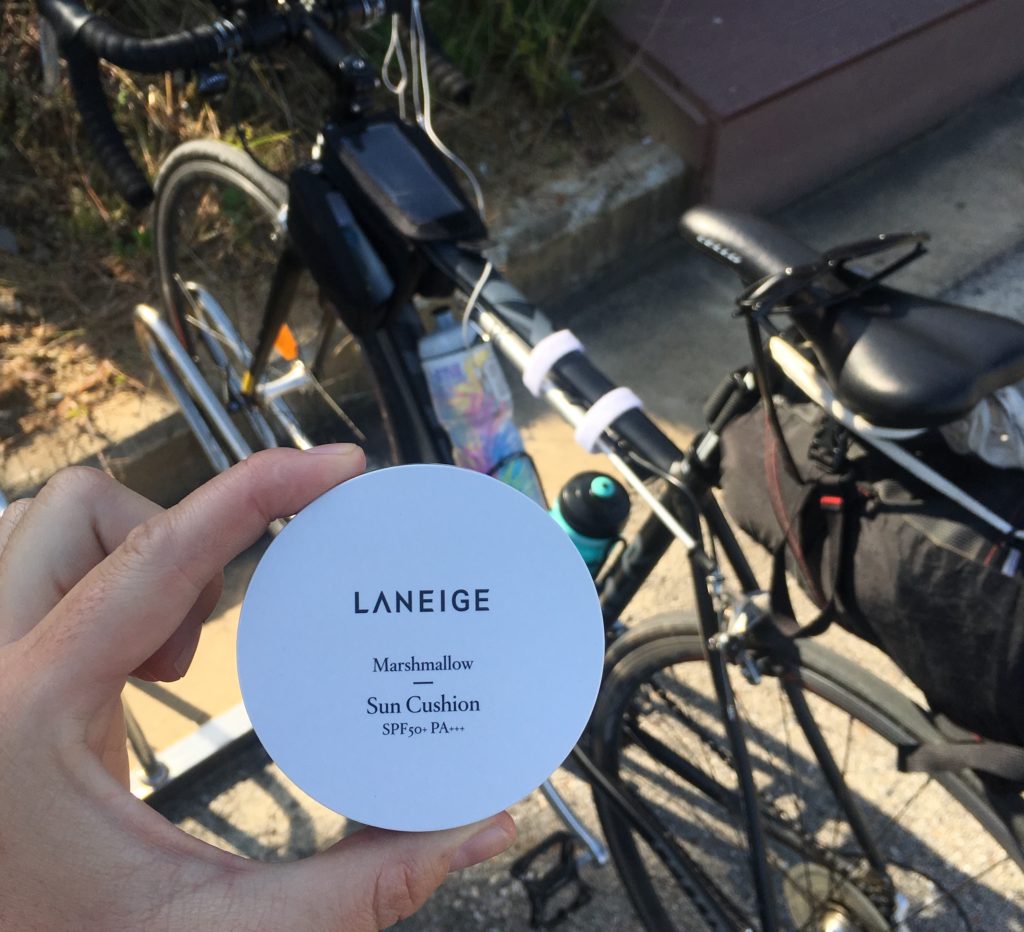 The Product:
Laneige has one up on Innisfree when it comes to ingredients and keeping the baddies out. This cute sun compact boasts a "6-free formula," which means that it's free of mineral oil, animal ingredients, tar color, talc, triethanolamine, and imidazolidinyl urea. Complete with a soft cushion and a smart mesh system inside to contain the product, it's easy to use without even touching the formula. I found it to be very gentle yet very generous in its protection, and it has a very balmy, rich texture that was easily absorbed. Containing an extract from Japanese apricot combined with a soothing powder of licorice and caffeine, this sun cushion eased my skin into hours of unrelenting sunshine. It costs $24, which is nearly four times the Innisfree sunscreen.
The Findings:
Due to the thicker nature of the Laneige Marshmallow, I didn't have to experience any sunblock running into my eyes and causing a temporary panic. It stayed on for hours longer than the Innisfree option, and my face was left hopefully with the same number of wrinkles as when I began my trip. (I have been keeping a close eye on this number, if you were wondering!)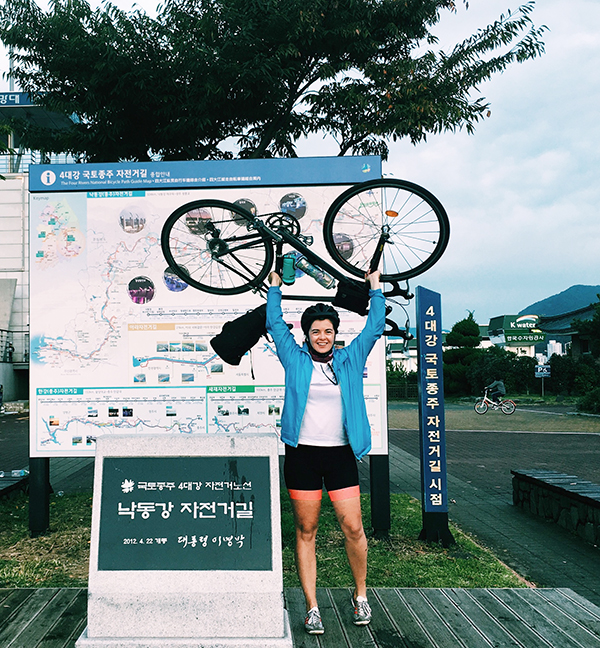 On the whole, I should have selected a more "sports-friendly" sunscreen that wouldn't budge, but I went with what I already had and figured it would be interesting to put these two to the test. I'd stick with the Innisfree as a daily sunblock, where my usual activity doesn't involve burning 4,000 calories on a 150-km long cycle, and the Laneige as a cute addition to my beach days.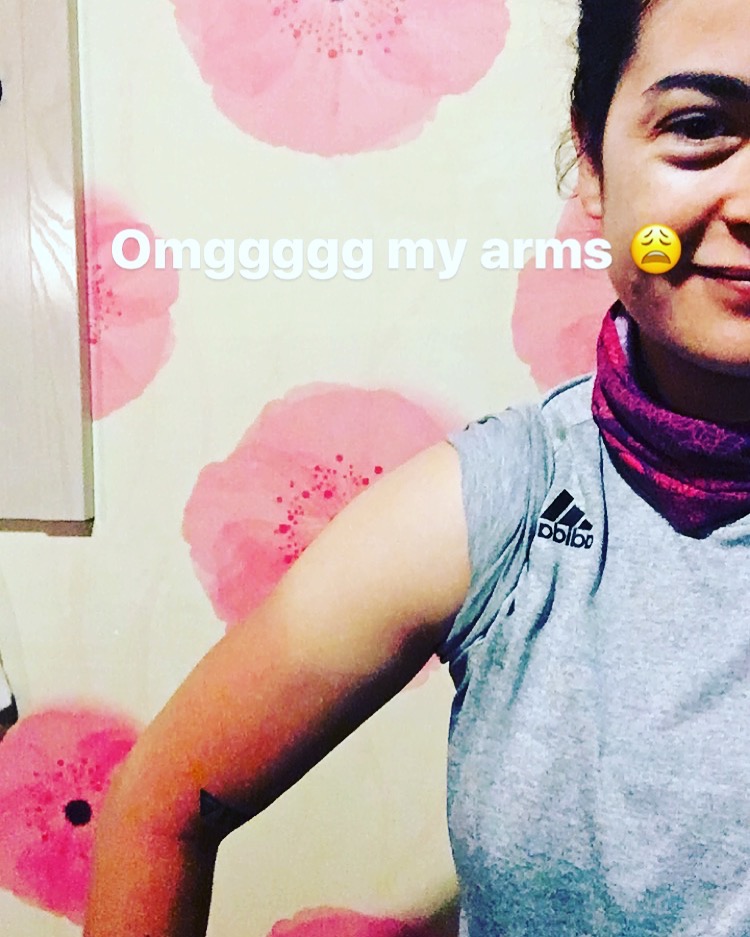 Oh, and pro tip: Don't forget your arms! I made the mistake of neglecting my arms throughout the trek and was left with an embarrassing sunburn that left little question as to whether I was indeed a cyclist. Luckily for me, it faded within about two months, and I survived to tell the tale.
All photos are author's own
Have you ever tested Korean sunscreens while cycling or doing something active outdoors? What's your favorite sports sunscreen?
---
Author:
Megan Bursey
I'm Megan, and I'm obsessed with travel, beauty and LGBTQ rights. I hail from South Africa, where I cut my teeth as a journalist, writing for the biggest-selling English magazine in the country. I spent three years in South Korea and discovered a passion for K-beauty and the jjimjilbang. I'm always on the go, but I make time for my skin. Follow me on Instagram at @meg______b and at linkedin.com/in/megan-bursey-530b4177
---
Comments