#SheetMaskOnAPlane: 3 Skincare Essentials for Surviving Air Travel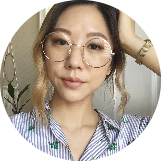 Ruth Kim
May 29, 2018
---
Traveling can be all sorts of unsanitary and anxiety-inducing, especially with early flights, hours-long delays, dry plane air, "interesting" smells, and suspicious surfaces. Here's how associate editor Ruth and project manager Jane battled the skin-stressing factors that come with booking and boarding.
---
You know you've reached Multi-Masker level when you #sheetmaskonaplane. When Jane and I were scheduled to jump on a flight for a last-minute business trip, we made sure we had our skincare arsenal ready to keep our complexion sane (because who cares about the stresses of traveling if you've got happy and hydrated skin?) Here, 3 essentials for doing skincare on a plane that you should stick in your carryon pre-flight.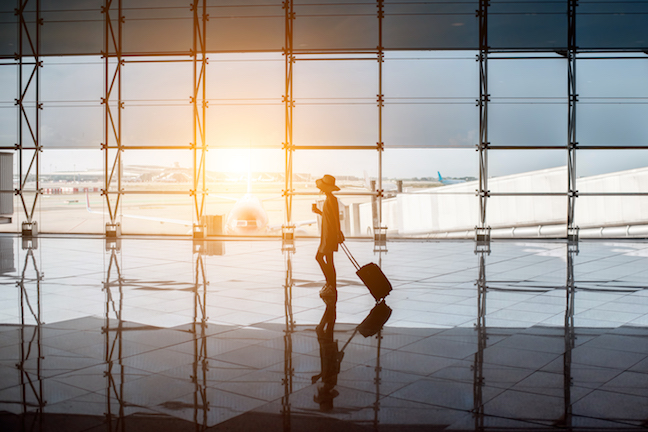 1. Your favorite hydrating sheet mask
Planes are infamously known for sucking the precious moisture and life out of your skin (and simultaneously giving you incurable neck pain thanks to the "excited" child kicking the back of your chair like it's his favorite soccer ball), and our flight was no exception. As soon as we boarded, the air felt unpleasantly hot and heavy (hello, millions of bacteria air particles, it's not nice to meet you), and my skin instantly began to feel the effects. A much needed 30-minute nap later (because we woke up at 4:30 am for a 7:55 am flight that was delayed until 10 am omg), we busted out our trusty sheet masks to come save the day.
I chose to bring the Keep Cool and Ocean Mask by the brand Adaline. It's a super hydrating mask with a thin, clingy, semi-translucent sheet (perfect for my mission to sneakily get my glow on mid-flight). Jane's mask of choice was the Moksha Dear Apple Mask Sheet, an essence-type mask sheet that's chock full of apple extract, watermelon extract, coconut extract, and more (hello, amino acids and vitamins!).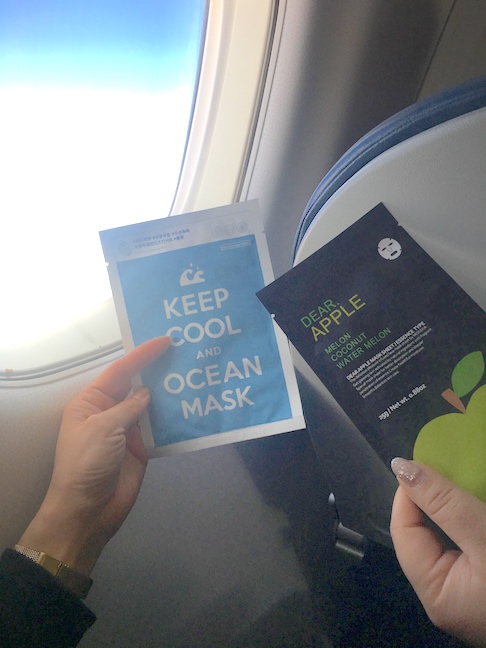 It was both of our first times Masking & Flying, and I'll be honest, I did have the pre-flight jitters. But then I said to myself, "Skincare is self-care 💁" (emoji gesture included) and moved on with my life. We might have received some confused side-eyes from non-skin-savvy flight attendants and passengers, but the key was to avoid all eye contact and act like everything was 100% completely normal ("What? Is there something on my face?") while we took about 20-some face-filtered selfies — naturally. The instantly hydrating, refreshing, life-rejuvenating effects of the cooling masks on our tired skin totally trumped (if only temporarily) any unnecessary anxieties that traveling and work-related stress had to offer. Worth it.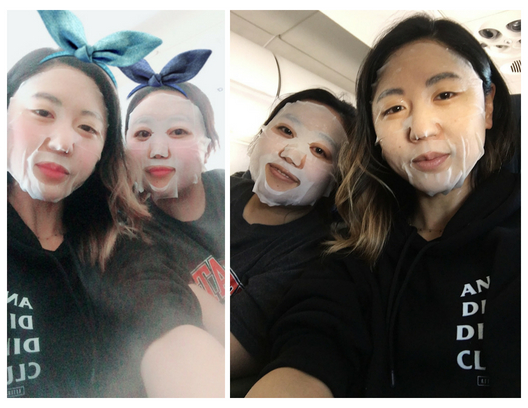 Side note: Soul-Sucking Dry Plane Air™️ is real — only 10 minutes in, my sheet mask was already beginning to feel drier than what it would usually be at the 10-minute mark of a masking session at home. Jane attested to this as well. Not wanting to leave the masks on for too long (juuust damp is juuust right), we removed the masks and basked in the fact that we were the most glowing passengers aboard.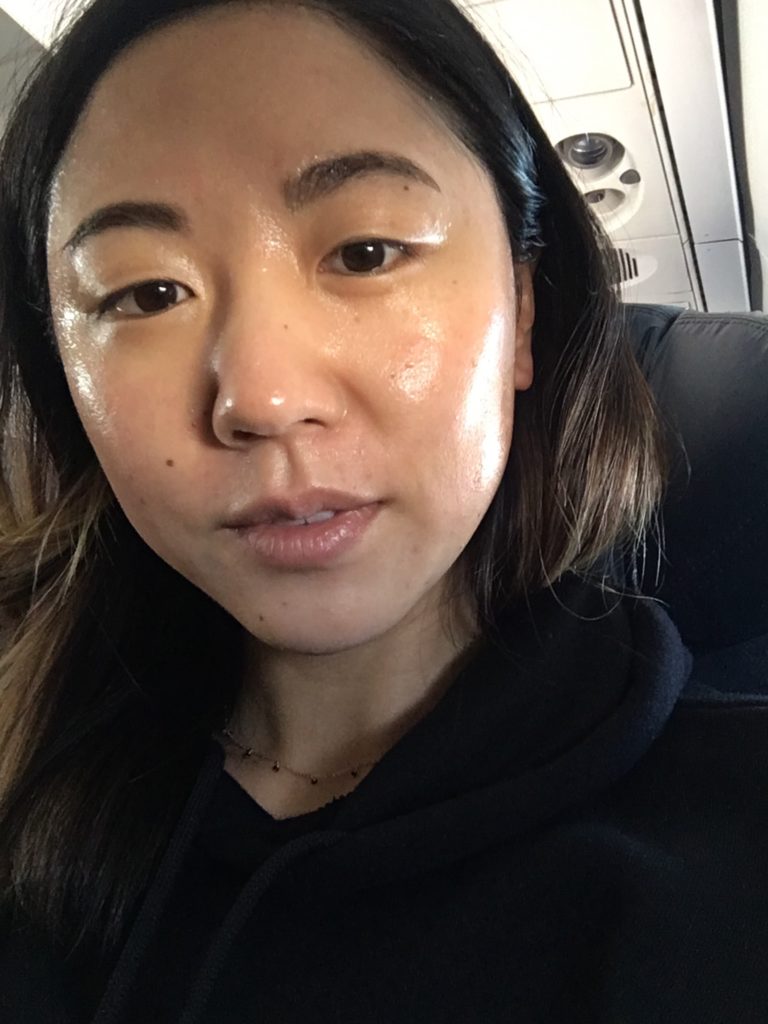 2. Lip plumping lip oils
For me, there's no worse feeling than dry, parched lips that's gasping for some hydration (and licking and re-licking those lips only makes it drier). Ever since I was introduced to the lip game-changer that is a lip oil, I can't be without it (I just ordered two backups!).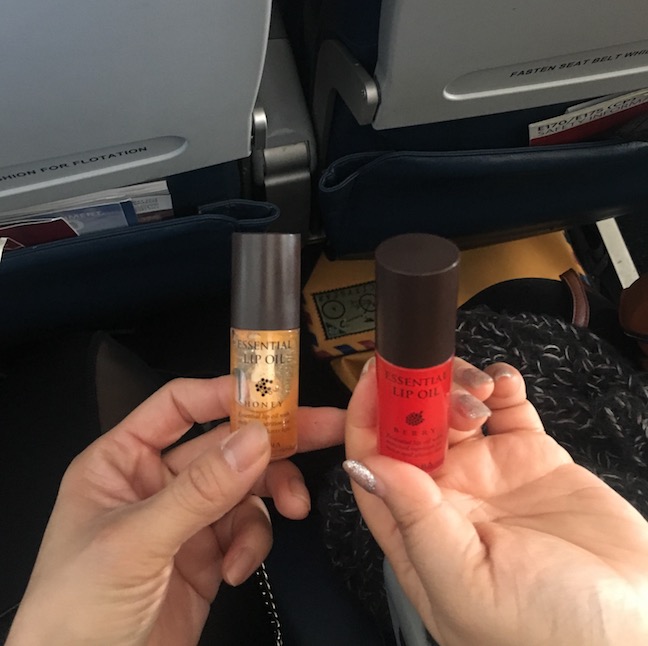 My current fave is the Missha Essential Lip Oil Honey and Jane's go-to is its sister, the Missha Essential Lip Oil Berry. These mini lip plumpers have a cushiony doe-foot applicator that's so smooth and soft when applied on the lips. It keeps my lips moisturized for houurrrrs, and it works well under lip products and as a lip sleeping mask, too. Winner.
3. Mist away
Of course, skincare on a plane would not be complete sans a fine, hydrating face mist. Spritz it on the Uber drive to the airport or while you're in line for the security check-in; give yourself a periodic mist break on long flights to keep your skin feeling comfortable and never tight. My go-to mist as of late has been the SanDaWha Camellia Flower Hydrating Mist. It comes in a small spray bottle perfect for traveling and it smells of a gorgeous fresh floral bouquet. Jane's adorable mist is the Tony Moly Pocket Bunny Mist in Moist — I mean, it doesn't get cuter than that.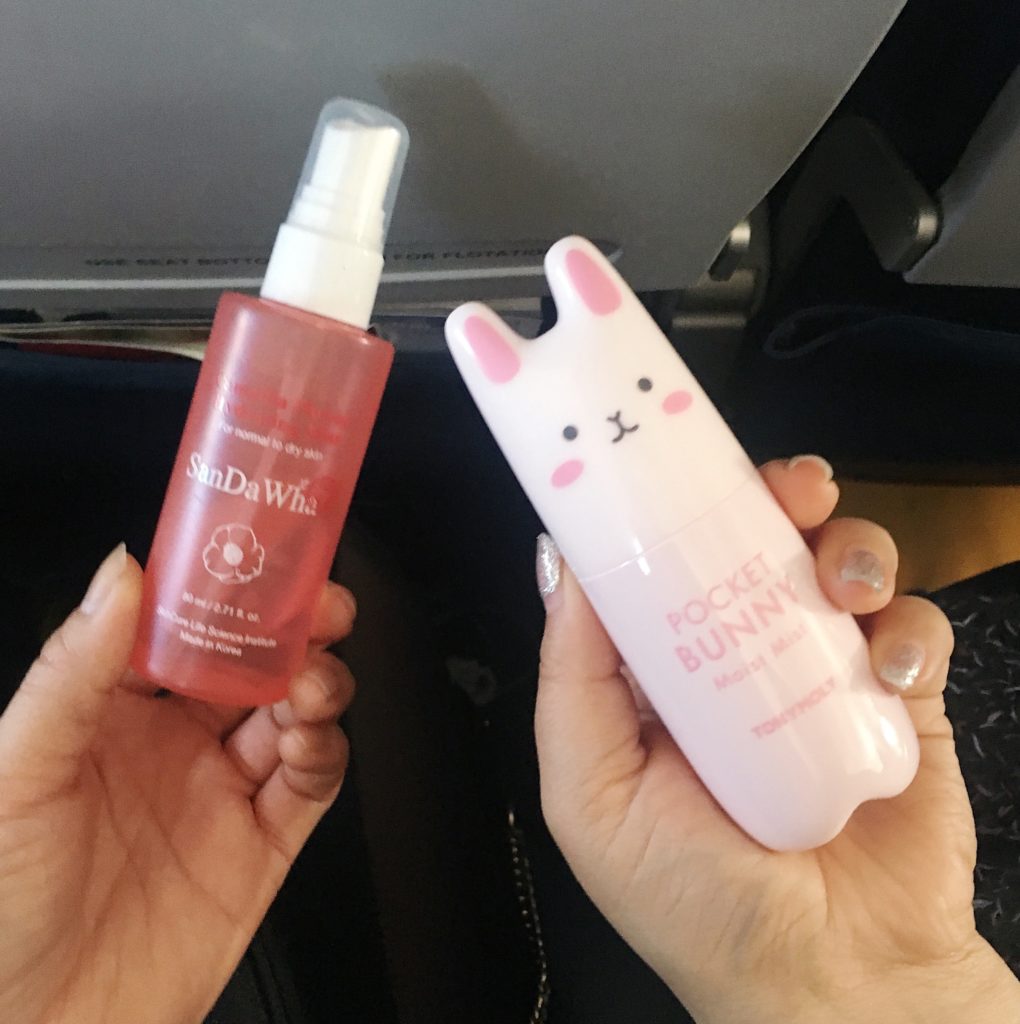 Have you ever sheet masked mid-flight? How do you keep your skin (and mind) sane while traveling? Share your tips for doing skincare on a plane below!
---
Author: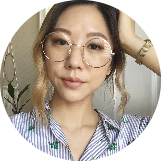 Ruth Kim
Ruth is a 20-something creative with a fixation on black coffee, black boots, and the beautiful black hole that is all things K-beauty. A Southern California native, she loves to share her current skincare favorites and lifestyle inspirations on her Instagram @ruthhlesslyy.
---
Comments