What Happened the First Time I Tried Snail & Other Unfamiliar K-Beauty Ingredients
For many skinficionados, snail is nothing new. But remember the first time you had sushi? The thought of fish flesh? Raw?! That's what snail slime may sound like to a K-beauty newbie. Here, one Korean beauty convert recalls when she first tried snail mucin and some other unfamiliar K-beauty ingredients at the time. Did she — and more importantly, her skin— survive?
---
Snail mucin? Bee venom? How about a side of goat's milk with that? Mix it up with bee propolis for good measure, and you've got a recipe for success!
Korea really pushes the boundaries when it comes to certain things, and its tenacity and innovation has led it to the forefront of global technology and development. This is equally true in Korean beauty, where boundaries are pushed and limits tested with unique ingredients such as pig-collagen jelly, horse oil, and donkey milk.
It's been said that life begins at the end of your comfort zone. It may sound cheesy, but we know this isn't far from the truth. So when I tried out new Korean skincare products with highly unfamiliar ingredients, not only did it push me out of my comfort zone, it definitely kicked some life into my skin.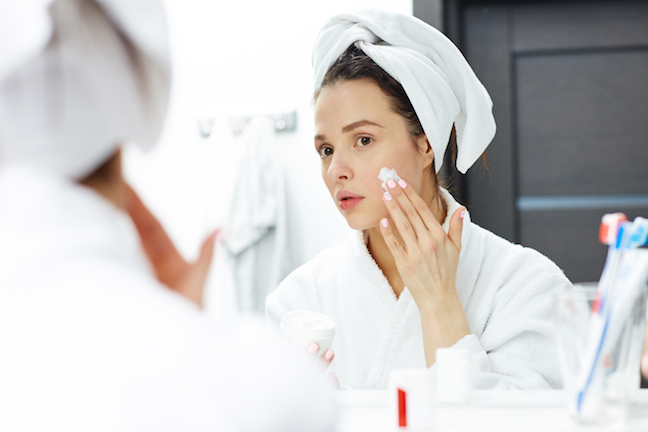 As a K-beauty newbie, I decided to dive headfirst into the terrifying yet intriguing world of some unfamiliar K-beauty ingredients and Korean skincare. I knew there were a lot of good reasons to try them, not the least of which is Song Hye Kyo's glowing skin. Song Hye Kyo won the 2016 KBS Drama Award, along with co-actor Song Joong-ki, for her role in Descendants of the Sun. Rumor has it that he uses milk to wash his face (hello, Cleopatra!), while she prefers honey and egg whites for brightening. If I were going to catch up to them, I needed to get right into it. Here's where it gets interesting.
Snail
First I tried the Snail + EGF Repairing Foam Cleanser from Secret Key. The snail secretion filtrate protects skin from infection, reduces inflammation, and helps with acne and scarring. Betaine, which is a humectant and anti-irritant, provides superior hydration and can temporarily reduce the depth of wrinkles. The EGF stands for Epidermal Growth Factor, and it's hot on the beauty market by way of modern medicine. Think stimulated skin growth right down to the cellular level and crazy healing abilities. (Scientists even won a Nobel Prize for their breakthrough with this substance.)
I expected something slimy and sticky and was instead treated to a pleasant smelling foam cleanser that left my skin feeling soft and smooth. I like how the Snail Cleanser removes every trace of my makeup and doesn't leave my skin feeling dry at all. (Mamonde's Rose Water Toner does a fantastic job of maintaining that suppleness afterwards.) This product lasts 12 months from date of opening, and I highly recommend it if you're looking for something cheap, gentle, and effective.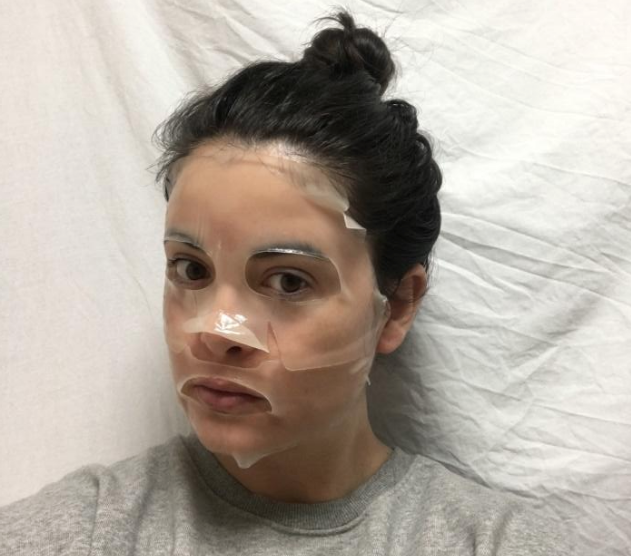 If there's one skincare section where Korea excels, it's the sheet mask. I decided that I'd one-up myself with the snail secretion and add some red ginseng. This root is prized for its anti-aging properties, and Nature Republic Red Ginseng Snail Solution Hydro Gel Mask promises that the ginseng will revitalize the skin and prevent dark spots, dullness, and dryness, all the while leaving skin smooth and healthy. The concentrated snail mucus extract, which is listed near the beginning of the ingredient list, helps to firm and restore skin, and after 20 minutes with this mask, my face felt nourished and hydrated. Two downsides are the price (6,000 won, about $5) and the fact that the two pieces the mask consists of were awkward and wouldn't stay on my face.
Lettuce
With snail secretion out of the way, I thought that a lettuce and cucumber cream would be a walk in the park. Skinfood's Premium Lettuce and Cucumber Watery Cream consists of 30% cucumber water and 10% lettuce and cucumber extract. Lettuce has a very high water content, and Skinfood extracts their cucumber water using steam distillation. Cucumbers are rich in vitamin C, which helps to restore and stimulate skin's collagen.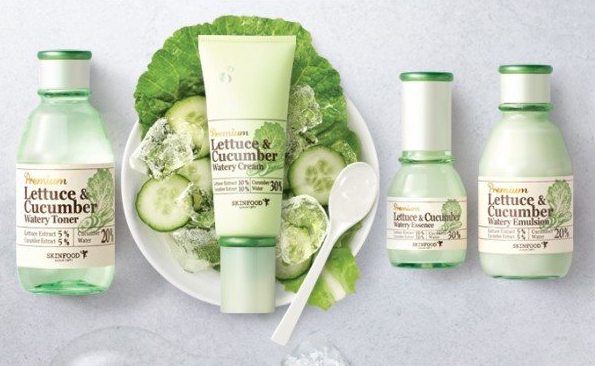 The texture of the cream is gel-like, and it left a sticky after-effect that I didn't enjoy. Despite its natural ingredients, the fragrance is very strong and smells like alcohol (and we all know how bad alcohol is for skin). I found this cream, which I used before moisturizing, to be absorbed a little too quickly and not quite worth the price (about $15). It also comes as a sheet mask, which I'd recommend before buying the whole tube. The cream lasts 12 months from date of opening.
Lava Seawater
Next I decided to venture to the ocean. Innisfree, one of my favorite Korean brands simply due to their affordability and natural ingredients, created an essence using Jeju lava seawater.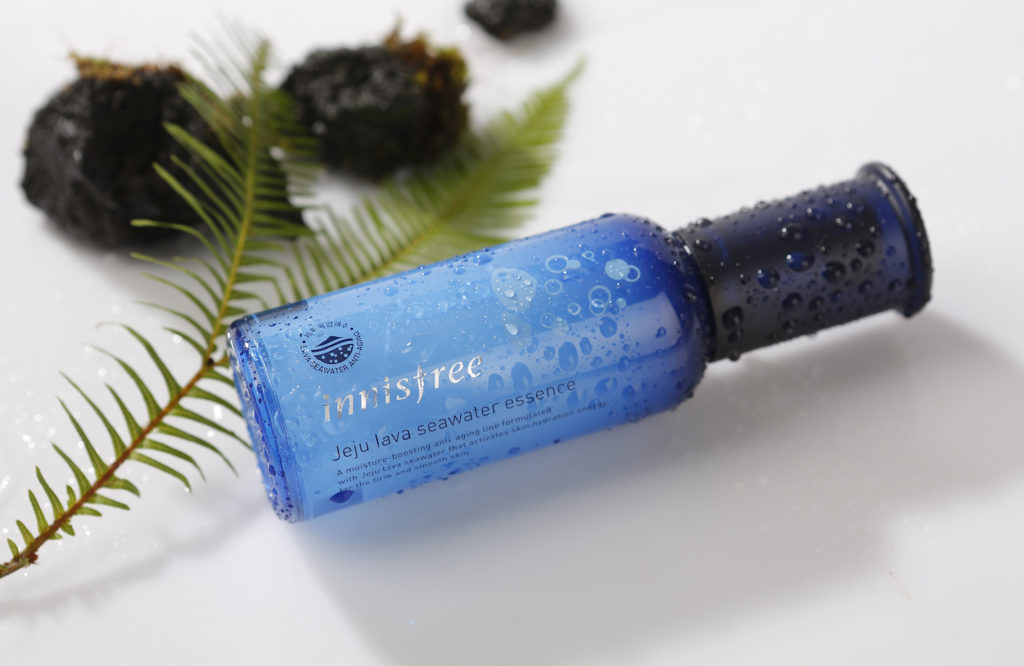 There is 85.4% Jeju lava seawater in this dreamy essence, and it proved to be a light, fresh, and slightly herbal smelling essence with a list of non-lab-derived ingredients, which I like. Jeju lava seawater is very hydrating and packed with nutrients and minerals from the great depths, like kelp, algae, and marine collagen from fish scales. And because it's seawater from Jeju Island, it's known for its unpolluted environment and cleanliness. With citrus peel, orchid, and camellia extracts, this essence helps promote healthy skin barrier function, hydrates superbly, and firms tired skin. In the springtime, I look for something that is lighter and gentler, and this product is perfect.
So I survived my self-induced plunge into this world of strange and unique skincare ingredients, and I have little to regret. For now, I think I'll leave the cucumbers and lettuce for my salad, but I'm thrilled that I can benefit from the wonders of snail secretion and seawater essences.
What was your first experience like with unfamiliar K-beauty ingredients?
---
Author:
Megan Bursey
I'm Megan, and I'm obsessed with travel, beauty and LGBTQ rights. I hail from South Africa, where I cut my teeth as a journalist, writing for the biggest-selling English magazine in the country. I spent three years in South Korea and discovered a passion for K-beauty and the jjimjilbang. I'm always on the go, but I make time for my skin. Follow me on Instagram at @meg______b and at linkedin.com/in/megan-bursey-530b4177
---
Comments