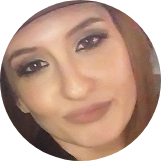 Coco Park
Aug 22, 2018
---
All good Korean dramas have several elements we love: the leading girl-guy conflict, the teary-eyed back hug, and of course, that glowing K-drama skin. Here, how to get that K-drama glow IRL, whether you're a K-drama fanatic or just a drive-by ogler.
---
Truth be told, I'm not a fan of Korean dramas. I know, I know, that's blasphemy to some! But for me and my husband, we sit there like Waldorf and Statler from The Muppets, heckling just about every show people have begged us to give a try. Everyone else in our family are huge fans, and I mean everyone. Whenever Grandma comes to visit she refuses to watch anything but K-dramas, and we must leave the television playing them under threat of physical violence. Halmoni won't hesitate to mess you up.
If you were a fly on the wall in my living room, you'd probably hear our most common complaints about almost every series. Our greatest hits are "OMG if they would just freaking TALK to each other, this would have all been resolved in the first episode" and "Is it really necessary to screech and whine like a toddler when you're a grown-ass adult?" And then there's our favorite: betting on what episode someone will be hit by a car.
With all that said, I can't even sit here and pretend that I don't sit in rapt attention at the endless parade of gorgeous, out-of-this-world, glowing skin on the screen. It's what keeps me coming back again and again, watching these things despite the fact that they're just not for me. It's all-out skin porn, and I'm so here for it! I lust after the bright, ultra dewy skin that everyone from the mother-in-law to the leading man seems to have. I cannot get enough, and I will sit through just about anything to ogle everyone's skin.
K-drama skin is just unreal. It's not something you're used to seeing if you tune into Western television and movies: Faces look downright flat and heavily powdered down in comparison. I find myself wanting to leap through the screen and give the actors in my favorite TV shows that extra wattage shine I see in K-dramas.
And recently I've snagged two products from Beautytap that do exactly that.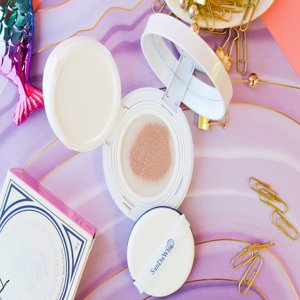 What you need to know going into these products is that they don't really do what one might traditionally assume they do. They are a BB and CC cushion respectively, but if you're purchasing these looking for coverage, that's not what they do. These cushions aren't about covering your skin; they're about imparting a gorgeous glow.
SanDaWha Camellia Brightening Illumination Cushion
The first one is pretty straightforward in its name: SanDaWha Camellia Brightening Illumination Cushion. And yes, it certainly does brighten and illuminate. If you're thinking,"Wait a minute, SanDaWha has makeup? I thought they just made the best toner and emulsion set ever!" (OK, that last part might be me projecting.)
But even still, if you're thinking SanDaWha = Skincare, you're not wrong. Just because this is a color product it's not like SanDaWha didn't pack this full of skin beneficial ingredients. Seriously. This cushion is 47% camellia flower extract and 5% camellia flower seed oil. It's also got green tea extract and aloe vera extract. I wish more cushions were formulated like this one. I feel more like I'm putting on an additional layer of skincare rather than face makeup.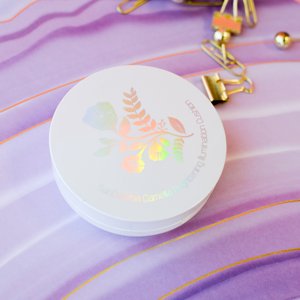 I would say this is definitely on the moisturizing side in terms of color products. That's not to say it's totally off-limits to oilier skin types, especially in the winter or drier times. It's not overly sticky or anything like that, but it is definitely hydrating and soothing to dry skin, and as light as it is, you might still feel it depending on how thickly you apply it.
Now about the all-important glow. The finish on this is beautiful. It goes on a lot shinier than it eventually dries down to. That part of me that always wants to be extra AF wishes it stayed shiny, but it ends up being a perfectly lit glow. It really does wonders to add an extra oomph to your skin that will take you from 90s sitcom extra to 2018 K-drama breakout star.
La Muse Correct Care Complete Cushion SPF50+/PA+++
This is my newest discovery, as I'd been enjoying the SanDaWha cushion since last winter. La Muse Correct Care Complete Cushion is a CC cushion, so it's less surprising that the coverage is almost nil. What it does do, however, is even out slight variations in skin tone and deliver an ethereal glow. It's the perfect way for someone who's doing everything they can for their skin but still struggles with dullness due to aging or just crappy genes (Hi, it's me). This lends your complexion the kind of "I cannot believe a talent agency hasn't signed me yet" famous actor glow.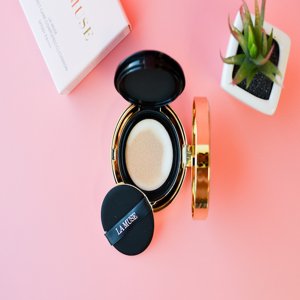 This is definitely the more lightweight of the two products that I think oilier skin types would be happier with. I am particularly loving it this summer and am about to place an order for a re-up.
Another summer-loving feature on this cushion is its SPF rating. It's a mineral-based product with the highest SPF rating. It's advertised as being perfect for applying on top of your existing foundation, so if you have problems with blemishes or need a high coverage foundation, you don't have to be left out of all this fun. You could always do your foundation and concealer routine as usual and then pat this on top for the glow factor. Like I said, it's very lightweight and won't interfere with your underpinnings.
Remember to wear a separate dedicated sunscreen under this; just because it has an excellent SPF rating doesn't mean you apply enough to get the full benefit! It's great backup armor but shouldn't be the only weapon in your arsenal. I personally like to apply my sunscreen, let it sit for 10 minutes, and then follow up with a glaze of La Muse Correct Care Complete Cushion. My skin is protected, it doesn't look overly done, and it gives me that will-they-won't-they romantic storyline drama lead look.
If you're also a K-drama skin stalker, considering trying one of these cushions out! But hey, do me a favor: Be on the lookout for speeding cars at crosswalks.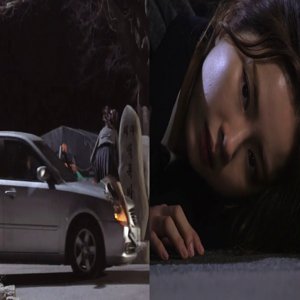 Do you watch Korean dramas just for the K-drama skin? Which character's beauty look do you covet? Let's talk about it below!
---
Author: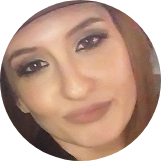 Coco Park
Coco Park is an author, beauty journalist, blogger, podcast host, and all around oddball living in Montreal Quebec with her family. Originally from the southern USA, she worked for several years in the makeup industry as a professional makeup artist and holds a certificate in esthetics. She is a proud member of the Choctaw Nation of Oklahoma. Want to know more? Check her out on the Beauty Beyond Basics podcast, on her blog TheBeautyWolf.com, on Instagram @thebeautywolf, and in her book "Korean Beauty Secrets: A Practical Guide to Cutting-Edge Skincare & Makeup."
---
Comments