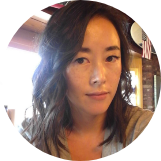 Jude Chao
Dec 08, 2018
---
If you know anything about Jude Chao, aka Fiddy Snails, you know she is a Sulwhasoo Overnight Vitalizing Mask champion. I mean, she has converted who knows how many to reaching for this golden tube every night. So what happens when another sleeping mask comes into the picture, namely The History of Whoo In Yang Neck & Face Sleeping Repair? Here, she reviews this interloper — with surprising results.
---
I feel like I've gotten an unfair reputation. An unfair reputation as a hanbang fanatic, that is. The truth is, outside of Sulwhasoo and a few items from a smattering of other brands, I'm really not that widely versed in popular hanbang skincare products.
Take The History of Whoo, for example. Named Korea's most successful luxury brand by Seoul Economic Daily in 2017, Whoo, with distinctively opulent branding and formulations supposedly inspired by traditional court recipes, is one of the first brands K-beauty fans think of when they think of hanbang. And yet, aside from one product, I've never actually dabbled in their skincare.
That one product, though? That one product has become one of my often-used favorites. This is a review of that product, The History of Whoo In Yang Neck & Face Sleeping Repair sleeping pack.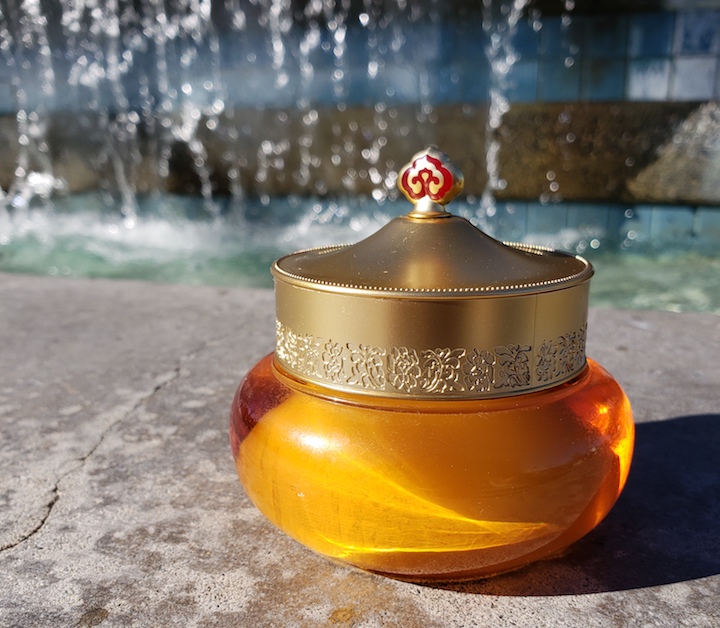 The History of Whoo In Yang Neck & Face Sleeping Repair review
Confession: I never tried Whoo products because their aesthetic, as striking as it is, really isn't my taste. I had to be talked into testing this product by my good friend Renee from Beauty and the Cat — Renee loves the In Yang Neck & Face Sleeping Repair and strongly suggested I would, too.
 

View this post on Instagram

 
The History of Whoo In Yang Neck & Face Sleeping Repair is a sleeping pack, meant to be worn overnight as the last step in the evening skincare routine. With turmeric, ferments, a long list of herbal extracts, ceramides, cholesterol, and lots of lipids, the product claims to soften and smooth skin overnight while improving resilience.
The History of Whoo In Yang Neck & Face Sleeping Repair ingredients: Water, glycerin, butylene glycol, caprylic/capric triglyceride, triethylhexanoin, butyrospermum parkii (shea) butter, hydrogenated polyisobutene, PEG-75, curcuma longa (turmeric) root extract, lactobacillus/soybean ferment extract, dimethicone, C14-22 alcohols, cyclopentasiloxane, hydrogenated lecithin, 1,2-hexanediol, cetearyl alcohol, panthenol, phytosteryl/isostearyl/cetyl/stearyl/behenyl dimer dilinoleate, dimethicone/PEG-10/15 crosspolymer, cetearyl olivate, saccharomyces/barley seed ferment filtrate, saccharomyces/potato extract ferment filtrate, aquilaria agallocha stem extract, C14-28 alkyl acid, hydroxypropyl starch phosphate, PEG-40 stearate, polyglyceryl-10 behenate/eicosadioate, dipropylene glycol, SD alcohol 40-B, sorbitan olivate, stearyl alcohol, lactobacillus ferment, C12-20 alkyl glucoside, behenyl alcohol, hydroxyproline, saccharomyces/viscum album (mistletoe) ferment extract, lauryl PEG-9 polydimethylsiloxyethyl dimethicone, theobroma grandiflorum seed butter, chaenomeles sinensis fruit extract, ammonium acryloyldimethyltaurate/VP copolymer, squalane, dimethicone/vinyl dimethicone crosspolymer, acrylates/C10-30 alkyl acrylate crosspolymer, cinnamomum cassia bark extract, diospyros kaki leaf extract, olea europaea (olive) fruit oil, tromethamine, punica granatum fruit extract, sacacharomyces/imperata cylindrica root ferment extract, cimicifuga racemosa root extract, dioscorea japonica root extract, lithospermum erythrorhizon root extract, papaver rhoeas petal extract, trifolium pratense (clover) leaf extract, zizyphus jujuba fruit extract, glyceryl stearate, macadamia ternifolia seed oil, artemisia princeps leaf extract, camellia sinensis leaf extract, chrysanthellum indicum extract, arachidyl glucoside, PEG-10 phytosterol, PEG-100 stearate, phospholipids, trisodium EDTA, stearic acid, ceramide 3, mannosylerythritol lipid, paecilomyces japonica mycelium/ginseng root ferment extract filtrate, cholesterol, carbomer, angelica acutiloba root extract, cornus officinalis fruit extract, glycosphingolipids, thymus vulgaris (thyme) extract, velvet extract, asparagus lucidus root extract, polygonatum officinale rhizome/root extracat, acanthopanax senticosus (eleuthero) root extract, polygonum multiflorum root extract, panax ginseng root extract, fragrance, mica, titanium dioxide (CI 77891), iron oxides (CI 77491)
Whew. That is a hefty, hefty ingredients list. It's got what looks like the entire kitchen sink in there. There are basic-but-effective moisturizing ingredients like shea butter, caprylic/capric triglyceride, panthenol, olive oil, ceramides, and cholesterol. There are ferments and extracts galore, including some quite strange ones like deer antler velvet extract. (The History of Whoo uses a number of unusual extracts with traditional roots but not much in the way of scientific research into topical use.) There are silicones and polymers and crosspolymers for a silky skinfeel. I'm telling you. Kitchen sink.
Because this is one of those kitchen sink products, people with sensitive or reactive skin should exercise particular caution when trying this out. If you've got a good idea of your skin triggers, comb through the ingredients list carefully. Patch test on an inconspicuous area of your face for at least a few nights before going full-face with it. And if it passes these initial tests, yay! Slather away!
The In Yang Neck & Face Sleeping Repair has a clean, sweet scent, vaguely honeylike without being cloying or overpowering, and an absolutely delightful consistency. Firm in the jar, it smooths over skin like perfectly room temperature butter. Compared to Sulwhasoo's Overnight Vitalizing Mask EX (my other hanbang sleeping pack love), it feels softer and richer on skin. It's also more moisturizing: As much as I love the Sulwhasoo OVM, I now reach for the In Yang when my skin feels extra dry and in need of fatty goodness.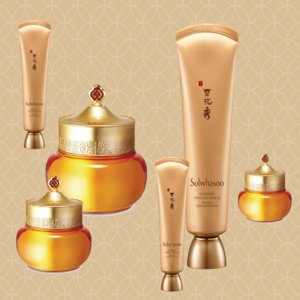 Despite the richness, however, The History of Whoo In Yang Sleeping Repair doesn't feel oily or heavy. It dries down reasonably quickly to a layer of satiny occlusion and leaves my pillows clean in the morning. And what it does to my face? Whew.
When I use The History of Whoo In Yang Sleeping Repair at night, the results in the morning are absolutely comparable to the Sulwhasoo Overnight Vitalizing Mask EX. My skin feels soft, supple, and healthy, and it gains a vibrant glow that lasts even after I wash my face and put on my morning skincare routine. This is exactly what I expect out of sleeping masks. My standards for those are pretty high after using the OVM for so long, so for the In Yang Sleeping Repair to meet them is impressive.
 

View this post on Instagram

 
On top of that, I've found The History of Whoo  In Yang Sleeping Repair better for my skin when it's feeling dry or generally compromised due to my experiments in actives and cleansers. Which brings me to my final point and the question that I've already fielded a few times regarding this sleeping pack: How does it compare to my beloved Sulwhasoo Overnight Vitalizing Mask EX?
Let's break it down.
Cost:
Both sit in the midrange category, but The History of Whoo In Yang Sleeping Repair is about $25 more than the Sulwhasoo Overnight Vitalizing Mask EX.
Ingredients:
Personally, I'm more partial to the ingredients in the Overnight Vitalizing Mask EX. Ginseng, licorice root, and honey get me going much more effectively than turmeric, mistletoe, and deer antler velvet and have more research behind them. With that being said, The History of Whoo In Yang Sleeping Repair boasts much better ingredients for pure moisturization, since it contains ceramides, cholesterol, and phospholipids for barrier repair.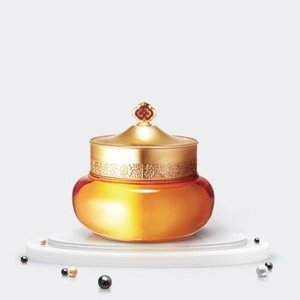 Experience and packaging:
Sulwhasoo's Overnight Vitalizing Mask EX offers a much more hanbang-y sensory experience due to its warm ginger scent, while The History of Whoo In Yang Sleeping Repair may be more accessible for people who are curious about hanbang but dislike heavier herbal scents. Meanwhile, seriously sanitation-minded skincare fans will prefer the Sulwhasoo OVM tube packaging over In Yang Sleeping Repair's jar packaging.
Results:
Generally speaking, The History of Whoo In Yang Sleeping Repair and the Sulwhasoo Overnight Vitalizing Mask EX give me very comparable results. Smooth, firm, plump, and lively skin despite any sins of not sleeping enough or possibly imbibing too much. But the lighter finish and consistency of the Overnight Vitalizing Mask make it a bit less moisturizing than The History of Whoo In Yang Sleeping Repair, so this one is down to individual skin type and skin needs (like all else in skincare!).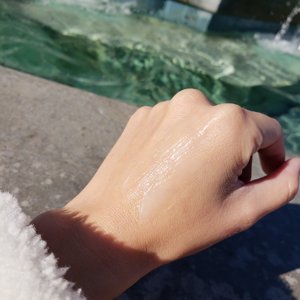 Verdict:
I have both. I enjoy both. I use both often. But with winter and the way my skin is lately, I find myself uncapping The History of Whoo In Yang Sleeping Repair much more frequently than I do the Sulwhasoo Overnight Vitalizing Mask EX, which is utterly crazy to me.
Like I said, The History of Whoo's aesthetic doesn't really speak to me, so I might have gone the rest of my life without trying a single one of their products and not felt much FOMO. Thanks to Renee, however, I did try one of their products, and luckily for both of us, I thoroughly enjoy it. Some of the herbs might be a little strange even for me, but they come together in a formulation that works marvelously on my winter-dulled skin.
Have you tried the In Yang Sleeping Repair or any of The History of Whoo products? What did you think? Let's talk about it in the comments below.
---
Author: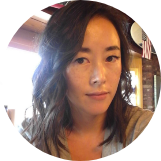 Jude Chao
Jude writes as Fiddy Snails at the K-beauty and skincare blog Fifty Shades of Snail and can be found on Instagram @fiddysnails. Named the ELLE Malaysia Beauty Blogger of the Month for June/July 2017 and one of ELLE Magazine's 10 Cool Beauty Bloggers to Watch in 2018, Jude loves ginseng, snail, honey, propolis, and tuna fish kimbap, though she generally doesn't put the kimbap on her face.
---
Comments