MeloMELI Review: What Works, What's OK, and What's *OMG Add to Cart Now*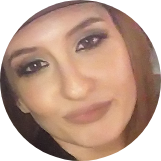 Coco Park
Feb 12, 2018
---
If you haven't noticed, we just added MeloMELI to our lineup of beauty brands at Beautytap. The brand new, super cute, cheeky line launched with a lipstick, a lip tint, and a cushion compact, all emblazoned with their signature melting heart worthy of a million IG posts. Here, contributing editor Coco Park takes a first look at MeloMELI and tells it like it is.
_____________________________________________________________________
I love discovering new brands. I think my favorite part of working as a contributing editor for Beautytap is trying out the latest curations. However, I do try to temper my excitement and enthusiasm so that I can give completely unbiased reviews, as I think that's very important. If there's no trust in your reviewer, then what's the point? Just know that if I hate something or love it, I get paid exactly the same y'all. I promise. Everything I say is exactly how I experienced it.
I went into this review knowing absolutely nothing about the brand. I didn't even read a single description or any promotional material. I wanted to be as clearheaded and unbiased as possible. (Of course, opening my MeloMELI package and being greeting with a giant unicorn on the BB cushion made me shed all my hardened scientific shell and squeee like a 12-year-old.)
OK, hardened shell back on, let's review.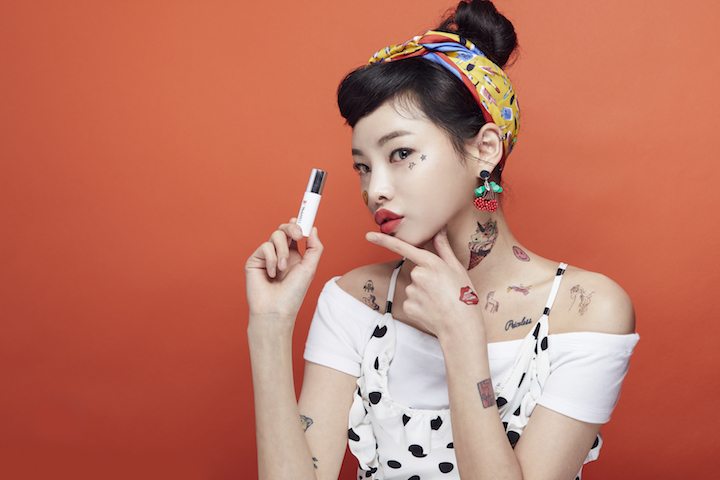 MeloMELI Cotton Shot Lip Tint
I'm admittedly a lippie junkie, and Korean beauty often has my very favorite formulations, so I was very excited to see this brand has both a liquid lip and a lipstick. I wasn't exactly sure what the liquid lip formula of the Cotton Shot Lip Tint was supposed to be since I went into this totally blind, so I first did some arm swatches to see what I was dealing with. What I came away with was a creamy, somewhat shiny bold color that left behind a stain when wiped away.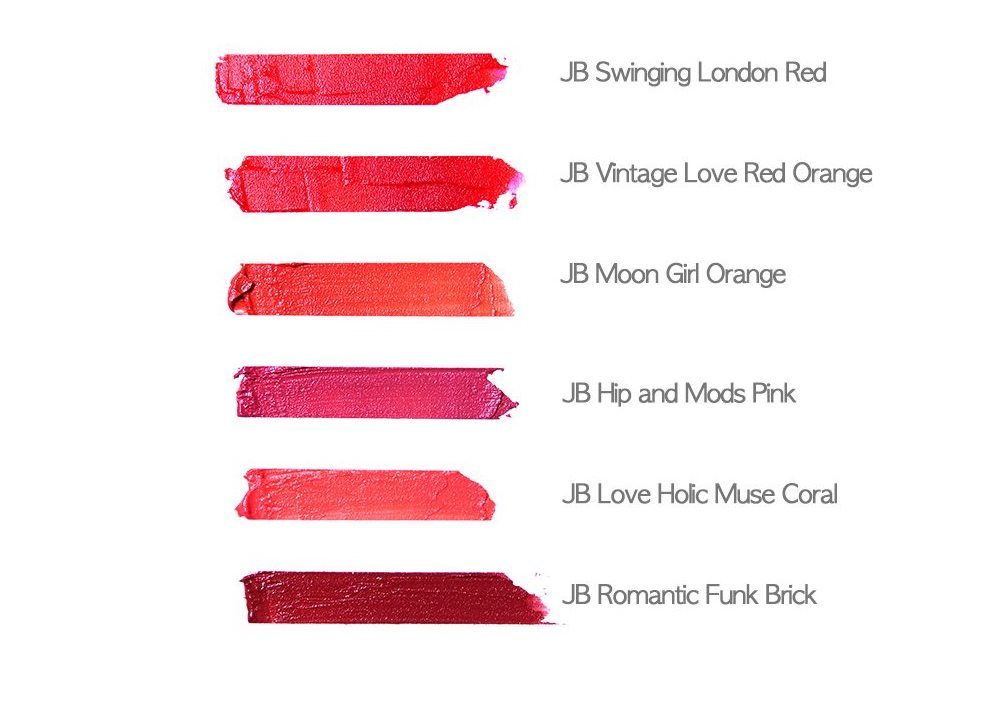 Once applied to the lips, I was very surprised as this wasn't at all shiny! It went on like a really cool, creamy but "dry" coating of color. When I say "dry," I don't mean dry as in drying, more like a really unique matte-cream. It's very hard to describe! It's slightly moisturizing, it's creamy in feel, but it comes off totally matte and somewhat like a milk paint texture. Kind of like the difference between a magic marker and a pastel stick. If you've ever done any art with a pastel stick, you'll know what I mean. It's a solid, somewhat oily stick that gives a chalk-like look but much bolder. That's exactly how these MeloMELI liquids are like! Really, it looks gorgeous. I really like the look. It's like an instant blotted lip. If you're a fan of K-dramas or K-pop, you've seen this type of lip a lot. I think it's very flattering and lovely. After testing all the shades and looking up their name, I came to the conclusion that Cotton Shot totally makes sense. Good call, MeloMELI.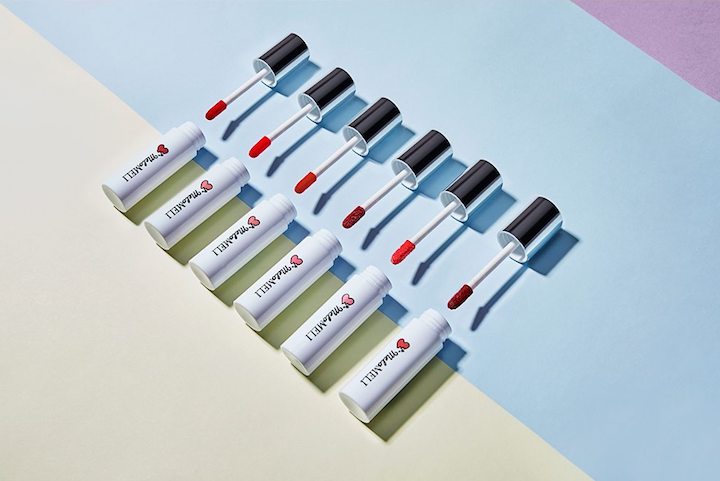 The formula wore well without fading for a full six hours for me, and the stain lasted even longer. I tackled a plate of greasy-ass chicken wings while wearing one of the corally shades (JB 03 Moon Girl Orange), and while it didn't last through that kind of brutal testing, it did leave behind a very nice stain, so it's not like I had bare lips when I was done. If you're wearing this as a stain and blot away the excess, it'll stay that way for a very long while, even through eating. If you're wearing it as a full heavy lip, you'll probably have to reapply after eating unless you're careful.
As for the shade selections, they are very nice! There's really something for everyone here. I gravitate towards reds personally, so I particularly liked JB 02 Vintage Love Red Orange and JB 01 Swinging London Red. 02 and 01 are definitely color sisters, or at least cousins, 02 being the orange-based red sister and 01 being blue-based pink leaning red. Depending on your preference, one of these could very well be your new favorite red.
The real standout shade in the line for me was definitely JB 06 Romantic Funk Brick, which is a gorgeous strong brick color. I love the inclusion of this color because it looks very much like a Western shade that you might see in a line like Kat Von D or Urban Decay. I've been wearing it a lot, and it really goes perfectly with my current wardrobe colors and recent color trends. Even if you have a drawer full of similar colors, I'd say this unique formulation is reason enough to give it a purchase. It wears well and really does feel great on the lips, which is a godsend during this dry as hell winter I'm currently suffering through. I would definitely recommend these to a friend!
MeloMELI Unicorn Heart Lake Cushion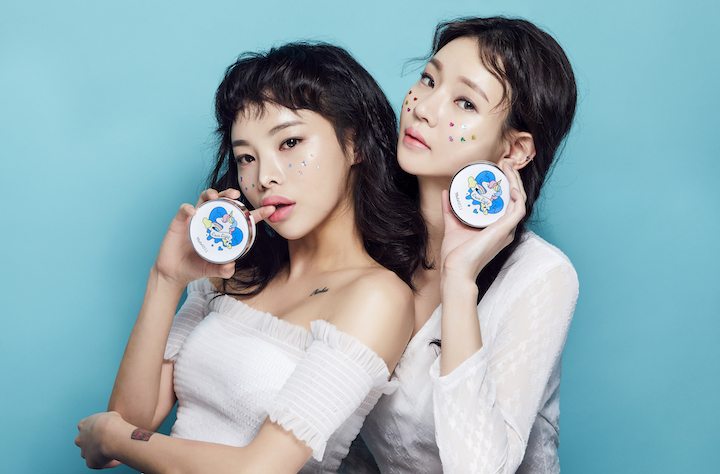 OK, first of all, MELTING UNICORN. If you're a lover of all things cute, kawaii, ulzzang, whatever, you're going to want Unicorn Heart Lake Cushion for the graphic alone. As for the formula, it's pretty middle of the road. If you need any kind of real coverage, this is definitely not the cushion for you. It's entirely inoffensive and just kinda … there. It does an OK job of evening out skin tone and making for a nice (albeit really freaking natural) look. It has a moist feel and isn't drying at all for my very dry winter skin. It wasn't overly moisturizing, though, and I think it should work well with oilier skin, too. The finish isn't overly luminous or matte; it's just kind of in the middle, like I said. The shade selection is appalling, of course, with just two to choose from: Pink Beige and Vanilla Beige. I did however appreciate that the pink shade wasn't Pepto pink like a lot of K-beauty cushions can lean toward. I was actually able to wear the Pink Beige shade (I'm usually a shade 23); in fact it fit me quite nicely. That never happens with pink shades.
One little feature I appreciated on the pact itself was that it wasn't a latch mechanism — the lid is a magnet. I usually have oily fingers from my oil heavy winter skincare routine and have trouble getting cushions open. This one just pops up with ease since it's a magnet closure. Anyone who's dealt with a broken latch will find this to be a much more reasonable cushion build.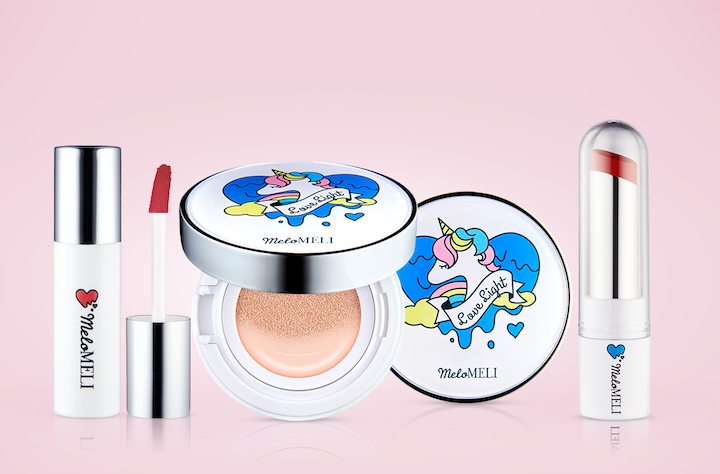 Also, did I mention the adorable unicorn? Cause there's an adorable unicorn on the cover, and I suspect that might be reason enough to purchase for a lot of people. I think this could make a nice gift for someone as the compact itself is very lovely and the formula is fairly universal and should work for most. Ideally I'd say this is for someone who already has their skincare routine on lock, their moisture barrier is healthy, and they just want a little somethin' somethin' to even out their tone. If you have major flaws or discolorations and need heftier coverage, this probably isn't the product for you.
MeloMELI Matte X Heart On The Lips
Heh heh, heart on. Heh heh, and it's on your lips. OK, now that I've got that bit of juvenile humour out of the way, I can get to my favorite product from the brand.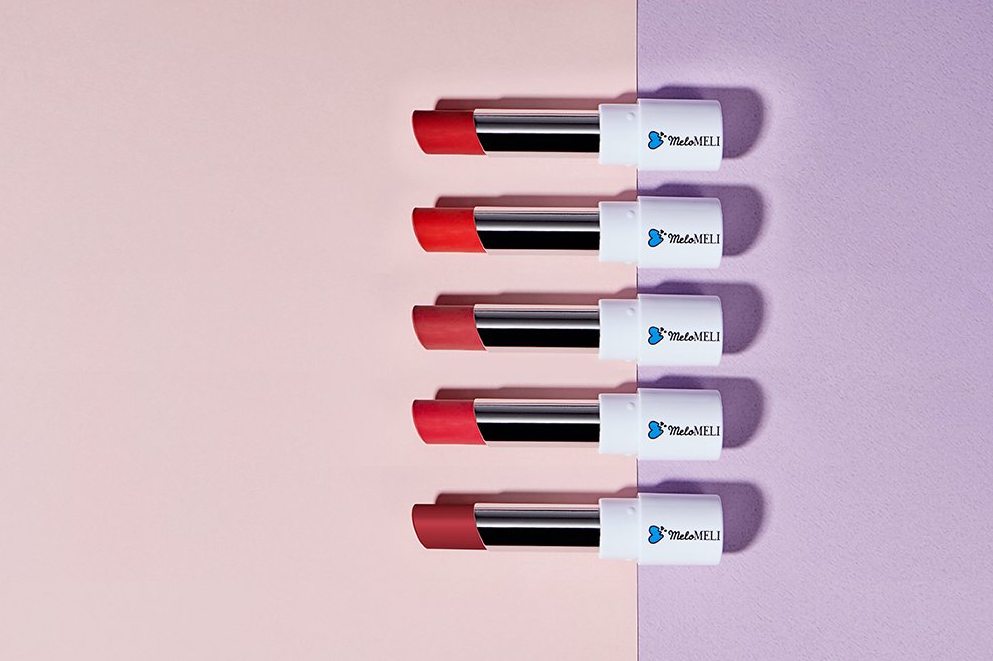 The Matte X Heart On The Lips is a nice, chubby, roll-up matte lipstick. Compared to the unicorn cushion, the packaging is a bit of a snorefest. It's simple with a small graphic on a plain white plastic background with a cheap plastic lid — but inside lurks a beauty. This lipstick goes on wonderfully rich in color with just one swipe. Man, I'm telling y'all, Korean beauty absolutely kills it in the "matte but somehow slightly moisturizing and doesn't turn your lips into a crispy mummy" game. I don't know how they do it, but man I'm in awe.
This product is a perfect example. Case in point: It was —25 degrees, I went outdoor ice skating while wearing this product and despite my huffing and puffing, gross mouth breathing, brutal frigid air, and the nonstop snow, my lipstick stayed looking flawless. Most importantly? Not a crusty flake to be seen. I was highly impressed. The colors are very vivid and swatch true to the ad materials from Korea that I later found online (speaking of which, in the Korean ads, a very cute boy band are modeling these lipsticks, so shout-out to them!) I did not expect such a nice product judging from its rather plain exterior packaging.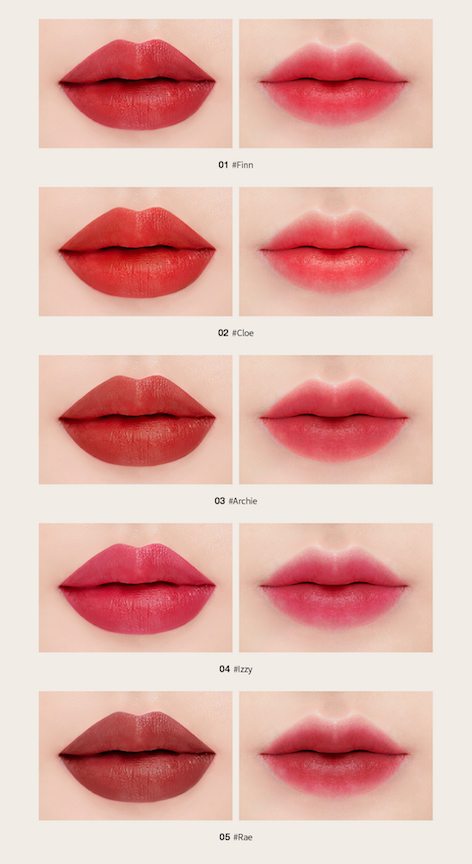 I'm also impressed with the color palette they've curated here. While it's not a huge wide variety, all of the shades are very flattering. Like the Cotton Shot Lip, they've also included a shade I associate with a more Western palette, and I'm absolutely in love with it. My personal shade selection here is 05 Rae, which I think would look especially pretty on darker skin tones and works beautifully as a dramatic shade for light skin tones. It's also in the brick family like the 06 shade in the Cotton Shot line but leans way more brown. It's very a en trend and current shade.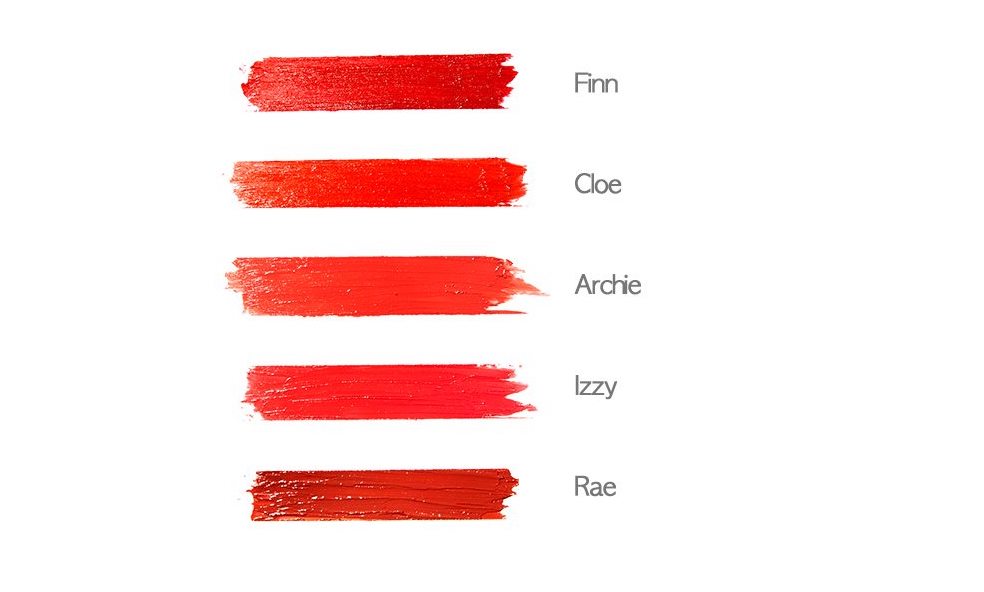 I also really like 02 Chloe and 01 Finn, which are in the red family. There's also a lovely pinky fuchsia called 04 Izzy that looks especially nice with a warm bronze chocolate eyeshadow and baby pink blush. 03 Archie is a great bold neutral pink that isn't overly boring for a neutral. (Shout-out to all these adorable names btw; they sound like a hipster daycare class in the US or the names of really cute dogs. I could totally see myself having either triplets or a pack of dogs named Archie, Finn, and Izzy. 😀)
The wear time on this isn't as long as the stains, of course, but as long as you're not eating or licking your lips too much, they do have a decent wear time. I was out for three hours in mine the day I went skating and there was no fading. I also wore it indoors through drinks for about four and a half hours before it started to slip away. Overall, a great showing and Rae is my new bae.
Welcome to Beautytap, MeloMELI!
Are you excited to try MeloMELI? What colors are you going to get?
---
Author: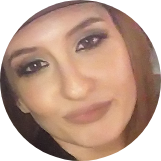 Coco Park
Coco Park is an author, beauty journalist, blogger, podcast host, and all around oddball living in Montreal Quebec with her family. Originally from the southern USA, she worked for several years in the makeup industry as a professional makeup artist and holds a certificate in esthetics. She is a proud member of the Choctaw Nation of Oklahoma. Want to know more? Check her out on the Beauty Beyond Basics podcast, on her blog TheBeautyWolf.com, on Instagram @thebeautywolf, and in her book "Korean Beauty Secrets: A Practical Guide to Cutting-Edge Skincare & Makeup."
---
Comments