Olympics Beauty: The Best K-Beauty Products For the Olympic Athletes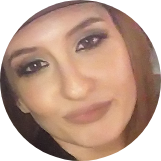 Coco Park
Feb 09, 2018
---
With the Winter Olympics in Pyeongchang, South Korea, in full swing, we have a little fun and imagine what K-beauty products we'd recommend for the athletes. Because in those frigid temps, Olympians need a healthy moisture barrier as much as they need to be in top physical form.
_____________________________________________________________________
Olympic athletes are usually given tons of swag from sponsors. Given that this year's Winter Olympics are taking place in the home of Korean beauty, I'd like to take this opportunity to give out imaginary gift bags to the athletes from my favorite events filled with the most apt Olympics beauty products for their respective talents.
Let the games begin!
Figure Skating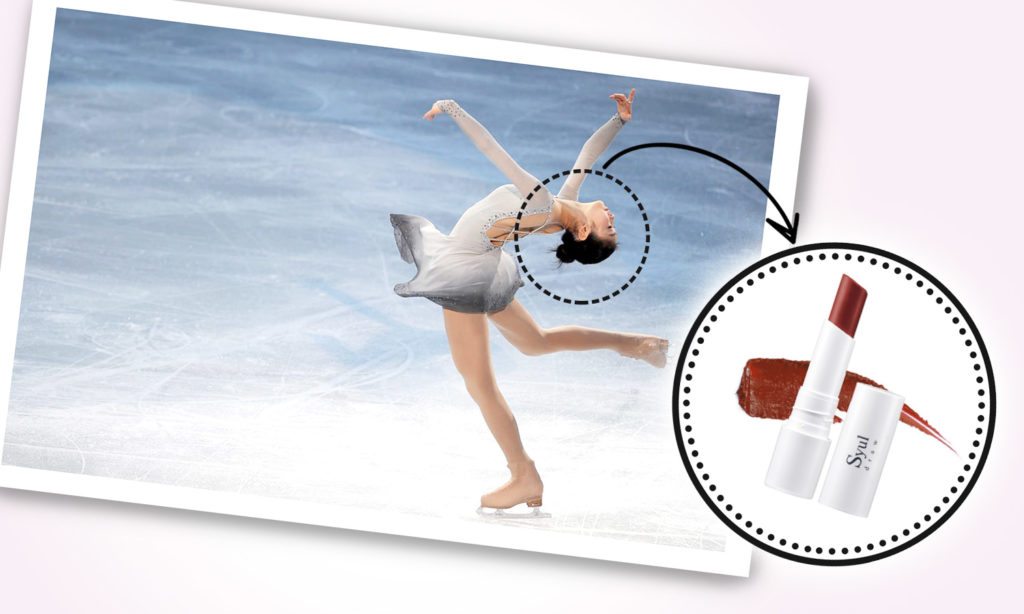 This is the sport that gets all the attention, and with all eyes on the gorgeous ladies of figure skating, they need an unforgettable lip. Swanicoco Show The Velvet Lipstick in Dry Rose is a showstopping, long-lasting, lip conditioning lipstick that made me gasp out loud the first time I swatched it. I then promptly ran to my Twitter and posted it for all to see. It is a gorgeous red that would couple perfectly with bronze, silver, or gold.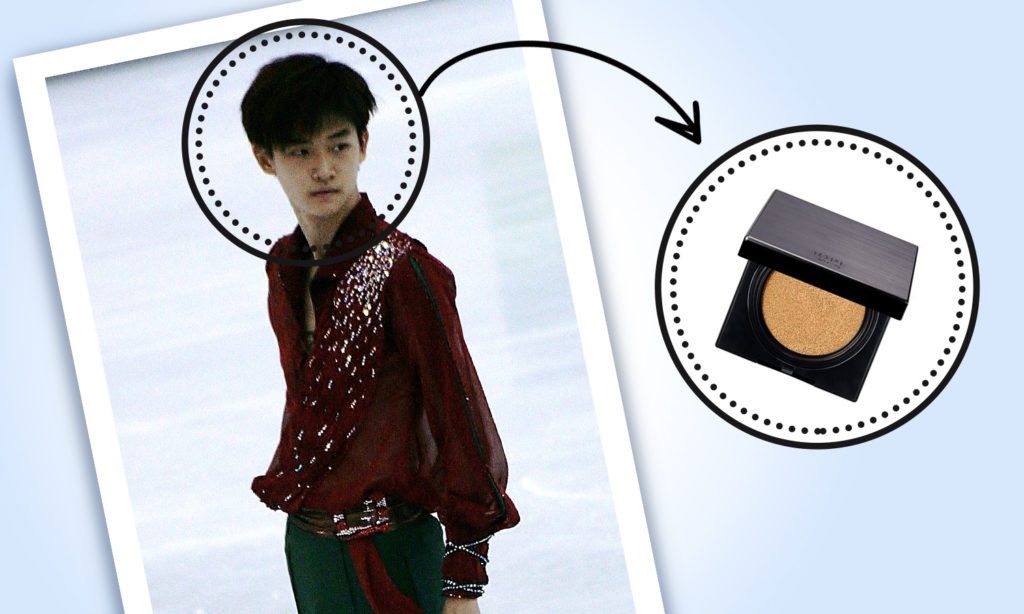 Flawless presentation is just as important for our male figure skaters, so I'd slip them the sleek Iope Men Air Cushion SPF50 to cover any blemishes or unevenness in tone. Plus the packaging calls to mind the steel blade of the skate. The old saying "When in Rome" is especially apt here, since Korean men think nothing of wearing a little BB cream themselves to put their best face forward (and they're not even facing the harshness of the Olympic judging committee).
Biathlon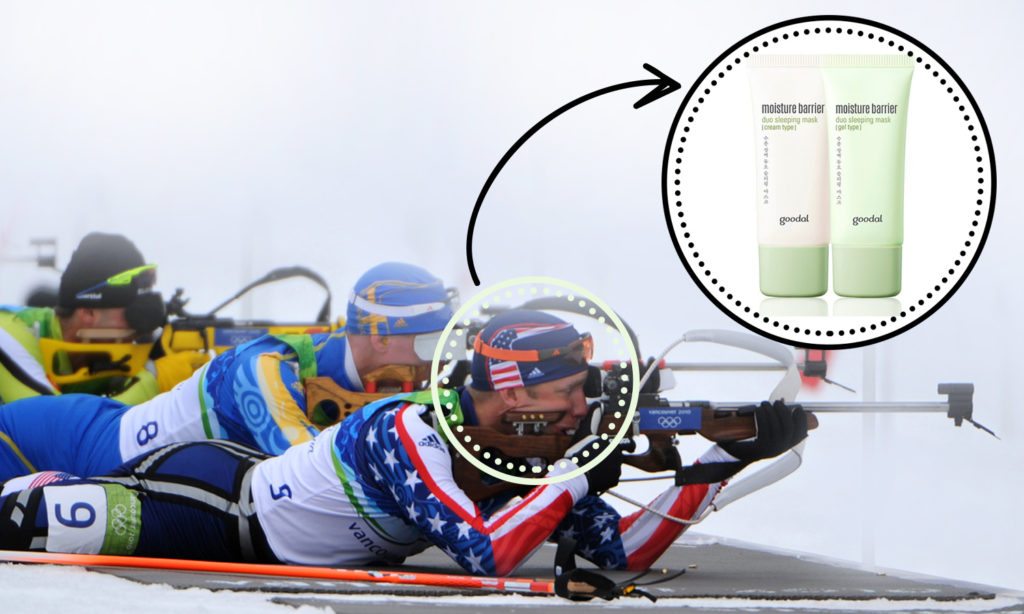 This is totally my favorite weird event. The sport that combines cross-country skiing and rifle shooting is the union of two things you probably wouldn't think to put together: marksmanship and endurance. But given that the whole reason our species was able to flourish was our mastery of long-distance hunting, I guess blending the two makes perfect sense. Goodal Moisture Barrier Duo Sleeping Mask also blends two different things and makes a winning combo. This set comes in both a cream and gel texture: The cream comes packed with hyaluronic acid and ceramides, the gel boasts urea and squalane. You can spot treat different areas at the same time or just alternate between the two. Either way your moisture barrier is going to be well protected, perfect for these athletes after racing for several kilometers and then shooting those targets.
Bobsleigh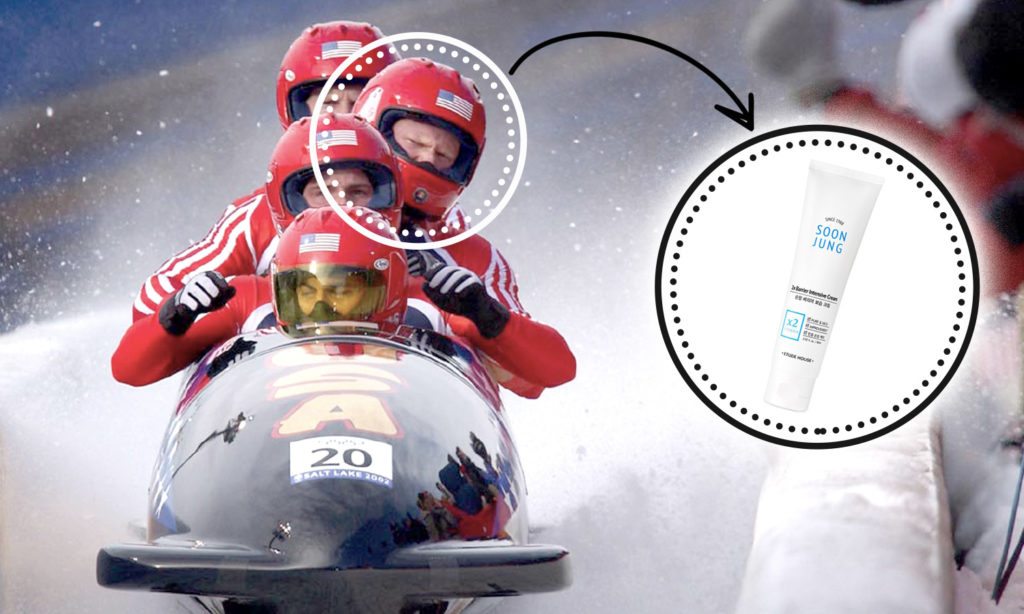 Who doesn't love the bobsleigh?!? With all those Cool Runnings in frigid temps packed in tighter than sardines with your teammates, you might be craving a little barrier between you and your fellow athletes. Since we can't actually put a comfort barrier between them, let's give these incredibly speedy duos and quartets a little barrier they can use. Etude House Soon Jung 2X Barrier Intensive Cream can, at least in name, provide a fortified front against the cold (and those too-close-for-comfort quarters).
Snowboarding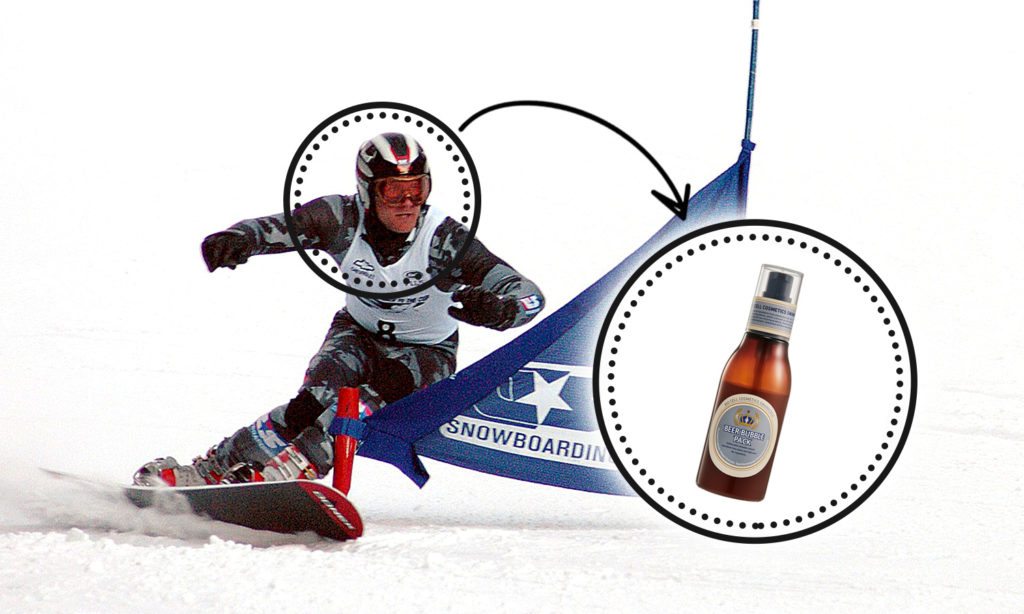 These are definitely the bros of the Olympic world. They also usually have quite the reputation for being the biggest partiers at the Olympic Village, so what better way to get a bro to give their skin a treat than to make it look like a celebratory brew? Swanicoco Beer Bubble Pack is the perfect potion to help deliver some much needed anti-inflammatory action via brewer's yeast. Plus the way it foams up will remind them of shreddin' the gnar on those snowy slopes.
Luge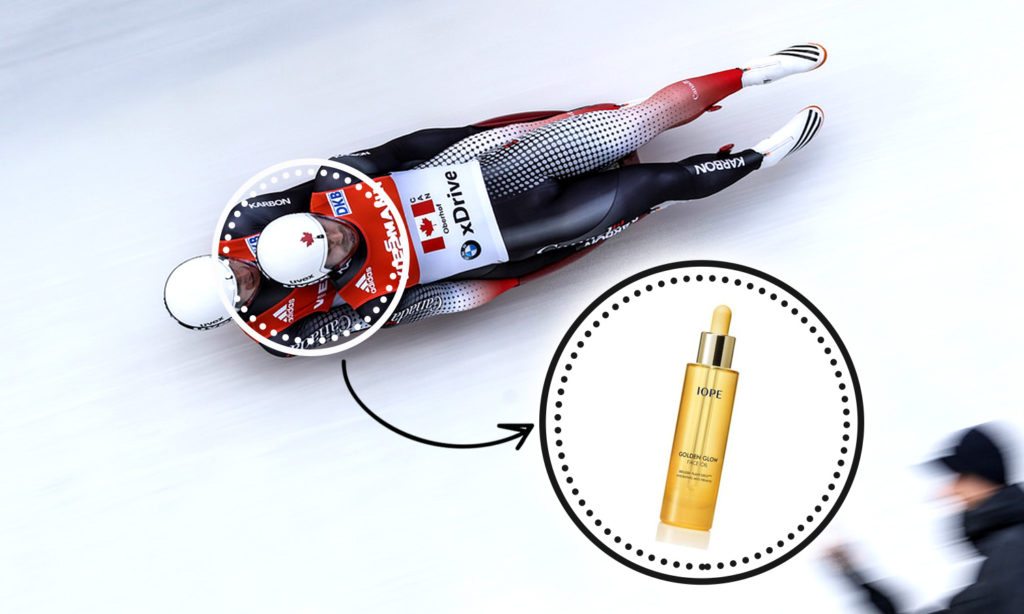 What do you gift a human bullet? Some oil, of course! What kind of oil? This is the Olympics, so obviously it has to be golden oil. Let the slip of Iope Golden Glow Face Oil remind them of how effortlessly they zip down that track. Hopefully, the four types of golden elements within (golden flavonoid, golden roots, golden flax, and golden needle flower) will also propel our brave athletes toward their gold medal dreams.
Curling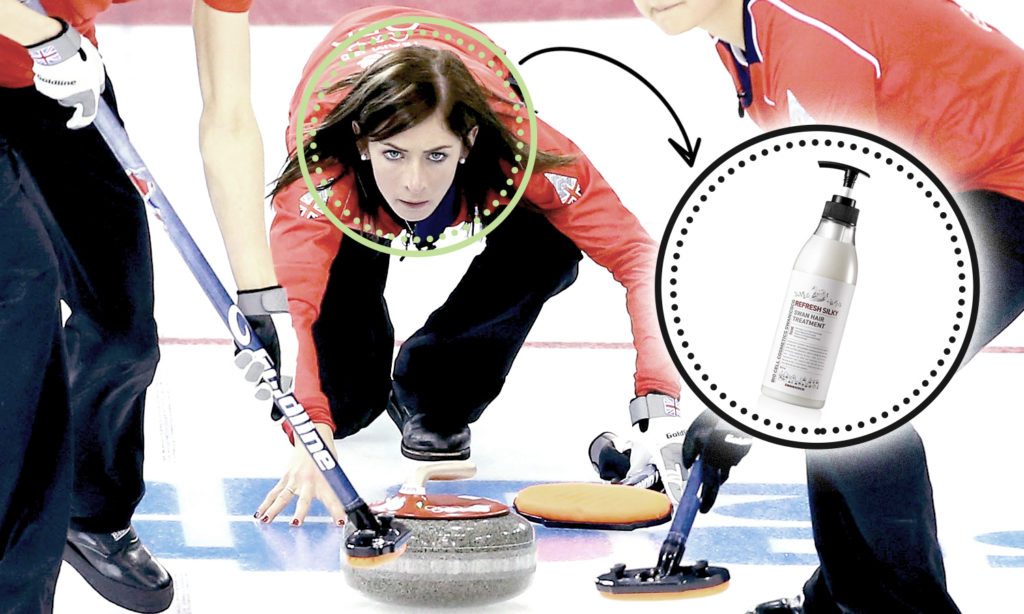 OK, living in Canada has totally turned me onto the poor, oft-maligned sport of curling. People say it's boring and just oversized ice shuffleboard, but it's actually quite fun! Hurling that big 44-pound rock down the ice toward the target takes a lot of skill. There are also a lot of tight shots on television of the team furiously sweeping the ice to make a path for the rock to travel. Since this is one of the few on-ice sports (aside from figure skating) that don't have helmets to cover your hair, I think these curlers could do with some great hair care so the world can see them shine. Swanicoco Refresh Silky Swan Hair Treatment contains camellia extract, pomegranate extract, green tea extract, ginseng extract, walnut extract, black bean extract, and aloe extract to give your hair a silky sheen and protect against dryness. It's also great for damaged hair — not that I can imagine anyone on a curling team going buckwild in the hair department, but you never know!
Hockey
As a Canadian resident, this one is a huge one for me personally, but more importantly, a historic reunification is taking place on the ice in Pyeongchang. For the first time since the Korean War, a unified Korea will be competing together as one. Both North and South Koreans will play as a unified front to battle for the gold in hockey.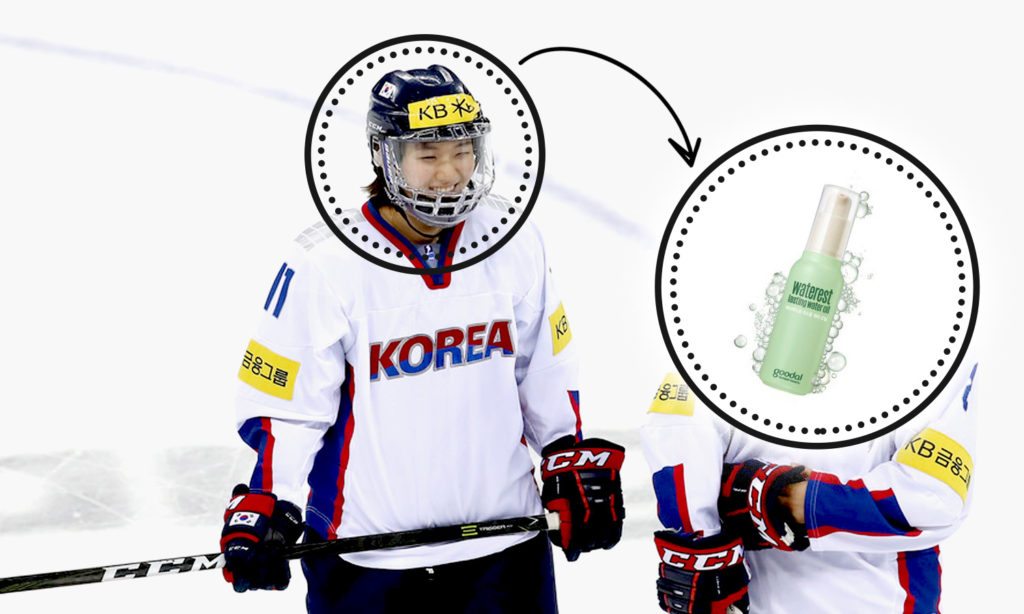 Since the '50s, North and South Korea has gotten along about as well as oil and water. What better product to symbolize how surprisingly well the two factions have been getting along during practice than Goodal's Waterest Lasting Oil. This watery "oil" is a hydrating serum that works wonders to strengthen the moisture barrier, which in a perfect world should be the athlete's only concern (instead of, say, guarding the DMZ). Goodal's Waterest Lasting Oil surprises people (just as this team has): It's especially great for people who think they're not ready for an oil yet but still want the benefits of one. I guess kinda like how this unified Olympic team is great for a country who thinks it's not ready for reunification yet but would like the benefits of it. A friend of mine got a gnarly, accidentally self-inflicted chemical burn and Waterest oil really helped heal her skin — a great example for the two Koreas and their deep wounds that need healing as well. (Now that would be true Olympics beauty.) Hey, it's corny but the sentiment is there. Let's bring the world together as we watch the world compete for gold with a little skincare and a whole lotta self-care!
Are you excited to watch the Olympics in Pyeongchang? What Olympics beauty products would you recommend for the athletes? Join in on the fun in the comments below!
---
Author: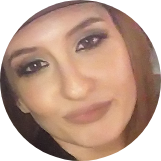 Coco Park
Coco Park is an author, beauty journalist, blogger, podcast host, and all around oddball living in Montreal Quebec with her family. Originally from the southern USA, she worked for several years in the makeup industry as a professional makeup artist and holds a certificate in esthetics. She is a proud member of the Choctaw Nation of Oklahoma. Want to know more? Check her out on the Beauty Beyond Basics podcast, on her blog TheBeautyWolf.com, on Instagram @thebeautywolf, and in her book "Korean Beauty Secrets: A Practical Guide to Cutting-Edge Skincare & Makeup."
---
Comments