Essence, Serum & Ampoule 101: What's the Difference (& Does It Matter?)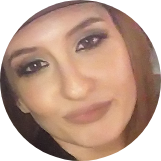 Coco Park
Jun 25, 2018
---
Korean beauty may seem confusing at first, what with all the steps and layering and terminology. But once you understand the basics, it's really not that hard (and your skin will thank you!). So here, a primer on the difference, if anything, between an essence, serum, and ampoule.
---
If you're new to the world of K-beauty or even if you're a seasoned pro and were just too afraid to ask, I'm about to break down the difference between essences, serums, and ampoules. As you might have already guessed, there's really not a lot of difference, and I think that has led to a lot of longtime confusion amongst the skincare set. So let's clear it up once and for all.
Ampoules
I'll start with ampoules first, as this is the product amongst the three that actually does warrant its own category. Ampoules are usually highly concentrated doses of an active ingredient and are almost always like water in texture. Because of this, your ampoule should pretty much always come first, directly after your toner (or even before your toner if you're using a very thick toner).
Because ampoules are made up of such an intensive dose of ingredients, they're usually the most expensive part of a routine. Eyes tend to bulge when scanning the price of ampoules, but I guess this is a case of you get what you pay for, for the most part. There are some ampoules out there that make me throw back my head and laugh when I read the ingredients versus the price. If someone is trying to charge you $100+ for an ampoule that lists plain water as its first ingredient, run!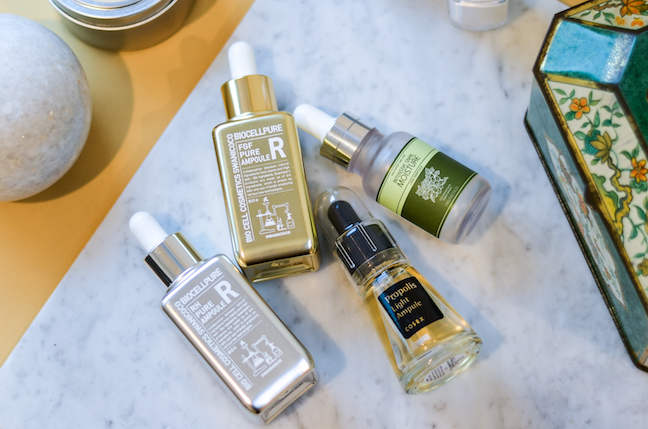 Ampoules are fun and really helpful because they're what assists in making your routine truly individual. You can target highly specific symptoms with an ampoule and really give your skin a powerful dose of a helpful formula that will get right in there and do its job.
If you're looking to enter the world of ampoules, I think Swanicoco is a great company to look into as it has several that are truly stellar and at several price points. I don't know of a single person that didn't love Swanicoco's EGF and FGF ampoules (especially when used together). They were even Jude's pick for the best of Swanicoco. The function of this duo is focusing on skin growth factors to improve texture and function. The ingredients are all backed by science and the results are visible. They are a bit pricey when sold separately (trust me they're are worth it), but they're slightly cheaper when sold as a set, so keep your eye out for Beautytap's dailytap as they've been known to show up there.
If you're not ready for the world of peptides and growth factors, Eclado Professional Formula Snail Ampoule is a great way to address dehydration and dryness. It's especially great to use in humid climates or in the summertime when you're still battling dryness but want something light that will really get to the heart of the matter. It's on the pricier side at $66, but that's actually on the cheaper end of the scale when it comes to concentrated ampoules. Also you can keep an eye out for dailytap deals as I've seen it on sale via those as well!
For a budget option COSRX's Propolis Light Ampoule is only $24, and its first ingredient is pure black propolis extract at a concentration of 80% — that's wild! Propolis, of course, is famous for its anti-irritation and anti-aging properties. Once again COSRX comes out with a product formulation that they could easily charge double for but make it affordable for all. Have I told you lately that I love you, COSRX?
Essences vs. Serums
OK, here's the biggie. What I'm about to tell you might shift your whole world view. OK, ready?
The big difference between essences and serums? A big fat nothing. They're the same thing! It all comes down to marketing and the specific manufacturer. It's super confusing because there is such a wide range of formulas out there, you may think an essence is lighter or a serum must be thicker, but really it could go either way. To confuse things even more, there are "watery" essences that feel more like an ampoule in texture, and as if that weren't enough, there's even "ampoule serums." It's no wonder you're confused!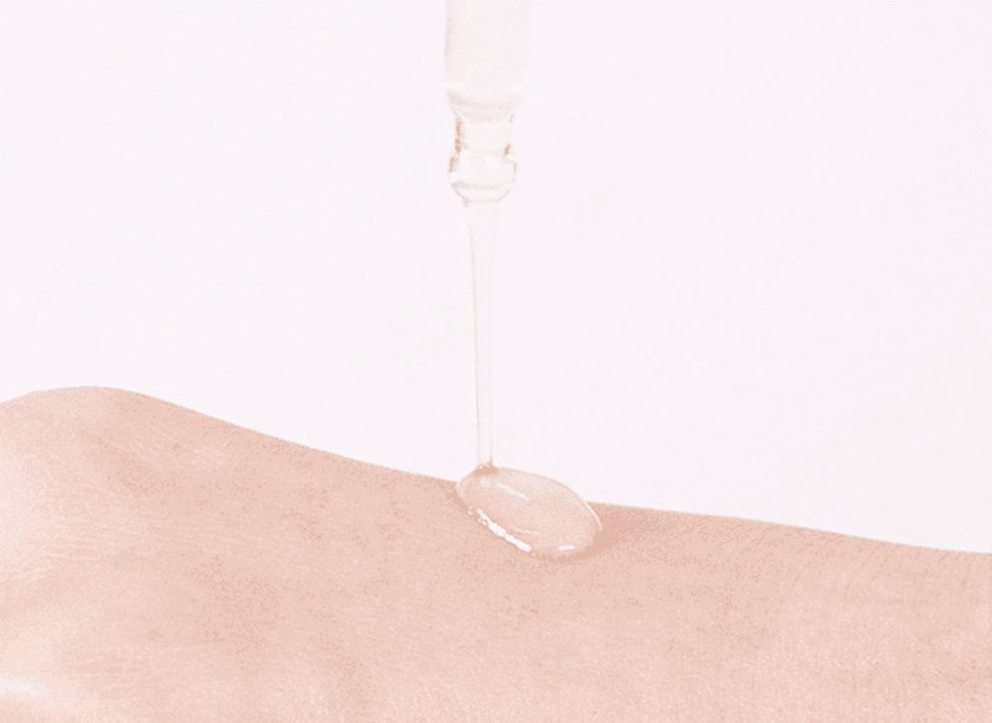 If you're not sure what you're going to get and you're searching for a particular texture, I recommend Googling the product and trying to find a review with pictures or video to get an idea of what you're going to get. There are some marketing materials out there that bill serums as being strictly moisture boosters, or serums as slightly more concentrated ingredient boosters, or ampoules as the most powerful ingredient shots. While the ampoule part of that is true, no one has decided one way or another about serums versus essences, and I've seen some that perform as those respective definitions and some that don't. Basically, it's a confusing marketing-based crap shoot. Again, doing your homework will really help you decide what's right for you and which purchase will work best to bring you the results you're looking for.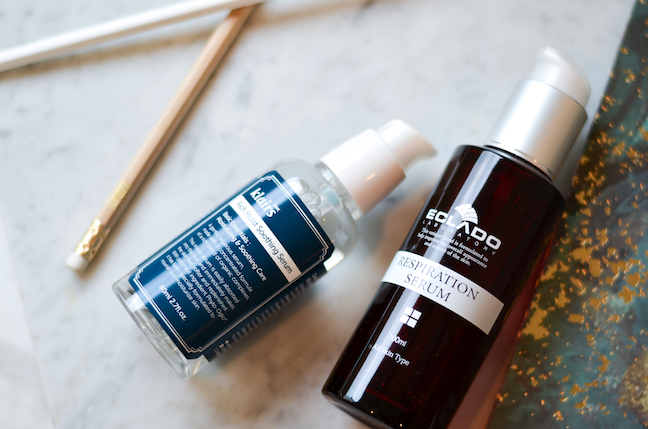 Now, with all of that said, I still haven't explained exactly what a serum or essence's purpose is. Essentially they can be either moisture boosters or concentrated skin boosters. They come in all different textures and with all different purposes. One of my favorite thick textured serums is Swanicoco Fermentation Care Serum; this one saved me over the winter. It has a thick, almost emulsion type texture, and it's filled with fermented goodness. On the opposite end of the texture spectrum is Eclado Respiration Serum, which is more gel-like but also full of fermented ingredients as well as botanical extracts. For a budget friendly option, check out Klairs Rich Moist Soothing Serum at under $25; it's deeply hydrating and has sodium hyaluronate as the second ingredient.
As for essences, you can't do much better than COSRX Advanced Snail 96 Mucin Power Essence, especially for the price. Its first ingredient is pure snail secretion filtrate, making it a powerful essence with a welcoming price point at $19.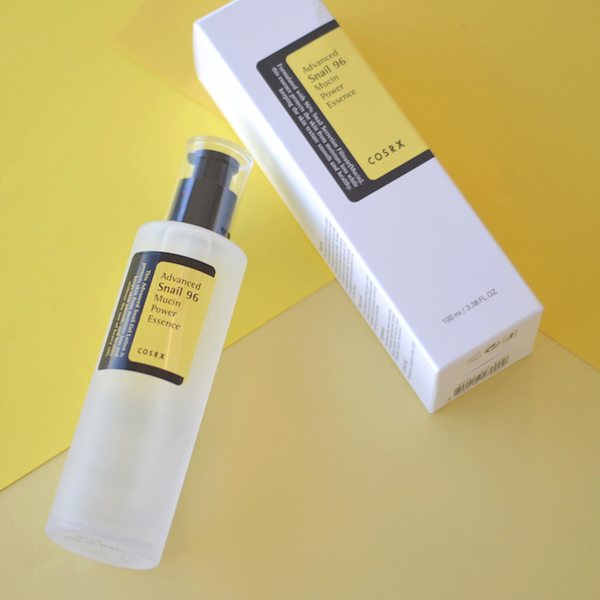 via GIPHY
For a thicker essence there's one of my personal favorites, SanDaWha Multi Action Intensive Essence. Whereas the COSRX essence is a clear gel, this is a thicker, more opaque formulation. Its first two ingredients are Camellia japonica flower extract and Camellia japonica seed oil (I am such a fangirl of all forms of camellia). It's very moisturizing and hydrating and chock full of lots of yummy antioxidants. The rest of the ingredient list reads like an all-natural hippie's wet dream and it's packed with botanical extracts. It's a bit pricier than the COSRX at $45, but I think it's well worth the price. In fact, it's similarly formulated to some essences that cost triple that price.
The main takeaway is that essences, serums, and ampoules generally go between your toner step and your moisturizer, which seals all those active ingredients in. Layer them on in order of most lightweight to thickest, and you're generally good to go. (If you want to learn more about the Korean multi-step routine and what goes where when, check out this article.)
So if we've learned one thing today, it's that no matter what you're looking for, you can find it in K-beauty, even if you're not quite sure what it's called yet.
Do you have a favorite serum, essence, or ampoule? Do you use all three? Let us know in the comments!
---
Author: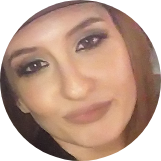 Coco Park
Coco Park is an author, beauty journalist, blogger, podcast host, and all around oddball living in Montreal Quebec with her family. Originally from the southern USA, she worked for several years in the makeup industry as a professional makeup artist and holds a certificate in esthetics. She is a proud member of the Choctaw Nation of Oklahoma. Want to know more? Check her out on the Beauty Beyond Basics podcast, on her blog TheBeautyWolf.com, on Instagram @thebeautywolf, and in her book "Korean Beauty Secrets: A Practical Guide to Cutting-Edge Skincare & Makeup."
---
Comments