The Best Korean Snacks to Munch On With Your Fave Korean Dramas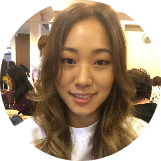 Angela son
Jun 27, 2018
---
Ever notice that your obsession with a K-drama is almost always complemented with an uncontrollable appetite for Korean food? We know the struggle to satiate your drama-induced cravings is real, so we came up with a list of some of the best ever Korean snacks and the latest dramas that pair perfectly with them. Keep scrolling and thank us later.
---
Few things, if any, are as enticing as a night in with a juicy K-drama. Throw in some yummy Korean snacks (and a sheet mask, of course) and we'd totally rather be doing that than just about anything else.
What is it about Korean munchies that heighten the K-drama experience? We're thinking it has something to do with the scene after scene of mouthwatering deliciousness. That is, after all, one of the key ingredients in the recipe of a hit drama and the likely cause of countless viewers scouring their pantries for ramen or wishing fried chicken delivery was available in the middle of the night like it is in Korea.
Sadly, those menu options are not always accessible or convenient — who wants to crawl out of a cozy bed mid-episode and wait for water to boil? So here's a list of some of the most addicting, ready-to-eat treats from the Motherland (also available in the States) and recently aired K-dramas that complement them. They go together like kimbap and tteokbokki so you can mindlessly munch while you Viki and chill.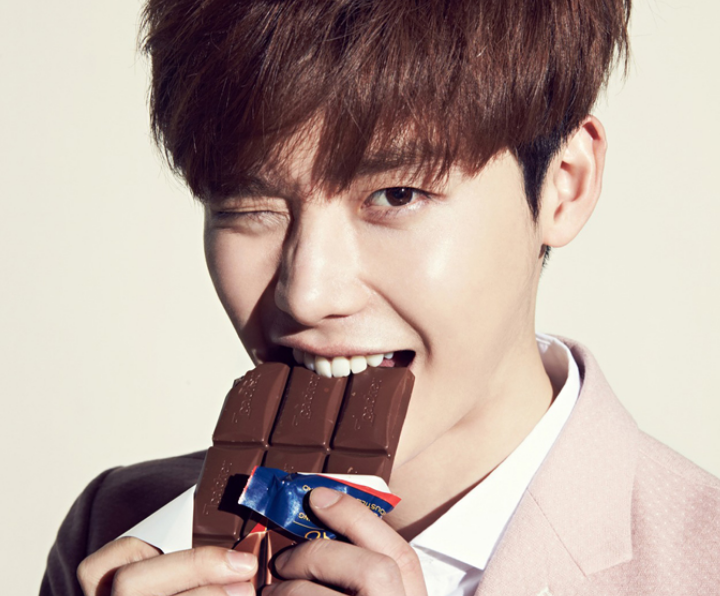 SNACK: Ppushu Ppushu (Ottogi)
DRAMA: Something in the Rain (aka Pretty Noona Who Buys Me Food)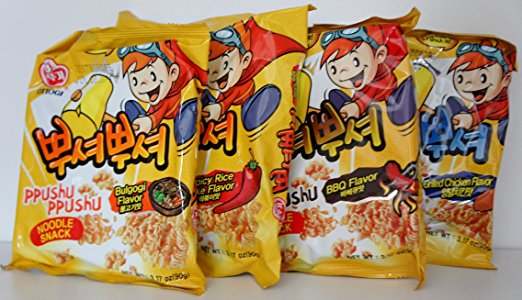 The ultimate ramen hack that delivers the same satisfying taste of the signature K-drama food without the water-boil wait time is Ppushu Ppushu. It looks like ramen, but you smash (bbu-shyeoh in Korean) the noodles in the packaging, sprinkle the seasoning all over, shake shake shake it up, and enjoy. The crunchy, savory pseudo ramen comes in a variety of flavors like bulgogi, spicy rice cake, BBQ, and grilled chicken. The appeal is real, guys.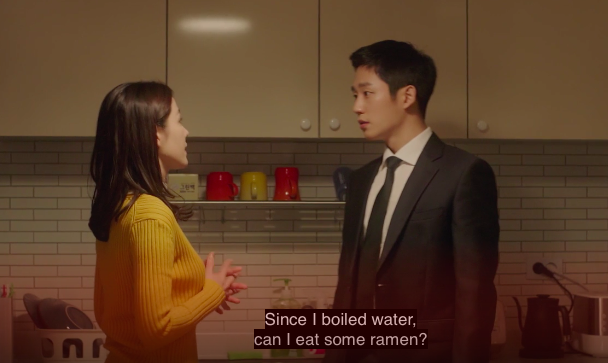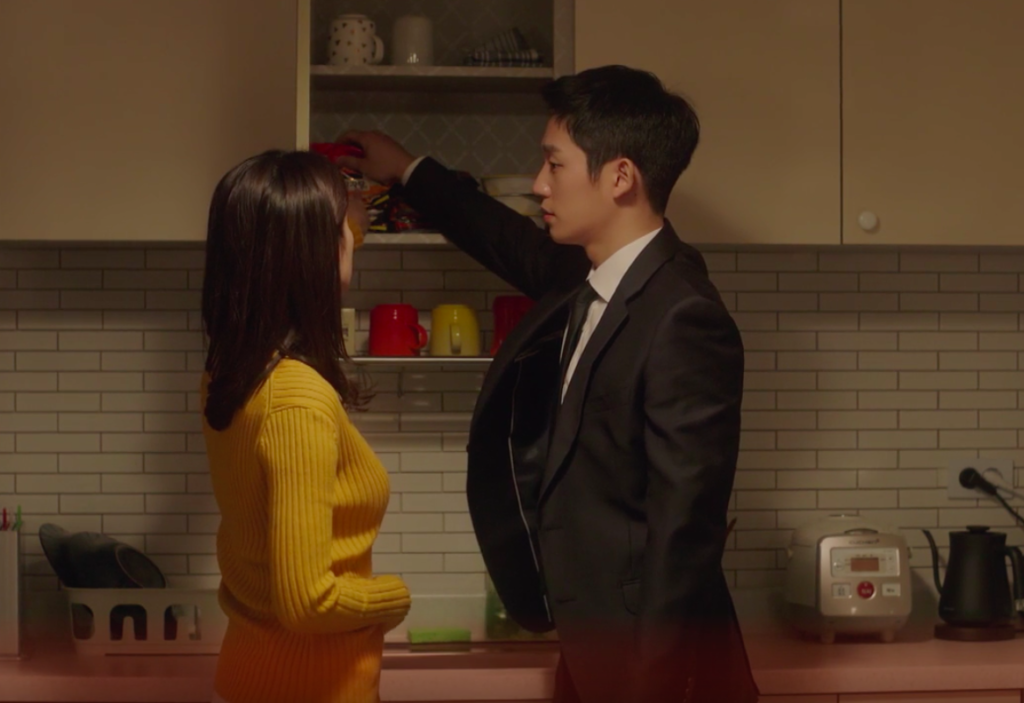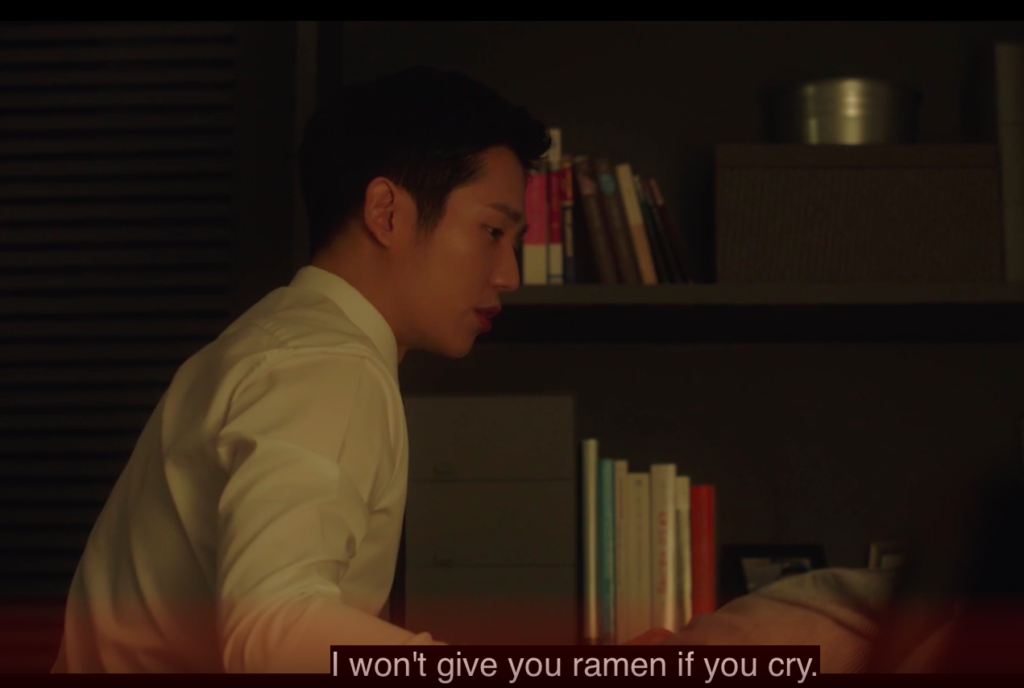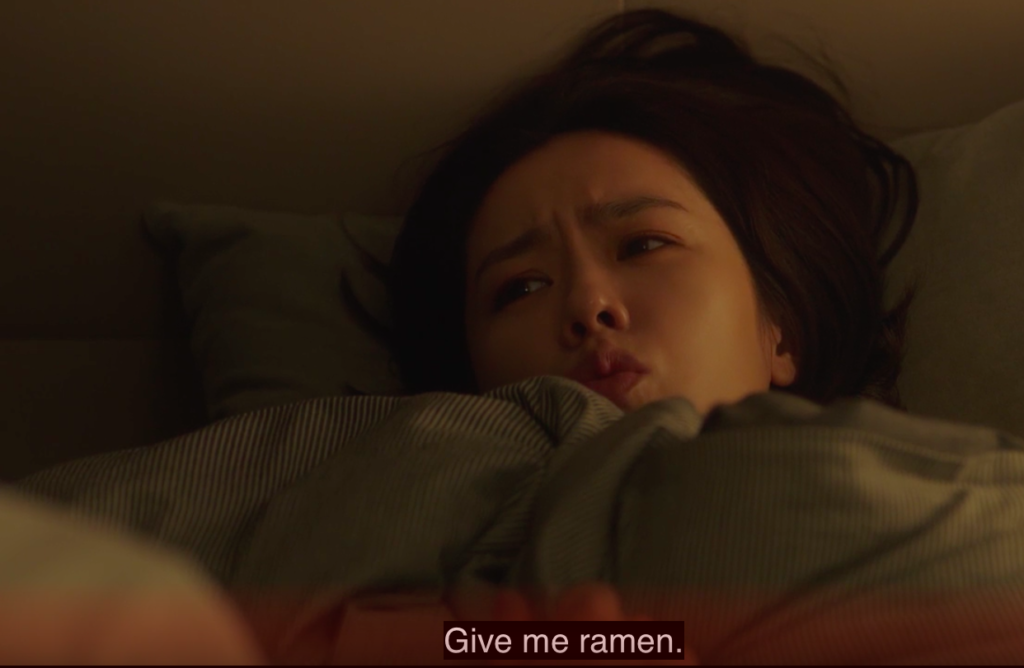 The K-drama soulmate for this iconic snack is the ever popular Something in the Rain, originally known as Pretty Noona Who Buys Me Food. True to its first name, the leading lucky lady played by Son Ye Jin and her seriously adorable, much younger BF, played by Jung Hae In, wine and dine together. A lot. But when they're not out enjoying candlelit dinners in romantic restaurants, they're at home hiding from the rest of the world (you gotta watch to see why), acting cute, arguing, making up, and eating ramen. In fact, ramen was a key peacemaker in one of the most heart-wrenching episodes — and we'll leave it at that. This series is deliciously packed with laughter, tears, passion, food, and flirting, so maybe grab a few of those Ppushu Ppushu's.
SNACK: Tteokbokki (Haitai)
DRAMA: About Time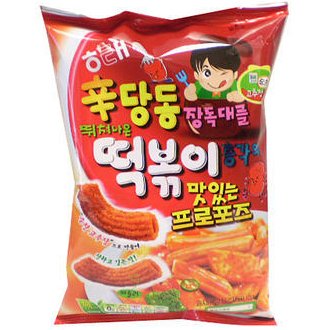 If you've walked the streets of Seoul, you've likely caught a whiff of the tantalizing aroma of spicy rice cake, or tteokbokki. This signature Korean street food consists of rice cake, fish cake, some veggies, and maybe a boiled egg, all stir-fried together in sweat-inducing red hot chili paste. Thanks to the easy-to-eat chip version, this delectable can be enjoyed in the comfort of your couch, no cooking necessary. It's surprisingly similar to the real deal, and even though you won't get that scrumptious chewy texture with these chips, the spicy flavors are enough to get you through an episode or two.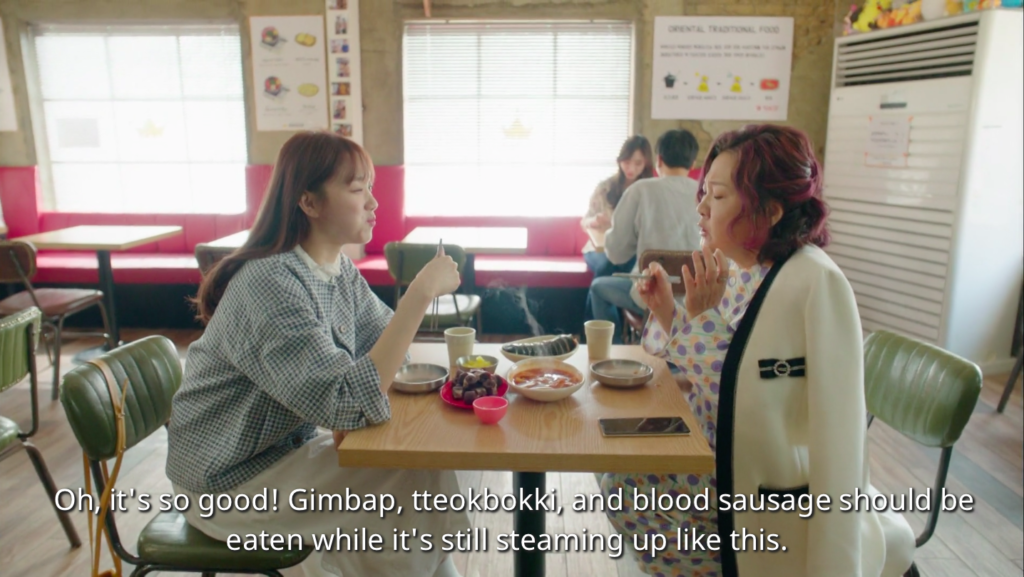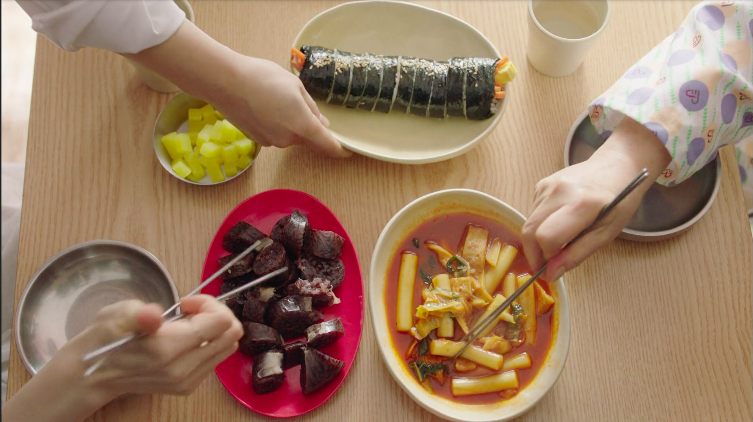 There are countless dramas that feature tteokbokki, but the latest one that's had us salivating for this street cuisine and opting for a bag of Tteokbokki chips is About Time. Michaela Choi (Lee Sung Kyung) can see everybody's life clock ticking away, including her own, but she meets a man who causes her clock to stop ticking and even extends her would-be short life. Pretty heavy stuff, but there are plenty of lighthearted, feel-good moments that make you appreciate the simple things in life, like steaming plates of kim tteok soon, slang for kimbap (Korean rice rolls), tteokbokki, and soondae (Korean sausage).
SNACK: Ghana (Lotte)
DRAMA: The Undateables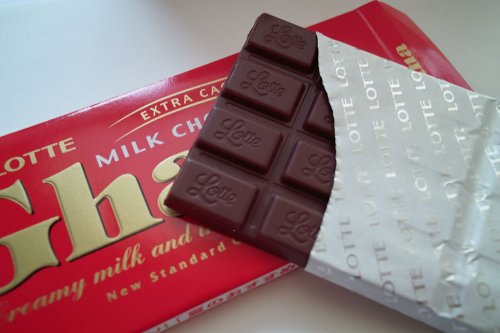 On those days your sweet tooth pines for something simple and hassle-free, nothing fills that yearning like a Ghana chocolate bar. As one of the most loved milk chocolates in Korea, it does not disappoint. Lotte supposedly micro-grinds the chocolate particles to make each bar irresistibly smooth and creamy. It also comes in mild and dark flavors to suit every one of your chocolate mood swings.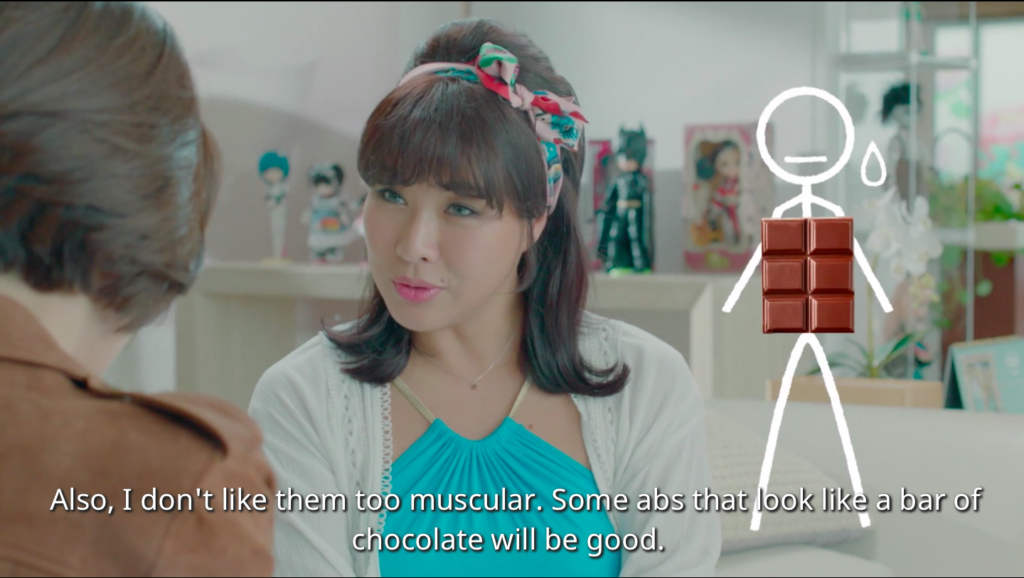 All this talk of chocolate bars gets us thinking about The Undateables, a hilarious drama about a professional matchmaker (Hwang Jung Eum) who's ironically a hopeless romantic without a lot of luck in her own life. In one scene, a client describes the ideal man she's looking for — one with "abs that look like a bar of chocolate." The literal visual aid of choco abs definitely has us craving some Ghana!
SNACK: Honey Butter Chips (Haetae x Calbee)
DRAMA: Revolutionary Love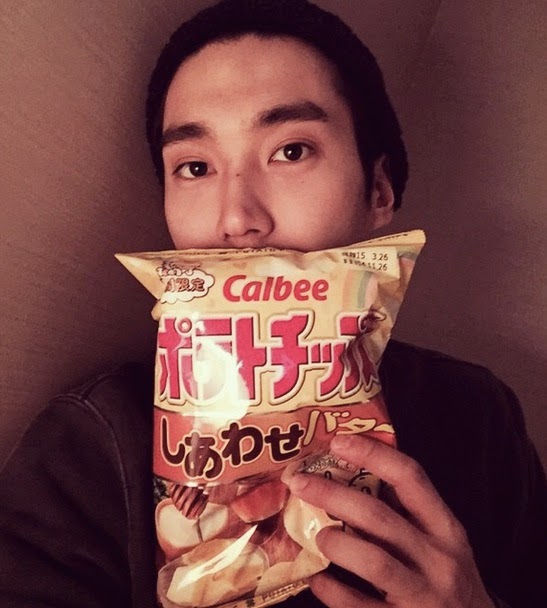 Nothing strikes the perfect balance of sweet and salty like Honey Butter Chips. These not-your-basic potato chips caused a national (if not international) hysteria by selling out time and time again after its release in 2014. Demand skyrocketed while the supply stayed low, and K-pop stars started displaying their own obsession over these snacks via social media — the magical formula for a cult-like craze over these golden yellow bags. One such star who helped fuel the fire was Siwon of Super Junior. He undoubtedly inspired many fans to drool over this heaven-sent snack with the above post.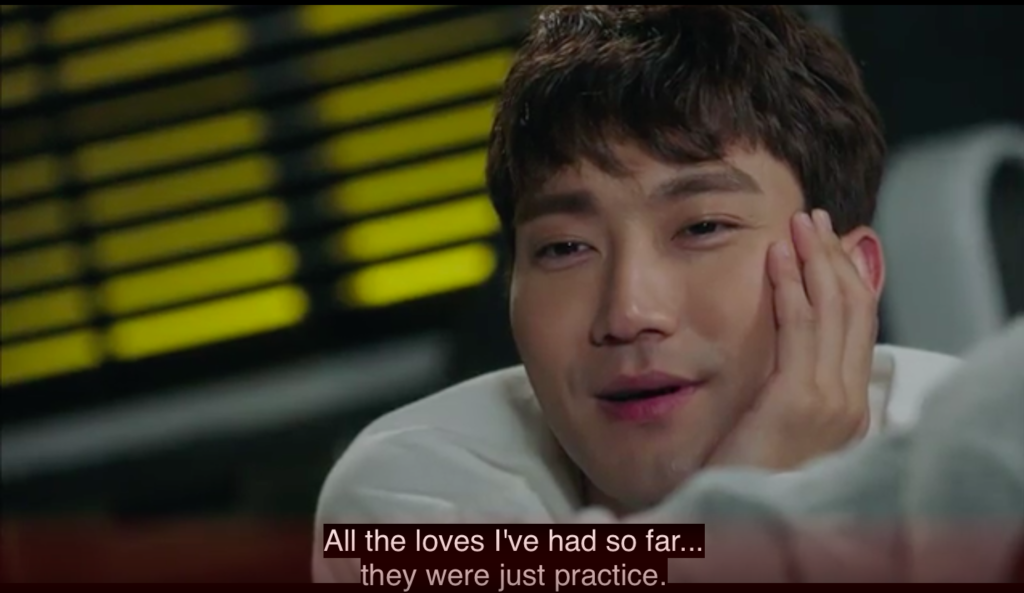 Siwon's controversies aside, his latest drama Revolutionary Love was released late 2017 and received lots of love thanks to the relatable plight of South Korean youth as they struggle in their careers and in the pursuit of quality of life in the "Hell Joseon" era. Siwon plays the lazy, spoiled (but humorous and adorable) chaebol heir who — without an inkling as to how the real world of part-time jobs, full-time careers, and employees' wages works — falls for a professional part-timing go-getter struggling to survive (played by Kang Sora). The clash of societal classes, the heartbreaking love triangle, and the heroic leading lady blend together to make this drama so scrumptious to watch, episode after episode, chip after chip.
SNACK: Waffle Mate (Lotte)
DRAMA: What's Wrong With Secretary Kim?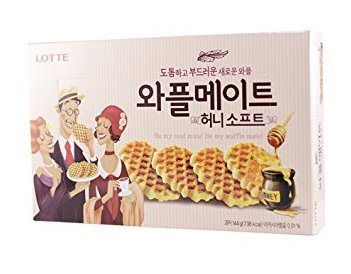 For those times when you're craving something like a waffle but can't be bothered with a toaster, syrup, or a fork and knife, Waffle Mate is the answer. With a hint of honey, each "waffle" is divinely flaky, subtly sweet, and melt-in-your-mouth soft. To have it once with your coffee or tea is to be hooked. There's just no going back.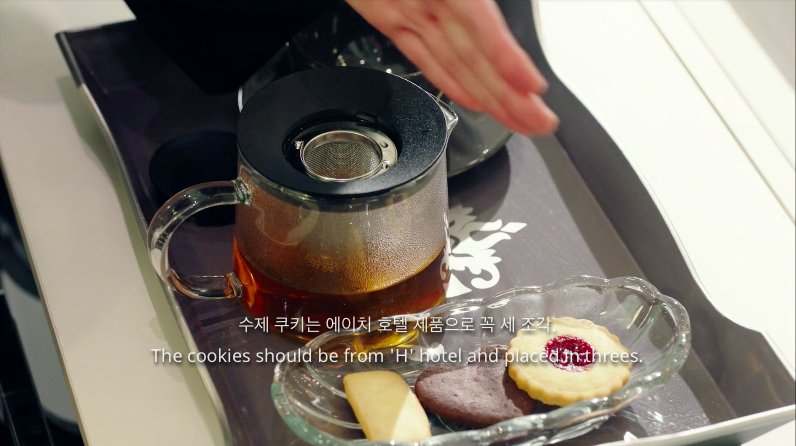 Waffle Mate reminds us of the assortment of biscuits and cookies that VP Lee Young Joon (played by Park Seo Joon) prefers each afternoon with his Darjeeling tea in the star-studded What's Wrong With Secretary Kim? The scene in which Secretary Kim Mi So (played by Park Min Young) and her colleagues review the nitpicky details of the VP's midday snack menu reveals a glimpse of how obnoxiously, hilariously narcissistic he is and how amazingly patient and hardworking Secretary Kim is. It also makes us want what we know is better than his tray of goodies — Waffle Mates — and a cup of tea as we Viki and chill the night away. Pinky's up!
SNACK: Onion Rings (Nongshim)
DRAMA: Wok of Love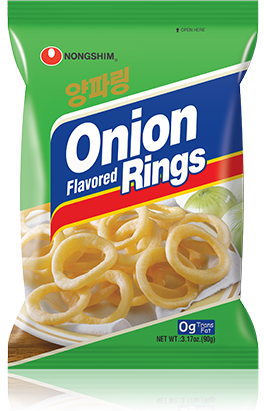 Want onion rings sans trans fat and dripping oil? Lucky for you, there's the classic Korean mega snack, Onion Rings. Made from dried onions and flour that are fried into ring shapes, Onion Rings are so light, airy, and crispy that you can go through the whole bag before you know it.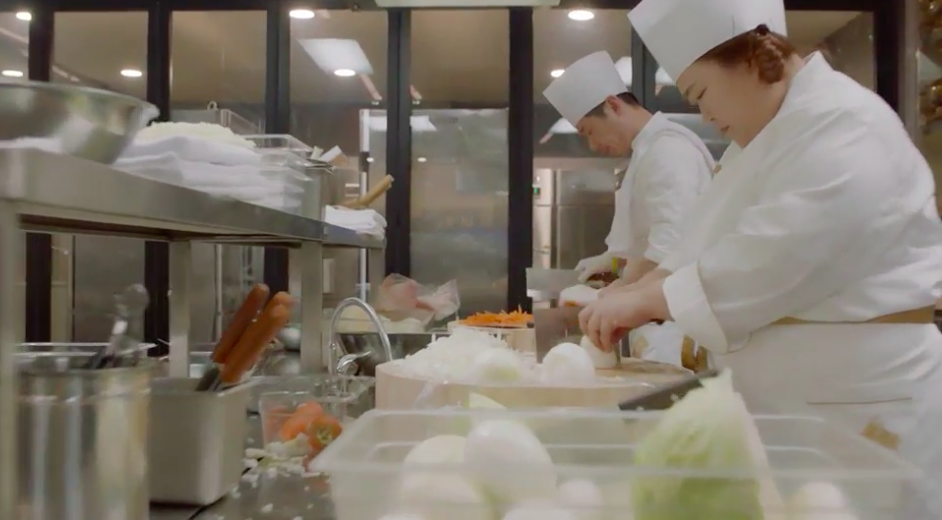 Major Onion Ring cravings start to occur from the very first episode of Wok of Love, a multi-flavored love story involving chefs and restaurateurs. There's a scene in a swanky hotel Chinese restaurant where the kitchen is busy with an army of chefs slicing up what seems like an endless amount of white onions. The executive chef yells at everyone to stop and start over because the onions are not sliced or cooked evenly and consistently. Maybe it has something to do with the flames and the rapid-fire cutting of the plump, juicy onions — whatever it is, that scene had us crying for Onion Rings!
SNACK: Jagalchi (Nongshim)
DRAMA: Fight My Way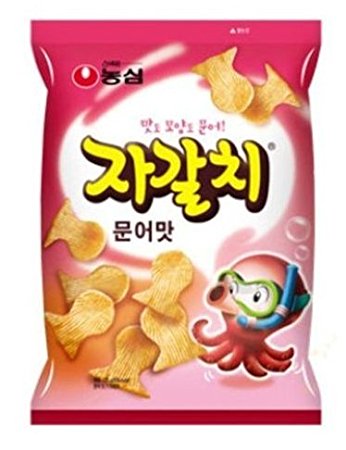 Adorable and delectable, Jagalchi is an octopus-flavored snack shaped like a cute little baby octopus. Pop one into your mouth, and you'll experience a fresh, light crispiness with a surprising sweetness. Don't underestimate these little guys — they're addicting!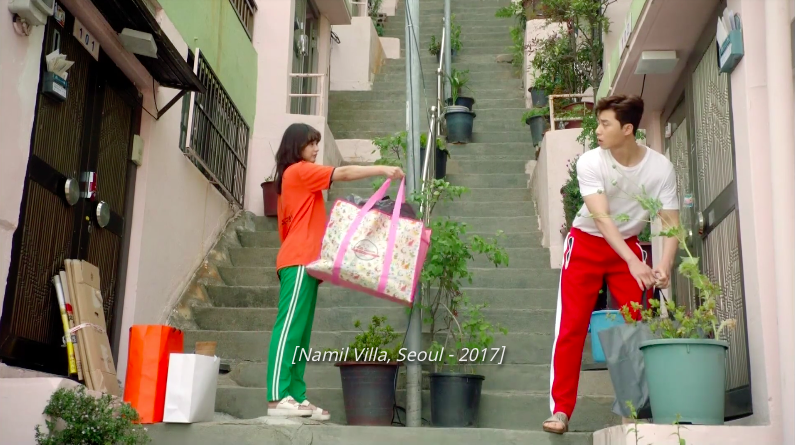 The chips are named after Jagalchi, one of the largest fish markets in Busan, which naturally has us thinking of yet another Park Seo Joon drama, Fight My Way. It was one of the most memorable K-dramas to be set in South Korea's port city, so we had to namedrop even though it's from 2017. The four main characters have "third-rate" backgrounds and are unlucky in life, but they're the best of friends. They all live in the Hansung Apartment Buildings located in Busan, and along these steep stairs and in these charming homes, love, friendship, and growing up happen in such a way that'll have you laughing, crying, and reaching for more Jagalchi.
Did any of your favorite Korean snacks make the list? Any that didn't? Share with us below!
---
Author: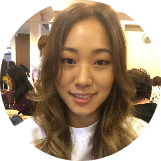 Angela son
---
Comments