From Ampoule to All-In-One, Hop on the Plump, Bouncy Train With DR.FROG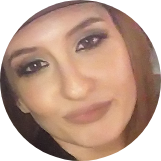 Coco Park
Sep 29, 2018
---
Whether you're dehydrated, dry, oily, or just plain lazy (no judgment!), DR.FROG can add some bounce to your skin in no time.
---
It's fall in my corner of the woods: The leaves are changing, schedules are changing, and I was in desperate need of something new. With timing that would rival a cheesy movie, a magical little box from Beautytap arrived and inside was just what the doctor ordered. DR.FROG to be specific.
DR.FROG is a new brand that I wasn't familiar with, but with a name like DR.FROG how can you not be instantly down for an adventure??
DR.FROG's philosophy and main focus is "properly applying properly made products," which is something I think anyone on a skincare journey can relate to. It's what we're all trying to do!
The brand's parent company Charmzone (originally a pharmacy but is now a well established dermacosmetics brand) touts another cool philosophy I can so get behind: "If it's not different, we won't make it!" What better slogan for a fast-paced market and, in my case, changing seasons and changing needs! I'm always on the hunt for something different. Using 30 years of technology and cutting-edge, ever-evolving development, they take basic skincare and turn it into something a little more exciting. DR.FROG has their own research and development center to create new patented formulas and ingredients with the aim of minimizing skin irritation. DR.FROG indeed!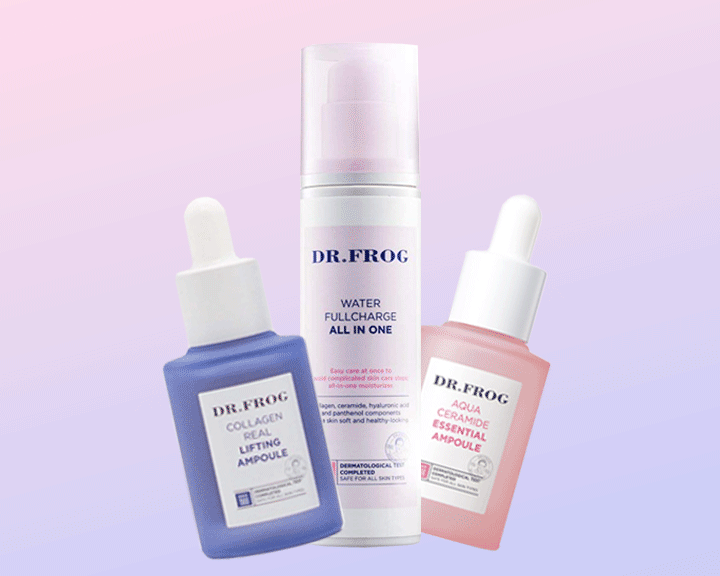 If skincare were like relationships, I'd be somewhere between a player and a polygamist — mundane monogamy is not for me when it comes to what's going on my face. I'm always on the hunt for something new and exciting. This time around my needs were slightly more mundane but pressing. With the drier air and rapidly dropping temperatures, my skin is in dire need of more hearty products.
Ratcheting up the difficulty level, my daughter has started first grade at a school that's a bit farther, and with that comes the need for me to be up, ready, skincare and sunscreen on, and out the door by 8 am to catch her bus. As much as I'm in love with my labor intensive summertime routine, I needed something a bit more expedient. With those two wants and needs on my wish list, the skincare gods (or more specifically, @judechao who sent me the lovely box) heard my prayers! Inside I found two intriguing little beauties: DR.FROG Aqua Ceramide Essential Ampoule and DR.FROG Water Fullcharge All In One. Immediately I was the IRL version of the looky eyes emoji 👀.
DR.FROG Aqua Ceramide Essential Ampoule
Right out of the bottle, looking at the product in the pipette, I could tell this was going to be a thick ampoule. If this ampoule were a person, it'd constantly be posting thiccc thirst traps on IG. It has a juicy, syrupy texture, which kind of worried me at first, as this serum needed to go on under my sunscreen with almost no wait time. I was pleasantly surprised to find that despite that gorgeous thickness, it sank in exceedingly fast. That may be due to the thirsty dryness of my skin, but whatever the case, I had no problem keeping the skincare train moving after using it as there was no annoying sink-in wait time. It also failed to leave behind a slimy trail or stickiness that I would have otherwise expected from an ampoule this substantial.
 

View this post on Instagram

 
I don't have the English language ingredients for this serum, but I do know it contains ceramides (duh), angelica root water, and hyaluronic acid; every one of these is great for hydration and plumpness! Starting with angelica root water, which I'm assuming replaces regular water in this formulation, you're looking at a great beginning. Angelica plants are closely related to wild celery, and their roots are able to suck up water from deep within the soil to nourish itself. When used in skincare, angelica plant is said to activate the water channels within the skin, which makes it an ideal choice for dehydrated skin and does a lot to bring back glow to drab complexions.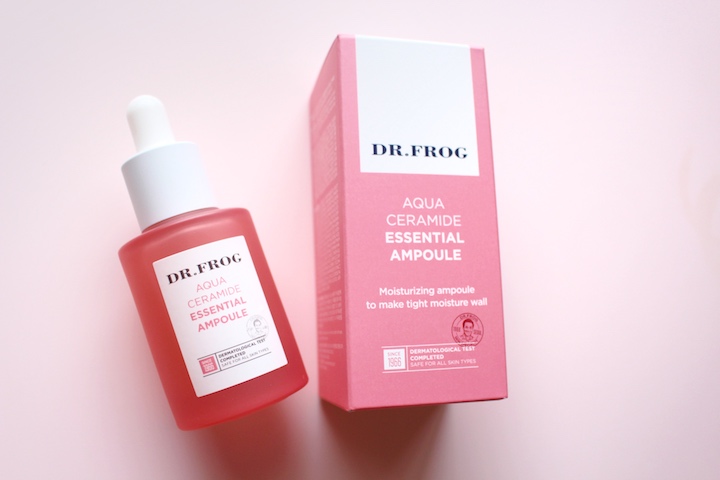 Ceramides are essential to healthy skin; they fortify the moisture barrier and help to keep all that moisture inside where it belongs. And that bring us to hyaluronic acid, which is probably one of my favorite skincare ingredients. What makes it so great? It helps synthesize collagen, the building blocks of skin that sadly declines as we age. Along with that, it's one of the best instant hydrators: It will give your skin immediate plumpness that lasts. It's an all-around wunderkind and something to keep your eye out for when skincare shopping.
Overall, I have really enjoyed using this ampoule in my new routine. It has a bit of a strong scent that tends to last, so if you're not into a soapy, clean smell, you may want to skip this one. However if you're looking for a new serum step to experiment with, this is a fun choice. It's not at all too thick or sticky and would work well for every skin type, even very oily!
DR.FROG Water Fullcharge All In One
This the product that really jumped out at me (much like a frog … a DR.FROG even) and seemed like it was made for busy people on the run. I was surprised when I gave this bottle a squirt and water didn't come out. Water Fullcharge isn't a water at all, but it is an all-in-one! DR.FROG Water Fullcharge All In One is slightly thicker than an emulsion, which I totally was not expecting. It takes everything in between toner and lotion and has it all rolled it into one handy creamy step. It's touted as a skin (that's toner) + lotion + essence + cream 4-in-1 product. Now, with that said, it does work beautifully when used this way for oilier skins as I discovered, but for drier skins like mine it needed a little extra help to carry me through the day.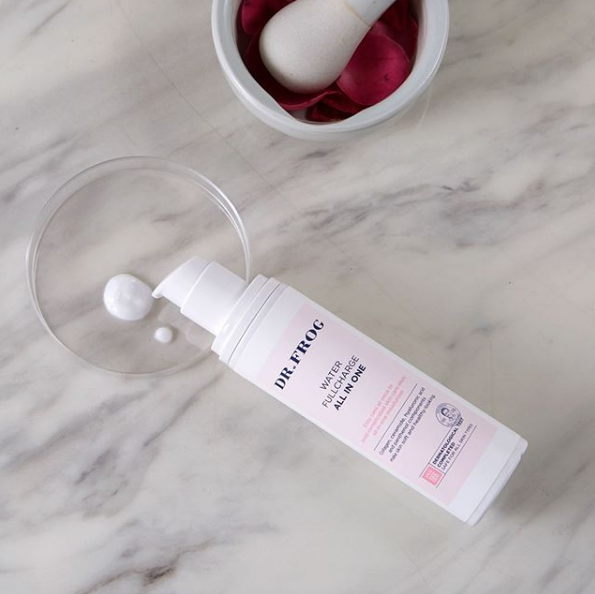 Like the Aqua Ceramide Essential Ampoule, it also has ceramides, Angelica archangelica, and hyaluronic acid, but it also has some surprising goodies I didn't expect but welcomed. Also in the lineup is thermal water, saccharomyces/Rubus coreanus fruit ferment filtrate, panthenol (a provitamin of B5) , and hydrolyzed collagen. Basically, if you were building a wish list of everything you'd want to cram in an all-in-one product, you'd want to stick these babies in there somewhere to prevent moisture loss and deliver hydration and vitamins.
This is a really great option for those looking to simplify their routines due to either time constraints or out of sheer laziness (I can relate, I'm not judging!). The first day I tried this, I used it as intended: I simply cleansed and put this on. It wasn't bad, but I could tell there was no way this was going to be enough, and I was correct. Within an hour my skin was getting tight. Now, keep in mind my skin type is extremely dry and is also contending with aging. Given the good ingredient lineup in this product and my need to expedite my morning routine, I really wanted to find a way to make this work. I experimented a bit and learned after trial and error that in order to get this product to work I needed to add some much-needed oil to my skin before using it and topping it with a bit of cream. Even with those two additional steps, it still knocked a lot of time off my get-ready period.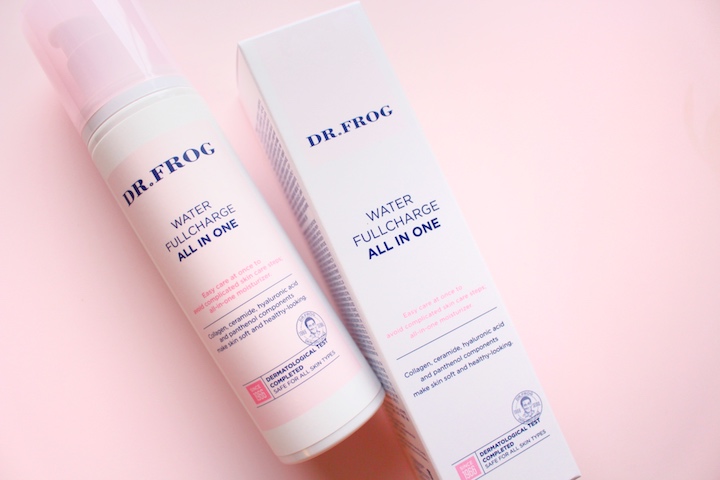 Nothing is ever cut-and-dry when it comes to skincare products; sometimes a little experimenting and adjustments have to be made to tailor something to your needs. That doesn't necessarily mean it's a fail, even if it doesn't instantly vibe with your skin type. Someone's skin type it did instantly vibe with is my husband's. He's oily and also absent-minded. DR.FROG Water Fullcharge All In One worked perfectly for him and made it so much easier to get him to "remember" to do his routine in the early mornings as it's so incredibly simple to slap this on after washing his face while still bleary-eyed and tired, no follow up products needed! His skin looked nice and glowy and not at all greasy, as it regulated his oil production since it wasn't working overtime to hydrate like it does when he neglects it. I'm extremely pleased with this product for that reason alone!
Maybe DR.FROG should consider making one of their slogans "Keeps lazy husbands lookin' great!" Pick up a bottle for yourself and "lend" it to your S.O. like I did and see for yourself! Or just keep it your handy little all-in-one secret, I won't tell.
---
Author: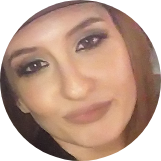 Coco Park
Coco Park is an author, beauty journalist, blogger, podcast host, and all around oddball living in Montreal Quebec with her family. Originally from the southern USA, she worked for several years in the makeup industry as a professional makeup artist and holds a certificate in esthetics. She is a proud member of the Choctaw Nation of Oklahoma. Want to know more? Check her out on the Beauty Beyond Basics podcast, on her blog TheBeautyWolf.com, on Instagram @thebeautywolf, and in her book "Korean Beauty Secrets: A Practical Guide to Cutting-Edge Skincare & Makeup."
---
Comments