New to K-Beauty? Then You're Gonna Love These Skincare Must-Haves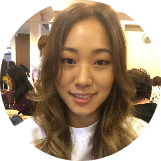 Angela son
Sep 25, 2018
---
New to K-beauty and not sure where to start? Read ahead for some of the easiest, most effective, and price-savvy K-beauty must-haves that'll get you hook, line, and sinker. Oh, and the best part? Most of these products ship for free in the U.S.
---
If you're reading this, chances are the sparkle and shine of K-beauty is starting to lure you in. The glowing skin of K-pop and K-drama stars has you mesmerized and hungering for the same. But where to begin? The multi-step routine, the plethora of products to choose from, the different types of dewy — all of it can get rather intimidating if you're new to K-beauty.
I readily admit that this world of pretty packaging and outlandish ingredients was overwhelming for me as well, even as a Korean American whose skincare enthusiast of a mom had me applying toner, moisturizer, and sunscreen since middle school. From Iope to Shiseido, Asian beauty products were just a part of my daily life. Mind you, that was back in the day when the multi-step routine was obscure to most pre-teens on this side of the globe.
At first, there was a lot of experimenting, but I eventually learned that K-beauty is not about using as many products as possible or naively believing the most expensive will translate to best results. Through trial and error, I realized it's more about figuring out your skin type and concerns, finding what works for you, and committing to it day in and day out.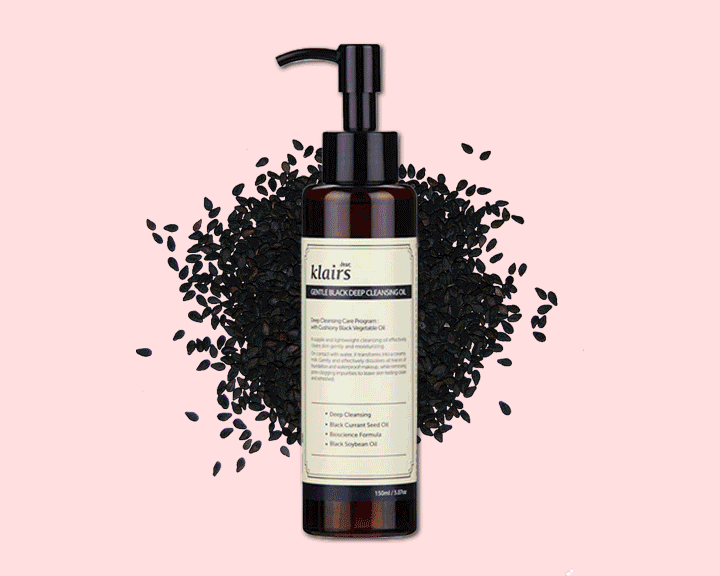 Fast forward five or so years, and while I still love to try new products and ingredients here and there, especially as my skin ages, I now have the tested and trusted that I turn to again and again because they live up to the hype and won't break the bank.
Here are my beginner-friendly skincare products I have on restock mode, the ones that were love at first try and beyond. If you're new to the global phenomenon that is K-beauty (and even if you're not), you'll want these staples in your routine.
Cleansing Oil
The number of steps in a skincare routine differs for everyone, but one step that must not be left behind is cleansing oil. This crucial step melts away oil-based and waterproof impurities like makeup and sunscreen, which can otherwise clog pores and lead to breakouts and blackheads.
I like to take it a bit further and use it as an opportunity to indulge my face in a quick massage, as Beautytap Social Media Manager Ruth demonstrates here, so I prefer a gentle oil cleanser packed with natural, nutritious ingredients. That's why I can't get enough of Klairs Gentle Black Deep Cleansing Oil ($23).
Infused with a luxe blend of mineral-rich oils from jojoba, sesame, black currant, and cranberry seeds, the hypoallergenic formula not only dissolves excess oil, dirt, and makeup, but it also moisturizes and nourishes skin. It even regulates sebum production and supplies skin with anti-aging benefits — just what my 30-something skin needs.
K-beauty newbies of a variety of skin types (sensitive, dry, oily, or combination) are likely to find this must-try gentle and soothing, thanks to its impressive ingredients and benefits. Contrary to what many who are new to the game may fear, this cleansing oil leaves skin anything but oily and greasy. Plus, it's an ideal pick for those that finally want to try their hand at the double cleanse, an essential if you want to give K-beauty a real shot.
Toner
Clean skin is absolutely paramount in the K-beauty world. That explains why after a double cleanse, Koreans opt for yet another method of cleansing that also hydrates — toner. High-performing toners not only refresh, moisturize, and prep skin for more goods ahead, but they also ensure there's no debris left lurking around.
Klairs Supple Preparation Facial Toner ($22) is one of my go-to toners because I love how the infusion of natural orange peel, lavender, and eucalyptus oils sweeps away excess sebum in my oily T-zone. The extra cleanse is just what my enlarged pores and blackhead-prone skin need. Even after my usual triple cleanse (makeup remover, oil cleanser, and foam cleanser), this toner leaves my skin feeling hydrated and comfortable, which is so key for the dry areas like my cheeks and neck.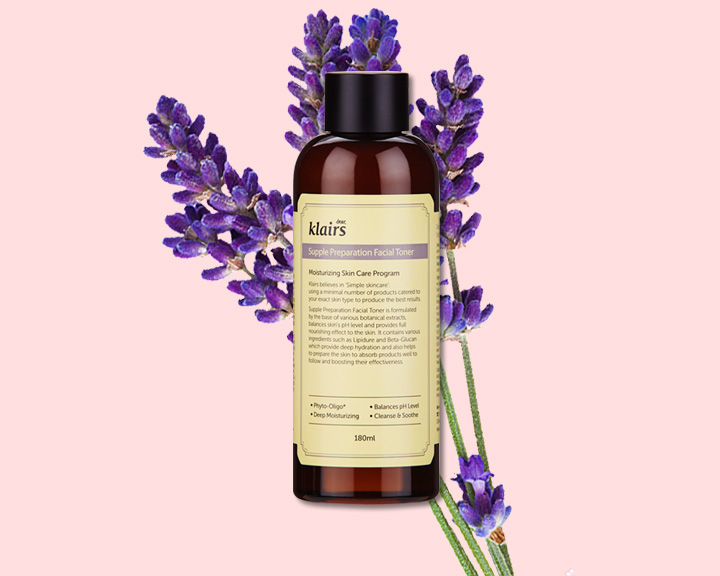 If you were lost in the sea of Korean toners available on the market, you can swim safely back to shore and rest assured that this award-winner is brimming with purifying and moisturizing ingredients that actually help balance your skin's natural pH levels. It also features some of K-beauty's favorites, Centella asiatica and Portulaca oleracea, herbal extracts that nourish and relieve inflammation.
These all-star ingredients also make this toner an ideal candidate for the 7-skin method, a popular Korean trend that calls for multiple (not necessarily seven) layers of a nutrient-rich toner. You can read all about this ultra-moisturizing, genius skin hack here.
Something Snail
If you're going to give K-beauty a fair chance, you have to try some snail mucin. Really bizarre, I know, but it's packed with proteins, elastin, hyaluronic acid, and other skin-enhancing properties that far outweigh the ick factor.
To be completely honest, I was a little grossed out at first, but after reading rave reviews from real people about the wrinkle-preventing, anti-aging, self-repairing, firming, tightening, acne-scar-reducing (and the list goes on) powers of the slimy substance, I just had to see for myself. Also, I figured if I can drink ground-up deer antler or whatever goes into my hanyak (traditional Korean medicine), I can take a little snail slime.
It was one of the smartest decisions I've ever made. One of the first snail products I took a dab at was COSRX Advanced Snail 96 Mucin Power Essence ($19), and I fell in love. Not only was it so affordable, especially compared to other snail-infused products, it actually left my skin feeling super hydrated, slightly tacky but not sticky (the golden medium in K-beauty standards) and never oily. Suitable for all skin types and formulated with 96% snail mucin, it was the perfect, non-intimidating element I never knew my combination skin needed.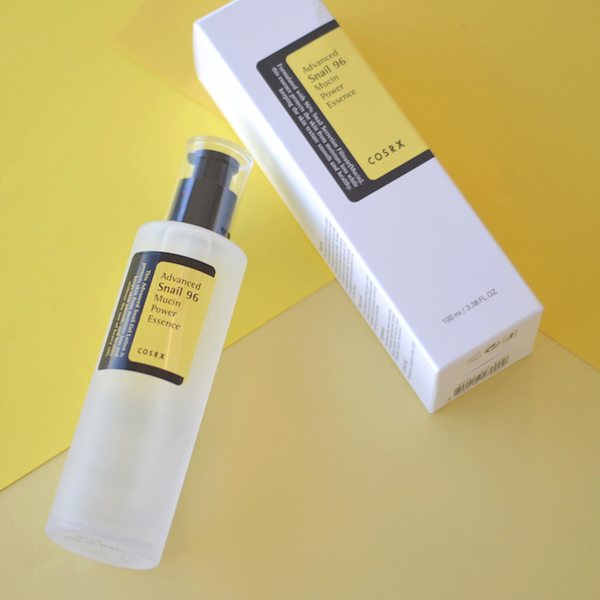 For beginners who want to tackle a host of skin concerns, who want to try a holy grail ingredient in the spirit of K-beauty, and who still want to be able to afford the other half of their multi-step routine, the COSRX Snail Essence is a sure shoe-in.
Overnighter
When it comes to skincare, there's no time to waste. That means every waking — and sleeping — moment should somehow profit your skin. Thankfully, our bodies already naturally go to work while we slumber, repairing and regenerating skin cells. But couple that with the overnight skincare treatments Korea has to offer, and you've got yourself a dream come true.
The COSRX Ultimate Moisturizing Honey Overnight Mask ($16) is a reliable option that I keep in my graveyard rotation. Featuring 85% propolis extract, hyaluronic acid, and other cult-status ingredients, this ultra moisturizing mask strengthens skin's protective barrier, prevents dryness, and defends skin against invasive impurities as you sleep. It's lightweight and refreshing in texture with a non-sticky finish, unlike many of its overnight counterparts, so I find myself craving this honey mask especially on warm or humid nights. I even use it as a moisturizer or in lieu of a cream during the day whenever I want a boost of moisture and protection without the heaviness.
Simply apply the mask after the last step of your evening skincare routine, go to sleep, and wake up to supple, glowing skin. Minimum effort, major results — the perfect way to try your hand at the nocturnal world of K-beauty.
Emergency Back-Up
The right products can definitely reduce breakouts and acne. But let's face it — surprise zits happen to the best of us, regardless of age.
In these moments of crises, my ultimate hero is the raved-about COSRX Acne Pimple Master Patch ($20 for 5 pcs). I generally don't have acne, but when I work consecutive late nights (which require lots of snacking) or sometimes before I start my monthly cycle, a stubborn pimple pops up on my chin. That's when I slap on one of these zit-zapping hydrocolloidal patches. It helps extract and dry out the pus and liquid (ew!) while protecting the whitehead (or blackhead or cystic acne) from pollutants and bacteria that can aggravate the blemish. This dual action accelerates the healing process, and words can't describe the wonder and gratitude I feel when I peel it off the next day and see only a flat, faded remnant of yesterday's pain.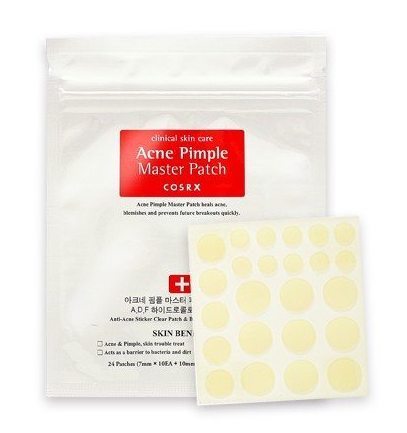 I'll apply one before my evening skincare routine so I can keep other products out of the pimple's way and also to fend off germs and dirt floating around in my bedding and bedroom air. On days I'm staying at home or when I feel brave enough, I'll wear one during the day, too. Thankfully, the patches are clear and can maybe even escape unnoticed on my grocery run. (Or opt for the super thin version, the COSRX Clear Fit Master Patch.)
Whether new to K-beauty or long-time aficionado, we're all susceptible to the great leveler of all — the pimple. So it's always a good idea to keep these unassuming little stickers tucked away in your drawer.
---
Lavish ingredients, visible results, and competitive pricing — you can't go wrong by adding these trusted few to your first K-beauty haul. What are (or were) some of your hesitations about trying K-beauty? Any products not on this list that was love at first try when you were new to K-beauty? Share your experience with us!
---
Author: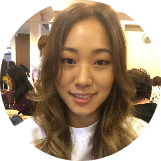 Angela son
---
Comments