Innisfree Derma Formula Green Tea Probiotics Cream: The Review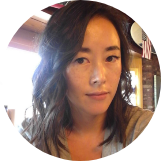 Jude Chao
Nov 20, 2019
---
After a long hiatus, Jude Chao gives the brand another chance with the latest Innisfree Derma Formula Green Tea Probiotics Cream.
---
Has Innisfree turned a new leaf with their Derma Formula Green Tea Probiotics Cream? It's definitely the only Innisfree product I've enjoyed using in the last couple of years.
Innisfree is one of the most globally recognizable Korean beauty brands around. Owned by giant K-beauty conglomerate AmorePacific Group (parent company to AmorePacific, Sulwhasoo, Laneige, Mamonde, Etude House, Hera, IOPE, Primera, among many other brands), Innisfree is known for a clean, vibrant aesthetic that effectively communicates their featured botanical ingredients from Korea's Jeju Island, as well as an attractive and accessible eco-friendly stance. Unfortunately, I've just never liked most of their skincare that I've tried.
My usual problem with Innisfree skincare is twofold. One, I've often found their skincare to be stuffed with fillers, with only questionable amounts of whatever natural ingredient they're marketing as the star. And two, many of their product lines contain headache-inducing amounts of fragrance. The Orchid line in the gorgeous purple bottles is especially perfumey.
Point being, when I think Innisfree, I think "thickened perfume masquerading as mediocre skincare." That's not really a compelling concept. But when the Innisfree Derma Formula Green Tea Probiotics Cream started showing up on my Instagram feed, I felt an unfamiliar sensation. Could it be … interest?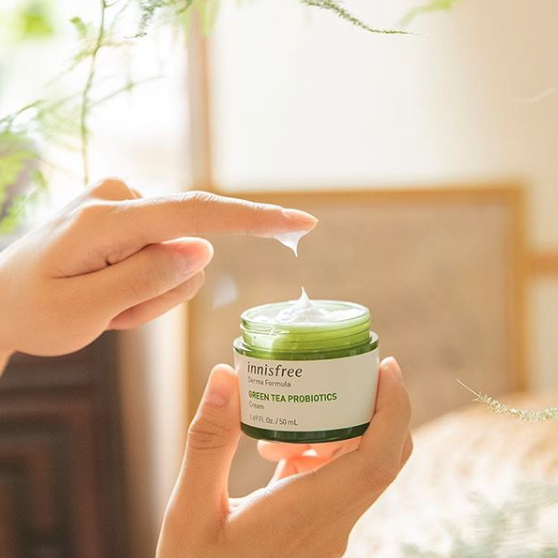 I asked around and learned that this particular product is not fragranced. That stoked the fires of my interest even more. And that is how, after years of indifference, I've found myself using an Innisfree skincare product again.
Probiotics in skincare
Innisfree Derma Formula Green Tea Probiotics Cream joins the probiotic skincare trend that's been happening for a few years now. I'm a big fan of ingested probiotics for general health, especially digestive health, and I've been intrigued by the concept of applying them to the face.
A Google search of the benefits of probiotic skincare turned up a lot of positive articles from well-known publications. Those don't necessarily mean much, though. Read mainstream fashion and beauty publications for long enough, and you'll realize they publish thinly researched and insubstantial yet wildly positive articles for just about every skincare trend, complete with the requisite list of affiliate linked product recommendations. (I don't want to call any particular site out, but Google "probiotic skincare" and you'll see what I mean.)
There is support for topical probiotics in the research, though. Used to support the healthy bacterial composition of the skin microbiome, probiotics can encourage a lower skin pH and more production of natural antimicrobial compounds, creating a more inhospitable environment for unwelcome bacteria. Theoretically: fewer breakouts, less skin irritation.
Many probiotic skincare products, including this cream, use bacterial cell lysates rather than live bacteria. A lysate is a kind of extract that contains the substances left behind when cells burst. It contains substances like the dead bacteria, cell walls, and their metabolites. Lysates can offer similar benefits as live probiotics as well as improve moisture levels.
That's theory. The products are the practice.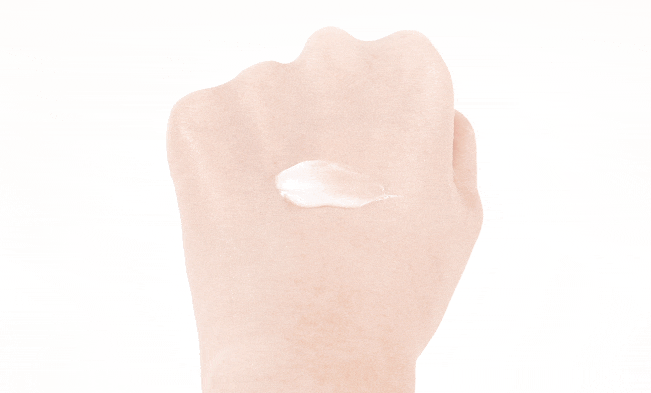 Innisfree Derma Formula Green Tea Probiotics Cream claims to use fermented probiotics derived from green tea, one of the Jeju crops the brand uses most often. But the probiotic ingredient, lactobacillus ferment lysate, is second to last in a relatively long ingredients list.
If you've done some work to increase your ingredient awareness, then you know what "second to last on the ingredients list" probably means. The ingredient is most likely present only in a minute concentration — we're talking probably a fraction of a single percent. That's not encouraging, considering that some of the more promising studies on topical probiotics used them in concentrations of 5-10%.
Whatever is in this cream may still do something. It depends on the overall formulation of the product as well as the quality and potency of the lysate, same as with any other extract. For me, the proof is in the results.
The experience & performance
The Green Tea Probiotics Cream is a soft, satiny-feeling (and totally scentless!) cream that leaves a light, smooth emollient film and delivers medium moisture to my normal-ish skin. I found it pleasant to use at night — it holds moisture in well and leaves my skin feeling silky the next day — and not too heavy for day. In fact, during the couple of weeks when my region was being assaulted by the insanely hot and dry Santa Ana winds earlier this fall, I found myself reaching for it often in the mornings. My usual ultra lightweight day moisturizers were failing to keep my face from desiccating by noon.
So as a moisturizer, this cream works nicely. The fact that it doesn't smell like anything at all is a huge plus to me, and I find the consistency and skinfeel excellent.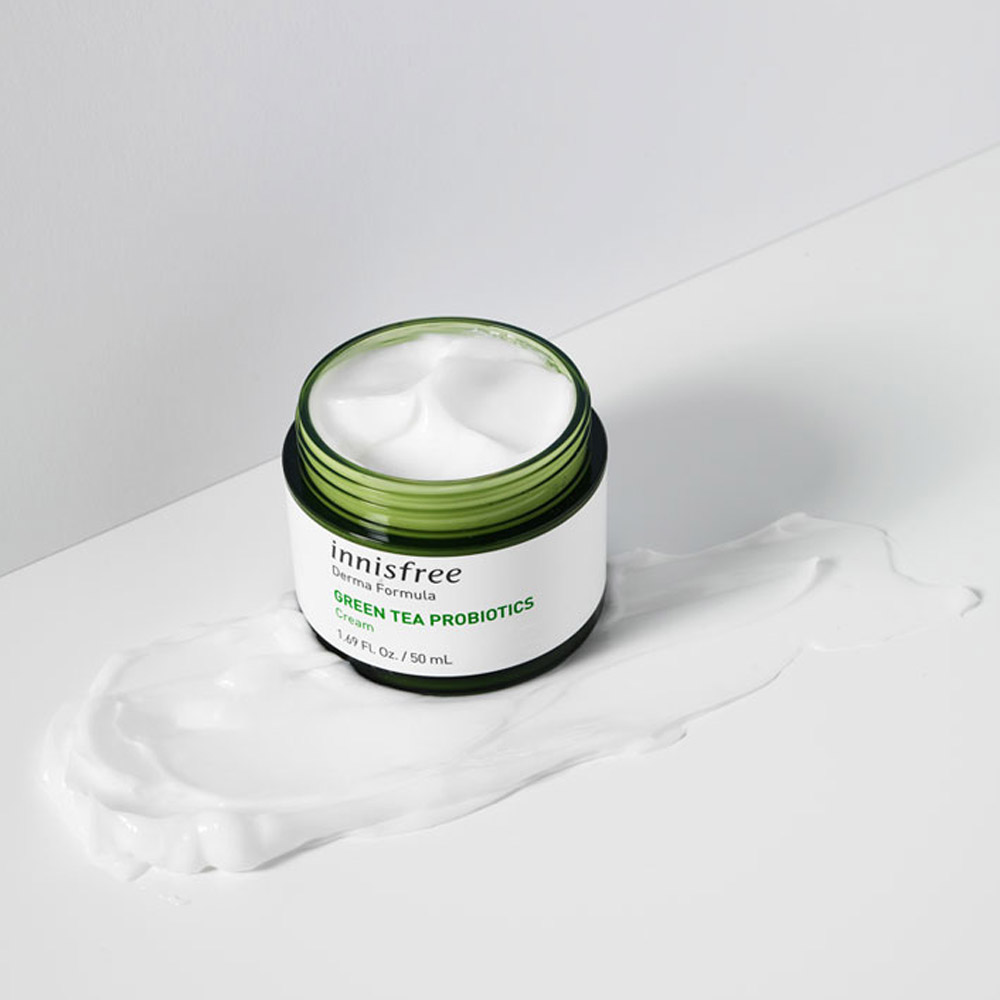 As far as the effects of the probiotic lysate in it?
Hard to tell. I don't suffer from acne, so unfortunately (fortunately?), I can't gauge its effects on breakouts. I do, however, get occasional mild redness and irritation due to my tret and acids use. I had pulled back on my actives when the weather got dry, but my skin was feeling a bit thinner and crankier than usual when I started testing this cream. Over the couple of weeks that I used it most heavily, my minor inflammation did subside, and my skin did feel healthier overall.
It's impossible to say exactly what in this cream helped, if anything. My general skincare routine is fairly soothing anyway, and this cream also contains other calming and barrier-strengthening ingredients like squalane and green tea seed extract. So while my experience with this cream is positive, I can't say that's due to the probiotic ingredient being any kind of game-changer.
With that being said, I do like it, far more than I expected to and far more than I like most other Innisfree products! It's certainly one of their most inoffensive, and as a basic moisturizing step, I think it has a lot to offer. So in conclusion, good job, Innisfree — let's keep going with the whole "less perfume, more skincare" thing. It works!
Have you tried the Innisfree Derma Formula Green Tea Probiotics Cream? What did you think?
---
Author: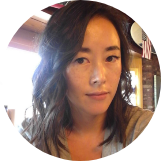 Jude Chao
Jude writes as Fiddy Snails at the K-beauty and skincare blog Fifty Shades of Snail and can be found on Instagram @fiddysnails. Named the ELLE Malaysia Beauty Blogger of the Month for June/July 2017 and one of ELLE Magazine's 10 Cool Beauty Bloggers to Watch in 2018, Jude loves ginseng, snail, honey, propolis, and tuna fish kimbap, though she generally doesn't put the kimbap on her face.
---
Comments