Why Laneige's Sleeping Masks Have Made Me a Convert
They've been called the new sheet masks, but sleeping masks have a lot of skeptics. Here, a sleeping mask newbie shares her experience with Laneige's Cica Sleeping Mask and Lip Sleeping Mask — and why it's made her a sleeping mask convert.
---
I had the chance to try out two of Laneige's latest offerings, the Cica Sleeping Mask, along with the Lip Sleeping Mask in Grapefruit. After about a month of heavy usage, I can feel an improvement in my skin's condition. My skin is more hydrated. It's plump. It's bouncy. It may as well be a juicy peach. To have skin like this near the end of fall is quite a feat, and it's all due to Laneige's magic.
What are sleeping masks?
I've arrived late to the sleeping mask party, but I'm so glad that I eventually joined. Also known as sleeping packs, these are relatively new to the scene in non-Asian countries. They've been around for over a decade in Korea, but we all know that Korea lives in the future.
Think of them as a revolutionized night cream, the more hydrating, gentler cousin. Night creams tend to be very rich and heavy, something that your grandmother would have worn nearly 30 years ago. Sleeping masks are lighter, with a higher water concentration and emollient active ingredients. They aim to trap moisture, rather than covering your skin with it in the form of a dense cream.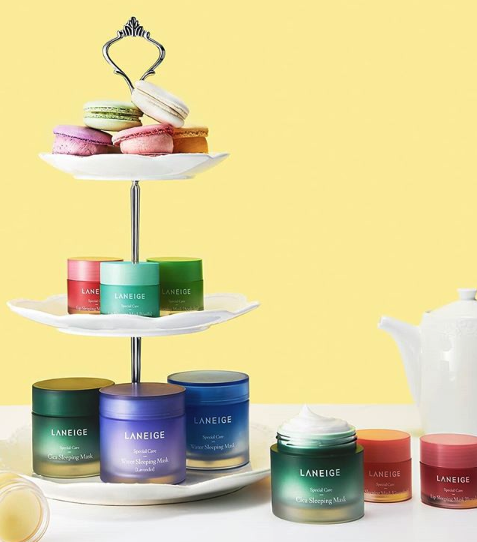 Nothing is better than a night's sleep, but sometimes dull and fatigued skin requires a little extra care. During sleep, our bodies repair themselves. There's a special period of sleep that's spoken about in some Asian countries that we need to discuss. It's called "Golden Time" and is essentially the first three hours of sleep, when the body is doing the most repair work.
Laneige Cica Sleeping Mask
Laneige's sleeping masks aim to care for dry and damaged skin, with a boost of intensive nourishment during this "Golden Time." According to their site, the skin weakens due to loss of moisture and oil. Applying the sleeping mask helps to strengthen the skin's barrier, meaning nourishment and hydration all around. It sounds like a hyped-up way to describe nighttime moisturizing, but there is something different about this product.
What's in it?
The Cica Sleeping Mask is particularly wonderful, as it is free from silicone, perfume, and dyes. It's also fragrance-free to avoid irritating the skin. There are some non-natural ingredients, but the natural ones are rather standout. Centella asiatica, or cica, is the star of the show in this mask. It's been around for a while, but this is the first time that Laneige has brought it onboard. It's present in its three components, madecassic acid, asiatic acid, and asiaticoside. It aims to soothe and repair sensitive, dry skin, and it totally did the trick for me.
 

View this post on Instagram

 
Laneige has added a patented ingredient, the famous forest yeast (Aureobasidium pullulans ferment), to the mask. It comes from none other than Jeju Island, the home of Innisfree, black pork, the Jeju tangerine, and the famous haenyo (women deep-sea divers).
Ferments are all the rage right now, and this one comes from a species of split peas that grows in the Gotjawal Forest on the island. This forest yeast has a powerful restoring effect, apparently even more so than centella, which they say helps the skin rejuvenate during this "Golden Time." This mask combines the two, into what can only be described as a rejuvenating powerhouse.
There's also vitamin B5, which is repairing; shea butter, which is nourishing; tea tree oil, which has anti-inflammatory properties; and squalane, which is anti-dehydrating.
How do I use it?
Sleeping masks are ideally used after your nighttime routine. That is, after you've double cleansed, toned, applied essence, serum, moisturizer, and any other product that you typically incorporate. Make sure you use it as the last step in your regimen. You're meant to gently apply it from the center of your face, working your way toward the sides. It's recommended to layer between two to three layers if your skin is feeling particularly dry and irritated. I tend to go for a thin, single layer. It's like the dessert course for your skin, and in the morning, you will be able to feel the difference.
 

View this post on Instagram

 
When you wake up the next day, simply wash your face with either warm water or a gentle cleanser to remove any excess.
Why I'm a fan
The texture is a hot selling point for me. It appears creamy and thick on first touch, but it almost seems to melt into my skin once I start applying it. I usually apply a thin layer, as I've often woken up with a thick layer of oil if I'm too overzealous in application. I've been using this mask around three times per week, and my skin has been feeling smooth, calm, and plump.
 

View this post on Instagram

 
Laneige Lip Sleeping Mask
The Lip Sleeping Mask has been called the "fanciest ChapStick you'll ever use," and for good reason. With over 5,000 five-star reviews on a number of beauty sites, there has to be some weight behind it. It has what Laneige refers to as Exclusive Moisture Wrap™ technology, which uses hyaluronic acid and minerals to form a protective film over the lips. This is meant to lock in moisture and active ingredients. There's also vitamin C and antioxidants to help fight free radical damage, and it's formulated without parabens, sulphates SLS and SLES, mineral oil, formaldehydes, and coal tar.
It's like a thicker version of Vaseline, slightly waxy and fruity smelling. It does feel luxurious, and it's a nice treat for your lips during slumber.
 

View this post on Instagram

 
The lip mask is meant to be applied generously and left on overnight. I enjoyed pairing it with the Cica Sleeping Mask for a full-face, double-dose moisture boost. In the morning, you can gently wipe off any remnants. I found that my lips (or possibly my pillow) absorb almost all of the product during sleep, so there isn't much to wipe off in the morning.
The lip mask has been doing a bit of a Kylie Jenner moment on me. I wake up with plumped lips. The ones that look like they've had a bit of professional help. In this case, the only help they've had is from nine solid hours of Laneige treatment. A little goes a long way with this thick formula, and I sometimes apply it during the day, too.
---
With the end of fall looming in the distance — and the dreaded last call on Starbuck's pumpkin cream cold brew happening before I know it — comes drier, more moisture-stripping weather. I'm hoping that these simple, well-priced beauty products can keep me hydrated all through the winter. There's a high chance of that, and I'll happily oblige.
Are you a sleeping mask convert yet? What are your favorite sleeping masks?
---
Author:
Megan Bursey
I'm Megan, and I'm obsessed with travel, beauty and LGBTQ rights. I hail from South Africa, where I cut my teeth as a journalist, writing for the biggest-selling English magazine in the country. I spent three years in South Korea and discovered a passion for K-beauty and the jjimjilbang. I'm always on the go, but I make time for my skin. Follow me on Instagram at @meg______b and at linkedin.com/in/megan-bursey-530b4177
---
Comments