Shopping in Seoul: The Top Neighborhoods For the Best Shopping of Your Life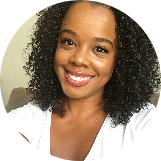 Sheryll Donerson
Jun 07, 2019
---
Shopping in Seoul is like an Olympic sport-meets-dream come true: You're hyped up for the feat of endurance it'll take to get you to the finish line and at the same time in heaven, drooling over the endless displays of goodies to spend your coin on. Here, contributing editor Sheryll (and former Seoul resident) shares her favorite shopping neighborhoods.
---
There is just something so amazing about Seoul. The energy. The food. The people.
THE SHOPPING.
Beauty. Stationary. Clothes. Accessories. Shall I go on?
I mean, let's be real here. If and when I ever go back to Seoul (which I am desperately trying to do), we all know my main priority there will be to go to every single one of my old shopping hot spots and spend money like it is going out of style. You truly haven't lived until you've gone to an Olive Young in Gangnam and died over the rows and rows of sheet masks. I mean, it is HEAVENNNNNNNN.
 

View this post on Instagram

 
So if you are planning on a trip to the K-beauty promised land, I've come up with a handy dandy Seoul city guide with my favorite shopping 'hoods to help you get the most out of your shopping trip.
Oh, and as a note, most of these Korean neighborhoods are going to have all of your standard road shops (Innisfree, The Face Shop, Etude House, Missha, Aritaum, Olive Young, etc.). They are literally on every corner like 7-Elevens. What a glorious world we live in.
Myeongdong: Shoppers Paradise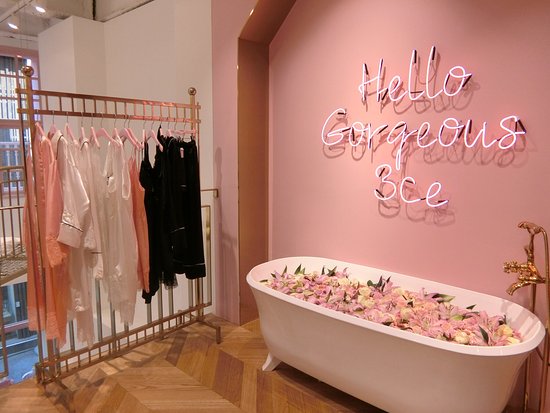 If you are going to be in Seoul for a short period of time, say a long layover, skip all the extra sh—t and head straight to Myeongdong. Myeongdong Shopping Street literally has every single K-beauty item you will ever need. There's a multistory Leaders Sheet Mask store, the giant Nature Republic with the lush outdoor greenery display, at least 10 Etude House boutiques, some smaller brand stores like Belif, A-Land (my personal fave for smaller, indie K-beauty brands), Watsons, Olive Young (my fave for general K-beauty and sheet masks), and all the street food your little heart can take. If you are going to Seoul, this should be the first place on your list.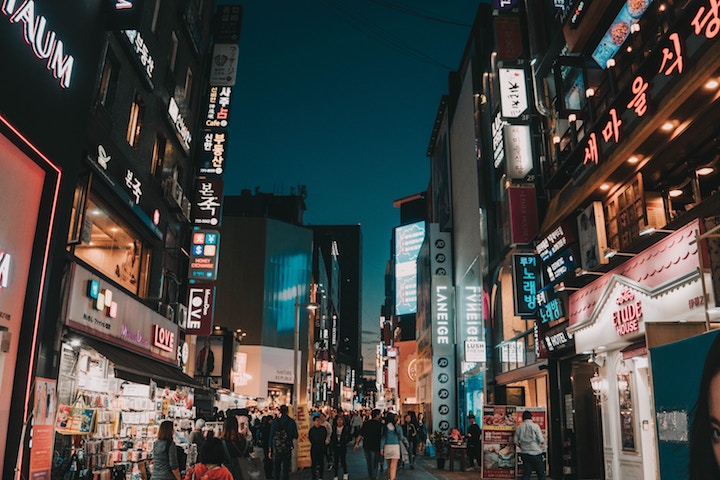 Apgujeong: The Beverly Hills of Seoul
Oh you fancy, huh? Apgujeong is like the Beverly Hills of Seoul. Like, they even have a Rodeo Street, where you can shop for expensive clothes, shoes, accessories, and of course, beauty. My all-time favorite department store, the Galleria, is in Apgujeong, so go there if high-end Korean skincare like Sulwhasoo, Su:m37, and The History of Whoo is on your list. If you've been itching to make a few minor cosmetic touch-ups, then this is the neighborhood to go to, as it's filled to the brim with plastic surgeons, esthetician clinics, and dermatologist centers. My old dermatologist was in Apgujeong (Hus-hu clinic)!
Hongdae: College kids, clubs & chimaek
If you are looking for a fun night out (to take a break from all of your shopping), Hongdae is the spot. I used to LOVE to come to Hongdae for a night out of clubbing. Nothing ever shuts down. Like 6 am on a Wednesday is still poppin' like a Saturday. If you wanna see all the cool Seoul fashionistas, Hongdae is also the place to be. Seriously, you could just grab a couple of drinks from the corner store and sit outside and people watch for hours. It's so entertaining!
And of course, if you are looking to go shopping, Hongdae will have more niche, indie brands. There's a Stylenanda there so you can outfit your life like the K-pop star of your dreams, Artbox for all of your cute stationary needs, and tons of cute art galleries to get your culture on.
Sinsa/Garosugil: My favorite tree-lined street
I saved my favorite for last: Sinsa/Garosugil. Well, to be clear, Garosugil is the name of the tree-lined street in the Sinsa neighborhood. Sinsa is like the little, bohemian chic sister to Apgujeong. The crowd is a tad younger and people are more likely to be wearing the latest K-fashion designer instead of that ultra-coveted Chanel bag.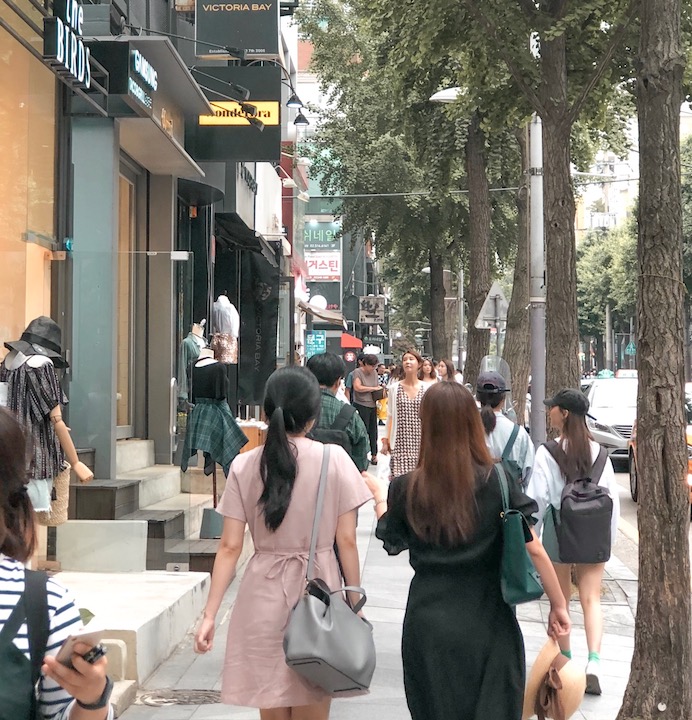 Garosugil street has SO many cute little cafes and restaurants that are Instagram heaven. You could really stay there the whole afternoon (like I used to) and cafe hop around the area. You might be caffeinated until high heavens, but your stories on Instagram will be LIT.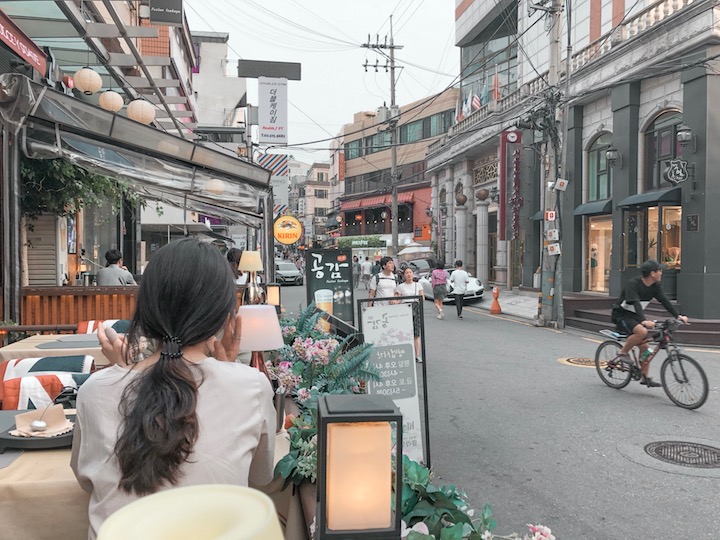 In addition to all of the cute cafes and restaurants, there's also another A-Land store, a cheeky Skinfood store, and my all-time favorite Olive Young. It's HUGE. I would spend countless hours (and money) there, testing out all the latest K-beauty. I mean, they churn out new products seemingly every week, so there is never a shortage of stuff to try. There's also a HUGE Dr. Jart store, a super cute Line Friends store, and most of your standard road shops, in case you needed another Nature Republic trip (try the argan line, it's fab!)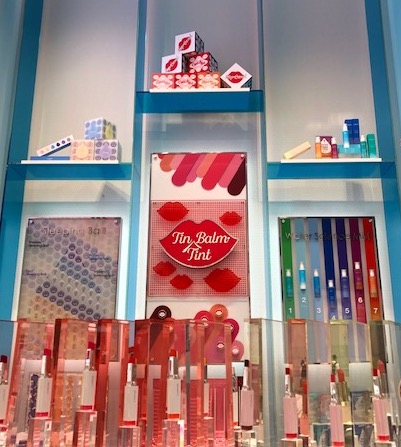 Have you gone shopping in Seoul? What are your favorite shopping haunts in Korea?
---
Author: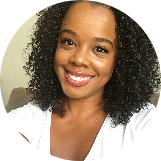 Sheryll Donerson
Sheryll Donerson got her start as a beauty writer by writing K-beauty reviews for her blog, The Wanderlust Project. These days, she's lifting heavy weights, eating tacos, drinking (too much) coffee and is 1/4 of the beauty podcast, Beauty Beyond Basics (or Triple Bees for short). You can find her on Instagram and Twitter at @sheryllrenata.
---
Comments