The Best of Sulwhasoo on BeautytapASAP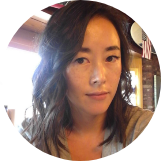 Jude Chao
Aug 12, 2019
---
Investment skincare that delivers lasting results worth every penny? Here, a Sulwhasoo devotee shares the best Sulwhasoo products available with 3-day shipping and now at a lower price than ever.
---
I've probably said it before, and I'll most likely say it again: Sulwhasoo is my one true luxury skincare love.
I'm not into most high-end skincare. In my experience, the vast majority of luxury skincare lines are all beautiful packaging, shiny advertising, and heavy fragrance, with very little substance in the form of effective formulations and tangible results. (Fashion house skincare lines especially — don't expect great skincare from brands best known for skirts.)
Sulwhasoo is different. With decades of in-house research and development, focusing on ginseng in particular, and an emphasis on traditional ingredients that has been present since the brand's inception, Sulwhasoo makes several products that I've found utterly unique in their potency and effects. Here are the best Sulwhasoo products you can get your hands on quickly via BeautytapASAP's 3-day shipping.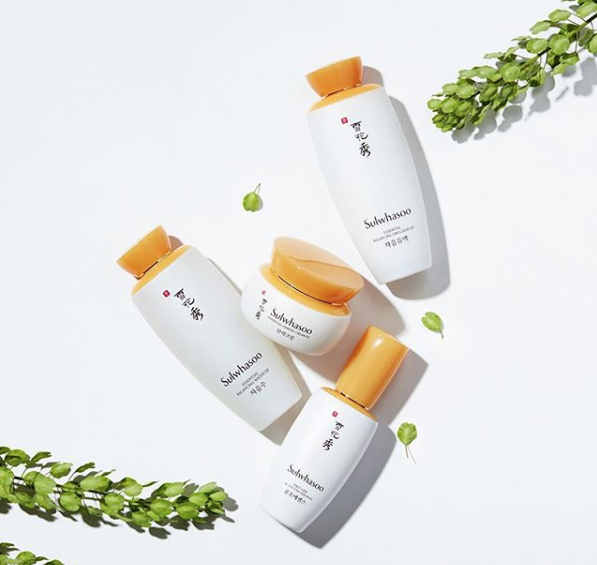 The toner: Sulwhasoo Essential Balancing Water EX
Hydrating toners are essential to the plump and dewy K-beauty complexion. They're also a dime a dozen. For hydration alone, I don't like to pay more than $20 a bottle — water, humectants, and preservatives aren't expensive to slap together. But what about hydration plus the ability to calm redness and gradually even out skin tone so much that I find myself skipping foundation day after day?
Yeah, that's worth a lot more to me.
That's what Sulwhasoo Essential Balancing Water EX delivers for me. This thicker-than-water hydrating toner smells like herbal heaven and pats in cleanly for an immediate plumping effect, then eases everyday redness over time. After a couple of weeks using this product, my skin tone becomes brighter and more even, with a clarity that makes complexion makeup seem a step down from the real thing.
The moisturizer: Sulwhasoo Concentrated Ginseng Renewing Cream EX
If the Essential Balancing Water EX evened out my skin tone enough to make foundation products feel superfluous, though, the Concentrated Ginseng Renewing Cream EX goes a step further. This moisturizer makes me wake up looking like I've already dipped my face into a tub of the most perfectly matched and luminously skin-like base product that could possibly exist.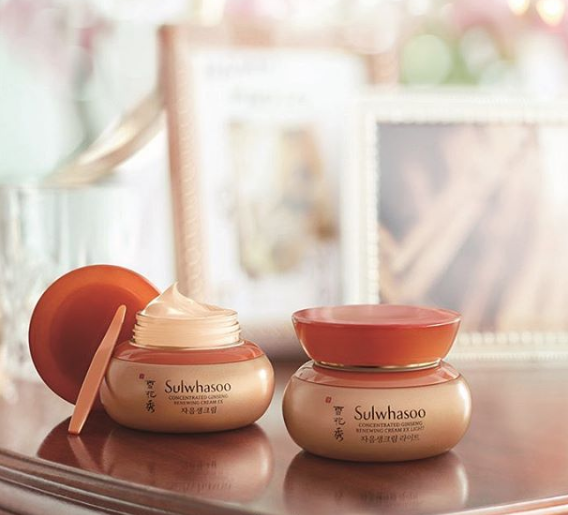 The deceptively light and silky consistency of this cream belies some serious emollient richness, however. I've consistently found the Concentrated Ginseng Renewing Cream EX a bit too heavy to wear during the day (and since I haven't yet tried the Light version, I can't speak to it having the same redness-relieving benefits). But as a night cream, this moisturizer does exactly what a perfect night cream should do: allow me to wake up to amazing skin in the morning.
It's insanely expensive. That's true. The intense ginseng scent is not for everyone. But a little goes a long way, a jar lasts a long time, and I've never found any other moisturizer or sleeping pack with comparable next-day results. Sulwhasoo knows their ginseng. They supposedly cultivate, harvest, and extract their own, and the difference between the potency of their ginseng products and those of other brands really shows.
The masks: Sulwhasoo First Care Activating Mask and Concentrated Ginseng Renewing Creamy Mask
Luxury sheet masks are a difficult proposition. For the most part, a sheet mask is a sheet mask. Some fit better than others, some have special effects a bit more apparent than others. But they're single-use products, and the vast majority of them don't deliver results that justify a high price.
Sulwhasoo's First Care Activating Mask and Concentrated Ginseng Renewing Creamy Mask are the exceptions.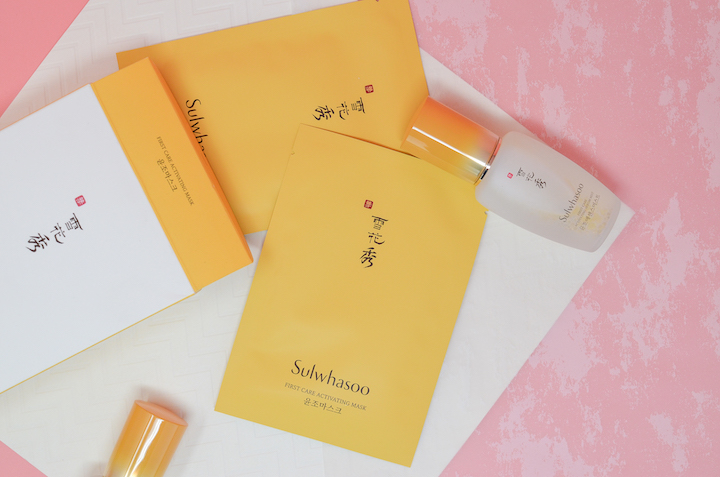 The First Care Activating Mask can seem disappointing at first. Though generously soaked in serum, the cloth mask sheet doesn't feel superior to the mask sheets used by less expensive brands (and is less advanced than the ultra-thin varieties growing more and more common these days). But my skin the morning after using one of these lets me know that they are different. Skin tone is more even and bright all over, cheeks glow with the same rosy vitality that the First Care Activating Mask gives me, and my skin texture is firmer, denser, and more refined. It's "rich girl skin," as a friend of mine said once.
The Concentrated Ginseng Renewing Creamy Mask is a different beast. Here, the luxury is apparent from the second you pull the mask in its plastic tray out of the pouch. Made from a plush and ultra-soft material, these masks are saturated on one side in a thick, creamy serum, and coated on the other side for a stronger occlusive effect than cloth alone can provide. These masks are like an extra-concentrated dose of the ginseng cream. They leave my skin incomparably firm, smooth, and radiant, an effect that lasts for days after.
Are either the First Care Activating Mask or the Concentrated Ginseng Renewing Creamy Mask everyday sheet masks? Hell no. I'm not rich. But for special occasions, either one (or, for someone very lucky, both) are ideal.
Sulwhasoo's products aren't for everyone — no skincare product or brand is. My skin doesn't love all of their products. The Bloomstay line just isn't my thing, for example. But the products in this list are investments that my skin always appreciates, and they're products that I've never found comparable budget-friendly dupes for.
What are some of your best Sulwhasoo products that are worth the investment? Tell us which products catch your eye in the comments!
---
Author: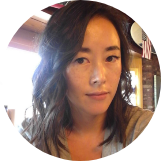 Jude Chao
Jude writes as Fiddy Snails at the K-beauty and skincare blog Fifty Shades of Snail and can be found on Instagram @fiddysnails. Named the ELLE Malaysia Beauty Blogger of the Month for June/July 2017 and one of ELLE Magazine's 10 Cool Beauty Bloggers to Watch in 2018, Jude loves ginseng, snail, honey, propolis, and tuna fish kimbap, though she generally doesn't put the kimbap on her face.
---
Comments