What Is Fast Healing & Why Is It All the Rage in Korea?
Speed is a way of life in South Korea: quick, efficient meals; swift subway systems; and high-powered internet speeds. So it makes sense that the next thing to get the ppalli ppalli ("hurry hurry") treatment is self-care. Why Korean "fast healing" cafés are the latest craze that may soon find its way West.
---
In the faced-paced metropolis of Seoul, everyone is on the move. Work comes first, with employees staying on long after hours. South Koreans work some of the longest hours among OECD countries, despite falling in the bottom third with productivity. There is little time to stop and smell the roses, but more and more Koreans are finding creative ways to do just that.
Seoul has a robust and diverse café culture, and lots of non-traditional cafés (meaning coffee isn't the reason for these café's existence) have sprung up in recent years. Starbucks aside, you can find a café for nearly anything. If you love board games or Legos, there's a café for that. If you love cats, there are plenty of spots where you can enjoy a beverage and mingle with some friendly felines. There are theme cafes (Hello Kitty, horror movies, or poop, anyone?), cafés where you can take a nap or study, meerkat cafés, raccoon cafes, even a Sherlock Holmes themed café. If you're down to pet some well-groomed sheep, there's a place for that, too.
While these themed cafes are fun places to kill a few hours, they aren't exactly sanctuaries of relaxation. They're made for socialization, for dates, to make new friends, or to be around flowers. For those looking for something more private and peaceful, enter the healing café.
What's all the fuss?
Healing cafés are basically spaces where you can go for anywhere from 30 minutes to a few hours to rest, de-stress, and unwind. Feeling food coma coming on? Go to a napping cafe. Shoulders cramping up? Sit on a massage chair for an hour. This new crop of public healing spaces offers lounges and areas for you to take time out of your daily grind to relax. They focus on mental well-being and recharging, hence the term "healing."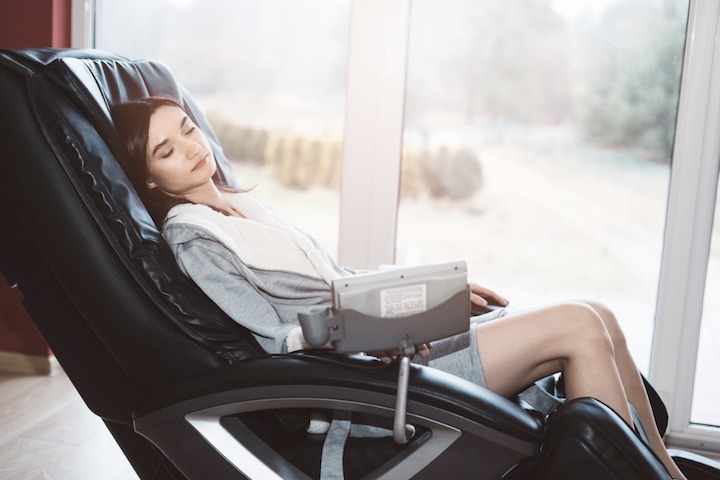 Healing is a big buzzword in Korea at the moment. It's Korea's version of "self-care." Look no further than the annual Healing Fair, where over 300 booths draw in 20,000 visitors. The five exhibition theme zones are all related to the healing industry, including healing food, beauty, and play. Visitors can take part in yoga, meditation, a perfume class, a DIY class, an audience sympathetic healing lecture, lifestyle consulting, a brain fatigue test, a stress test, or just about any other healing-related activity under the sun.
The rise in healing cafes is part of the growing "fast healing" cultural movement in South Korea, where people look to quick remedies for relaxation. More than half of Korean workers have less than five days of vacation a year. If anyone needs a break, it's the Koreans. You may not have the time to go to a day spa, but you can probably steal an hour to lie back in a first class cabin replica. They're a pitstop for the office worker who can't leave her desk until the managers have clocked out, or a place to cool off when a co-worker is getting on your nerves. Call it the fast food of relaxation, minus the food. It's a chance to top up the tank and let the shoulders unwind.
Mr. Healing
I explored Mr. Healing, one of Korea's most popular healing cafés, to see what it was all about. With 110 branches across the country, and starting at under $9 for a 30-minute session, it's no wonder this healing café has become so popular.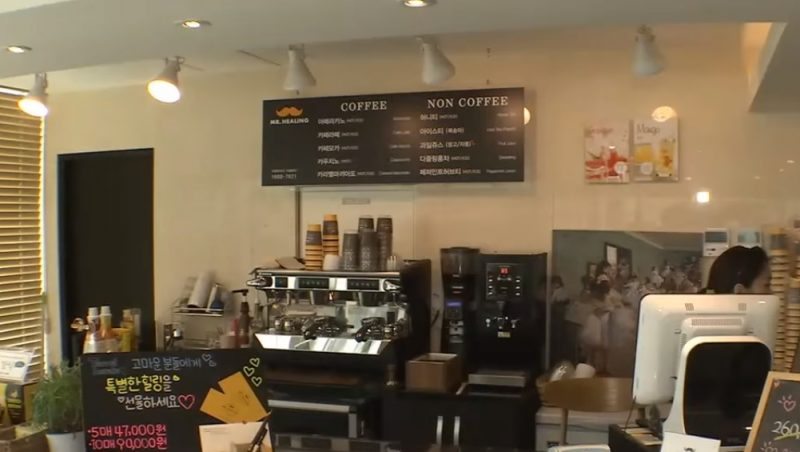 You enter what looks like a typical coffee shop, where you place your order (you receive your drink after the "treatment"). You then enter into a little enclosure with a space-age massage chair. Classical music fills the air, and there's an aromatherapy machine to add to the Zen. Shoes need to be removed, as well as any jewelry.
If you've ever sat in a massage chair, then try to picture it taken to NASA levels. Chair isn't the right word for this device. It's more of an all-encompassing cocoon in the way it tends to every part of your body. With multiple settings to pick from, you can decide how you'd like every single muscle to be manipulated, squeezed, rubbed, rolled, or stretched.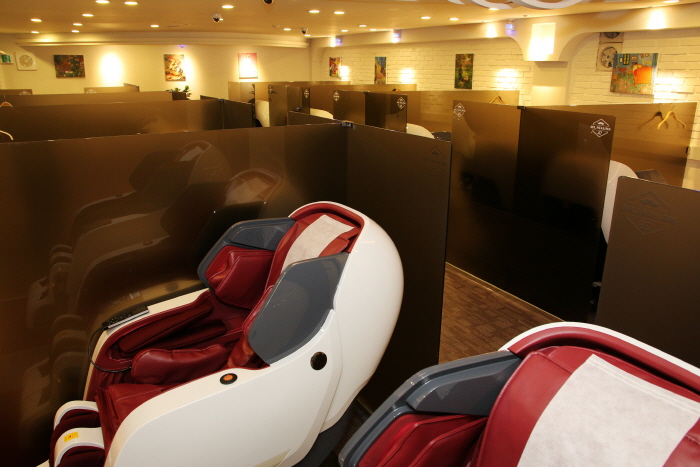 My first impression of the chair was of slight trepidation: What would it do to me? Would I be in control? What if it was too strong and ended up suffocating me to death à la Anaconda? I let my control anxiety subside somewhat as the machine slowly came to life and began working its magic. The only sense of claustrophobia came from the fact that my hands were almost stuck in an arm sleeve (for lack of better word) in the machine. This meant that even my arms received a massage, but also that I wasn't really free to move them around.
There are six settings to choose from on the Mr. Healing massage chair: recovery mode, stretching mode, sleep mode, energizing mode, the auto upper body mode, and auto lower body mode. I chose the energizing mode, but I'm sure any option will leave you feeling less tense. Each targets a different area of the body, from the shoulders to the back, the buttocks and even the pelvis. The intensity of the pressure will come from your selected mode, so pick wisely. Afterwards, I felt amazing, like I'd just had a $70 professional massage.
Once your time is up, you need to snap back to reality, get on your feet, and make your way back to the café area. Your drink will be waiting, where you can enjoy some additional time in this space created for relaxation. Think of it like an hour-long massage session, except you don't need to deal with people.
Shim Story
Next up is another popular fast healing space: Shim Story. For city-dwellers, this space prioritizes peace and calm. There are massage chairs, heated beds, and video games in this "public convenience lounge" where visitors can decompress.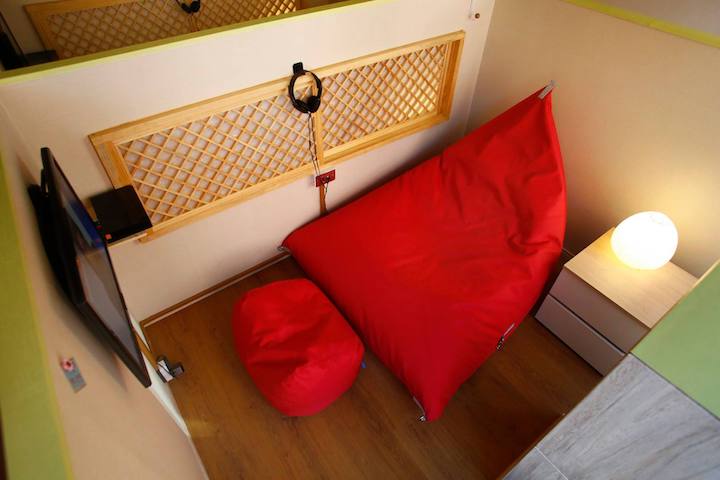 Soothing music is a pleasant change from the endless screech of traffic outside, and scent diffusers create a calming environment. It's a venue for people to switch out their rigid office chairs for beanbags, where soft light is the order of the day, and where you feel like you've just woken up on a Saturday morning.
Jung Woon-mo opened Shim Story when he realized that exhausted Koreans had few public parks or resting areas to go to during their lunch hours. Today, everyone from stressed-out office workers and students to frazzled mothers and tourists go to Shim Story to recharge at just ₩7,000 ($5.90) per hour, including a drink.
Getting in on the act
One movie theater in the city offers a nap service called Siesta, where people can pay ₩10,000 (about $8.50) for an hour-and-a-half to shut their eyes in comfy stadium seating. Another café chain called The First Class offers replicas of luxurious first class cabins, including eye masks, waffles, massages, and complimentary beverages.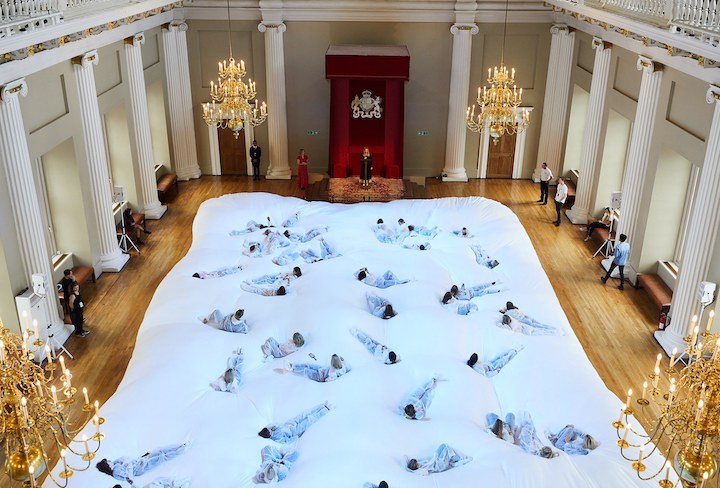 And Korea isn't the only place where fast healing spaces can be found. Last year, during London Fashion Week, designer Anya Hindmarch had a Chubby Cloud installation, purportedly the world's largest bean bag for visitors to "relax and recuperate" on. Over three days, visitors were able to sink into the massive white bean bag and listen to a series of talks, meditations, music, and even bedtime stories.
---
Mindfulness, well-being, and self-care are all important concepts at the forefront of modern society. Being kind to oneself is a philosophy that seems to not only be growing but booming. Globally, one in six people now have at least one mental or substance abuse disorder, with anxiety disorders taking the lead. Korea's fast healing culture is just one way to deal with this new stressful reality, by taking little doses of calm away from the storm, where people can simply just be, even if for half an hour.
So if anyone is looking for me, I'll be cocooned in my massage chair, with some Mozart blocking out all the bad vibes.
---
Author:
Megan Bursey
I'm Megan, and I'm obsessed with travel, beauty and LGBTQ rights. I hail from South Africa, where I cut my teeth as a journalist, writing for the biggest-selling English magazine in the country. I spent three years in South Korea and discovered a passion for K-beauty and the jjimjilbang. I'm always on the go, but I make time for my skin. Follow me on Instagram at @meg______b and at linkedin.com/in/megan-bursey-530b4177
---
Comments