The Beauty Lessons from K-Drama 'Crash Landing on You' Have Us Swooning & Aww'ing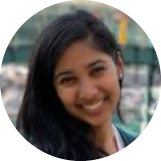 Becky Ipe
Feb 15, 2020
---
Beyond the unlikely premise (freak tornado, anyone?), K-drama Crash Landing on You has become a breakout hit, full of love, laughs, and a peek into everyday life in North Korea. The other breakout star? Loads of beauty and self-care moments that reveal we are a lot more alike than we are different.
---
Survival doesn't mean ditching skincare. Well, not entirely. Not if you're a K-drama heroine and manage to look picture-perfect in one of the most secretive countries on Earth. A country where the internet is scarce and free speech even scarcer.
In the latest K-drama hit series, Crash Landing on You (streaming on Netflix now), a show I never thought I'd admit an addiction to, actress Son Ye-jin portrays heiress Yoon Se-ri, who lands in North Korea via freak accident and practically straight into the arms of Hyun Bin's military man Ri Jyeong-hyuk.
As a skincare junkie who enjoys researching multiple narratives and beauty practices, I've noticed how often beauty and self-care propel the plot in this drama, building relationships between characters and revealing their deeper emotions. Let's look at some of the ways beauty practices feed into the narrative of this addictive K-drama.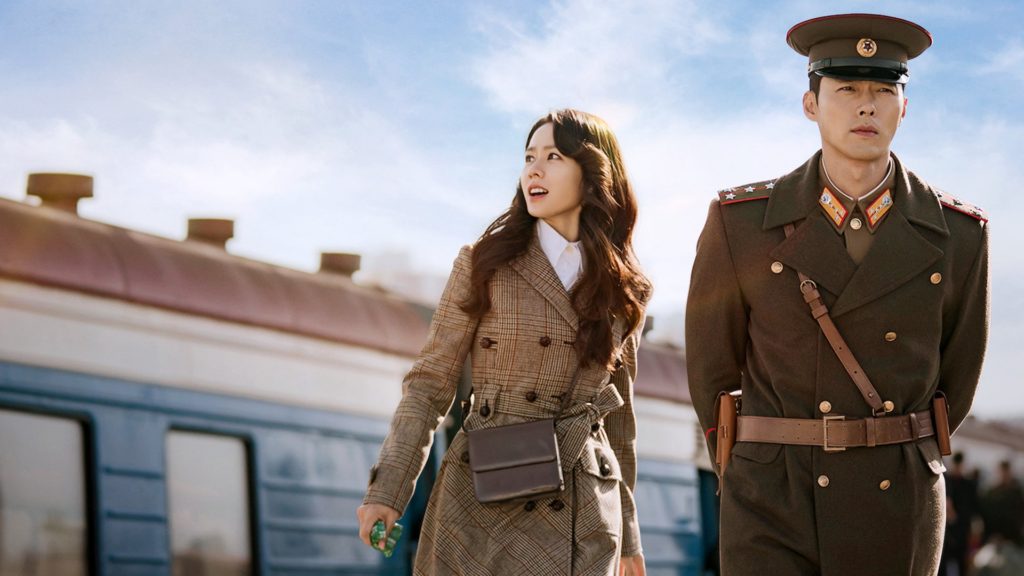 1. Skincare = I care
Among the many unexpected realities Se-ri has to deal with in the small North Korean village she lands in are the lack of hot water and 24-hour electricity. She is also appalled at Jyeong-hyuk's minimalistic approach to grooming ("You only use one soap for your hair and body?!"). While Jyeong-hyuk's initial stoicism often confuses Se-ri (and leaves us viewers guessing), we first get an inkling of his soft side when he hits the black market to buy Se-ri some fancy body wash and moisturizer — no doubt an abbreviated version of her skincare closet ("I'm a chaebol daughter!").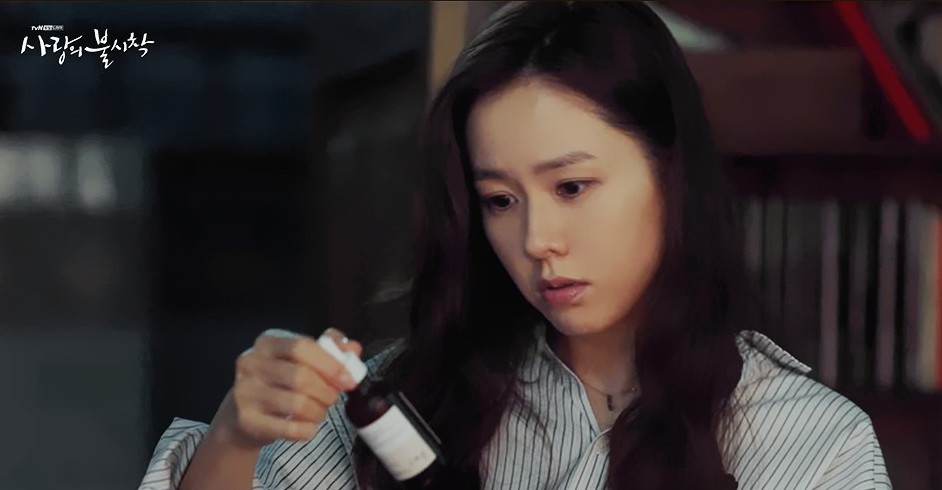 It's his sensitivity to her beauty regimen that had me going aww at the screen. Far too often skincare and beauty practices can be dismissed as mere vanity when, in reality, they often constitute a form of self-care. In buying her skincare, Jyeong-hyeok tries to minimize Se-ri's shock in having to deal with the realities of everyday life in North Korea.
2. Self-care = my safe place
Se-ri is bright, witty, and confident, and despite her flaws and even more flawed family, she manages a very successful company. Glimpses into her life in South Korea show that she takes time for self-care despite what must be a very hectic schedule. Scented candles, wine, bubble baths, and playing the piano form part of a practice that appears to buoy her optimism and physical energy.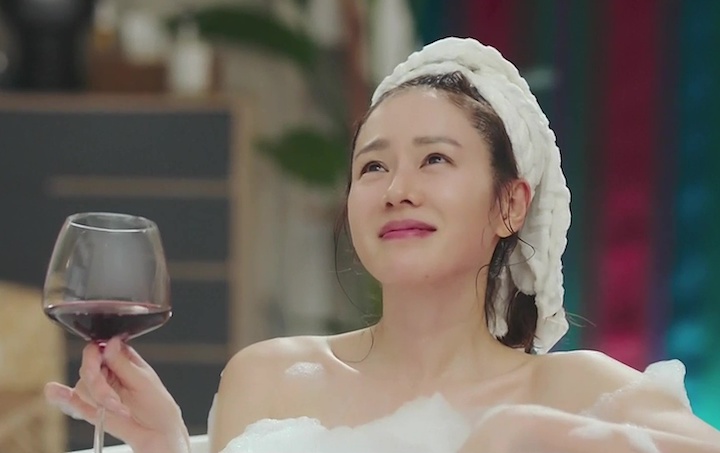 When she starts crying because Jyeong-hyuk buys her an unscented candle, it's clearly not the lack of fragrance but the misery and stress of being unable to go home, back to a life where she felt safe and in charge. There's a lovely scene where Se-ri is wandering through a market that has just undergone a blackout, lost and frightened. She starts to shake as memories of past trauma come flooding back — and then she spies Jyeong-hyuk coming towards her with a candle. "I've found a scented candle this time," he tells her. But it's plain by the joy on Se-ri's face that it's not the candle but the person holding it that matters at that moment.
3. Beauty as bonding
Se-ri's friendships with the women in the North Korean village grows when she exchanges fashion and beauty tips with them. From transforming a frumpy dress into a fashionable garment to trying out state-approved hairstyles, Se-ri's adventures in beauty help her experience life as a North Korean woman.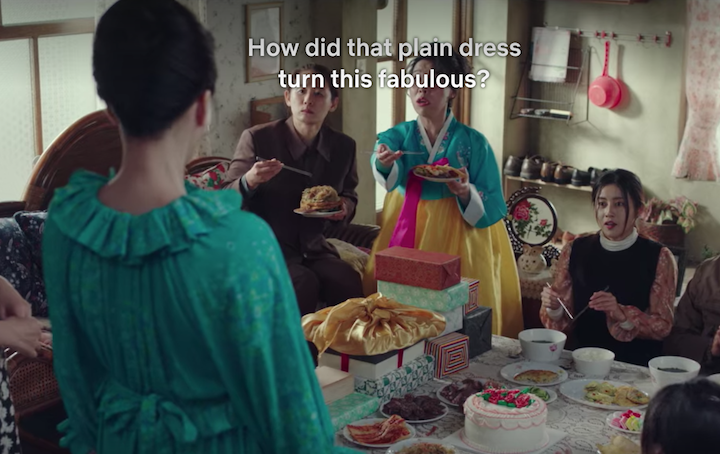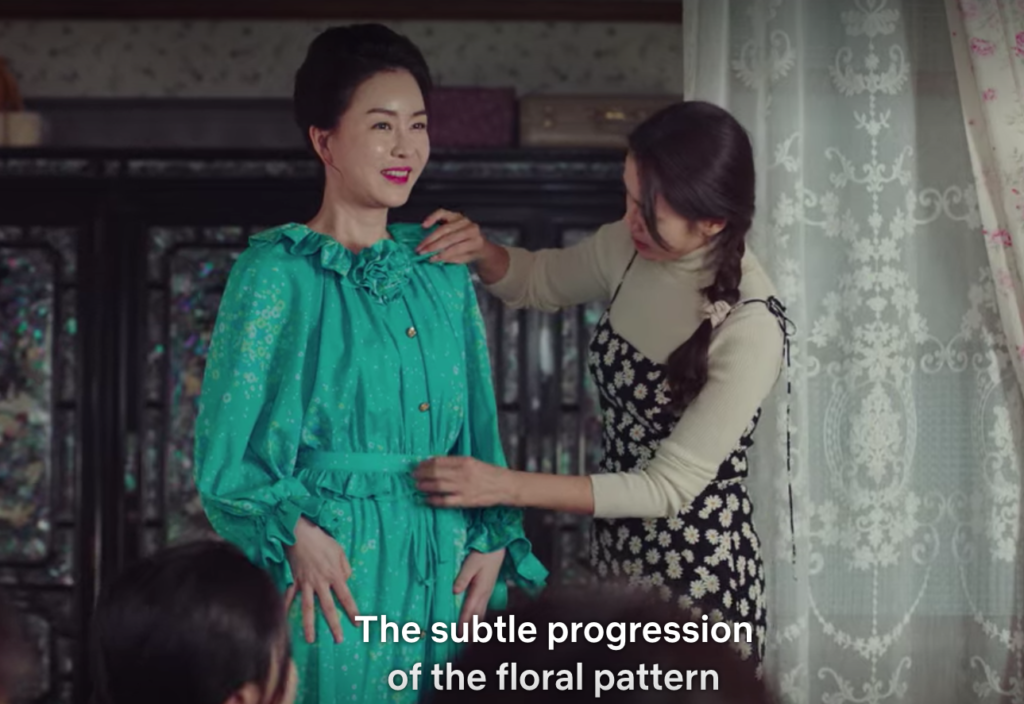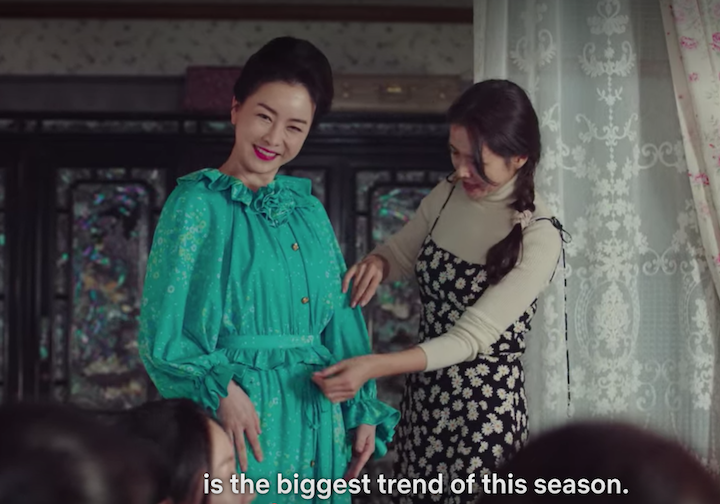 As this news article so poignantly demonstrated, North Korean women risk arrest by smuggling and purchasing beauty products not approved by the state. The North Korean government pursues a policy of uniformity through conformity, and adopting clothes deemed too Western or revealing, makeup products from South Korea, or sporting hairstyles not state-approved can make a citizen appear problematically individualistic.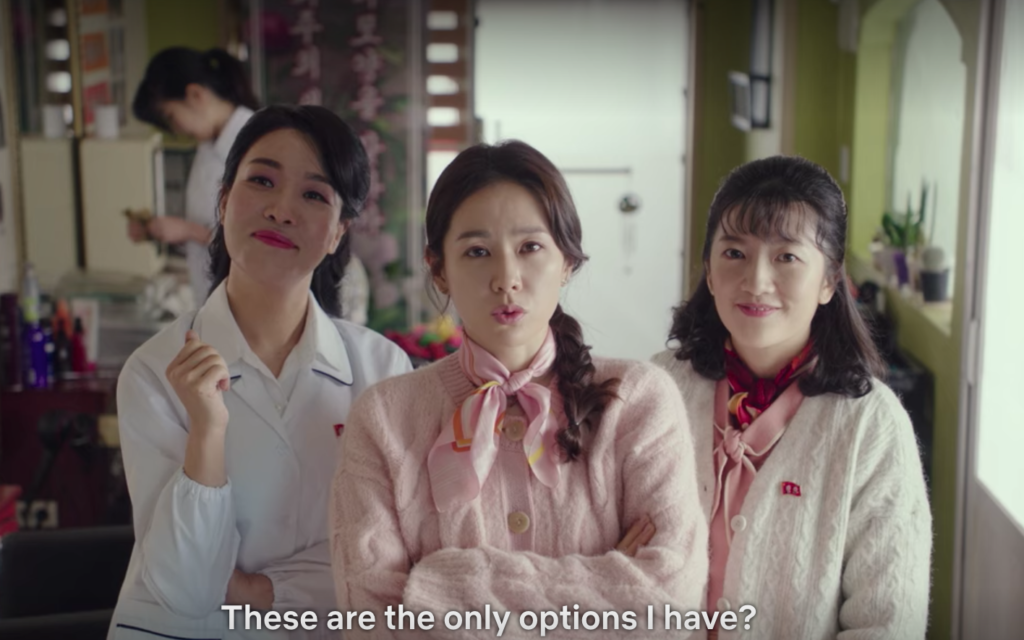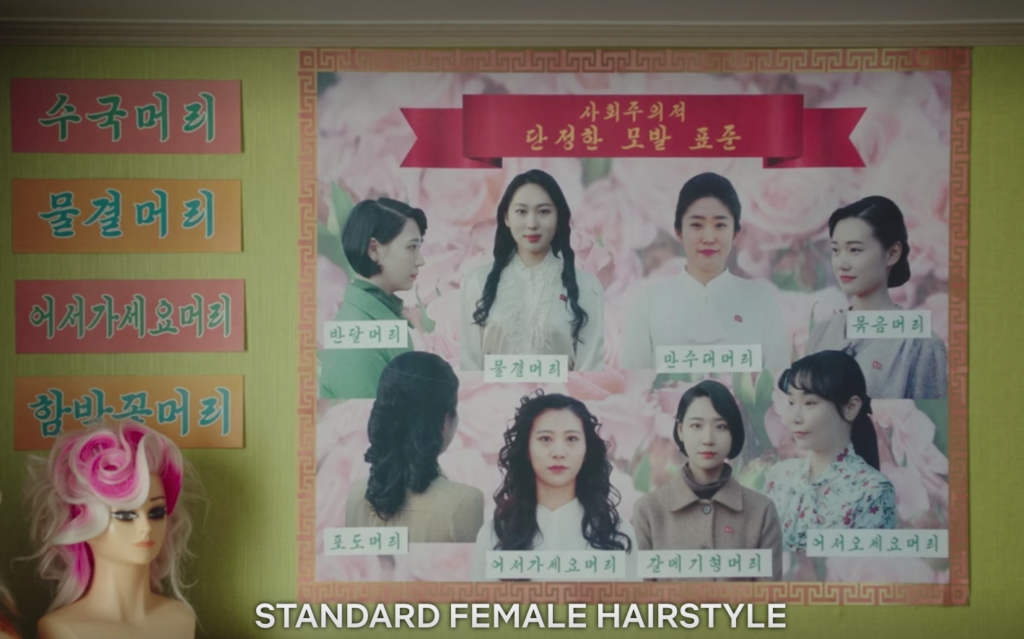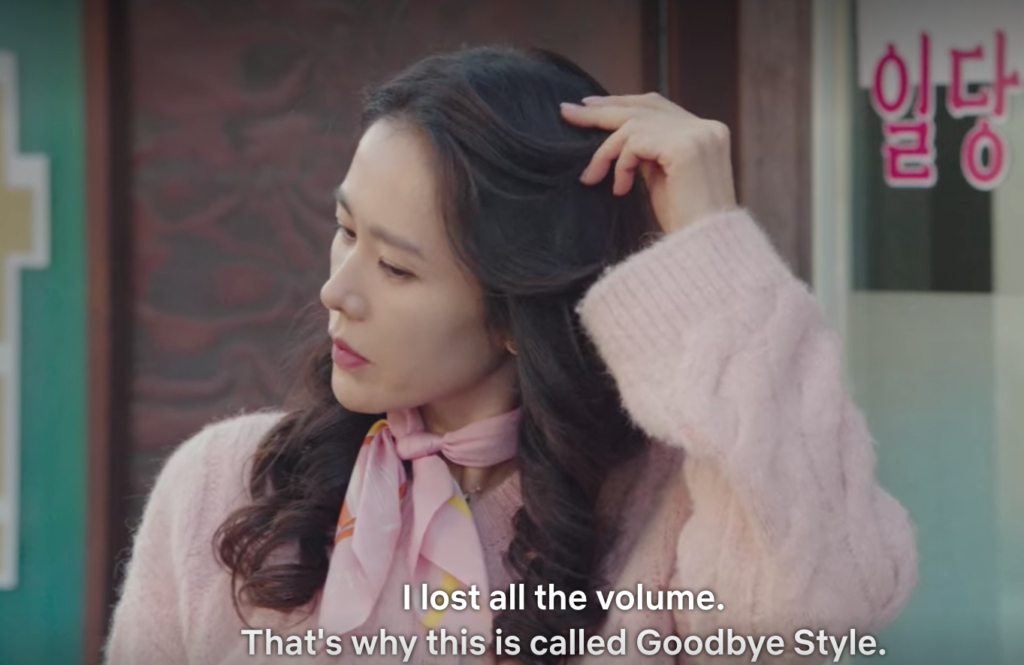 Crash Landing chooses to focus on the universality of beauty and beauty practices, especially the microeconomics of women trading and exchanging beauty contraband. When Se-ri goes to the market with the neighborhood women, she's surprised to discover that there's plenty of South Korean beauty products being sold, albeit hidden under curtains, including some products from her own brand, Seri's Choice.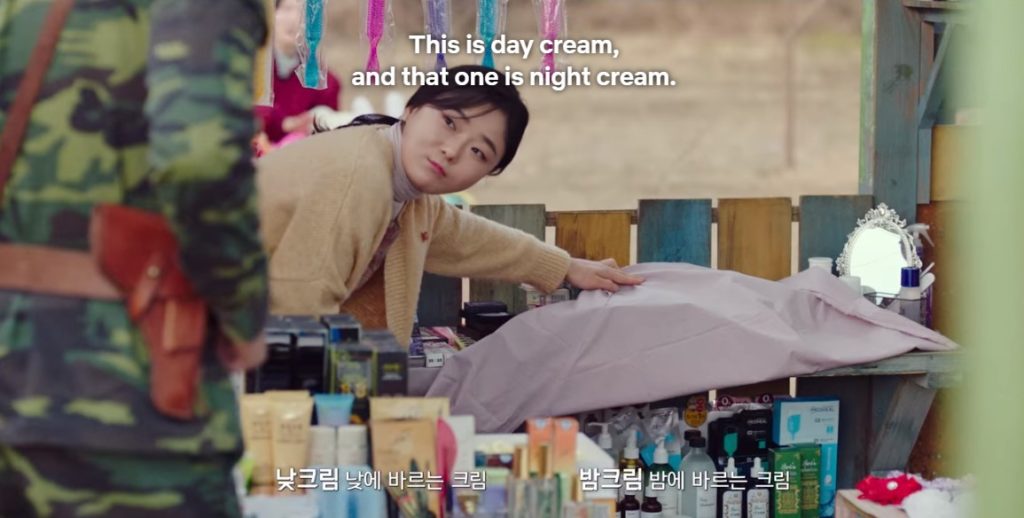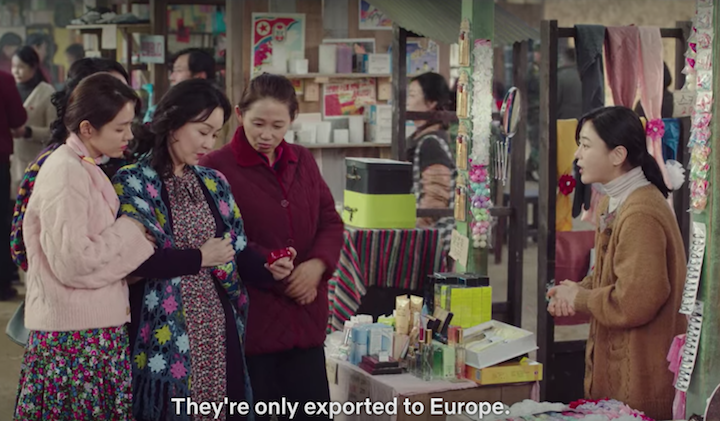 Beauty plays an important role for the supporting cast as well. Second lead Seo Dan's mother, a hilarious but astute character, twists the power of beauty to her advantage: She uses skincare products from her department store to bribe the village women, but not before demanding a "gorgeous" makeover at her salon so she can psychologically work her future in-laws for a wedding date.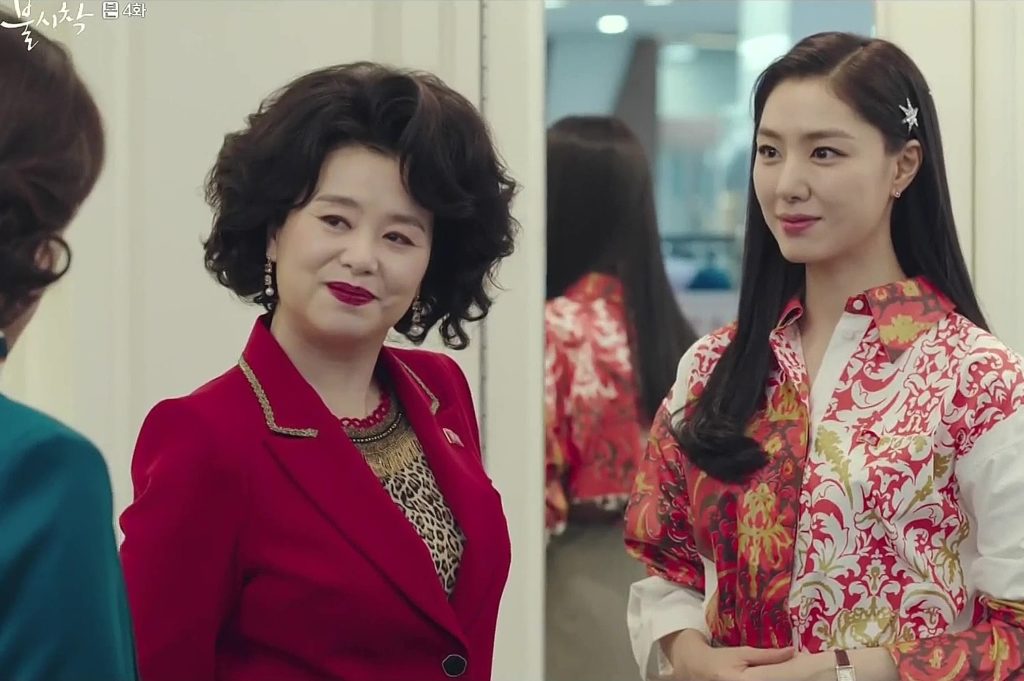 4. Exercise = beauty
Before crash landing in North Korea, Se-ri had an extremely disciplined approach to life: She fasts intermittently, runs regularly, and goes paragliding as a hobby.
Actress Son Ye-jin herself is a devotee of the gym, where she apparently spends more time at than her own home. In an appearance on the variety show Master of the House, she revealed that she enjoys TRX, a certain form of training invented by a former Navy SEAL.
It's no wonder exercise forms a crucial part of the daily routines of A-list actresses like Son and Jun Ji-hyun. Exercising regularly reaps a harvest of benefits: better sleep, improved memory, better posture, more physical strength, and yes, glowing skin. I hold exercise to be as vital to anti-aging as retinol and sunscreen. In fact, it was watching Son's exercise video that convinced me to try the TRX class at my gym. You might groan at the thought of running on a treadmill or pumping that iron, but gyms these days have a broad variety of classes and sports activities for all ages and stages. I hate Zumba, but my friends love it. Conversely, my friends would never dream of trying the HIIT classes I adore. It's all about finding the types of activities and the format (class, team, individual) that suits your personality and schedule and sticking to it.
---
What Crash Landing excels at is showing the warm moments in the big picture: the sharing of food between friends, the haggling over beauty products, the female bonding over makeovers at '70s-era salons. The incredibly sweet gesture of Jyeong-hyuk using his handkerchief to tie up Se-ri's hair so she won't get into trouble. An impromptu karaoke session at a picnic. Lessons on love and dating from a con man. Getting excited over blankets and roasted corn in the midst of a power outage. Crash Landing may be a heavily idealized vision of North Korean society, but for me, its broader message is about our shared humanity.
Are you bingeing Crash Landing yet? What's your favorite scene in the drama so far?
---
Author: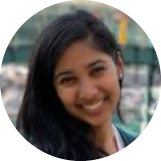 Becky Ipe
When not traveling and pestering people of varying ages and histories with impertinent questions for research purposes (yes, it's legit), Becky indulges her passion for narrative by watching Korean dramas (she's a certified sageuk addict). Her obsession with all things Asian began at the tender age of 5 when her parents moved to Taiwan for a year. Since then she's travelled and lived in China, India, and South Korea, and spends her face-masking moments planning the next great Asian exploration.
---
Comments