The Review: Laneige Water Bank Double Gel Soothing Mask EX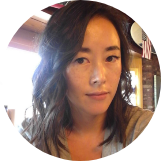 Jude Chao
Mar 12, 2020
---
Jude Chao may not be a particular fan of the best-selling Water Bank line, but she does vaguely recall liking the Laneige Water Bank Double Gel Soothing Mask. Will her memory serve her right?
---
I don't know about you guys, but sometimes I'm a glutton for punishment. It's why I occasionally end up reviewing high pH cleansers despite knowing that they're most likely going to ruin my face's day (if not my face's week). It's also why I occasionally decide to review products from brands I don't like, which brings us to the subject of today's review: Laneige's Water Bank Double Gel Soothing Mask EX.
I don't like Laneige products much. I don't outright hate the brand — as far as I know, they haven't had any contamination scandals due to missing preservatives, nor have they engaged in stealing content from bloggers or anything like that — I just never really love their products.
Nothing in the Water Bank line, including the famous sleeping mask, does much for my skin, and the Water Bank products contain too much fragrance for my taste. The Lip Sleeping Mask does less for my lips than a good coat of Vaseline before bed. The trendy Cream Skin milk-type toner just sits on my face without sinking in. You get the idea. I'm so meh about the brand that back when they first launched their U.S. site and reached out to me with an offer of my choice of products to review, I couldn't find a single thing I really wanted.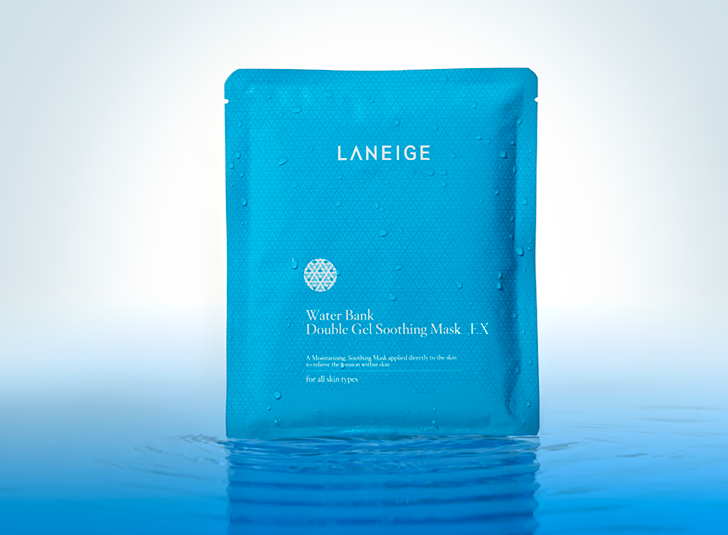 And yet somewhere in the dusty recesses of my long-term memory (and Amazon purchase history) resides a feeling that I've tried the Laneige Water Bank Double Gel Soothing Mask EX before — and liked it. So when the product appeared on Beautytap's U.S. inventory, I thought I'd give it another shot and maybe prove myself wrong about disliking everything made by the brand.
The material
The Laneige Water Bank Double Gel Soothing Mask EX is a hydrogel mask, cut into a top and bottom piece, as hydrogel masks generally are.
Hydrogel material can be an upgrade from a standard pulp or fabric sheet mask. Originally developed for use as burn and wound dressings, hydrogel traps and holds the mask liquid more effectively than regular sheet mask materials, maintaining a moist environment underneath to encourage penetration of the essence. A good hydrogel mask also fits like a second skin, clinging to every contour of the face and adhering even better as it warms up with body heat. Of course, all this depends on the quality of the material and the essence itself.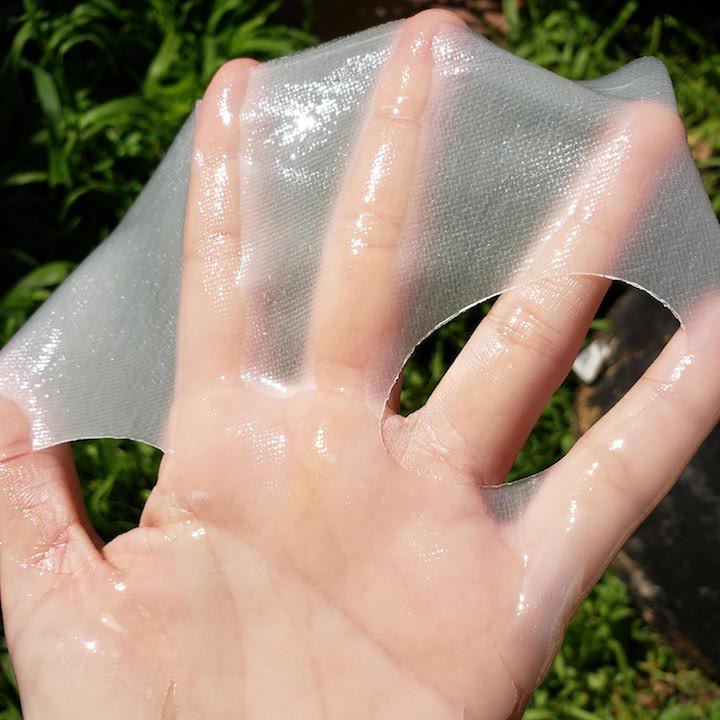 No complaints from me about the material here. The Water Bank Double Gel Soothing Mask EX uses a pretty optimal hydrogel. The thin, translucent hydrogel material is soft, stretchy, and pliant. It's also generously soaked in essence. I've tried some truly awful hydrogel masks — Innisfree's were thin but oddly rigid, and Botanic Farm's hydrogels were so stiff and dry that the edges felt painfully sharp. These are not that.
The formulation
The essence has that generic "crisp blue water" scent that smells nothing like water but that every brand hawking a water theme seems to love using in their products. It isn't overly strong, however, and the ingredients for the essence look promising. It's mostly hydrating ingredients and gelling agents up top, with some nice anti-inflammatory plant extracts and calming ingredients like allantoin further down.
Laneige Water Bank Double Gel Soothing Mask EX ingredients: Water, butylene glycol, glycerin, 1,2-hexanediol, ceratonia siliqua gum, chondrus crispus (carrageenan) extract, phenyl trimethicone, PEG-60 hydrogenated castor oil, lactobacillus ferment, scutellaria baicalensis root extract, artemisia princeps leaf extract, houttuynia cordata extract, citrus junos fruit extract, ricinus communis (castor) seed oil, caprylyl glycol, dipotassium glycyrrhizate, allantoin, phenoxyethanol, ascorbyl glucoside, magnesium sulfate, zinc sulfate, manganese sulfate, chenopodium quinoa seed extract, calcium chloride, camellia sinensis leaf extract, aloe barbadensis leaf extract, chamomilla recutita (matricaria) flower extract, agar, fragrance, disodium EDTA, potassium hydroxide
The experience
Each half of the mask has two distinct sides. One side is perfectly smooth and glassy. The other side feels more textured, the weave of the gauzy mesh palpable through the gel.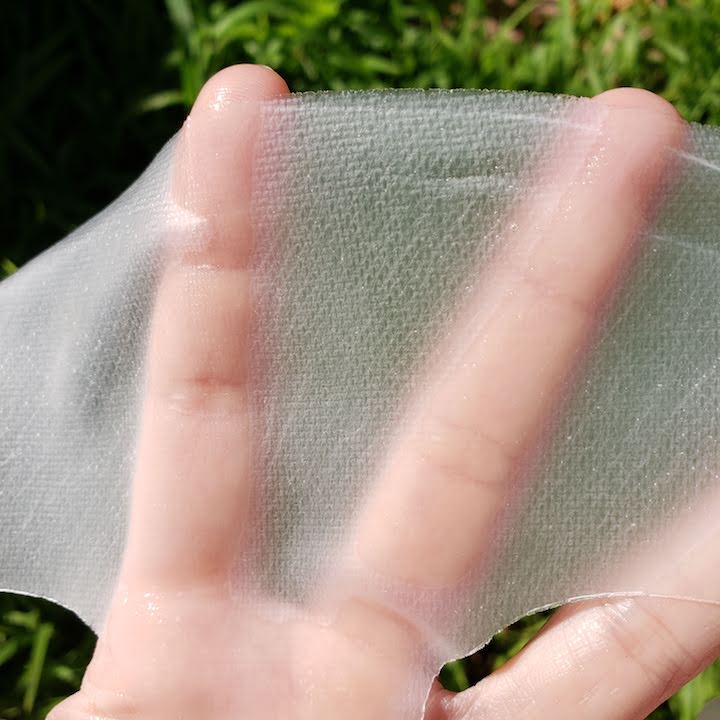 I've been asked many times over the years, Which side goes on your face? I've also struggled with this question myself with many, many hydrogel masks. After years of experience, I've determined that the answer is: It doesn't really matter. Until it does.
With the Laneige hydrogel masks, put the textured side against your skin. Both sides are equally saturated with essence, which makes the smooth side too slippery. When I used this mask with the smooth side against my skin, I found them annoyingly prone to sliding around and slipping down on my face. The textured side grips my face immediately upon application and stays put comfortably for the 40 to 45 minutes that I like to keep these masks on.
As it turns out, my very vague memories of a masking session a long time ago were accurate. I do like these masks! They leave my skin consistently and nicely hydrated and smooth, with a firm, glossy look that perfectly captures the "glass skin" aesthetic. I find these masks especially helpful when I don't feel up to anything more than a simple routine, since they combine a good dose of hydration with enough emollient moisture to let me get away with nothing but a light moisturizer on top. They're also soothing enough to fade away any minor redness that I get from cleansing with too-hot water or from rubbing my face too hard at any point in my routine.
This is why I listen to my impulses, even when I think they might lead me astray. Sometimes they lead me to a winner that I wouldn't normally take a second glance at. I have a couple of these masks left in my fridge, and I'll be using them up happily.
Do you like hydrogel masks? Which is your favorite? And have you tried the Laneige's Water Bank Double Gel Soothing Mask EX? Let us know in the comments!
---
Author: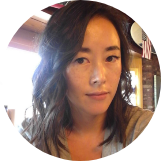 Jude Chao
Jude writes as Fiddy Snails at the K-beauty and skincare blog Fifty Shades of Snail and can be found on Instagram @fiddysnails. Named the ELLE Malaysia Beauty Blogger of the Month for June/July 2017 and one of ELLE Magazine's 10 Cool Beauty Bloggers to Watch in 2018, Jude loves ginseng, snail, honey, propolis, and tuna fish kimbap, though she generally doesn't put the kimbap on her face.
---
Comments